The Clippers' Chauncey Billups and Chris Paul against the Warriors' Monta Ellis and Stephen Curry? Sounds like a merry matchup. Our 5-on-5 crew answers all the pressing questions facing the Clippers and Warriors before their Christmas Day nightcap (ESPN, 10:30 p.m. ET).
1. Fact or Fiction: The Clippers will finish in the top four in the West.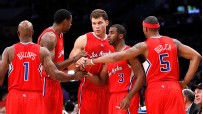 Kevin Arnovitz, ESPN.com: Fact. The Clippers have a big-small superstar tandem, certified grown-ups on the wings and a defensive presence up the middle. The West's elite is aging. For the first time in years, there's room at the top.
D.J. Foster, ClipperBlog: Fact. If Chris Paul can carry the 2007-08 New Orleans Hornets to a 2-seed, what can he do with a more talented supporting cast in a weakened Western Conference? It may seem crazy, but I'm not betting against a competitor like Paul.
J.M. Poulard, Warriors World: Fact. The Clippers' backcourt seems like it will play well in concert with its big people, which is a scary sight for the West. Their defense (rebounding, shot-blocking and steals) has the potential to carry them through stretches of the season while the offense may become a highlight package good enough for the fourth-best record in the conference.
Ethan Sherwood Strauss, HoopSpeak: Fact. Been hearing, "They aren't contenders yet." Well, Dallas won with Dirk and a band of castoffs, the Lakers look mortally wounded, OKC is defined by two-star turbulence, and the Spurs are mummified. Paul and Griffin equals more than enough to contend.
Justin Verrier, ESPN.com: Fact. After watching the new-look Clippers run the title-tested Lakers (or what's left of them) into the ground on Monday, less than a week after Chris Paul's triumphant arrival in L.A., I'm drunk on Clips Kool-Aid. (I'm seeing spinning Blake Griffin dunks when I close my eyes.) Imagine what they'll do when CP3 and Caron Butler cut back on the milkshakes.
---
2. Fact or Fiction: The Warriors will make the playoffs.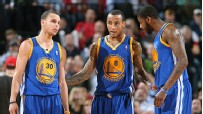 Kevin Arnovitz, ESPN.com: Fiction. Exactly how is Golden State appreciably better than last season? By swapping out Reggie Wiliams, Vladimir Radmanovic and Lou Amundson for Kwame Brown, Klay Thompson and Brandon Rush?
D.J. Foster, ClipperBlog: Fiction. The Warriors had their chance to nab a playoff spot if they finally moved on from the Monta Ellis Experiment, added some defensive personnel, and used their cap room on an impact player. Instead, they signed Kwame Brown. Move along, folks. There's nothing to see here.
J.M. Poulard, Warriors World: Fiction. Last season's playoff teams in the West were all good teams that gave the impression they could beat their opponent. The one team to fall from that group will be the Hornets, and the Clippers will replace them as a playoff team, which does not leave room for the Dubs.
Ethan Sherwood Strauss, HoopSpeak: Fiction. I'm looking at last year's flawed lotto team. I suppose the Warriors are expecting new motivator Mark Jackson to spring the genie from this lamp. I think he'll just be stuck, futilely buffing a flea-market rust magnet.
Justin Verrier, ESPN.com: Fiction. I appreciate what Mark Jackson's trying to do with this confidence-building playoff guarantee, but a Biedrins-Kwame center rotation would make any coach rethink such a blazon proclamation ... and maybe a career choice or two, too. The mulligan's there, Mark. Take it! I beg you!
---
3. What will you be watching most closely on Christmas Day?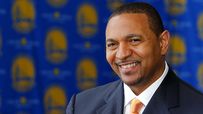 Kevin Arnovitz, ESPN.com: The Clippers' perimeter defense. We know the Clips can score and rebound -- but can they contain the W's speed demons?
D.J. Foster, ClipperBlog: Warriors head coach Mark Jackson. When Ellis inevitably takes a contested shot over a double team, maybe he'll rip off his suit, reveal a jersey underneath, and substitute himself into the game. If that doesn't happen, I guess a few Paul-to-Griffin alley-oops will suffice.
J.M. Poulard, Warriors World: The backcourts. Chris Paul and Chauncey Billups versus Stephen Curry and Monta Ellis promises to be both interesting and entertaining. The point guards are both effective but in completely different ways, whereas the players matched up at shooting guard will probably try to outdo one another, which could lead to a scoring explosion by Ellis.
Ethan Sherwood Strauss, HoopSpeak: Mark Jackson seems allergic to using Ellis at PG, so I'll examine how Monta gets deployed in this new system. But honestly, I'll mostly stare at Blake Griffin slamming thunder claps on David Lee's head.
Justin Verrier, ESPN.com: Can the Clippers play like an elite outfit against an inferior (and wounded) opponent? With an offense built to thrill, L.A. is already Rob Lowe dreamy in the eyes of most NBA fans. By taking the Warriors to the woodshed, the Clips -- in their national debut, no less -- can show the substance needed to back up all the buzz and keep the bandwagon hummin'.
---
4. Make one bold prediction for either the Clippers or Warriors.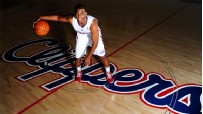 Kevin Arnovitz, ESPN.com: Bold prediction: Monta Ellis will be playing elsewhere by March 1.
D.J. Foster, ClipperBlog: Bold prediction: Blake Griffin will average at least 20 points, 10 rebounds, and five assists per game this season, making him the 11th player in NBA history to ever do so.
J.M. Poulard, Warriors World: Bold prediction: A Clippers player will win the league MVP award for the upcoming season. It will either go to a playmaking wizard or a big man with the ability to transform the simplest of plays into highlights waiting to be immortalized on YouTube.
Ethan Sherwood Strauss, HoopSpeak: Bold Prediction: Kwame Brown will win MVP. OK, seriously: I predict a 2012 MVP for Chris Paul. The storyline is set up -- he just has to be his brilliant self.
Justin Verrier, ESPN.com: Bold prediction: Monta Ellis will commit to playing defense. ... Nah, just kidding. CP3 for MVP! Derrick Rose's new Podoloff proves that the narrative is mightier than the stat. What would be a better story than Paul turning the league laughing stock into a title contender while also taking over the Lakers' town? Just think about what a boon that'd be for the ironic T-shirt market.
---
5. Who will win this Christmas?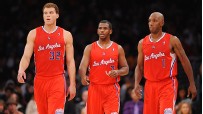 Kevin Arnovitz, ESPN.com: 110-99 Lob City, behind a 15-8-12 performance by Paul. Despite Marc Jackson's best efforts, the Warriors D up like the ghosts of Warriors past.
D.J. Foster, ClipperBlog: The Clippers. Golden State has successfully lured the Clippers into shootouts in previous matchups, but Paul and Billups have been around long enough to know that fast-break opportunities against the Warriors are nothing more than fool's gold.
J.M. Poulard, Warriors World: The guards are close to even, but the Clippers have the upper hand in the frontcourt and will probably plan to take advantage of it. So the Clippers get the win.
Ethan Sherwood Strauss, HoopSpeak: Clippers. I hope nobody steals my "picking the better team" strategy.
Justin Verrier, ESPN.com: Clippers. This team is finally ready to do Frankie Muniz proud.


ESPN.com and the TrueHoop Network
Kevin Arnovitz covers the NBA for ESPN.com. Justin Verrier is an ESPN.com NBA editor. D.J. Foster, J.M. Poulard and Ethan Sherwood Strauss contribute to the TrueHoop Network.