What's in store for the Oklahoma City Thunder? Our panel of five looks back at the offseason moves (and nonmoves) and forward to what lies ahead in the 2013-14 season.
1. What grade would you give the Thunder's offseason?
Henry Abbott, ESPN.com: C. They lost in the playoffs because Russell Westbrook was hurt, Kendrick Perkins can't play and Scott Brooks couldn't summon the coaching magic to overcome all that. To recover, they lose one of the NBA's best shooters and brought in a good-looking rookie big man in Steven Adams. All understandable from a cap and roster-management point of view. But the rest of the West breathed a sigh of relief.
Danny Chau, Hardwood Paroxysm: C-minus. It wouldn't have taken much for the Thunder to receive a solid offseason grade. Like for the Chicago Bulls, signing a wing like Mike Dunleavy Jr. would've been enough, but such a player never came (unless you're banking on a Ryan Gomes revival). It wasn't a make-or-break offseason, but OKC's sedentary summer was disappointing nonetheless.
Dan Feldman, Piston Powered: D. The Thunder have already been built, so this offseason didn't mean much to them. I liked their draft, especially Andre Roberson, but letting Kevin Martin walk without adding a quality replacement is a failure. The Thunder are contending for a title, and now is the time to spend.
Aaron McGuire, Gothic Ginobili: They get a B on the draft. I don't dislike the Adams pick -- he gives the Thunder a long-term solution at center. Roberson could be decent. Free agency, though? F. They struck out on every single midlevel exception player they targeted and instead brought back Derek Fisher, who hasn't been a rotation-quality player since Obama's inauguration. Do better, OKC.
Royce Young, Daily Thunder: C. It's hard to grade something that didn't exist. When your biggest offseason move is signing Fisher or Gomes, well, I think that explains itself. That said, the Thunder are continuing to play the long game here. They could've used an extra veteran shooter, but they're going to rely on internal development of young players, and they have a pretty good history of that.
---
2. What's the biggest question facing the Thunder in 2013-14?
Abbott: Is this the season they stop being a two-man isolation team and create a real offense? Great as those players are, the Thunder win more when the ball moves.
Chau: How will the effects of Westbrook's injury manifest now and down the road? He's maintained that his insistent style of play won't fade upon return, but there are so many factors that hinge on his health. If there is a setback -- or if Westbrook rushes back -- more than just this season could be in jeopardy.
Feldman: At what level will Westbrook return? As Kevin Pelton detailed in depth, when Westbrook returns is extremely important, but it also matters how he returns. Westbrook relies on 99.9th-percentile athleticism, so multiple surgeries since his last game is concerning. If he is his same old self, the Thunder will still have a chance to overcome a lower seed. If he's not, they might not.
McGuire: Can Brooks finally solve his no-star lineups? Oklahoma City has a phenomenal suite of complementary pieces, but Brooks has spent his coaching career with a star on the court at essentially all times. Now, with Westbrook's absence, Brooks is going to have to experiment. It's a tall order, but they'll be stronger in the long term for it.
Young: How do they replace Martin? Is the bench good enough? Do they need more help? Forget all those things. Everything about the Thunder's 2013-14 season revolves entirely around Westbrook's health and him returning to his previous explosive form. That happens and those other questions won't be nearly as relevant.
---
3. Who's the Thunder's most intriguing player?
Abbott: Reggie Jackson. He just might be fantastic, and they just might need that.
Chau: Jeremy Lamb. For the most part, there's enough footage of OKC's core contributors to suss out their impact on the team, all except for Lamb. With his build, he seems suited to approximate Martin's old role. With his talent, he could also become something like a miniature Durant. Lamb is a formless entity ready to be shaped. That's the allure.
Feldman: Kevin Durant. LeBron James has been the NBA's best player each of the past five seasons (sorry, Derrick Rose), and win shares support that notion. But no one has come closer to overcoming LeBron in win shares than Durant last season. Durant is four years LeBron's junior, and this could finally be the season the Thunder forward becomes the NBA's best player.
McGuire: Lamb. Durant, Westbrook, and Serge Ibaka are known commodities at this point -- they're great players who've yet to hit their respective peaks. They might improve on the margins, and that's dandy. But Lamb played 147 garbage-time minutes last season. Absolutely nobody knows what he's going to produce, and that, combined with his large role in his second season, is worthy of intrigue.
Young: Ibaka. How high is Ibaka's ceiling? He's come a long way since his rookie season, when he just ran around and bumped into everyone waiting for his next opportunity to swat a shot into the upper deck. He has a refined midrange game and can even extend it out to the 3-point line. Forget Westbrook's forthcoming absence; the Thunder need Ibaka to become a legit third option.
---
4. What's one bold prediction about the Thunder?
Abbott: Westbrook's injury is already causing Durant to look farther down the roster than ever before for scoring help. And all those Thabos and Serges are more than capable of getting buckets when Durant is doubled. The first few weeks of the season just might function as a blueprint to show how this can be the best offense in the league.
Chau: The Thunder's young assets will be traded for proven, championship-ready veterans by the trade deadline. OKC's front office might have tried to play the long game by trading away the increasingly expensive James Harden for prospects, but Westbrook's continuing knee woes have given the Thunder a glimpse of their mortality. If they're going to win, it has to happen now.
Feldman: Brooks won't start 2014-15 as Oklahoma City's coach, and he could be out before this season ends. Having a full offseason to prepare for 4-6 weeks without Westbrook will either bring out the best in Brooks or reinforce his inability to craft a high-functioning offense.
McGuire: When Westbrook returns, the Thunder will hold the top seed in the West. I doubt they'll hold that spot for the season's duration, not with Westbrook's time-intensive reintegration and their toughening schedule. But have you looked at that early schedule? There are exactly four tough games in their first 20. Four! They might sweep the rest, even without Westbrook.
Young: Jackson will win sixth man of the year. Yeah, that feels a little too bold, but look at it this way: With Westbrook out until mid-December, Jackson can pad his numbers a little (he averaged 13.9 points, 4.9 rebounds and 3.9 assists in the postseason replacing Westbrook) and gain a little status. He has the chance to be a poor-man's Harden, owning the Thunder's second unit and developing as an elite bench scorer and creator.
---
5. Prediction time: How far will the Thunder go this season?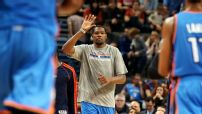 Abbott: The Thunder will win 50-plus games and steamroll in the opening of the playoffs. Once they're facing the Spurs or Clippers, though, whatever round that is, I believe they'll have a real fight on their hands. My hunch is the Clippers will make the Finals.
Chau: The Western Conference finals, assuming nothing derails Westbrook's road to full recovery. There's a lot of buzz in the West with all of its shakeups, but it comes with a lot of uncertainty. If the Thunder can stay healthy and find small improvements to their core (internally or otherwise), they're as sure a thing as it gets.
Feldman: Western Conference finals. The Thunder were the West's best team last season before Westbrook's injury. They've downgraded slightly, and the rest of the West's top is better and deeper. I'd take the field over any single team to win the conference, but if forced to pick one, it's the Clippers.
McGuire: How exactly do the Clippers intend to defend them? Dwight Howard alone can't lug Houston past the Thunder. Memphis can't score on OKC's defense. Golden State is a long shot to be healthy. My pick: Western Conference finals for the third time in four seasons. Not sure a no-Harden OKC gets past San Antonio, but I can't pick against them otherwise.
Young: Western Conference finals. Ask yourself this: Assuming Westbrook is healthy and himself again, would you trade the Thunder's roster for any other roster in the Western Conference? They might have the best and second-best player in the West. The question is if a two-man tandem is enough to get them through the challenging Western playoffs. Unless Ibaka finds another level and forms a true big three, the Thunder will stall out against a premier opponent in the postseason.