What's in store for the Sacramento Kings? Our panel of five looks back at the offseason moves (and nonmoves) and forward to what lies ahead in the 2013-14 NBA season.
1. What grade would you give the Kings' offseason?
Bradford Doolittle, ESPN Insider: B+. I don't think things could have gone any better for the Kings, but I reserve A's for teams that put themselves in position to win the championship. The Kings aren't there, but by remaking the organization from top to bottom, and staying in Sacramento, things look a whole lot brighter. And they convinced Shaq to hang around.
James Ham, Cowbell Kingdom: If I'm grading the roster additions alone, I would give the Kings a B. They had a solid draft, picked up a quality free agent in Carl Landry and added two players of need via trade. But you can't end there. The Kings rebooted their entire franchise this summer -- new ownership, new management and new coaches. That deserves an A.
Jonathan Santiago, Cowbell Kingdom: B+. You can't just look at roster moves when grading the Kings' summer. You have to consider the change in ownership, turnover in the front office and hiring of a new coaching staff as well. After years of operating in the dark ages of player evaluation, the Kings now have leadership in place that's embracing the NBA's technological revolution.
Brian Windhorst, ESPN.com: C+. I had no problem with not matching the Pelicans' big offer for Tyreke Evans, and getting Greivis Vasquez out of the deal was a steal. Luc Richard Mbah a Moute has a bad knee, but he's a quality player they got nearly for free. Ben McLemore has a chance to become one of the stars of this draft. Landry got a long deal, but he's another good player. So why the low grade? I just don't see why they needed to extend DeMarcus Cousins so early.
Jack Winter, Warriors World: B. Hiring former Warriors assistant Mike Malone as head coach was a home run, and the Kings should see additional dividends by jettisoning Evans, too. Sacramento even did well in the draft; McLemore and Ray McCallum look like steals. But Cousins' max-level extension -- necessary as it may have been -- raises one huge question mark.
---
2. What's the biggest question facing the Kings in 2013-14?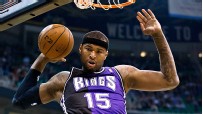 Doolittle: Was the contract extension to Cousins premature? If you're going to invest in a player, signing them to extension early is a good move because it creates good will and sends a clear message. But while Cousins has shown he can be an elite player, he obviously has battled maturity and consistency issues. I hope the contract propels him in the right direction, and I suspect it will.
Ham: The development of Cousins. The former Kentucky star is doing and saying all of the right things so far this offseason, but his team hasn't gone on a prolonged losing streak yet. The Kings have the structure in place to handle the 23-year-old center, but it's up to him to take his game to the next level.
Santiago: Will Cousins finally turn the corner? After three years of playing for a dysfunctional franchise, Cousins finally has structure around him. New management has put its faith in him via a $60 million extension. It's now his time to return the favor by showing that he can keep his emotions in check.
Windhorst: Can Malone translate his technical strengths to leading a team? The highest-paid assistant in the league last season has demonstrated he can effectively teach both offense and defense, but this is a franchise that desperately needs a leader on the bench. They've been in the wilderness in this area for most of the past decade.
Winter: How will they address the frontcourt logjam? Sacramento boasts one of the deepest and most talented collections of big men in the league. Cousins, Landry, Jason Thompson and Patrick Patterson all deserve something close to starter-like minutes, and Mbah a Moute should see some time at power forward, too. Even after Landry's injury, something's got to give at the trade deadline.
---
3. Who's the Kings' most intriguing player?
Doolittle: McLemore. The Kings landed a guy who could have been the first overall pick. With Cousins working the interior and Vasquez handling the playmaking, McLemore is in a great situation to play big minutes and fill a scoring role. I think we should find out by the end of the season if the Kings hit a home run with that selection.
Ham: Jimmer Fredette. With Marcus Thornton locked in at the 2 and rookie McLemore scheduled to eat up the remaining minutes, Fredette was on the outside looking in. To his credit, he came into camp ready for a fight. He's averaging 13 points in 22 minutes per game during the preseason, while shooting 58 percent from the field and 62 percent from deep.
Santiago: Fredette. He didn't really have much of a chance to showcase his talents in his first two seasons. But when given the opportunity, he has performed well, as seen in his recent 23-point, five-assist showing against the Phoenix Suns in preseason. Fredette may never become a force on the defensive end, but he clearly still has value to this team as a floor-spacer and part-time playmaker.
Windhorst: Cousins. You never know what he's going to do next. On any night he could put up 35 points and 20 rebounds or get ejected in the game's first minute. TV crews should give him the Johnny Manziel treatment and have a camera on him at all times.
Winter: McLemore. It's fair to argue that McLemore is the most talented player in the 2013 rookie class. His draft night slide to seventh was a major, major boon for Sacramento. But McLemore is very rough around the edges and likely to struggle early on. Once he gets his feet wet in the NBA game, though, the sky is the limit.
---
4. What's one bold prediction about the Kings?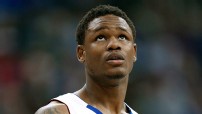 Doolittle: They will be much better defensively than you think. The Kings were second-to-last in defensive efficiency, and you don't figure it's a situation that Vasquez, McLemore or Landry (when he gets healthy) will fix. But Malone is a terrific defensive coach, and he'll get Sacramento into the middle of the pack.
Ham: McLemore will start before Christmas Day. He has never been to a live regular-season NBA game, so he needs a little time to get his sea legs, but he has all the tools.
Santiago: Cousins becomes an All-Star. With Evans out of the picture, this is undoubtedly Cousins' team. And under Malone, we're seeing the Kings play through the 23-year-old big man like we haven't seen before -- especially in the post. If he can manage his emotions, there's no reason that Cousins can't average 20-25 points, 10-14 rebounds and shoot better than 50-plus percent from the field this season.
Windhorst: McLemore will win Rookie of the Year. Most say Victor Oladipo will win but I think McLemore's got the most pure talent out of any of the top picks. All of them have their flaws and he's got a lot of growing up to do by most accounts. But his talent could very easily be the difference as so many players recover from injury/figure out the league.
Winter: Cousins' extension will prove to be a mistake. How often do stubborn, inefficient and defense-averse players with attitude problems live up to their potential? The Kings were in a very difficult place with Cousins before making him the organization's cornerstone; soon enough they'll be in for even tougher times.
---
5. Prediction time: How far will the Kings go this season?
Doolittle: They will improve, but a playoff run would miraculous. If Cousins plays like an All-Star, McLemore shows he can play and the Kings reach 35-40 wins, it's a great season. I like the chances for all the above.
Ham: The Kings will go as far as Cousins can take them. He has been dominant in preseason, but once the games start for real, teams are going to throw the kitchen sink at Cousins and make the rest of the Kings beat them. How he handles the adversity will dictate whether this is a 25-win team or a 40-win team.
Santiago: This season is all about player development and changing the culture in Sacramento. The Kings have downgraded in talent, but they've upgraded in fit and management. A season of 30-35 wins would be acceptable to a fan base that's just happy they got to keep their team.
Windhorst: 82 games. This team is in transition and half the roster wasn't brought in by the current regime, so there are probably more changes ahead. Perhaps this is the season the franchise pivots in the right direction. That alone has been a long time coming.
Winter: Miss the playoffs. Cousins-related concerns not withstanding, the Kings' future is brighter than it has been in several years. But that potential success assures little for the present. Sacramento will have another high lottery pick next June.