Now
espnW
@espnW
Is NOLA just what @boogiecousins needs? From Randy Moss to Metta World Peace, athletes have thrived in new cities. es.pn/2lIPrnO
Ramona Shelburne
@ramonashelburne
I've heard Magic intends to move quickly though. Hence Pelinka, who comes highly recommended by Kobe, as a prime option.
Hannah Storm
@HannahStormESPN
Here's why @MagicJohnson returned to try and resurrect the @Lakers espn.com/video/clip?id=…
Rachel Nichols
@Rachel__Nichols
For those wondering about the timing of the #Lakers changes, from @sam_amick pic.twitter.com/9JScF5icgw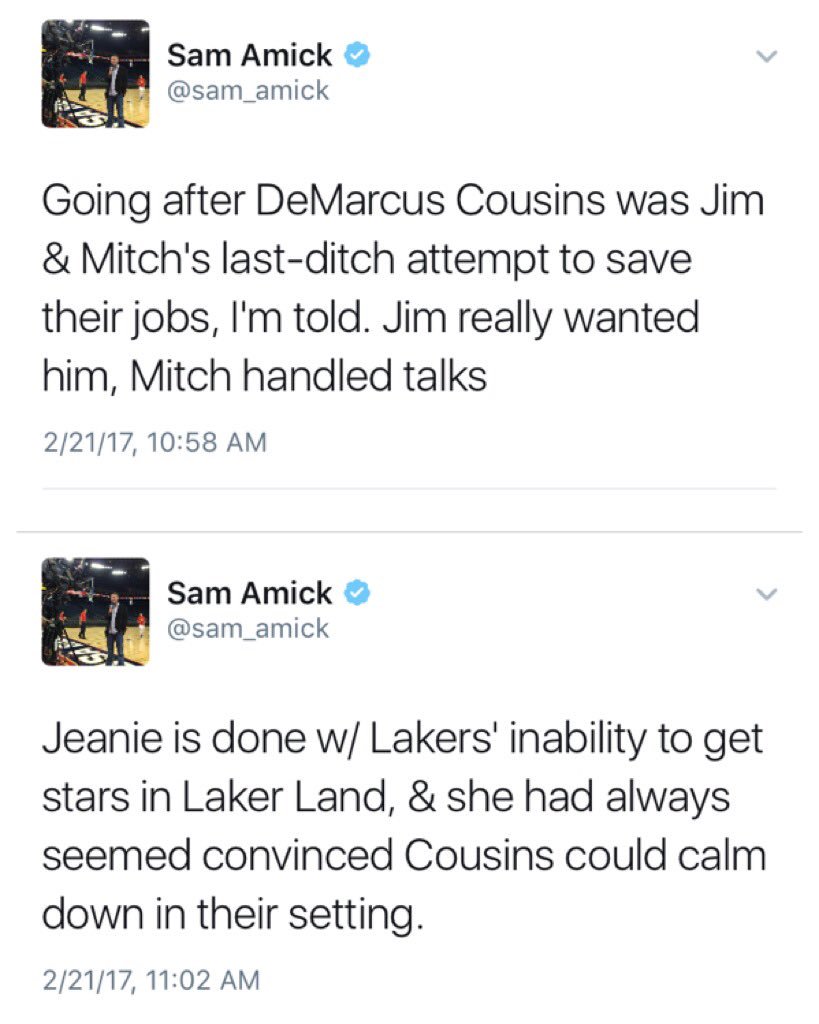 Justin Verrier
ESPN Staff Writer
DeMarcus Cousins told reporters in Sacramento he was "shocked" to learn of the news that he'd been traded, but that the Pelicans have "made the situation a lot more comfortable" by sending coach Alvin Gentry and GM Dell Demps on the plane to bring him to New Orleans. "It's been hard," Cousins said, according to ABC 10 in Sacramento. "For it to just happen overnight, and then to just come home [from the All-Star Game] -- I've got to rush to get things done. My mindset was I was coming home to relax for a couple days. It's been a hectic two days, but that's the nature of the beast."
Ramona Shelburne
@ramonashelburne
Lakers would need to wait and likely get permission and give compensation if they go with a current GM like Myers, Presti, Olshey
Marc Stein
ESPN Senior Writer
Hearing more and more teams say today they believe Detroit will NOT discourage trade inquiries for center Andre Drummond this week.
Justin Verrier
ESPN Staff Writer
Pelicans coach Alvin Gentry and GM Dell Demps took a private plane to Sacramento to pick up new additions DeMarcus Cousins and Omri Cassi, according to ABC10 producer Sean Cunningham.
Zach Lowe
@ZachLowe_NBA

Lowe Post podcast: @ESPNSteinLine dishes on Boogie, Butler, PG-13, BOS, trade buzz (recorded before Lakers purge) espn.com/espnradio/play…
ESPN Stats and Information
Magic Johnson owns the best career win percentage by any player in NBA history with a minimum of 500 games played, according to the Elias Sports Bureau.
Ramona Shelburne
@ramonashelburne
But really this day is about Jeanie Buss taking control of the Lakers as her father gave her the power to do in his will.
Baxter Holmes
ESPN Staff Writer
It always seemed somewhat surreal that Lakers' president and co-owner Jeanie Buss could one day fire very own her brother, Jim, from his position as the team's executive vice president of basketball operations, but because of the team's historic slide that has indeed come to pass.
Ramona Shelburne
@ramonashelburne
As for Kobe's role? I'm told he's happy doing what he's doing. But obviously will be available to the Lakers whenever they need him
ESPN
@espn
Kobe Bryant could be returning to the Lakers organization if Magic Johnson's recent comments are any indication. es.pn/2m55ixw
The Undefeated
@TheUndefeated
Eff it, we'll do it live! @JustinTinsley and @aardodson jump on FBLive in 5 minutes to talk about the oral history of @Dame_Lillard's album.