Now
Rachel Nichols
@Rachel__Nichols
Good stuff from @ramonashelburne on the #Lakers GM search: pic.twitter.com/gSYyD9LaSF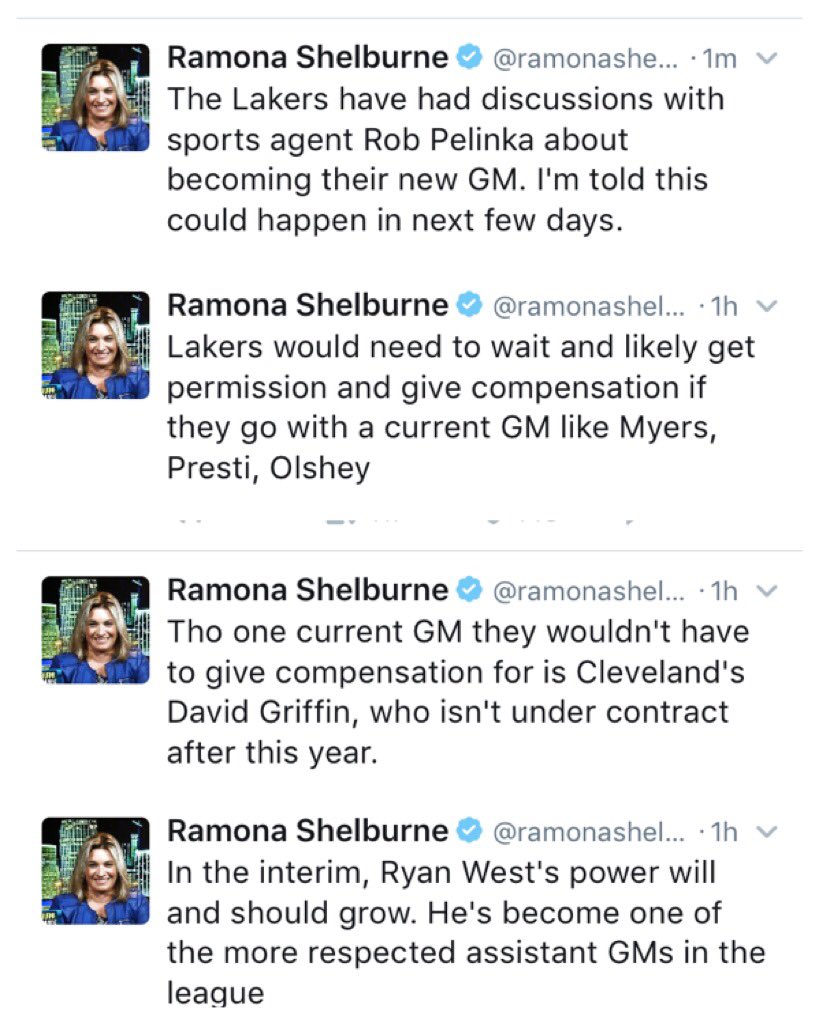 Ramona Shelburne
@ramonashelburne
Lakers aren't planning an official press conference until they have a new GM.
Ramona Shelburne
@ramonashelburne
The Lakers have had discussions with sports agent Rob Pelinka about becoming their new GM. I'm told this could happen in next few days.
Rachel Nichols
@Rachel__Nichols
Several times during this @SpectrumSN interview, both Jeanie & Magic saying how they feel like siblings, grew up together within the Lakers.
FiveThirtyEight
@FiveThirtyEight
Warriors: 56% Spurs: 13% Cavaliers: 10% Celtics: 5% 53eig.ht/2eVAzzD
Tom Haberstroh
@tomhaberstroh
Since rewarding Kobe Bryant --who was rehabbing from a torn Achilles-- with NBA's richest contract, the Lakers are 84-220, 2nd-worst in NBA.
ESPN Boxing
@ESPNBoxing
Think @TheNotoriousMMA can beat @FloydMayweather? What about the Pistons to beat the Cavs? Here are comparable odds. es.pn/2kHQOU0
FiveThirtyEight
@FiveThirtyEight
Nikola Jokic is suddenly one of the best young NBA players of all time: 53eig.ht/2kxcK4o pic.twitter.com/r6slBvXfNs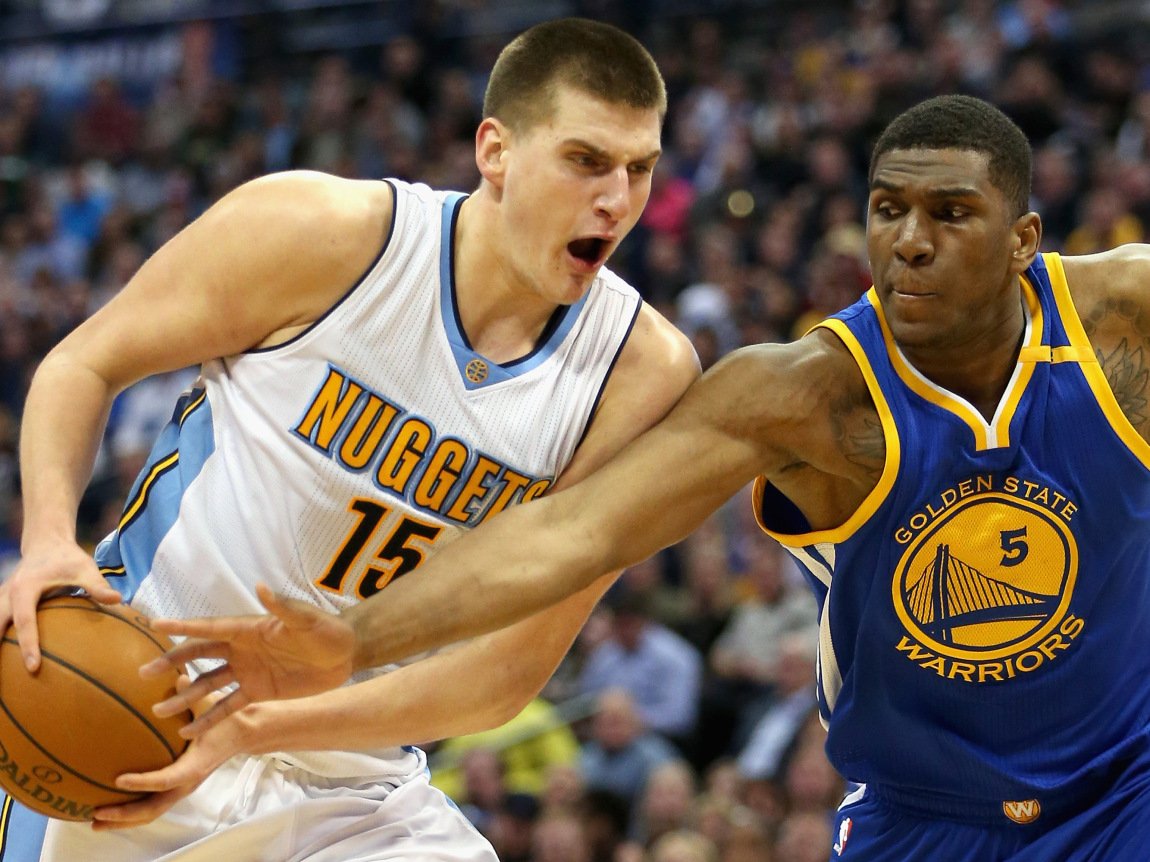 Chris Haynes
ESPN Staff Writer
Toronto Raptors will assign rookie forward Pascal Siakam to D-League's Raptors 905 this week, league sources tell ESPN.
espnW
@espnW
Is NOLA just what @boogiecousins needs? From Randy Moss to Metta World Peace, athletes have thrived in new cities. es.pn/2lIPrnO
Ramona Shelburne
@ramonashelburne
I've heard Magic intends to move quickly though. Hence Pelinka, who comes highly recommended by Kobe, as a prime option.
Hannah Storm
@HannahStormESPN
Here's why @MagicJohnson returned to try and resurrect the @Lakers espn.com/video/clip?id=…
Rachel Nichols
@Rachel__Nichols
For those wondering about the timing of the #Lakers changes, from @sam_amick pic.twitter.com/9JScF5icgw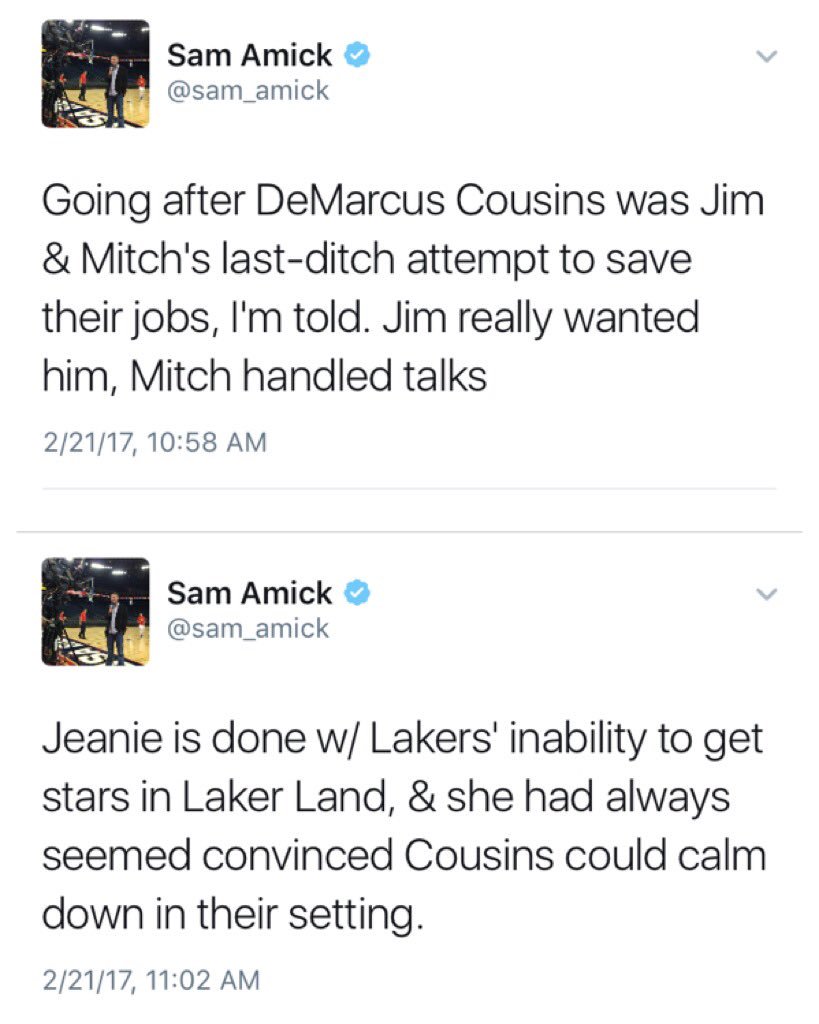 Justin Verrier
ESPN Staff Writer
DeMarcus Cousins told reporters in Sacramento he was "shocked" to learn of the news that he'd been traded, but that the Pelicans have "made the situation a lot more comfortable" by sending coach Alvin Gentry and GM Dell Demps on the plane to bring him to New Orleans. "It's been hard," Cousins said, according to ABC 10 in Sacramento. "For it to just happen overnight, and then to just come home [from the All-Star Game] -- I've got to rush to get things done. My mindset was I was coming home to relax for a couple days. It's been a hectic two days, but that's the nature of the beast."
Ramona Shelburne
@ramonashelburne
Lakers would need to wait and likely get permission and give compensation if they go with a current GM like Myers, Presti, Olshey