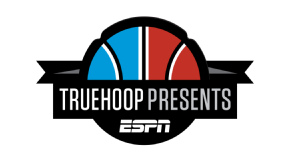 BOSTON -- On stage, the six panelists, including the CEO of a neuroscience startup, a vice president at Intel and an NFL wide receiver, volleyed points back and forth about wearable technology. High-tech gadgets can help track an athlete's workload, health and performance, and hopefully help prevent injury, but who should own that data? The athlete? The team he or she plays for? A tech company? Hearty deliberation ensued.
At the rear of the crammed ballroom, while Andrew Hawkins of the Cleveland Browns expressed concern over biometric information being used against athletes in, say, contract negotiations, Lakers assistant coach and director of basketball strategy Clay Moser took it all in during his first visit to the 10th annual MIT Sloan Sports Analytics Conference in Boston.
Afterward, along with a steady stream of others, Moser headed toward a nearby hotel lounge to get off his feet after the eight-hour first day of the forward-thinking sports gathering.
"It's a place you have to be," Moser said of the conference, which this year boasted more than 3,900 attendees, including representatives from every NBA team and nearly every NFL, MLB and NHL team. "You've got to see what's new out there. You've got to make sure you're current and up to date."
This past weekend wasn't the first time Lakers officials attended the conference, but doing so wasn't always the team's priority. In the conference's first six years, the Lakers didn't send a basketball operations representative and, in 2013, they were the only NBA team not to send one, fueling a dubious reputation that, analytically at least, the Lakers were behind the times, as ESPN detailed last year.
Since then, however, the Lakers have worked to make strides. Moser, with more than 2½ decades of professional basketball management and coaching experience, filled a new position the team created before the start of this season, acting as a liaison between the coaching and analytics staffs, helping compile numbers-heavy reports for Lakers coach Byron Scott and the team's players.
Also before the season, in the spirit of transparency, the Lakers also revealed previously undisclosed members of their analytics staff, such as Yuju Lee, their director of analytics, and Aaron Danielson, associate director. Other Lakers analytics staffers include former NBA coach Rudy Tomjanovich (title: consultant/scout) and Rudy's son, Trey (title: consultant/statistical analysis).
Along with Moser, Lee and Danielson trekked to Boston this year, marking their third visits to the conference, and the three fanned out to many of the nearly 100 panel discussions and other events throughout the two-day conference.
"I think in any way, shape or form, it's positive to be here," Moser said, sipping a beer in a button-up polo and slacks while the lounge swelled with suited attendees eager to remove their lanyards, unwind and gab about hoops.
"People are trying to do the same thing you are from all different walks of life. If you're paying attention, something somewhere along the line should stir something in you where you go, 'We need to think about that' or 'We need to do this better' or 'We're fine in this category' or whatever the situation." Moser continued, referencing one panel he especially enjoyed featuring former NBA analytics official Dean Oliver, former NBA player Shane Battier and former NBA head coach Jeff Van Gundy.
"It was entertaining," Moser said. "I think Jeff kind of captures what coaches think about the whole analytic movement -- 'Listen, if it's going to help me win, I'm for it' -- but you've got to be careful that you're not inundating your coaching staff with information that doesn't matter, which is fundamentally my role anyway.
"We have this mountain of stuff, excellent information, but it's not all necessarily applicable all the time. You've got to boil it down. I can't just go heap it on Byron's desk and go, 'Hey, look at this great stuff here. Good luck.'"
Of course, progress on the analytics front is not gauged just by sending staffers to conferences or publicizing roles and résumés. But roughly a year ago, when asked by ESPN for specific examples of any decisions that were driven by analytics, the Lakers came up empty. That has changed. In fact, Scott and his players have been vocal about information provided by the analytics staff that has helped improve the on-court product.
In a notable instance in late February, Scott pointed out how he was informed that his team was among the NBA's worst when it came to moving the ball side to side. As such, he installed a new offensive set focused on ball movement.
The impact is obvious.
Through February, the Lakers were averaging 277 passes per game, 28th among 30 NBA teams. Entering Sunday, the Lakers are averaging 317 passes, eighth in the league behind Golden State (seventh) and just ahead of Atlanta (ninth), two teams well known for being among the NBA's best at moving the ball.
"We had a bunch of stats shown to us today where we've improved our ball movement, we've stopped dribbling so much," Lakers rookie forward Larry Nance Jr. told reporters after the Lakers' 107-98 win over Orlando on March 8.
Beyond that, even though the Lakers are on pace for their worst season in franchise history, they proceeded to win three of their next six games after Scott implemented that new set on Feb. 26, including beating the defending champion Golden State Warriors in a shocking 112-95 upset at Staples Center on March 6.
"They've been great," Scott told ESPN of the Lakers' analytics staff. "A lot of times numbers can be a little misleading, but, for us, some of the things that we try to chart, especially offensively and when we added the set to see what the difference in our ball movement was, the numbers that [Moser] gave me were fantastic. It showed that we are doing some good things with it and the pace has been just as good and we're getting in the paint more and our field goal percentage went up. It's been good."
"You've got to boil it down. I can't just go heap it on Byron's desk and go, 'Hey, look at this great stuff here. Good luck.'" Lakers assistant coach and director of basketball strategy Clay Moser
Back in the lounge, which in a span of 15 minutes became a buzzing hive of activity, Moser, in his fifth season with the Lakers, credited Lee, who holds M.S. degrees in statistics and computer science from UCLA, and Danielson, who is finishing up his Ph.D. in statistics at UCLA and had earned master's degrees in public policy from the University of Chicago and economics from New York University.
"Those guys are brilliant," Moser said, speaking above the nearby chatter while college basketball games aired on nearby flat-screen televisions. "It's mostly up to me to ask the right questions and they'll help me find the answers, like, 'Listen, I'm curious about this or Byron is curious about this or someone else on the coaching staff is curious about this. Can we find this information?' They'll go, 'Oh, yeah.' They're both doers. They're both problem solvers. The answer to those questions is never no. They can always solve it to some degree."
Moser said his background isn't as numbers-based. He has a physical education degree with a sports management minor, but he said numbers have always been a focus.
"I've always leaned more toward the stats side of things and trends and indicators," he said. "Like when I would do my scouting reports, I'd say, when this team does this, they're next to impossible to beat. We have to mitigate what they're doing in this particular category or you can't beat them. So from that standpoint, yes.
"Now where we transition from 'stats' to 'analytics,' I don't know exactly when that happened. It's a buzzword that caught fire. But I've always been inclined to look more at numbers and try to figure out, 'OK, what makes us tick? What makes them tick?'"
Moser said much of the data comes from the six SportVU cameras in the rafters at every NBA arena that, using Israeli missile-tracking technology, record the movements of each player, the referees and the ball 25 times per second every game.
"SportVU kind of drives where all the information comes from, and then it's up to each team and the philosophy of the ownership and the management of whatever to how you interpret that information and what you do with it," Moser said.
Moser also said that Scott and many of the Lakers' players, including several veterans, have been "unbelievably receptive" to the analytical information they've been provided this season in methods that, it's worth pointing out, didn't exist last season.
First, they receive an opponent analytical report on matchups before all 82 games, a packet that's usually a few pages and is left in each player's locker before games, which is a new approach.
"It basically gives you the answers to the test," said Lakers center Roy Hibbert. "How he gets his shots, pie charts, what percentages he shoots over his left shoulder, over his right shoulder, when he shoots, is he catch-and-shoot or catch-and-then-off-the-dribble-then-shoot -- it's all important to know. ... They have a lot of stats on everything -- they'll tell you how many dribbles they take once the ball is outlet-ed. They give you all that stuff."
"The packets [are short], and they're designed to be that," Moser explained. "They're user friendly. We use a lot of colored charts and graphs where it's an immediate look -- here's a look at so-and-so, he drives left, likes to turn over his right shoulder in the post, great catch-and-shoot guy, make him dribble. It's like reading USA Today over The Wall Street Journal. You just read the headlines and you know what you're talking about.
"It's a summary of each guy from an analytical standpoint and a little bit of my knowledge of having seen these guys in person a lot. So a certain guy, he does this so he's extremely explosive or whatever. I'll combine the two of them a little bit, but then I do a five-game review for Byron in certain categories. So what I do from an opponent standpoint, I will also do that on our own team every 10 games. I give that to Byron and to the front office."
Moser said he and the analytics staff break down games after they're over.
"We've got all kinds of things that we compile and compute and report on in our own office, but there's only certain things that we take to Byron and/or [the front office]," Moser said. "If there's something that's causing us concern or if there's some great news, then we'll share that with everybody right then. But we clearly keep track of everything after every game, but we wrap it up after every five or 10 games, otherwise it becomes too much."
Moser pointed out that some of the Lakers' efforts aren't "earth-shattering stuff." In one instance, he said, they chart all the plays the team runs and chart them by lineup and just in general.
"So, over the course of the season, that tends to be a very lengthy report," he added.
Another change is that Moser presents each Lakers player with analytics reports that recap his previous 10 games, and the two discuss progress, areas for improvement and more. The players are also expected to receive packets at the end of the season that can help them shape their offseason training routine, something that also didn't exist a season ago.
For now, though, several players say they appreciate the effort.
"Yeah, it's good," said Lakers swingman Metta World Peace, who describes himself as "very analytical." "It's pushing you to get better. Analytics just mean more effort and just willing to get better on the court."
Not 30 minutes after Moser sat down in the lounge did another visitor enter: Philadelphia 76ers general manager and president of basketball operations Sam Hinkie. The two sat across the room from each other, and the dichotomy was striking.
Although they have the league's worst record this season, the 76ers boast arguably the most aggressive analytics operation in the NBA, one they hope will help lead them to contending status, namely through the draft lottery.
Meanwhile, across the way sat Moser, representing a team that has the league's second-worst record this season, an organization criticized for being the NBA's least aggressive operation when it comes to analytics, preferring instead to reload with star players drawn to the allure of the Lakers, their history and Hollywood.
Yet, in a noteworthy twist, the Lakers' recent improved play, which is thanks in part to advanced stats, has dramatically improved the 76ers' chances of landing the Lakers' top-three-protected first-round pick this year (as part of the Lakers' Steve Nash trade). As of Tuesday, the Lakers held a 55.2 percent chance of keeping that pick, according to ESPN's Basketball Power Index.
That's not to say the Lakers will win enough to finish with the league's third- or fourth-worst record, thus lowering that percentage even more. It's that the Lakers now have virtually no chance of ending the season with the league's worst record, ahead of the 76ers, which would have tilted the odds mightily.
For now, both franchises are in the muck of rebuilding and taking different paths to escape, with their futures intertwined because of that pick -- and whether the Lakers keep it or not, either way it will mark a win for advanced stats, for one team or the other.