As of Thursday morning, Vince Carter is the lone member of the NBA's active 40-and-older club. At least a couple of his draft classmates are still around to help Carter celebrate his birthday.
Paul Pierce, 39, knows this season will be his last. Dirk Nowitzki, 38, hopes his body will let him play at least one more. Carter's feelings about his basketball future fluctuate, but the old man pulled off a half-amazing 360 layup in traffic on the last night of his thirties against the Raptors that raised him.
For now, though, the three legends are the only ones left standing from the Class of 1998 -- unless you count the No. 23 overall pick, Cleveland Cavaliers head coach Tyronn Lue.
The forgettable career of the first overall pick, Los Angeles Clippers center Michael Olowokandi, has been over for a decade. Robert "Tractor" Traylor was selected by the Dallas Mavericks at No. 6 and swapped for a floppy-haired German kid a few picks later in a deal with the Milwaukee Bucks. After being out of the league for six years, Traylor died of a heart attack in 2011 while playing in Puerto Rico.
The rest of the top 10 -- No. 2 Mike Bibby, No. 3 Raef LaFrentz, No. 4 Antawn Jamison, No. 7 Jason Williams and No. 8 Larry Hughes -- all enjoyed some success but combined for a grand total of two All-Star appearances between them. The active trio has long stood head and shoulders above the rest of the class.
Carter, the No. 5 pick -- who was traded for Jamison, his friend and North Carolina teammate, on draft night -- soared to eight All-Star appearances with the Toronto Raptors and New Jersey Nets. Once known as "Half Man, Half Amazing," Carter redefined his game as he aged, becoming a sage role player in recent years, now helping the Memphis Grizzlies fight for playoff positioning in the Western Conference.
Nowitzki, the No. 9 pick despite not being sure of his desire to play in the NBA at the time, forced folks to change the way they think about 7-footers while he climbed to sixth on the league's all-time scoring list. He remains the face of the franchise in Dallas, the only NBA city he'll ever call home.
A sore right Achilles tendon robbed Nowitzki of most of the first two months of this season, and most likely a chance to play in the postseason for the 16th time in 17 years, although the big German refuses to give up hope.
Pierce, the No. 10 pick, will one day see his No. 34 raised to the rafters in Boston alongside the other Celtics greats, presumably pretty soon. "The Truth" has played for three teams in four seasons since leaving Boston, reuniting with coach Doc Rivers for his final stop with the Clippers, for whom Pierce is a part-time player but full-time locker room presence.
Nowitzki (29,757), Pierce (26,361) and Carter (24,295) have combined for 80,413 career points and have an outside shot to be the highest-scoring draft trio in NBA history. They rank behind only the Class of '84 (Michael Jordan, Hakeem Olajuwon and Charles Barkley with 82,995 points) and Class of '96 (Kobe Bryant, Ray Allen and Allen Iverson with 82,516).
The '98 greats separately sat down with ESPN recently for a three-way Q&A.
What do you remember most about that draft night?
Nowitzki: I didn't go to the draft. I actually worked out with Holger [Geschwindner, Nowitzki's shooting coach] those couple of days, and I stayed at Holger's house. We couldn't watch it anywhere. It wasn't on TV back in Germany. I remember in the middle of the night, we got a call and it was [then-Mavericks coach] Don Nelson. He was like, 'Hey, we just drafted you guys. We'd love to come over and see you guys,' because I had said that I wasn't sure if I was coming [to the NBA] or not.
I was like, 'This is crazy!' After the whole Hoop Summit, I guess there was a little hype, but I never thought somebody would take a chance on me that high, especially after saying that I wasn't sure if I would come or not, worried about basically going from the second division to the NBA. That was a huge jump, and I was a little worried. It was bizarre. 'Whoa, Dallas took a chance on me at frickin' No. 9?' It was incredible.
Then [Mavericks GM Donnie Nelson] and Nellie came maybe a couple of days later. They showed up in Wurzburg. [Then-Mavericks owner] Ross Perot came in the private plane. I had this press conference in this small little hotel that I'll never forget. It was unbelievable. I remember like maybe two or three media people showed up, because it was on such short notice, right? Ross was the one who wanted the press conference, but we couldn't even get a TV station there. There was literally like three people there. It was so bizarre, so bizarre.
"'Whoa, Dallas took a chance on me at frickin' No. 9?' It was incredible."

Dirk Nowitzki, on his reaction to being drafted by the Mavs in 1998
Then Ross flew out again, and Donnie and Nellie stayed for a few days and talked to me over and over. They said, 'Hey, don't make a decision before we fly you to Dallas. We want you to see everything and meet some of the guys.' So I agreed to that. I flew back with Donnie and Holger, stayed at Nellie's house back in the day. Had a press conference. Never had a suit, so I remember right from the airport, we went right to Lombardo's [Custom Apparel in Dallas]. I had the worst jacket on, and we had a press conference.
That's when I met Nashie [Steve Nash] for the first time, because they flew him in for the press conference. It kind of clicked from there. I think on my second night, Nellie threw a little barbecue at his house for me, and Fin [Michael Finley] came and Strick [Erick Strickland] came. Nashie was there and some of the other guys who were in town. I just got to mingle a little bit and meet them and speak as much as I could with my English.
Then the next night was our decision. They set a press conference the morning before I left, and Nellie was like, 'Think about it all night, but we need a decision before you leave.' So that night was rough. I remember I was sitting with Holger around the pool for hours. Obviously, I had concerns. I had concerns about making that huge jump. I'd never lived anywhere but with my parents. I guess the end of the story was, 'We'll try.' They had a young team. It wasn't like they were a great team right [then], not really a playoff team, so you could get some minutes and develop.
Nellie said, 'At the end of the day, if things don't work out, you could always go back to Europe.' That's always an option after two or three years [when] your contract is over. If they don't take the option after three years, you're back home in Europe. So the next day, I went to the press conference and was like, 'I'll try.'
Pierce: I remember slipping and not really knowing where I was going to end up. Because I only worked out for the top five teams.
I remember I didn't know who Jason Williams was, and he got drafted ahead of me. It was just weird. I thought I'd be in the top five, and I slipped all the way to 10, so it was a strange night for me.
And then I go to Boston, a team I really didn't like growing up, because I was a Lakers fan. But you know, things happen for a reason. I guess it was meant for me to be in Boston. It worked out OK.
Carter: You finally get to the draft after working out for five or six teams, and it's the unexpected. We knew either Bibby or Olowokandi was going one or two, and then after that, it's all hearsay. I heard anywhere from three to eight. That's what I hear, so you kind of have to hang your hat on that unless you get that phone call: 'OK, we're going to get you if you're available.'
I just remember sitting around. Olowokandi, OK. Bibby, OK. Raef LaFrentz, great. From there, you really didn't know. I remember sitting at the table next to me was Antawn Jamison. Our families were sitting next to each other, laughing and talking. I remember saying, 'Man, what do you think is going to happen?' We had no idea.
They called Antawn at four. I mean, he was my suitemate in college and very good friends, so [I was] over the moon. It felt like I got drafted, because I was just nervous and excited for him, as if it was me. But the weird thing about it at the time was that he never worked out for Toronto. So it was kind of like, 'OK, well, they just really wanted him.' I worked out for them, and Toronto told me basically, 'If you're available, we're going to go get you, so you might as well come work out.' That's what we were hearing, so I took my workout and everything.
"I was introduced to the business of basketball pretty much in the first five minutes. I was on the West Coast back to the East Coast in a matter of five minutes."

Vince Carter, on being traded from Golden State to Toronto on draft night
But then, they drafted him, so I was just perplexed a little bit, like, 'Wait a minute, what the heck's going on here?' But nevertheless, I was excited for him and like, 'Whatever.' You know, you're just living in the moment.
Then I started looking around. When the camera starts getting close to you, you figure they're talking about you. 'This could be it.' You try to play it cool. Then I get the phone call like right before and they call your name, and it was just over the moon.
I remember getting my hat from ["hat lady"] Chrysa Chin, and then I'm walking up the steps and as I'm walking, I see Antawn at the bottom of the steps still. I was like, 'Hey, what's up?' As soon as I took the picture, David Stern says to me, 'Wait right here, there's about to be a trade. We'll go from there.'
OK, I step back. I'm holding my hat, looking at it. The first thing I said is, 'Dang, somebody's getting traded already on draft night.' Dang it, it was me, and it all came together. Well, Antawn I guess got the word that there was going to be a trade. That's why he was sitting there. I didn't know, because of course, by the time it was happening I was already walking up to the stage. It blindsides me, pretty much. But then it all made sense.
I was introduced to the business of basketball pretty much in the first five minutes. I was on the West Coast back to the East Coast in a matter of five minutes. Mind you, everybody [at their tables] had their hat fixed perfectly. Basically, here's your hat to that table, here's your hat to this table. It was a pretty cool thing. Not only did [Jamison and I] get to experience the draft beside each other, but we got traded for each other as well, so it was pretty cool.
---
What's made Vince Carter special?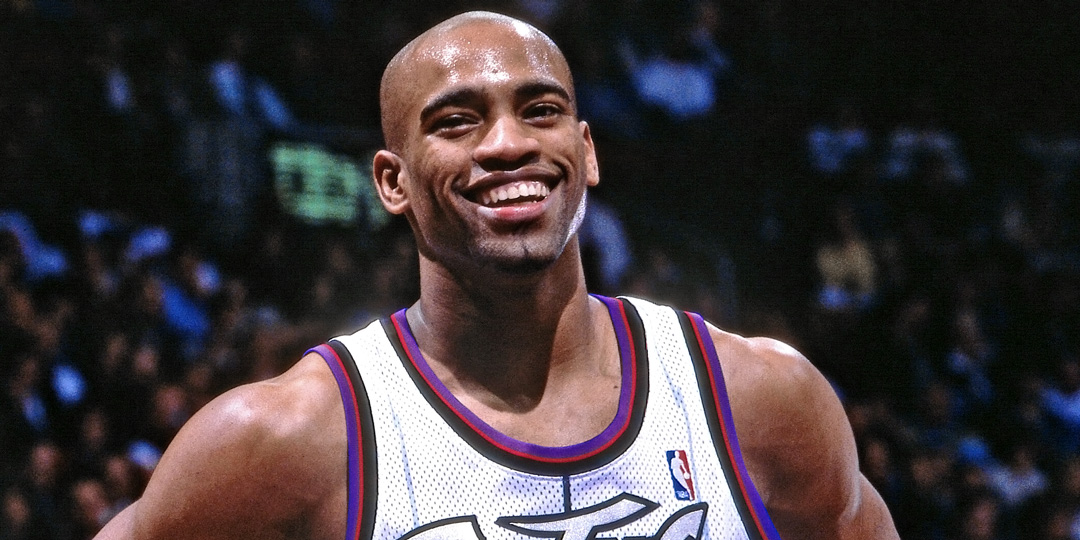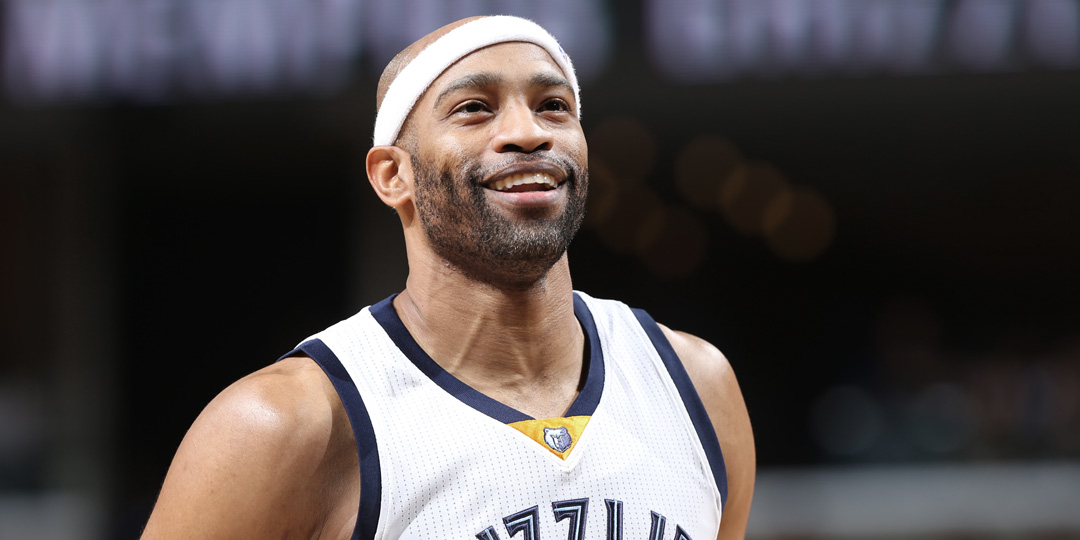 Nowitzki: Vince just had unbelievable athleticism. I mean, he did stuff that I don't think we've seen before in this league. I was in Oakland at his dunk contest in [2000], and nobody's ever seen the stuff that he did.
But what kept him so long in the league now was really his skill level, even though obviously he still has some athleticism, still has some hops. But it's his shot, the repertoire of fadeaways that he's got, his 3-ball was always money and he's a big guy for a 2 or 3 that was always good on the block. He'd run a pick-and-roll going to his right, where he was always deadly.
I mean, he was a tough matchup because he could post, and he was so freakishly athletic. He'd come off a down pick and just jump up and really nobody could get to his shot. Obviously, he's so athletic that once he got going to the rim, you could challenge him, but he was going to put you on a poster. He was fun to watch during his prime.
Pierce: He had unique ability, something you hardly see: great athleticism and great shooting touch. Usually you see one without the other. He had the combination of both. That's rare. It's something this league has not seen in a long time.
---
What's made Dirk Nowitzki special?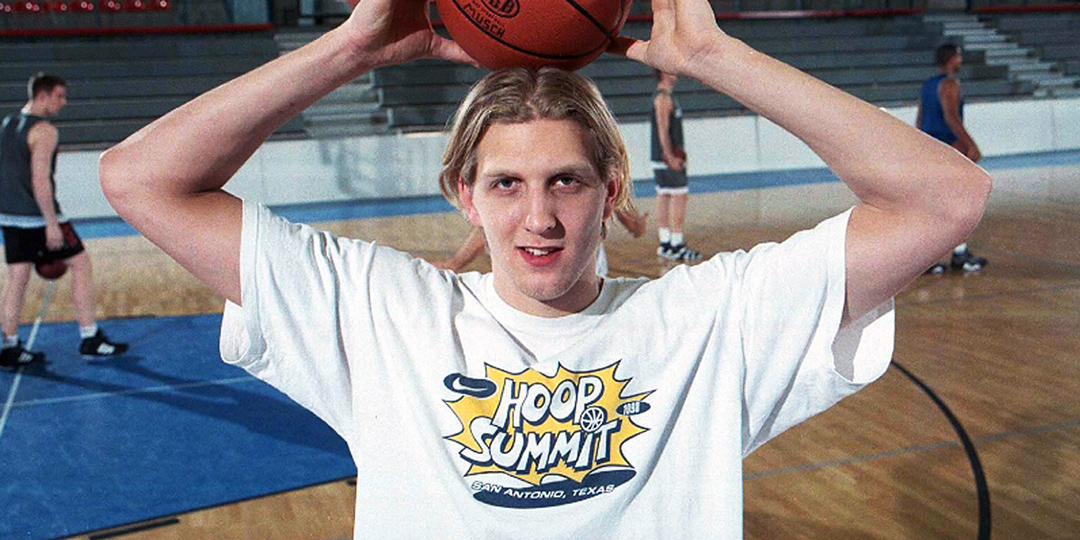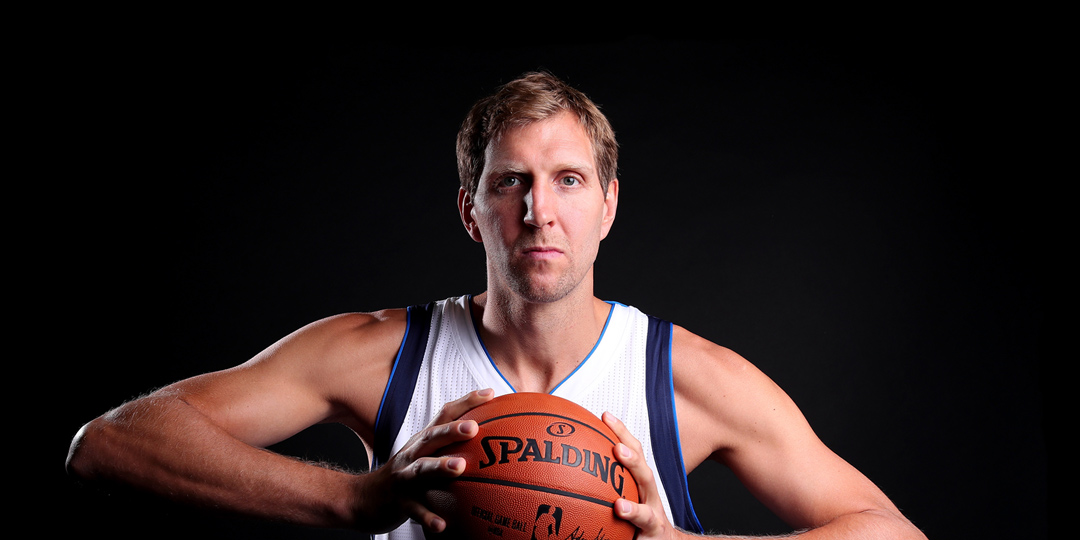 Pierce: Dirk changed the game, man. When you look at what he was able to bring with his versatility and his shooting as a 7-footer, to be able to put the ball on the ground, he was one of the first stretch 4s that you see more of today. I mean, he revolutionized the game.
Players like that are transcendent. He was a transcendent player.
Carter: First of all, his work ethic. He puts a lot of time in, and it's different than any other player I've ever seen. I've been around long enough to see a lot of guys train and prepare, but he just loves the game. He loves to play. He loves to compete. And he's selfless. He's all about the good of the team.
That's one thing, having the opportunity to play with a go-to guy, a superstar like himself, is that he's willing to make the right play. It's not always like, 'The play is for me; I have to make the shot.' 'The play is for me; I have to make the right play,' that's his mentality. But when he wants the ball, he's going to say, 'Give me the ball.'
He's a professional scorer. I say this about myself, too, and you could probably say it about Paul as well: When you see him walk into the arena before a game, you could probably say there's no way in hell that those guys are playing tonight. Then Dirk will come in and drop 35. Regardless of how he feels before the game, once the big lights are on and you come on the court, he knows how to get it done, plain and simple.
---
What's made Paul Pierce special?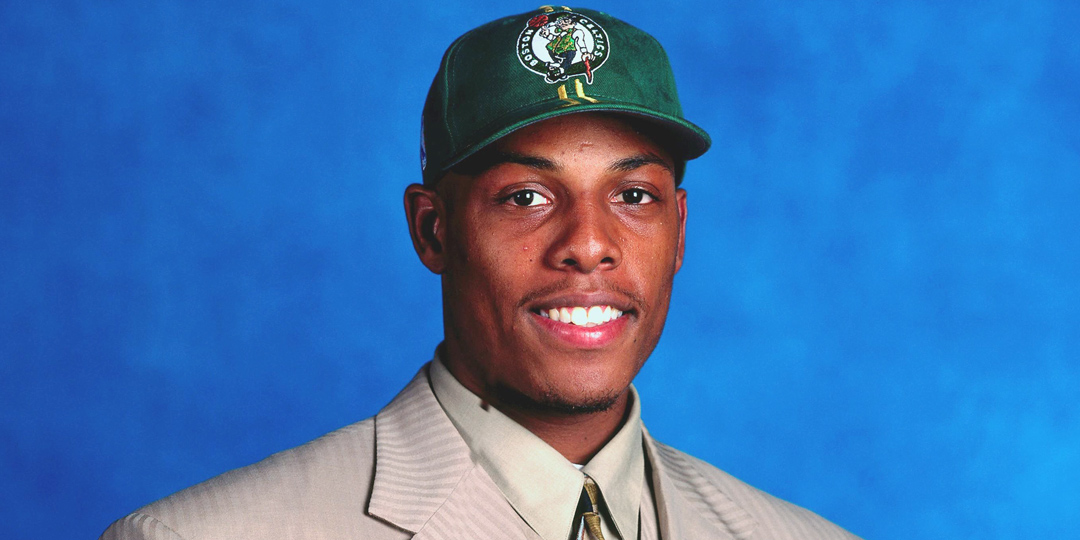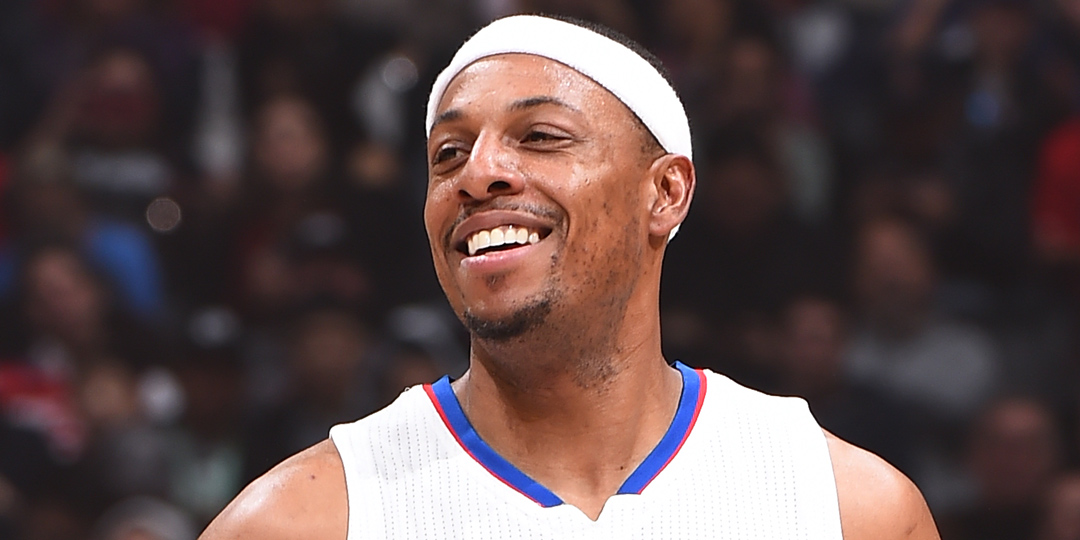 Nowitzki: He was strong. He'd get to his spots. He was a clutch shooter. He definitely had the clutch gene. Great pump fake, could get to the foul line. I mean, he was the complete package from the small forward standpoint. You put a smaller guy on him, he was able to post and shoot over him. Could drive both ways, even ran some pick-and-rolls.
And when it mattered, he made big shots. I wouldn't say he was a great flat-out 3-point shooter, but when the game was on the line, you never really wanted him shooting the 3. He was a competitor and really just a great all-around player.
Carter: He was a killer. He's been like that since high school. I remember us playing against each other in the McDonald's [All-American Game] and just being around each other. He's always had the mentality to score and wanted to dominate while having the ability to do whatever he wanted.
He had the big body and he knew how to use it. There are some people who are big and strong, but they don't use it like that. Paul used it. And he was deceptively quick, so when he got the ball in the logo area and he would swing through and put his body on you, you just hope he missed.
I've had many, many, many great battles against him and know him very well. Of course, we all know Paul can shoot the heck out of the basketball from the 3-point line. He's just another professional scorer.
---
What's it like knowing that the end is near for you and dealing with basketball mortality after having such a great career?
Nowitzki: I was always the young guy, the German wunderkind, the young guy coming up with talent. It felt like the next thing you know, I was 30. Those years just flew by. You're having fun, you're competing every year, and then in the summer, it's not like I was just sitting on my butt in my 20s. I played national team every year, so literally I took like two weeks off and then was right back in the gym working with Holger. If you stay busy, time flies. So my 20s, I felt like they were over in a heartbeat.
Next thing you know, you're 30 and you're sort of like a mid-aged guy. Couple of young guys, but still a couple older guys. Then the last few years, you're just the oldest guy. It's amazing how 19 years just have flown by. But if you stay busy, if you have a blast ...
Now, I'm still trying to compete. I enjoy doing it. Obviously, it's not as easy as back in the day. All the extra work you have to put in to stay ready. Now dealing with injuries that I really never had, it takes the fun away a little bit, but hopefully I can [stay healthy] and have fun.
Pierce: Oh, it's fun. I'm enjoying every moment. Shootaround, I'm enjoying. The bus rides, the plane rides with the guys, I'm enjoying every last bit of camaraderie that I'm going to get with my team.
In the locker room, on the court, I'm just soaking it all in. I've been around this game for a long time -- a lot of plane rides, a lot of bus rides, a lot of pregame speeches, a lot of national anthems. I'm enjoying the ride, man.
I know this is the last year, so I'm enjoying it as much as I can.
Carter: I'm a little uneasy sometimes. Some days, I'm OK with it. I know it's near, and I'm preparing myself for it. But some days, I'm like, 'Man, I'm not ready to walk away from it,' because I still enjoy being in the gym. I still enjoy running around and competing and laughing and joking. There's nothing better when you've done this so long. It's all you know. Maybe not all I know, but all I've done and all I've enjoyed doing at this point.
Now, I'm prepared to move on to Phase 2. But it's kind of like, you do all the preparation to be prepared, but you're not prepared, if that makes sense. I remember seeing all of the other guys [with the Raptors], seeing Oak [Charles Oakley] and Antonio [Davis] and Kevin Willis and [Hakeem] Olajuwon, watching them in their final years. Then they stepped out in the world and were just kind of like, 'Where do I go from here?' I mean, those guys were prepared.
It's something I never really thought about until -- I'm going to say five years ago: just making sure I'm ready. Because you hear the stories about guys who step out into the world when they retire, and it's like, 'All right, I have some money in my pocket. Where do I go?' Then just spending and spending, and you hear the next horror story that they go broke. That's something that I vow never to do.
For me, an idle mind is just awful. I think I'd be a miserable person, and I'd get on a lot of people's nerves if I'm retired and I have nothing to do. I can't just sit around. People are like, 'Oh, you get to retire and go to all these countries and visit.' I can't do that. That's not who I am. I'm not a vacation guy like that. I wouldn't like it. I know that, so I'd have to find something to do. That's where Phase 2 started years ago as far as kind of introducing myself to different people and figuring out what I'm really passionate about.
The coaching thing is still up in the air. I get asked about it all the time. I enjoy it, but I don't know if I want to do it. It's just the weirdest thing. I guess it makes sense, but to me, it still doesn't make sense. How is it that you enjoy it, have been doing it all these years but can see yourself [coaching full time]? I really can't see myself as a coach as of right now. In the broadcasting world, I can see it clear as day. I'm still fighting with that.
Other than that, I'm ready to go when the time is [right]. There's some mornings I wake up and it's like, 'Is it one more year? Or is it this year? Or is it three years?' I can never decide on a number. Scary. It really is for me, because I love this game, and I don't want to leave it. Not yet.
---
How do you like your odds of catching the class of '84 to be the highest-scoring draft trio in NBA history?
Nowitzki: [Heavy sigh.] That sounds like a lot. But you know, hopefully I can [stay] out there and I can score a few. Vince has been on a tear for a while, and Paul I don't think is playing much, but you know we're going to try. All three of us are competitors. I think as you get older, it's more important to be on a winning team. I'm sure Vince is enjoying that [the Grizzlies] are playing well, and Paul is enjoying the Clippers. We need some work.
Pierce: It's going to be tough. It's not looking good. I'm not playing much. Our only chance is Vince Carter now. Dirk has been hurt. But who knows? Man, we've got a shot. We've got a shot. But I think LeBron [James], [Dwyane] Wade and [Carmelo Anthony] are going to crush it. LeBron, Wade and Melo are coming. And they're coming fast.
Carter: It's possible. It's possible. I mean, God willing with health, of course, and opportunity. I think it's possible if we stay healthy. Dirk wants to play another year, and with his ability to score, he's going to get touches. I'm putting all of the pressure on him.