HOUSTON -- When Mike D'Antoni interviewed with the Houston Rockets last summer, he met with team brass once in Houston and again at owner Leslie Alexander's home in Delray Beach, Florida.
D'Antoni pitched an idea that would either make or break his job pursuit: If he became coach of the Rockets, he would move James Harden to point guard.
Harden had played seven NBA seasons at shooting guard and was coming off a season in which he set career highs in scoring (29 points per game), assists (7.5) and rebounds (6.1).
But D'Antoni had been studying Harden's game and was convinced it was the right move to make.
"I told them I was [convinced], and then I wouldn't have gotten the job if he didn't want to do it, I know that much," D'Antoni said with a smile. "I'm sure they asked him, 'What do you think?' Watching him all last year, it just made sense."
D'Antoni found a receptive audience to his plan. Before D'Antoni interviewed for the job, Rockets officials had an idea Harden could indeed play point guard. For years, Alexander had wanted the team to play an up-tempo style where 3-pointers, layups and pick-and-rolls were the pulse of the offense. It was just a matter of finding someone who could bring it together.
The main concern expressed by Rockets officials was the potential physical toll it would take on Harden, who had led the NBA in total minutes the previous two seasons.
There also was some uncertainty about whether it would indeed work with Harden. Yes, the Rockets believed he was an excellent passer, demonstrated by his then-career high 7.5 assists per game the previous season, but could he really do this over a full 82-game schedule? Harden was used to having the ball in his hands -- he touched the ball 85.1 percent of the time last season -- but this was still a major change.
"He felt like James, being the best player, rather than be off the ball, he should be on the ball from the start," Rockets GM Daryl Morey told ESPN. "He wanted to utilize his talents. There was concern about the burden on James, but credit Mike, because he knows his system and he sold it to James."
Selling the move to Harden proved to be easy.
D'Antoni and Harden had worked together before. D'Antoni was an assistant coach with Team USA's 2012 Olympic team that won a gold medal in London, a team that Harden had played on as a 22-year-old. Harden and D'Antoni enjoyed chatting about basketball, never knowing they would be with the same NBA team one day.
"We've always had good talks about basketball," Harden said. "I've known him, and we have a good understanding of each other and what he wants on the basketball court."
For the past five seasons, Harden has carved a place in the NBA as one of its elite scorers. But it's Harden's ball-handling and passing skills -- he's devastating out of the pick-and-roll -- that make him so good. When he's not scoring, which was the case early in Game 1 of the Western Conference playoff series against the Oklahoma City Thunder on Sunday night, he can impact the game in other ways.
Most assists as pick-and-roll ball handler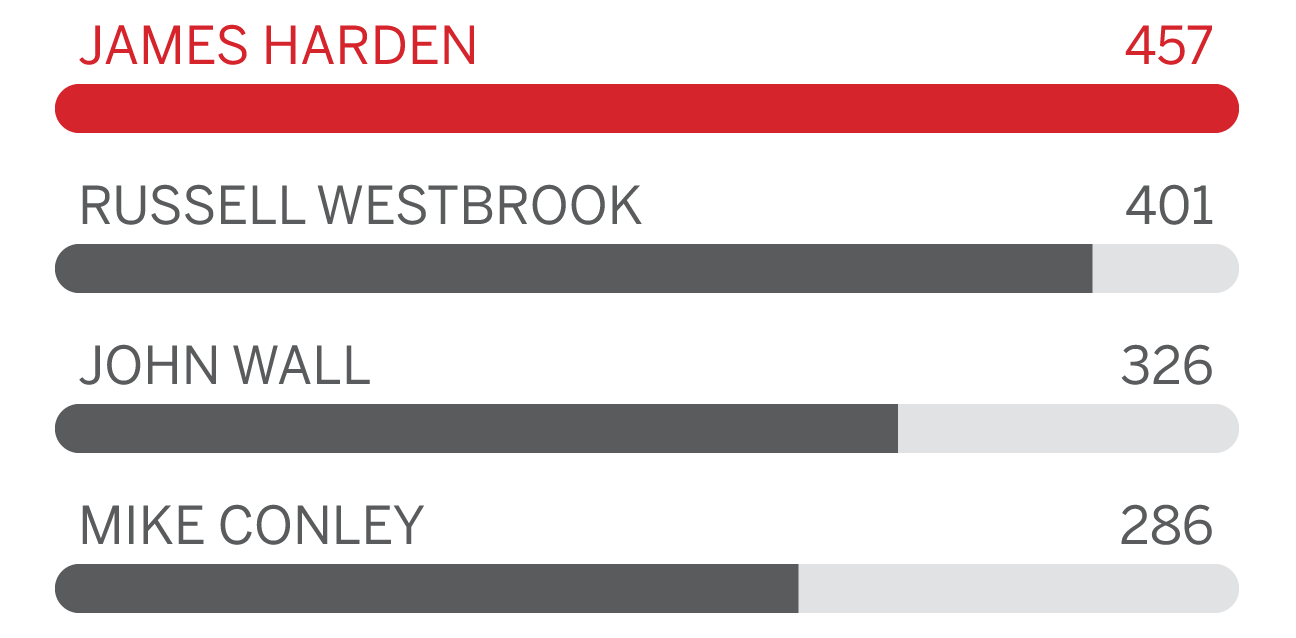 In the victory over the Thunder, he generated 59 points from either scoring or passing. The Rockets went 9-of-10 shooting off his passes.
"He knows it's go time, and he was really on fire; it's like what else can you ask for?" teammate Eric Gordon said. "He makes good effort on both ends. When he's knocking down shots, he will make it tough on the other team."
The Rockets' point guard led the NBA by either scoring or assisting on 56.2 points per game. (Harden averaged 29.1 points and generated 27.1 points off of assists.) That's just shy of the per-game record set by Nate Archibald (56.8) in 1972-73, though Harden played 81 games this season compared to 80 for Archibald that season, so Harden's total generated points for the season were the most in history at 4,554 (10 more than Archibald).
Highest average total points created

While the Rockets have found success with Harden in this role, rolling to the third seed in the West, even D'Antoni has marveled at how well his experiment has gone. The coach didn't know if Ryan Anderson, Trevor Ariza, Patrick Beverley and Gordon all could make the necessary plays from outside.
"A little risky," D'Antoni said. "His skill set screams it. He even went further with it than I thought."
Harden opens the way for Houston's outside shooters, such as Anderson and Gordon, to get cleaner looks from deep. Anderson, who is averaging a career-high 19.6 feet per shot, is shooting .398 from 3-point range, higher than his career average of .380.
Gordon also is setting a career high in shot distance, now at 18.6 after averaging 15 feet for his career. D'Antoni doesn't necessarily plan for his shooters to go farther out for shots, but his system allows for them to spread out in the halfcourt. When Harden has the ball and drives the lane the help side defender must make a decision: leave Gordon or Anderson open, or stop Harden?
"I think that's his strength: that he reads the game," D'Antoni said. "If we need 40 from him because they do a lot of switching, he gets 40. If they're not doing a lot of switching, he can do the hockey pass, which he doesn't get credit for, or make the determining pass, which he does. He will do that. He will do whatever it takes to make our offense really good, and that's why we average a lot of points all year, because he does what needs to be done. He's one of the best at it that I've ever seen."
With Anderson and Gordon spread out farther from the 3-point line, it makes it difficult for defenders trying to close out because they must travel a longer distance to the shooter.
"Very easy; he's either making a bunch of plays [for others], or he's scoring himself," Gordon said of how Harden conducts his on-court business. "You've got to pick your poison on who to stop."
When D'Antoni moved Harden to full-time point guard, the thinking was this team would go faster. To the eye test, it almost appears the Rockets move slower with Harden at point guard -- though the team's average offensive speed in mph remains essentially the same (4.42 this season, 4.41 last season).
From the first day of the regular season, Harden took a measured approach to setting up the offense. Harden often looks to make long passes to teammates who get down the floor for layup attempts. It's those home run plays that sometimes lead to high turnovers, but D'Antoni will accept it knowing the overall success rate. The Rockets' pace with Harden on the floor, measured as possessions per 48 minutes, is 117.0 compared to 110.3 when he's off the floor.
Beverley said he's never had a problem with moving to off guard because when he plays on the second team, he returns to point guard and Gordon or Lou Williams plays shooting guard.
Morey has noticed how it's allowed for a smooth rotation as well.
"The second group has been good with Pat on the floor," Morey said. "To me it shows how much of a team player Pat is. He wants to win, and if anything else, you saw what he did in Game 1."
In Game 1 of the Thunder series, Beverley scored a playoff career-high 21 points along with 10 rebounds.
"I remember one of the first words Coach D'Antoni shared with us as a coaching staff and the team was the word 'rhythm.' Every point guard he's coached had his own rhythm," Rockets assistant coach Brett Gunning said. "He was never concerned with the speed. His concern was we got into a rhythm that James was comfortable with."
That rhythm also allows Harden to pair up with his two centers, starter Clint Capela and his backup, the 15-year veteran Nene Hilario.
According to ESPN Stats & Information research, Capela is shooting 75 percent on passes from Harden and 55 percent on all other field goal attempts. Nene is shooting 70 percent on passes from Harden and 57 percent on other attempts.
Harden also led the NBA with 457 assists on pick-and-roll plays. Harden's ability to read his teammates, whether it's a lob pass to Capela at the rim or a bounce pass to Nene as he drives to the basket, gives opponents fits.
Of his assists in the pick-and-roll, 217 have gone to the roller, 185 to a spot-up shooter, with 55 going to someone cutting to the basket.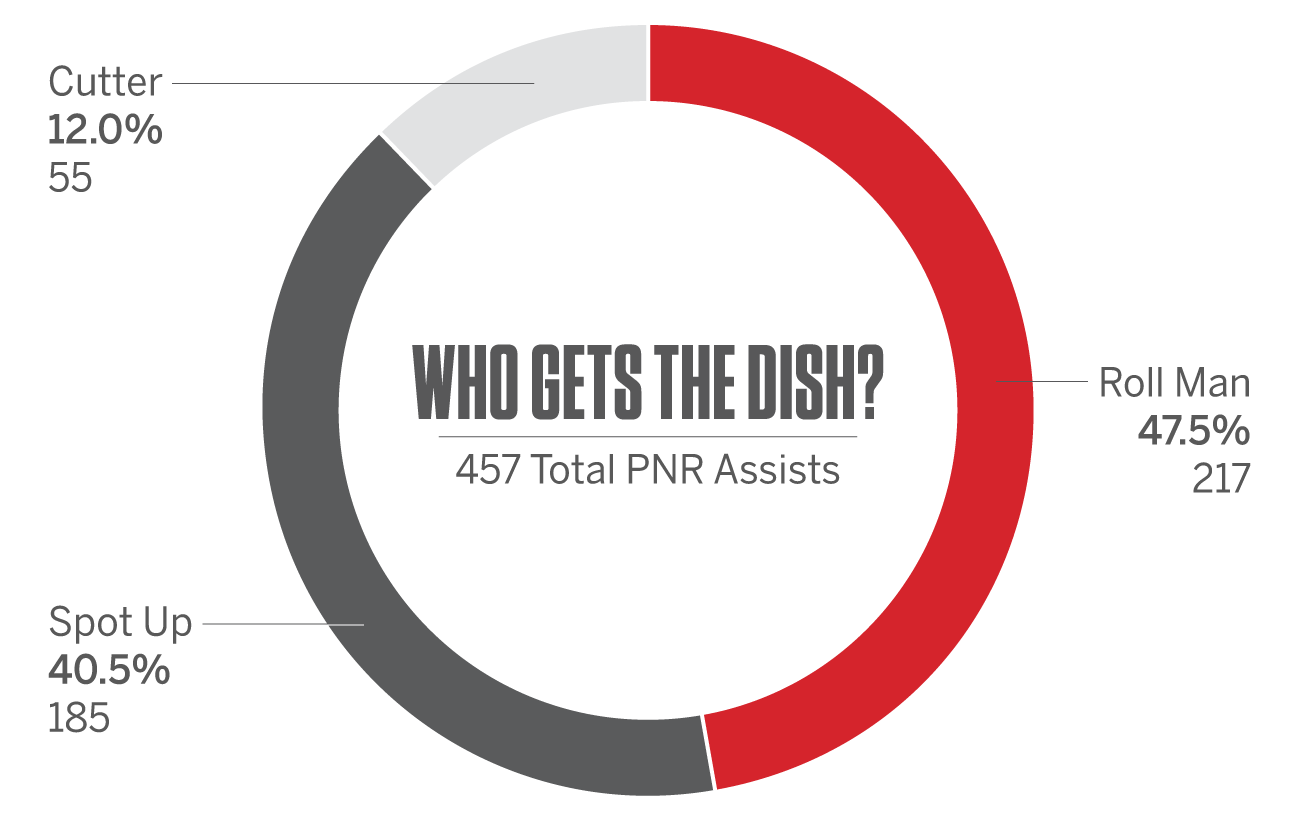 "When you understand basketball -- and I have two guys (Beverley is the other player) who understand basketball -- it makes it easier," Nene said. "It's about angles and when to pass. I try to read him and his reaction to who is playing him and try to be in the right time and place, and he looks for you. You've got to help him, and that's what I try to do, is help him because he's the man. If I make his life easier, he makes my life easier."
Gunning said Harden is very good at anticipating where his teammates will be on the floor. There are times when Harden will make a no-look pass in traffic to Nene cutting to the basket or Ariza for a corner 3-pointer before the defense can get set.
Harden said he never really had a conversation with D'Antoni about making his teammates better because that's what a playmaker is supposed to do. Harden has developed an ability to find teammates to make shots, create his own shot and rebound on both ends.
"As long as I go out there and do what I do at a high level, everybody eats," Harden said.