BEVERLY HILLS, Calif. -- After 20 minutes of browsing the fourth and fifth floors of Barneys New York's Beverly Hills flagship store, Memphis Grizzlies star Mike Conley has had enough.
"Do you enjoy shopping?" Conley's stylist, Brandon Williams, asks.
"No," Conley says.
"Exactly," Williams says.
"No," Conley says. "I don't like shopping at all."
"At all. So I try to take that away from him," Williams says.
For someone who hates shopping, it's not as though Conley doesn't care about his style. Conley admits he can't go to the grocery store in a wrinkled T-shirt and oversized sweats anymore because he could face the wrath of Twitter, Instagram memes and men's fashion sites. So Conley never wears the same outfit twice. He cycles through jeans regularly, but he'll go months in between wearing the same shirt or jacket, if he ever wears them again at all.
"I don't think I've ever in my own personal life, and any client, and specifically [with Conley], made the same outfit twice," Williams said. "It's a big deal now, because he gets photographed a lot, and if somebody puts a picture out there, in terms of the style stuff, it usually circulates pretty heavily, so it makes it hard ... to wear stuff twice for him."
While some players have instinctive fashion sensibilities, others, like Conley, look for guidance from stylists like Williams.
About a month before each season, Conley and Williams meet, and Williams puts together a mood board. Last season, Conley's first after signing his then-record five-year, $153 million deal to become the face of the Grizzlies, the theme was Conley stepping into the spotlight.
Williams then scours for clothes online and in stores around Los Angeles, and pieces together gameday outfits for Conley. After nearly five years working together, Williams can eye an article of clothing and instantly decide whether it's a good fit for Conley's 6-foot-1 frame and if he will like it.
What, exactly, Conley likes has changed over time.
"When I first started working with Brandon [in 2013], it was a lot more of a struggle to try to get me to wear different things because I was a little outside of my box," Conley said. "But I think my box opened up a little bit and allowed me to wear different things, and I saw the success that comes with it, so that really helped my confidence in that manner."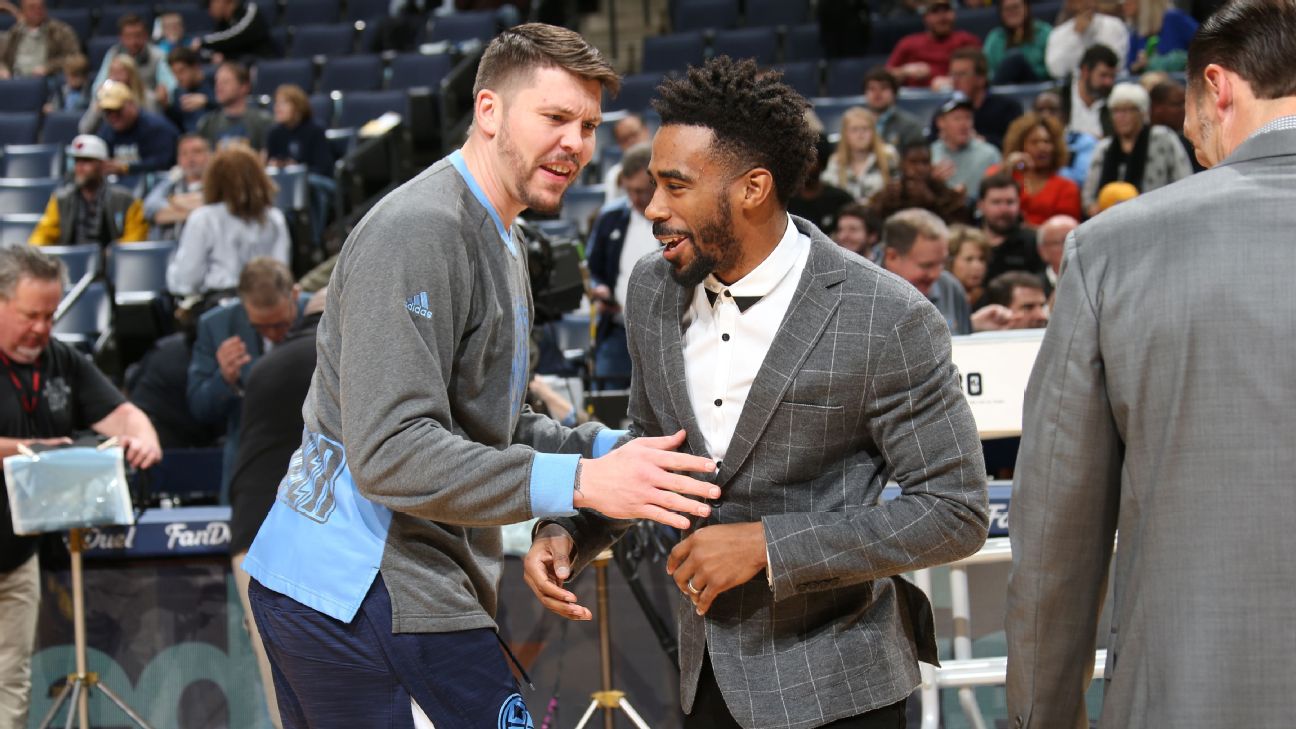 Once he's assembled a month's worth of wardrobe, Williams flies to Memphis for two or three days and goes over each collection with Conley, tailoring the garments and making sure they match Conley's brand. Then Williams begins planning the next month's outfits and repeats the process.
"I have to make sure that when the lights shine, or if he's looked to in that moment, he looks his best," Williams said.
Planning for home games is easy. Conley has his outfits ready, plus his already extensive wardrobe, if he wants a last-minute adjustment. Road games -- and, more specifically, road trips -- require work. Shipping clothes to his hotel room isn't practical, so Conley organizes and packs each outfit beforehand, factoring in weather, opponent and exposure (certain opponents and national TV games require "pieces," which are bold, special-occasion garments that draw attention to detail and design).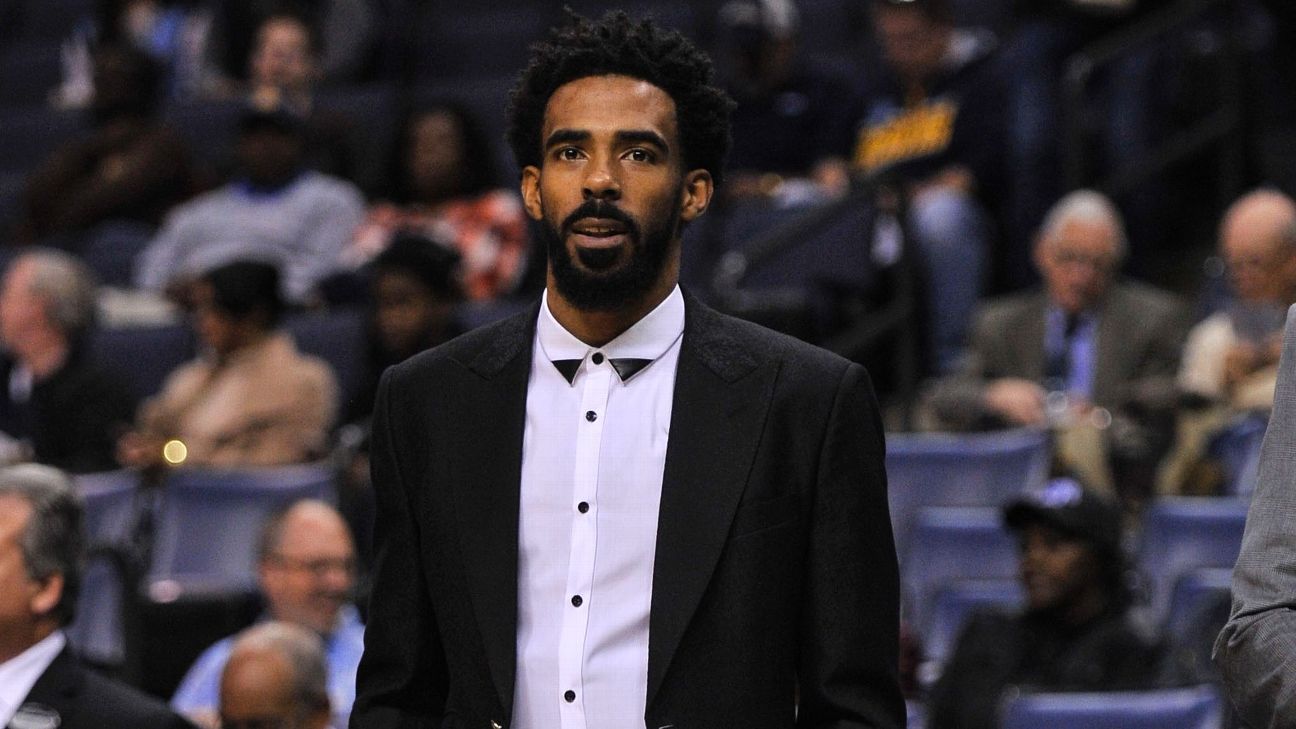 Williams estimates his eight professional athlete clients -- Conley, Marc Gasol, Karl-Anthony Towns, Andrew Wiggins, Matt Barnes, Ed Davis, Orlando Scandrick and Marcedes Lewis -- spend anywhere between $50,000 and $120,000 per year on clothes.
Conley's favorite brands include Saint Laurent, Gucci, Louis Vuitton, Off-White, Dolce & Gabbana, J Brand and AMIRI. His most common outfit is a bomber or biker jacket, a nice T-shirt, distressed jeans, a watch and exclusive, name-brand sneakers.
"I like people to look at my feet more than anything," Conley said.
In July, Conley was noticed for his cream suit with blue-and-black patterns, black satin loafers and reflective round sunglasses at the 2017 ESPYs. According to Williams, the decision to wear such an attention-grabbing outfit was deliberate.
"That was the intention," Williams said. "I feel like in those moments you kind of have to -- especially for Mike, he's in a smaller market -- I try to take advantage of those major platforms and use style just to bring awareness to who he is."
Conley won't always opt for a suit like that, but he admits growing his hair out over the past year has given him a new edge and made him more comfortable taking fashion risks. Another significant factor: the max contract he signed last summer. Though Conley said he didn't splurge on any outlandish items, he doesn't check price tags much anymore.
"There was this Gucci, I don't know what it was, but it was really expensive. It was like a polo shirt, and the polo shirt was $1,200," Williams said. "That's an expensive polo shirt. ... I remember thinking and asking him, 'Do you want that?' And he was like, 'Ah, cool.'
"I don't remember asking about the price, and I think it subconsciously was like, 'He's good. He'll be all right.'"