This story appears in ESPN The Magazine's Oct. 30 NBA Preview Issue. Subscribe today!
About that historic trade ...
The Kyrie Irving -- Isaiah Thomas swap marks the first trade between two teams that squared off in the previous season's conference finals since the Nuggets and SuperSonics did it in 1978. In fact, if you measure the average WARP (how many more wins a player is worth compared to a typical replacement-level player) of the active players involved, this was one of the biggest trades since the NBA-ABA merger in 1976.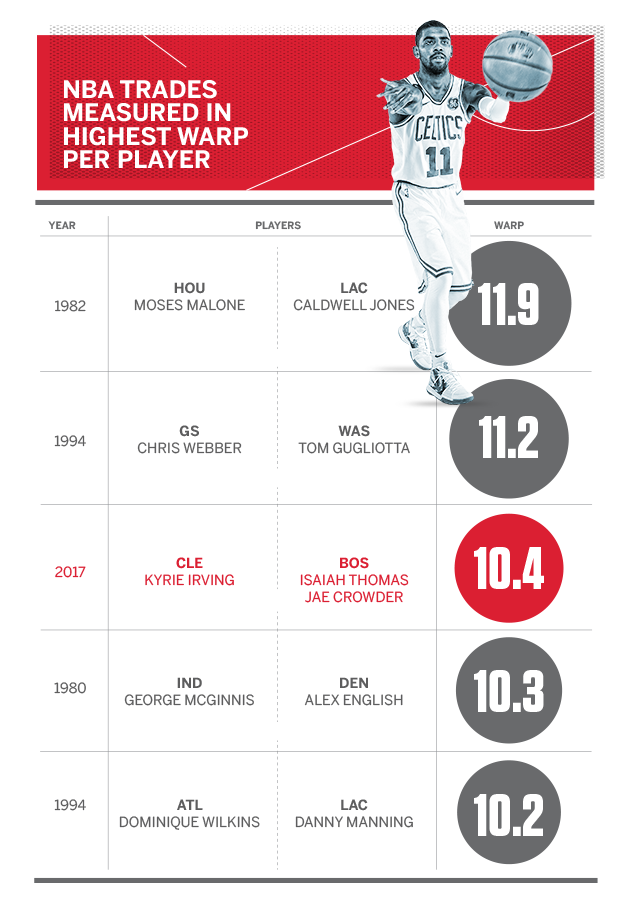 Jae Crowder might be the difference
Crowder, a perfect fit on the Cavaliers as a 3-and-D contributor making just $22M over the next three seasons, is far more than just a throw-in. In terms of net value, he's the best asset Cleveland received in the deal, coming in ahead of the 2018 Nets first-round pick that Cleveland acquired from Boston. Not to mention Crowder has a higher projected RPM than Irving and Thomas.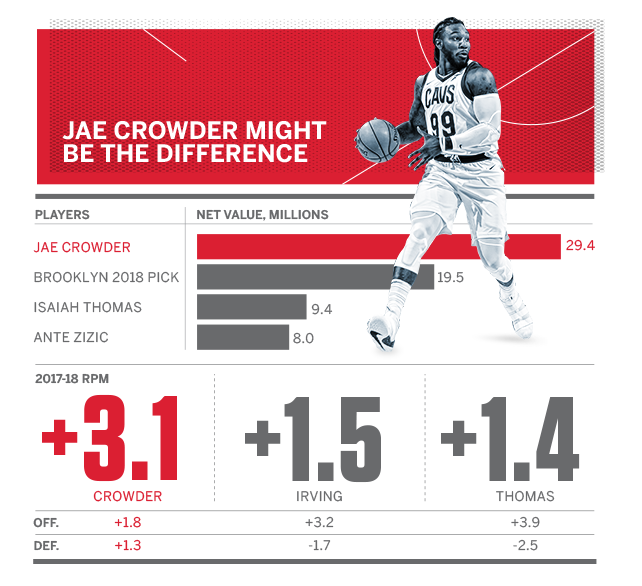 Who ya got, Kyrie or Isaiah?
Why did Boston decide to swap All-Star point guards? Three reasons. Age: They're both in their seventh seasons, but Irving is just entering his prime. Money: Thomas said Boston had "better bring the Brink's truck out" to re-sign him next summer, while Irving is locked in for a sensible $20.1M in 2018-19. And health: The Cavs don't expect Thomas to return until January from last season's hip injury.
Kyrie Irving
AGE: 25
PPG (2016-17): 25.2
APG (2016-17): 5.8
WARP (2016 -17): 10.5
SEASONS ON CONTRACT: 2
Isaiah Thomas
AGE: 28
PPG (2016-17): 28.9
APG (2016-17): 5.9
WARP (2016 -17): 15.4
SEASONS ON CONTRACT: 1
Twilight sagas: aging D-Wade and D-Rose might not matter
Before adding Irving, Boston signed All-Star Gordon Hayward and acquired Marcus Morris from Detroit for Avery Bradley. Meanwhile, Cleveland signed Derrick Rose for the veterans minimum and added Dwyane Wade. But neither Rose (who peaked at a 4.6 RPM during his MVP season) nor Wade (peak RPM of 9.6 in 2005-06 and 2009-10) projects anywhere near his prime for 2017-18.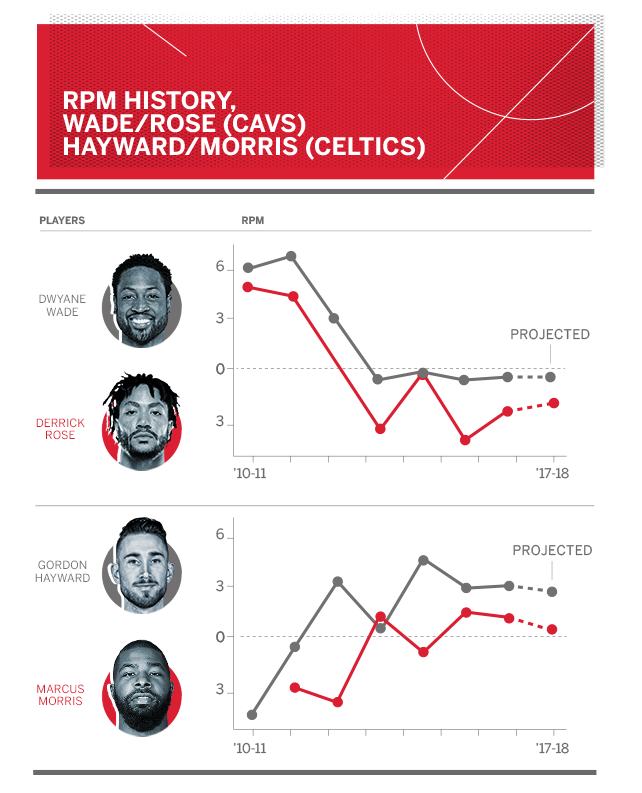 So who won the offseason?
Despite the additions of Irving and Hayward, RPM projections peg the Celtics for only an expected 44 wins -- nine fewer than last season. The Cavaliers are projected for 51 to 52 wins, but that's under the assumption that Thomas plays about half the season. Even if he's unable to return, though, the Cavs drop only to about 50 wins. On paper, and barring injuries, the edge goes to Cleveland.
So who won the trade?
The Celtics are betting Irving is a better long-term investment than Thomas, who would have commanded a lucrative contract next summer. And they are probably right. Still, the Cavaliers get the better end of this deal by improving their depth this season in obtaining an All-Star guard -- assuming Thomas returns close to last season's performance -- and a high-level role player in Crowder. Cleveland also prepares for LeBron James' possible departure next offseason by adding a promising young center in Ante Zizic plus a likely lottery pick.