SHANGHAI -- As Jimmy Butler looks around his current surroundings, even he can't believe what he is seeing.
The Texas native is standing on a basketball court over 7,500 miles from his childhood home, in a foreign country halfway around the globe. The 28-year-old is in Shanghai as part of the NBA's Global Games as a member of the Minnesota Timberwolves, but on this night he is representing the brand of the player he grew up idolizing like so many other kids across the world: Michael Jordan.
There are signs with Butler's face plastered around the basketball complex with a phrase written out in Chinese characters -- "Commit to win." Young fans have gathered around a court to hear what he has to say and watch as he participates in, then wins, a shooting contest against a local player. Some are dressed in shirts with the "Jimmy Buckets" logo emblazoned on them.
For a man who has become an NBA All-Star and has signed contracts worth about $100 million in guarantees, few things give much pause anymore. But this night is an exception.
"Of course you got to be surprised, man," Butler tells ESPN.com. "This is a long way from Tomball [Texas]. I never knew that this ball, my so-called talent, would take me this far with this game.
"I'm blessed, I'm fortunate to be able to play the game that I love every single day. To have people over here that know who I am and know my story as well, it's a lot of love over here."
Butler's now well-documented story has become one of the most inspirational in recent league history. After a tough upbringing, he willed himself into becoming the 30th pick in the 2011 NBA draft. After trying to find a spot in coach Tom Thibodeau's rotation for two years with the Chicago Bulls, Butler forced his way into the spotlight by using his work ethic to carve out a niche for himself in the league that few thought was ever possible.
As he walks around China regarded as one of the best two-way players in the world, he can't help but think about all the steps that he's taken to get to this point.
"Every time my name is called I get so many cheers, standing ovations and a lot of hands are being clapped. It's just like, 'Wow,'" Butler said. "A kid that went juco, went to Marquette for three years, to them knowing who I am [in China], I never thought it would happen, but I'm so happy to be here.
"To be able to experience this with them. And bring basketball over here, bring my brand over here. I'm fortunate, man, and I love it."
As Butler gets set to start his seventh year in the league, he does so entering a new phase in his unlikely rise to stardom. In Chicago, he went from a seldom-used rookie, to a defense-first energy man, to ultimately the face of a mediocre Bulls team that could never live up to the hype surrounding it.
During his six years with the Bulls, Butler went from being one of the most universally beloved figures in the organization to a lightning rod whose personality didn't always rub everyone the right way. On top of the fact the Bulls could never commit to him as the face of the franchise moving forward, which would mean a max contract worth over $200 million in his future, the organization was never sure he was the emotional leader whom everyone else would rally around.
Butler doesn't run from the fact that things have changed over the years, but he doesn't believe that the changes are for the worse. Through all the ups and down in Chicago, the swingman believes he has learned from his experiences.
"All and [all] just be who you are. Be the 30th pick, the kid from Tomball. Yes, I have changed, but it's for the better. If you're not changing with the times, then you're being stuck behind. So I'm OK with that, man. Just keep being the best version of me I can be."
As he embarks on a new challenge with the Timberwolves this season, following a draft-night blockbuster that reunited him with Thibodeau in Minnesota, Butler finds himself in an unfamiliar role. Once the player who followed, then tried to lead by example, Butler has become the teacher for young players that veterans like Luol Deng used to be for him. Timberwolves officials raved about Butler's demeanor during training camp as a sounding board for the team's younger players.
"I think Jimmy has the personality to be a dominant figure and to be a leader," said Kyle Lowry, Toronto Raptors All-Star and Butler's teammate on Team USA. "I think with that team they're going to need a lot from him as a leader, leadership basketball-wise, talking to [young players] wise, but I think he's ready to take the next step. I think he's at the point in his career it's really about winning and setting higher, lofty goals for themselves as a team."
Butler badly wanted to be the face of the Bulls and prove that he could be the focal point of a contending team, but now that he finds himself in the Western Conference alongside talented young players like Karl-Anthony Towns and Andrew Wiggins, he knows that his role has to change in order for the Timberwolves to find the success they've been craving.
Butler has been open about the fact that he is enjoying his younger teammates' drive to get better, something he didn't always feel like he saw during his time with the Bulls.
"It's been fun," Butler said of his new role as teacher. "They expect me to be that guy. They know what Thibs expects. I expect the same thing because I've been with Thibs before. So I have a different way of getting points across rather than yelling at them like Thibs may do. So they come to me and ask questions and expect for me to have the answer, just not the way Thibs would explain it to them. So it's been a fun week when it comes to the whole teaching aspect of it. Yeah, I can show you. But when I can tell you and move your body the way you're supposed to be on the floor, or put you in the right position out there, it's a different story. But teaching, showing, it's all the same. It's all part of leading."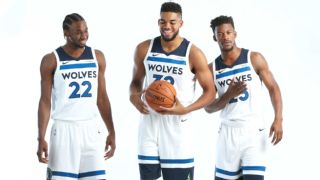 Despite the concerns about some of the personality conflicts Butler had during his last few years in Chicago, Thibodeau has always been steadfast in his belief that Butler just needed the same kind of structure he had during his early years with the Bulls. The veteran coach is banking on one of his favorite pupils to not only dominate on the floor, but be a calming voice off of it for a maturing team.
"The fact that [Butler is] going into his prime, he knows the system," Thibodeau said. "He and Taj [Gibson] and Aaron Brooks obviously have played in it before. But I think it's Jimmy's commitment to play both sides of the ball. And I think when you look at the great teams in our league, that's what they do. They're not only good on offense, but they're good on defense as well. And that's what we're striving to do. And we know we have to make great improvements defensively."
The commitment to becoming great is what has set Butler's career apart. It's also helped him forge a relationship with arguably the greatest player of all time.
"Mike has been phenomenal for me," Butler said of his relationship with Jordan. "I can always call on him if I need anything ... he prides himself on making everybody feel like they're really, really wanted here."
As for advice that Jordan passed along after the Timberwolves deal, Butler said it was simple.
"Keep going," Butler says Jordan told him. "Keep doing what I've been doing. Nothing changes. You just wear a different jersey, a different number in a different city. But you go about the game the exact same way. You go about the offseason the exact same way and I've done just that. And I'm excited to see what this season brings."
In the short term, Butler can fall back on some of the memories created in China as a reminder of what he has already accomplished and the bigger dreams that may come to fruition. He knows he wasn't supposed to find himself on this kind of platform, but now that he's here, he plans on making the most of it.
"As a player, you look where I've come from averaging 'X' amount of points to where I am now, an All-Star," Butler said. "I'm in China talking to you on a Jordan Brand court, like, come on now. If times don't change more than that I don't know what does.
"The way I go about things is different. Some people may like it; some people don't. I don't care. I'm content with who I am. People are happy; we're smiling every day, we get to play basketball. I'm in China enjoying life, but yeah I'm happy."