OKLAHOMA CITY -- Playing against his former team for the first time didn't go exactly as planned for Paul George, except for the winning part.
While the Oklahoma City Thunder handled business against the Indiana Pacers, 114-96, on Wednesday night, it came largely with George saddled with foul trouble throughout the game. It started early, as he picked up a pair of quick fouls in the first quarter, with him motioning to Thunder coach Billy Donovan after the second infraction to leave him in. George then picked up a third early in the second quarter and was limited to only 12 minutes in the first half. He picked up his fourth just two minutes into the third, then his fifth after checking back in with two minutes left in the quarter.
George then fouled out with 6:15 left in the fourth, with only 10 points on 4 of 8 shooting in 19 minutes.
"That hasn't happened often in my career," George said of winning the game despite his struggles. "Fortunate to have those guys carry me. They knew how big this game was for me, and they went out and got it for me."
"Those guys" being Russell Westbrook and Carmelo Anthony, who combined for 56 points. Westbrook notched his second triple-double of the season with 28 points, 10 rebounds and 16 assists, while Anthony added another 28 on 9 of 17 shooting and 10 rebounds.
"It was just Russ and Melo did an unbelievable job of really shouldering everything," George said. "They carried the team, they carried me. It's great to have two guys that comparable that when nights aren't going for me, they're there for me."
Westbrook controlled the third, scoring 13 in the quarter, while Anthony had one of his best all-around games with the Thunder, posting his first double-double and three blocks.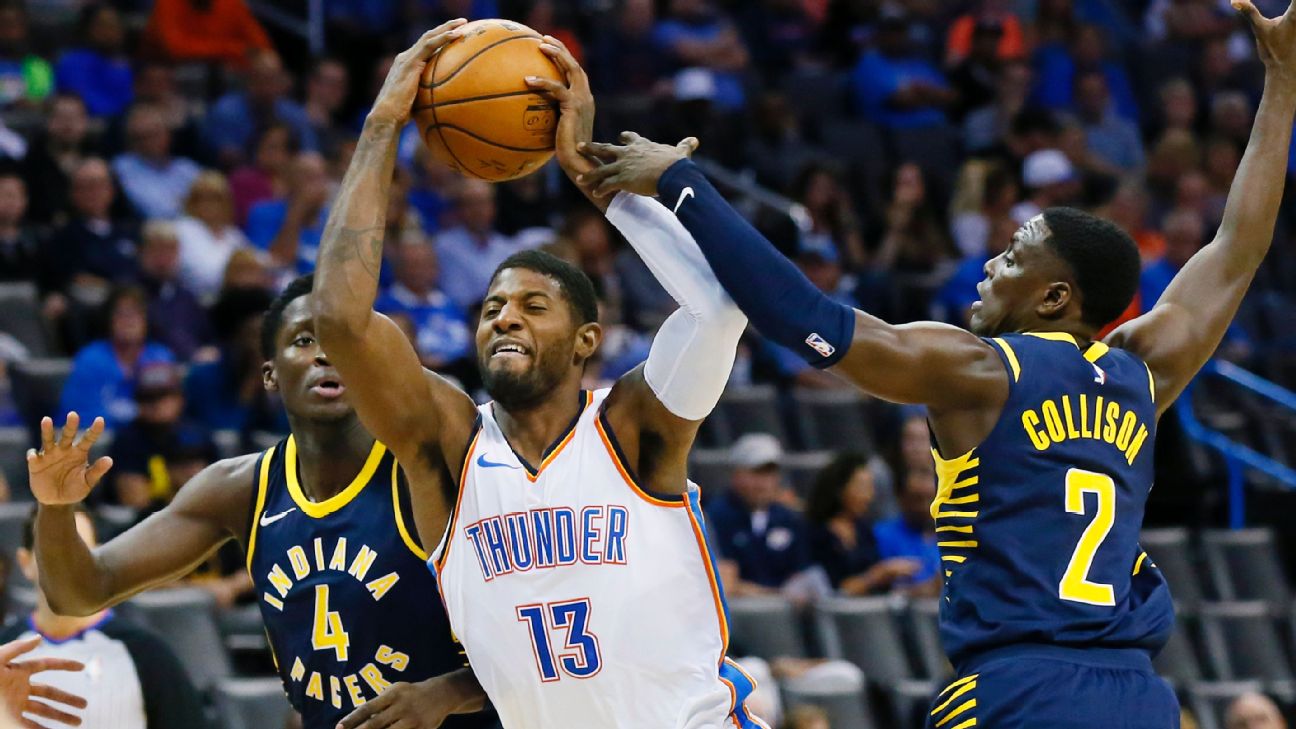 "I think that's why we all committed to this journey, committed to this team, because of nights like this," Anthony said. "Even though one of our big pieces didn't have a great game tonight, there were other guys that were able to step up. So we didn't have to rely on him as much as we probably would in other games. That's the beauty of us coming together and having a team like this, because on any given night, we're all going to have bad nights, we're all going to have off nights, but other guys can step up in place of it."
With the foul issues plaguing him, George never found anything close to a rhythm, but Donovan walked away "impressed" with the way George handled the frustrating performance.
"I was actually even more impressed with him tonight, watching him have to go through that," Donovan said. "Just his composure, staying in the game, playing the right way, not pressing. I was really impressed with him. I think sometimes in adverse situations you get the chance to see different things with people, but I was really, really impressed with him tonight."
George said earlier in the week it probably would be "emotional" playing against his old team, which traded him to the Thunder in late June, after George's agent made it clear he did not plan on re-signing with the Pacers next summer. When he walked onto the floor before the contest, he gave a brief wave across the court before locking into his routine. He spoke with a few staffers and former teammates at halftime, then talked with a number of Indiana coaches and players after the game.
"It was great. It was great to see everybody," George said. "It was all smiles on my end, from players to training staff to coaches. It was all smiles. It was great seeing those guys. I enjoyed my time with them, but people move on, players move on, it is what it. I'm happy where I'm at now."
Just a week ago, Anthony, formerly of the New York Knicks, went through the same experience, playing against his old team in the Thunder's opener. He described it as "closing the chapter," something George said he felt as well after playing the Pacers, though it was really done well before the game.
"Absolutely, but I closed the chapter once I became a Thunder," he said. "All my focus, everything was to get better and to bring all my talent here. Once I got traded, that's out of my control. I'm no longer an Indiana Pacer. Again, I enjoyed being there, but this is where my focus is."
George wasn't the only player taking on his old team, as the two pieces that the Pacers picked up in return for him made their return to Oklahoma City. Victor Oladipo was electric and efficient, scoring 35 points on 11 of 18 shooting, while Domantas Sabonis struggled with just four points on 1 of 9 shooting, to go with 11 rebounds.
"Everything happens for a reason. Being here made me a lot better as a player. There's a lot of things that I learned being here, and it's helping me now playing here with the Pacers," Oladipo said. "So, like I said before, everything happens for a reason, and I'm just taking whatever I can and applying it to every day."