For three years, Toronto Raptors stars Kyle Lowry and DeMar DeRozan had the same post-shootaround routine on the road. The All-Stars fulfilled whatever media obligations they had after finishing that morning's walk-through, and then Lowry hit the same button on his cell phone that millions of other people have grown accustomed to hitting on their personal device: Uber.
"It started like three years ago," Lowry explained recently. "Guys after shootaround on the road, guys shoot shots and [do] interviews, it's like an hour, hour and a half [by the time it ends], and everybody's sitting around waiting and waiting. And I was like, 'Man, I'm tired of waiting. Let's go.' We started calling Ubers, walking back, just getting back as fast as we possibly could so we could get more time to rest."
In trying to save time, Lowry, and his close friend DeRozan, ended up outside arenas playing the waiting game like so many other travelers around the globe. Many times when the Uber finally arrived, the driver had no idea whom he or she was picking up.
"They just pick up two guys and the name don't match," Lowry said with a chuckle, acknowledging that his Uber name didn't match his real name. "They'll be like [are you] such and such? Yeah, that's us. That's me, man. That's me."
Over the years, Lowry and DeRozan found themselves listening to a few talkative Uber drivers who would speak badly of the Raptors when the conversation veered to basketball -- not knowing who was in their back seat.
"It happened a few times ... when it did it was funny," DeRozan said. "Sometimes you just play it off and go along with them. But it was always some cool Uber chronicles that was going on."
"Those guys aren't that good," Lowry said of the usual refrain. "Talking trash about us. That's happened a few times. That's happened a few times for sure ... You just laugh it off. You understand the saying 'It is what it is.'"
So why did Lowry and DeRozan end their transportation ritual? The reason ties back into the "cultural reset" Raptors GM Masai Ujiri has discussed since the season ended.
"It's a rule they put in for our team," Lowry explains. "It's part of the cultural reset. We're just trying to make sure we're all on the same page, so we understand it. It wasn't dangerous, nothing ever happened to us. We used to walk back from Cleveland's arena during the Eastern Conference finals. It was fun while it lasted."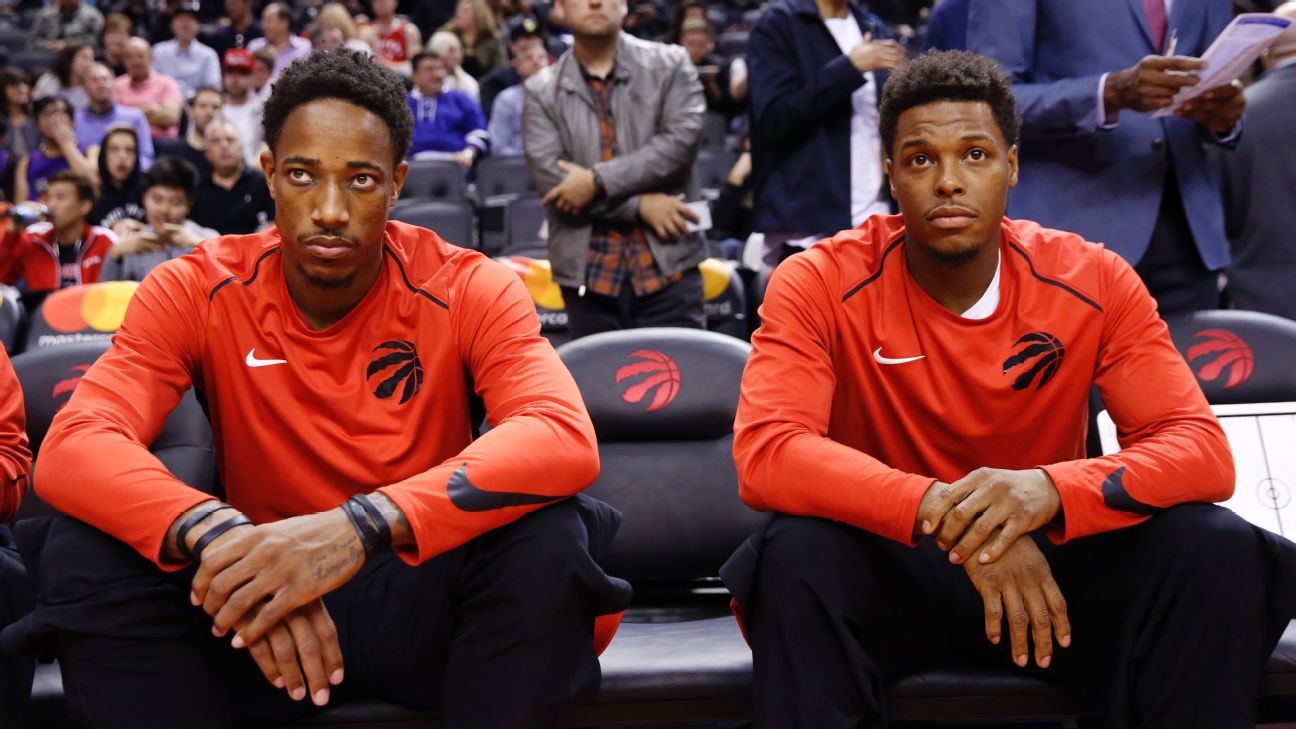 The cultural reset in Toronto obviously has a broad meaning throughout the organization. When asked how he would describe the "cultural reset," DeRozan brought it back to the Raptors' style of play, not their ride of choice.
"I think it's more so something that's simple," DeRozan said. "It's nothing major or dramatic like everybody's trying to make it seem. It's just a style of play that we played a lot last year. We just didn't do it consistently. I think this time around, just trying to do something we were good at last year, just doing it consistently. That's how I look at it."
After all the Uber rides, neither player seems to be having a hard time adjusting back to taking the bus with the rest of their teammates. Like several teams around the league, the Raptors have started having media access prior to shootaround. So now when it's time to leave the arena, players can just get on the bus and head straight back to the team hotel without any interruptions. DeRozan isn't going to miss those days when he and Lowry stood in the cold waiting for their ride to show up.
"Waiting outside and the Uber gets lost," DeRozan said. "Plenty of times that happened. Waiting for the Uber, they're lost, they don't know how [to] get to where we say. A lot of times, the bus ended up getting to the hotel the same time as us."