INDEPENDENCE, Ohio -- Dwyane Wade says he doesn't think the Heat had any business making their fourth straight NBA Finals appearance in 2014, when he and LeBron James played their final season together in Miami. And now, in his first season with a Cleveland Cavaliers team trying to make its fourth straight Finals appearance, it's natural for Wade to compare what that Heat team went through with what he and James are going through now as teammates in Cleveland.
"That last year in Miami when we went to the Finals, I don't know how we made it," Wade said after practice Thursday. "As a team, we were kind of like this. It was worse, because it wasn't new guys; it was guys who had been around each other four years in a row. Your jokes weren't funny anymore to other guys, when you walked in it wasn't a big smile any more. Guys were just over you. It's like being in a bad marriage."
That Heat team, which fell to the San Antonio Spurs in the 2014 NBA Finals, was relying on veterans such as Ray Allen, Shane Battier and Rashard Lewis to fill in the margins around stars James, Wade and Chris Bosh. This year's Cavs team still has James as a star, along with Kevin Love and eventually Isaiah Thomas whenever he returns from a right hip injury, and veterans such as Wade (35), Jeff Green (31), Derrick Rose (29), JR Smith (32) and Kyle Korver (36) are playing ancillary roles.
"But we somehow made it to the Finals," Wade said of that Heat team. "Indiana should have beat us that year. We had a mental edge over those guys and we were able to win. But we shouldn't have been there. So it's tough, definitely. That's why it hasn't been done a lot. For the guys that's here, you have to pull from something else to motivate you, to get you to feel that hunger again like you had that first year. That's sports, it's tough."
Miami beat the then-Paul George-led Indiana Pacers in the Eastern Conference finals in six games but then were soundly beaten by the Spurs in five games in the Finals by an average of 18 points per loss. Shortly after the defeat, Allen, Battier and Lewis retired. The following month, James announced he was returning to Cleveland to play a second stint with the Cavs, effectively ending the "bad marriage" that Wade referred to.
Even though the Cavs have stumbled out of the gate, starting 3-5 and currently on a four-game slide with a matchup with the Washington Wizards looming Friday (7 p.m. ET, ESPN), Wade says the 2017-18 Cavs have a mix of new blood (albeit old bodies) that the 2013-14 Heat was missing.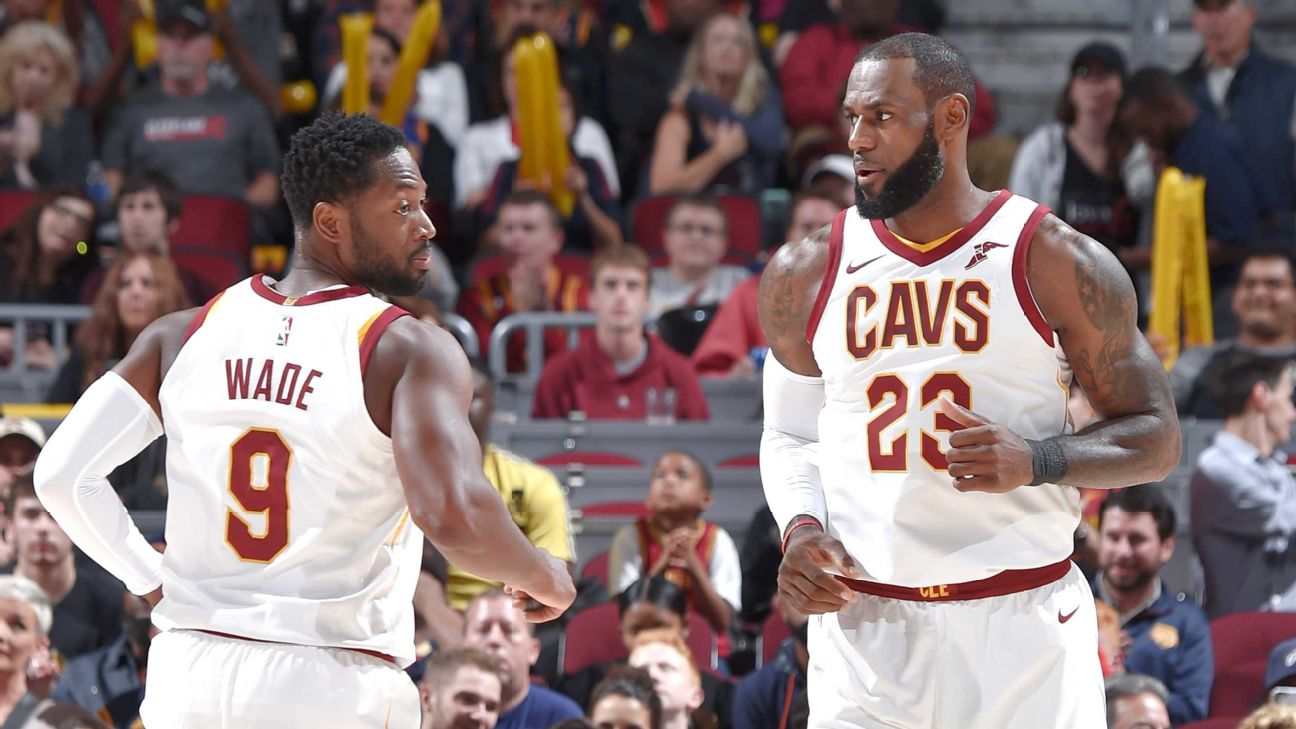 "With the new guys here, you've got guys that have never been [to the Finals], guys who are hungry," Wade said. "Obviously, Isaiah is one of them, who's out. [And there's] Derrick and guys who have never been. Hopefully we can eventually pull from that and everybody wants to see the other guys succeed and get to that pinnacle they got to."
The 2013-14 Heat started the season 4-3, then went on to win 10 games in a row. Wade did not promise a turnaround that dramatic for the Cavs, but he said he does not believe the tough times will last forever, either.
"Eight games into the season," Wade said. "No one in here is a rookie. Everyone in here has been through [it.] Lot of guys have been through the highest of the highs and the lowest of the lows. It's frustrating when you're going through it. No one is more frustrated than you on the inside. ... We have to continue to understand that we're going to get out of this together and this is going to be a distant memory at one point, but right now we're in it. We have to figure it out, and I think we will. Communication, coming in every day with a fresh mind, with an open mind to listen to the coaches, listen to each other. It's steps in the right direction."