SAN ANTONIO -- The Spurs went for the knockout of the Golden State Warriors in the first round. They threw haymaker after haymaker in producing a 19-point advantage late in the opening quarter.
The problem was the Warriors executed their version of the rope-a-dope and ended up outscoring their opponents 88-59 in the last three quarters. Golden State (6-3) is now 2-0 on this three-game road trip following a 112-92 win Thursday evening at AT&T Center.
"These last two games have definitely been our best defensive efforts, and that's a good sign," said Warriors coach Steve Kerr.
Klay Thompson knocked down five triples on his way to a game-high 27 points on 11-of-17 shooting and 5-of-8 from downtown. He entered Thursday's game shooting 51 percent from the field and 44 percent from 3-point range. Can this hot shooting trend continue? "I think so," he replied. "It is my seventh year. I know what I do well, and it would be awesome to shoot that percentage for the whole year. It would be incredibly difficult. That is what Kevin [Durant] shot last year, but if you're around 50 percent as an outside shooter, that would be great and that is what I aim for."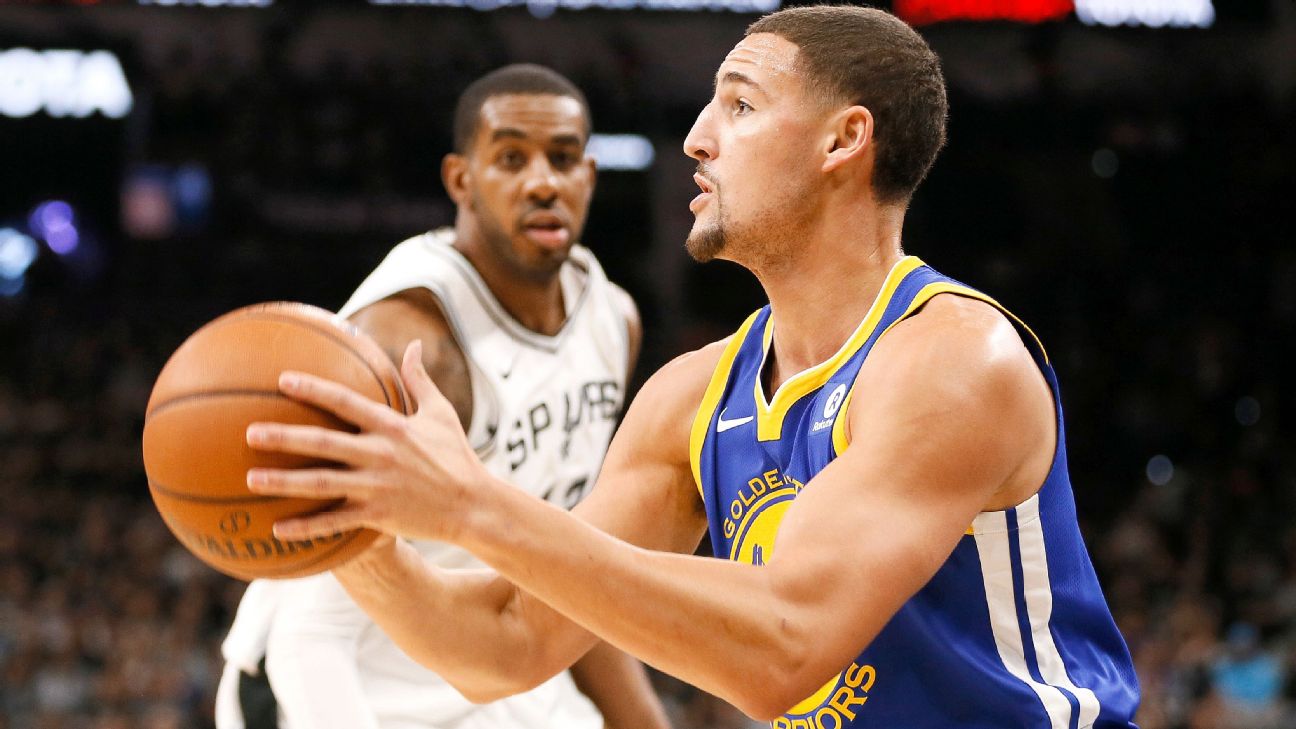 Kevin Durant recorded 24 points, 8 rebounds and 5 assists. Stephen Curry went for 21 points with eight boards and three shots from beyond the arc. San Antonio (4-4) has dropped its past four games.
The Warriors initially appeared caught off guard by the Spurs' aggression level and scrappiness. While the deficit climbed, frustration mounted as Draymond Green and Zaza Pachulia were seen in a miniature argument regarding a missed pass. Kerr even picked up a first-half technical.
In the first quarter, Danny Green drove past Curry and posterized Durant with a vicious one-handed slam. The crowd went crazy. It looked like it would be the Spurs' night.
"We have to understand eventually we have to start games a little bit better, especially in this building," said Curry.
However, the game changed for the road team on the defensive end. Once the Warriors secured stops, they were off to the races. The slow-footed, aged front line of the Spurs couldn't keep up as the Warriors dominated the fast-break stat line 24-7.
"We couldn't get to [our transition game] in the first [quarter] because either they were making 3s or getting offensive rebounds," Curry said. "So, that was a key for us to get back in the game in the first half and then to break it open in the second."
After shooting 48 percent in the first, the Spurs dropped to 39 percent at the end of 48 minutes.
"It was a great response to the early shot that we took," said Kerr. "We might as well start every game here down 20. Other than the playoffs last year, that will be four or five straight games where that happened. You have to be able to match the Spurs' intensity, especially because they're such a good rebounding team. They have an edge over us with their size and strength and we weren't ready to battle early and that's why we fell behind."
Spurs coach Gregg Popovich was tossed from the game with under five minutes left to play after receiving back-to-back technical fouls within seconds of each other. San Antonio was down 12 at that point.
Kawhi Leonard and Tony Parker were not active as they're still rehabbing from their respective injuries.
Popovich was in a good, lighthearted mood after the game. "It's just basketball," Popovich said. "You know, you win, you lose, you go home. If you win, you do it with grace. If you lose, you try to do it with grace."
LaMarcus Aldridge led the Spurs with 24 points and 10 rebounds. Kyle Anderson contributed 16 points.
Curry suffered a left-knee tweak in the first quarter. He continued on, playing all 12 opening-quarter minutes. He retreated to the locker room for treatment to get taped up and rejoined the team on the bench five minutes into the second.
This was the Warriors' 16th win when trailing by 15 or more points in the past four seasons. They're tied with the Toronto Raptors for the most such wins. They'll travel to the Mile High City to take on the Denver Nuggets on Saturday to complete this three-game road trip.