WASHINGTON -- John Wall drove toward the basket, split two defenders and crossed over from his right to left hand before throwing down a thunderous left-handed dunk over Brook Lopez, with the Lakers center doing all he can to stop the Wizards point guard. Wall pounded his fist on his chest as the Capital One Arena crowd exploded. Unfortunately for Los Angeles, Wall wasn't done.
Later, Brandon Ingram was driving to the basket with the ball extended in the air, before Wall swooped in from behind and swatted the shot away with authority. Wall would shake his head several times at fans seated courtside.
Wall might not have tortured Lonzo Ball and the Lakers on Thursday night, but he certainly got redemption for an overtime loss in Los Angeles last month by scoring 23 points, grabbing eight rebounds and dishing five assists.
Despite Ball flirting with his first triple-double, the Lakers fell behind by 21 for the second straight night before dropping their second straight loss, 111-95, to the Wizards. Ball finished with 10 points, eight rebounds and eight assists, but his shooting woes continued, as the rookie missed 9 of 12 shots, including misfiring on 6-of-7 from 3-point range. On one 3-point attempt, Ball air-balled it badly wide left. The rookie said that his struggles were in his head after the point guard entered the game shooting just 39-for-132 (29.5 percent) and 12-for-52 (23.1 percent) from 3-point range.
"Trying to work on balance," Ball said after shooting 4-for-15 in a loss at the Boston Celtics on Wednesday. "That is what Luke [Walton] and Magic [Johnson] have been telling me, most of the problem right now is balance."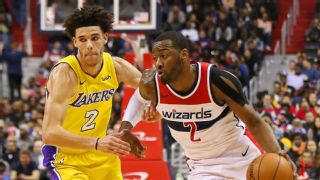 Walton has said repeatedly this season that the Lakers did not want to tinker with Ball's unorthodox shooting technique. But clearly, the Lakers are trying what they can to help the rookie.
"We're hoping to see him make more of the shots that he shoots," Walton said. "I'm still a believer that he is a good shooter. I see him make them all the time in practice, and [assistants] Brian Shaw and Miles [Simon] are working with him on some of the footwork stuff and balance."
Ball has tried to impact the game in other ways, including with his rebounding and assists. But it's only human nature that his confidence in his shot could start dipping. Ball has heard questions on a daily basis about his shot and it's often being dissected by sports talk radio and shows.
"I really don't even care, to be honest," Ball said of all the attention and analysis of his shot after Wednesday's loss to Boston. "I've got to just keep shooting and just improve with every game."
Ball wasn't the only one to struggle from the perimeter. The Lakers shot just 3-for-23 (13 percent) from behind the arc on Thursday.
When these two teams met previously in Los Angeles on Oct. 25, the Lakers came away with an inspired 102-99 overtime victory over the Wizards for one of their best wins of the season. There was plenty of talk entering that game, with Marcin Gortat responding to a boast by LaVar Ball, Lonzo's father, that the Wizards better beware of his son and the Lakers by saying that Wall would "torture" the rookie point guard. Wall then said he didn't plan on showing mercy to Ball, only to miss nine of his final 10 shots, including a potential game-tying, double-clutch 3-pointer at the overtime buzzer with Ball hanging on his hip.
That loss in Los Angeles was the start of a stretch in which the Wizards dropped five of seven games.
Wall, though, made sure to leave his mark on this game against the Lakers the second time around. He not only scored six points in the fourth to stave off the Lakers, but he also blocked three shots and had two steals on the evening.
Also for the second straight game, a Morris brother hurt the Lakers badly. After Marcus Morris scored 18 points and hit three 3-pointers against the Lakers on Wednesday, the Wizards' Markieff Morris buried 6 of 7 shots, including two treys, for 16 points in 17 minutes.
While the Morris twins hit shots effortlessly, Ball is still trying to rediscover his shooting stroke. Walton says shooting confidence can be different for every star.
"I played with Kobe Bryant," Walton said Thursday. "I've seen him miss 14 straight and get pissed off that we didn't give him the ball back on that 15th play. So some people don't ever lose confidence. Our job is to make [Ball] better."
"The guy is an incredible player and he is 20-years-old and almost had a triple-double tonight," Walton added. "... I am thrilled he is on our team and he is going to start making those shots."