Even though the Oklahoma City Thunder come into Saturday's game against the Philadelphia 76ers (3:30 p.m. ET, ABC/WatchESPN) as losers of five of their past six games, they remain eight games over .500, and there's still one big reason for optimism.
His name is Paul George.
After signing a massive new deal with the Thunder in the offseason, George is playing terrific basketball, earning every penny and re-establishing the Thunder as serious contenders in the Western Conference.
It all starts with defense. The Thunder have emerged as the best defense in the West thanks in large part to George, who enters tonight's game as the NBA's top Defensive Player of the Year candidate.
What makes him so great? Let's begin with the countables:
He leads the league in total steals with 98

He leads the league in deflected balls with 161

And, perhaps most importantly, he's every coach's favorite because he also leads the NBA in loose balls recovered with 95. Nobody else is even close.
George steals, gets it to fall with reverse layup
Paul George pokes the ball away from the Jazz, speeds to the hoop and lays in a tough reverse bucket.
George wreaks unparalleled havoc on defense, then converts that havoc into points going the other way. He also leads the league in points off of turnovers with 215. In other words, Paul George is always playing offense, even when he's playing defense.
Basketball doesn't have an equivalent term to football's pick-six, but it should. George and Russell Westbrook would dominate that category. No team in the league turns live-ball turnovers into points more often than OKC, and George and Westbrook rank No. 1 and No. 2 in that category, according to Second Spectrum data. They combine to log more than 10 points per game as a duo.
The Thunder already have 300 shots coming off these heists, and they average 6.5 of them per 100 possessions -- both marks are the highest in the NBA, per Second Spectrum tracking. And they are great at converting these looks, averaging 1.33 points per shot (sixth in efficiency on such plays).
Basketball analytics are awesome, but they're by no means perfect. One major shortcoming is our tendency to treat defense and offense as separate things. Most analytical frameworks fail to account for the inconvenient truth that many of the game's most lucrative offensive opportunities stem from defensive triumphs, or conversely that many defensive breakdowns originate thanks to an offensive failure. Everything's connected in real life, but separated in cells in our spreadsheets.
Many of OKC's best offensive plays originate on its opponent's end of the court. Even though the Thunder's half-court offense kind of stinks, they're able to deodorize some of that stank with their uncanny ability to snatch the ball and go get buckets.
Per Second Spectrum data, the Thunder score just 0.90 points per chance on non-transition possessions, which ranks 22nd in the NBA. That's not good for a team with title hopes. But OKC is great at supplementing its poor half-court efficiency with a hyperactive, hyper-efficient turnover-industrial complex.
The Thunder's defense is the biggest nuisance in the league. They force more turnovers than any team, and they're the only group averaging more than 10 steals per game. The ball is never safe around these dudes, thanks in large part to George and Westbrook.
George is the prototype wing defender for today's pick-and-roll obsessed NBA. He's a Swiss Army knife athletic enough to wrangle over screens, but versatile enough to switch assignments, too. And he's willing enough to burn calories and do his job on defense. In a league that features many one-way superstars, including some with big, bushy beards, George stands apart as he excels in the inglorious art of defense. He lets the Thunder's coaches get creative and flexible with their tactics against the league's most dangerous scorers.
George is the Thunder's go-to stopper against most of the best scorers in the West. Per Second Spectrum, George has been matched up against Kevin Durant, James Harden and LeBron James more than three times as much as any of his teammates since joining the franchise last season. Any team hoping to emerge from the West better have a means to slow down those guys. George is the means for OKC.
Despite handling many of the toughest defensive assignments in the league, George's individual numbers remain impressive. Of the 45 players who have defended at least 500 shots this season, George ranks eighth in the league by holding shooters to 0.98 points per shot. The seven dudes in front of him are all big men, meaning George is arguably the most effective shot-defending wing in the NBA.
And, oh yeah, George is doing all of this while having his best offensive season ever. He's shouldering more of the load in OKC, ranking eighth in the NBA by scoring almost 27 points per game.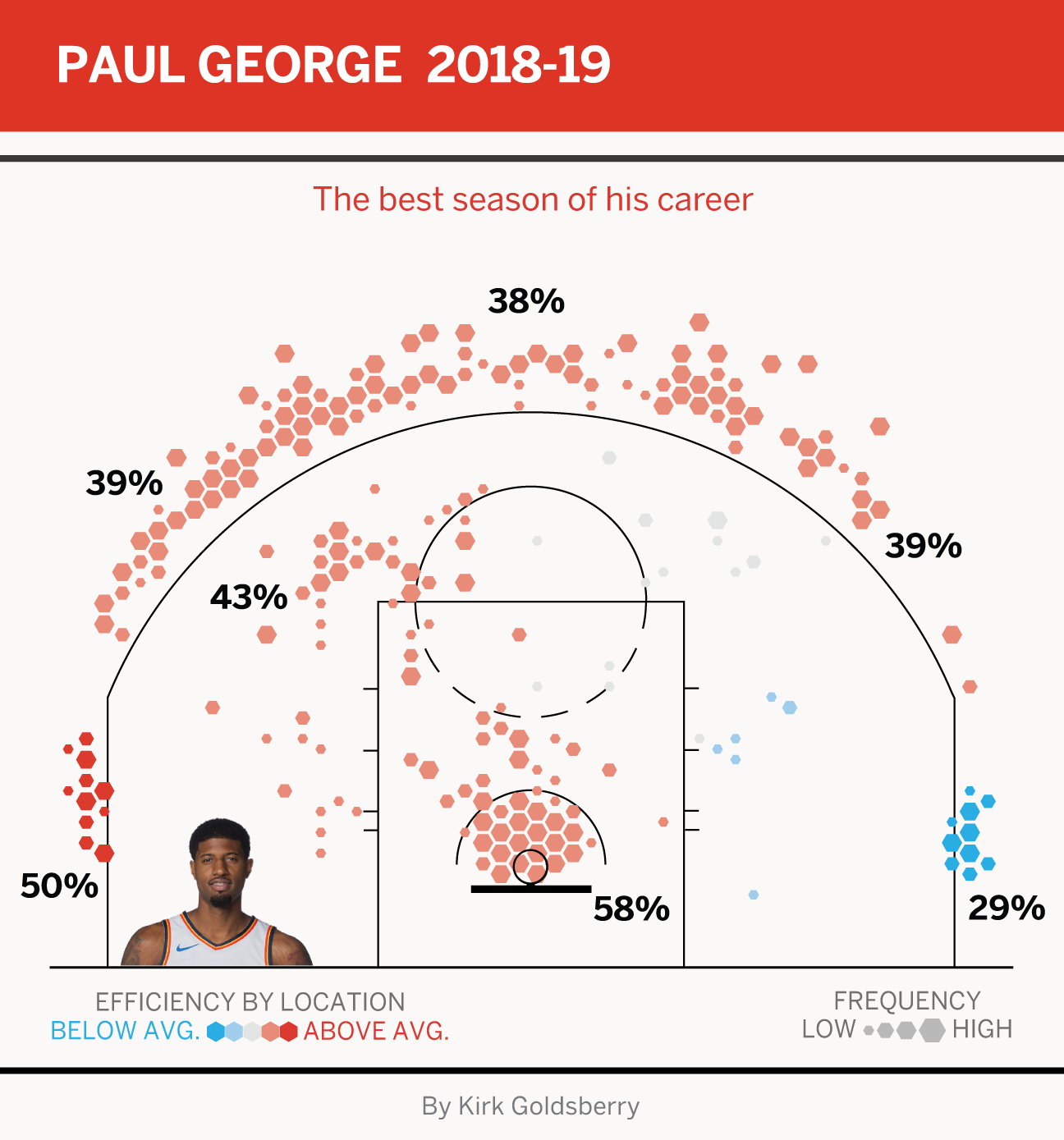 As a scorer, George can score in the paint, from the midrange and from beyond the arc. He has become one of the most prolific jump shooters in the game. He currently trails only Kevin Durant and Klay Thompson in made field goals beyond 8 feet.
His efficiency levels remain strong despite the uptick in volume. He can create his own looks off the dribble or drain catch-and-shoot shots from the edge.
Durant's departure from OKC scarred both the fan base and the organization. But for the first time since KD left, OKC is thriving and someone other than Westbrook is leading the way. He might not be as gifted as Durant, but George has taken over the scoring burden while shaping a revitalized defensive culture that has reinvigorated the franchise. This season, he is clearly the best defensive player in the NBA, and he's showing why it matters.