ESPN.com and the TrueHoop Network are ranking every NBA player -- and counting them down on Twitter (@NBAonESPN), from No. 500 to No. 1. As the rankings are announced, you can also find them here on the pages of ESPN.com.
We have already announced 401-500, 351-400, 301-350, 251-300, 201-250 and 181-200, and will count down the rest one at a time, 10 per day, on Twitter, for several weeks.
What is #NBArank?
#NBArank is the Twitter hashtag to use if you want to get involved in the discussion or just follow along.
You can also follow along here: @NBAonESPN
How did we rank the players?
We asked 91 experts to rate each player on a 0-to-10 scale, in terms of "the current quality of each player."
Here is the full list of voters from ESPN.com, the TrueHoop Network, TrueHoop TV, Daily Dime Live, ESPN TV, ESPN Radio, ESPN Deportes, espnW, ESPN The Magazine, ESPN Insider, ESPN Fantasy, ESPN Games, ESPN Dallas, ESPN Los Angeles, ESPN Chicago, ESPN New York, ESPN Stats & Information, ESPN Topics and ESPN Analytics.
To decide which players to rank, we started with every player who played in the league last season, and then eliminated players who had signed overseas contracts that made them ineligible for the 2011-12 NBA season. Then we added the 60 members of the 2011 draft class, eliminating those not likely to play in the NBA by 2012. That left 500 players, according to our best information as of August 15.
Schedule
• Friday, September 16: Players 171 to 180 announced
• Monday, September 19: Players 161 to 170 announced
4.74
@QCsportscrave: Serious note though, Diaw could have been a more consistent and reliable PF in this league if he'd make effort to stay in shape. #NBArank
@Ian_Segovia: Diaw's rank was determined before Eurobasket and about 50 lbs ago. #NBArank
@swade909: Pounds he gained during last season.#NBArank 161: Boris Diaw.
162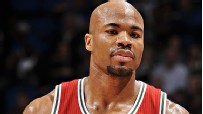 Corey Maggette
Charlotte Bobcats | SF | Age: 31
4.73
@QCsportscrave: Pretty depressing to know that the best player on current Bobcats roster is ranked 162 ... #NBArank
@UpprBowlJazzFan: Also Maggette's record for shot attempts in a game. #NBArank 162: Corey Maggette.
163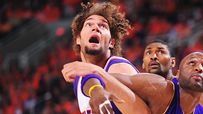 Robin Lopez
Phoenix Suns | C | Age: 23
4.73
@jtmwebdesign: Either #NBArank put Robin about 100 spots too high or they confused him for his brother and went 100 spots low.
164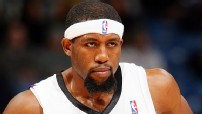 John Salmons
Sacramento Kings | SG | Age: 31
4.68
@DashiellD: When the Kings traded back for Salmons, they moved down in the draft, got older, and took on a longer contract. Yikes. #NBArank
165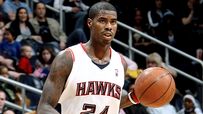 Marvin Williams
Atlanta Hawks | SF | Age: 25
4.68
@LarryCoon: If Deron Williams and Chris Paul don't show up on #NBArank soon, Atlanta might have reason to re-think that Marvin Williams draft selection.
@UpprBowlJazzFan: Marvin Williams #nbarank of 165 is also the # of dreams Hawks GM Rick Sund has had where they drafted Chris Paul or Deron Williams instead.
@WillSevidalSDS: Marvin Williams #165? That's about how many supporters he has in Atlanta now. #NBARank
166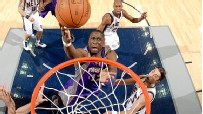 Mickael Pietrus
Phoenix Suns | SG | Age: 29
@MickaelPietrus
4.68
@adamosgp: Air France may go up in the rankings with increased playing time.
167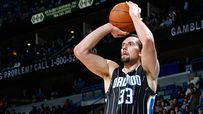 Ryan Anderson
Orlando Magic | PF | Age: 23
@ryananderson33
4.67
@PistonPowered: On the verge of becoming the so-underrated-he's-overrated player. RT @NBAonESPN: #NBArank 167: Ryan Anderson
168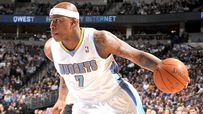 Al Harrington
Denver Nuggets | PF | Age: 31
4.66
@PistonPowered: Sadly, I'd LOVE for Charlie Villanueva to play like this guy. RT @NBAonESPN: #NBArank 168: Al Harrington
169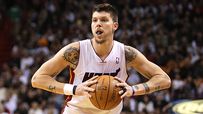 Mike Miller
Miami Heat | SF | Age: 31
@m33m
4.66
@rey_solo: The Heat's fourth-best player. RT @NBAonESPN: #NBArank 169: Mike Miller
170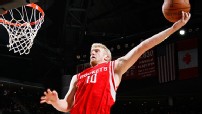 Chase Budinger
Houston Rockets | PF | Age: 23
@CBudinger
4.64
@TheAkronHammer: He's at least top two if we're ranking based on volleyball skills. RT @NBAonESPN: #NBArank 170: Chase Budinger
171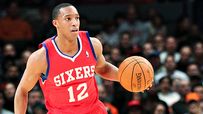 Evan Turner
Philadelphia 76ers | SF | Age: 22
@thekidet
4.64
@Stillmatic232: If Doug Collins lets Evan Turner play next season, he may win the Most Improved Player award. #NBArank
172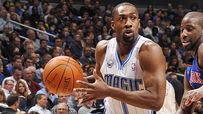 Gilbert Arenas
Orlando Magic | G | Age: 29
4.63
@tsammiejag: Wow, five years ago he was a rising superstar in the league. RT @NBAonESPN #NBArank 172: Gilbert Arenas.
173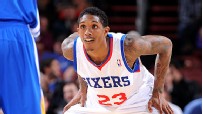 Lou Williams
Philadelphia 76ers | PG | Age: 24
@TeamLou23
4.61
@gregfield93: Lou Williams was 19th amongst point guards in regular-season PPG, but 36th amongst point guards in MPG ... what does that say? #NBArank
174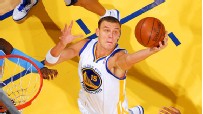 Andris Biedrins
G.S. Warriors | C | Age: 25
4.58
Follow the discussion at #NBArank
@TheNoLookPass: If you move the decimal of Andris Biedrins' #NBARank of 174 to .174, that's right around his free-throw percentage.
175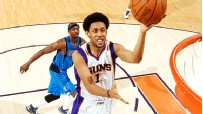 Josh Childress
Phoenix Suns | SF | Age: 28
@JChillin
4.58
@DashiellD: 175 is also the number of times Lon Babby called other teams last year begging them to take on Childress' huge contract. #NBArank
176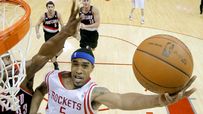 Courtney Lee
Houston Rockets | SG | Age: 25
4.58
@tommyu89: #NBArank how things could have turned out if Lee made that layup in Game 2 against the Lakers.
177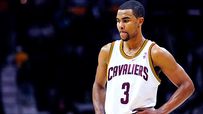 Ramon Sessions
Cleveland Cavaliers | PG | Age: 25
4.56
@24kGoldenChild: If someone would just commit to Sessions as their starting point guard, we'd be talking about him later due to a higher rank.
178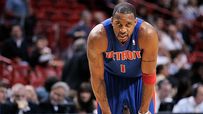 Tracy McGrady
Detroit Pistons | SF | Age: 32
@TheReal_TMAC
4.56
@Craig_ACook: About 5 years ago he was definitely top 5.
@Keiththejourno: Not sure why everyone is sad for TMac and his 178th placing in the #NBArank. Injuries crippled him, sure. But laziness is all him.
@mpujols2: At one point he was the best scorer ... smh ...
@JustRod: #NBArank 178 is the number of times I replayed the end of that game when McGrady went off for 13 pts in 35 seconds.
179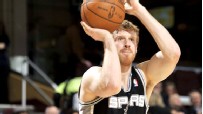 Matt Bonner
San Antonio Spurs | PF | Age: 31
4.56
@HickoryHigh: Matt Bonner's motto: Live Three or Die. (That's a bit of New England regional humor. You're welcome, New Hampshire.)
@JustRod: Matt Bonner is like that kid who would always be picked last ... until you realize he can actually shoot.
180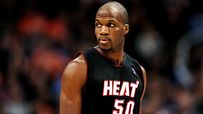 Joel Anthony
Miami Heat | C | Age: 29
4.56
@traread: Joel Anthony's #NBArank is 180. The starting center of an NBA Finals team didn't even get 180 points last season. #ouch
@noamschiller: If I had told you in 2010 that Joel Anthony would be the 180th best player in the NBA in one year, you would have slapped me.
* Score: Tiebreakers are first based on percentage points; scores have been rounded off. The second tiebreaker is based on John Hollinger's Estimated Wins Added for the 2010-11 NBA season (rookies were given an EWA of zero).