ESPN.com and the TrueHoop Network are ranking every NBA player -- and counting them down on Twitter (@NBAonESPN), from No. 500 to No. 1. As the rankings are announced, you can also find them here on the pages of ESPN.com.
We have already announced 401-500, 351-400, 301-350, 251-300, 201-250, 181-200, 161-180, 141-160, 121-140 and 101-120 and will count down the rest one at a time on Twitter, for several weeks.
What is #NBArank?
#NBArank is the Twitter hashtag to use if you want to get involved in the discussion or just follow along.
You can also follow along here: @NBAonESPN
How did we rank the players?
We asked 91 experts to rate each player on a 0-to-10 scale, in terms of "the current quality of each player."
Here is the full list of voters from ESPN.com, the TrueHoop Network, TrueHoop TV, Daily Dime Live, ESPN TV, ESPN Radio, ESPN Deportes, espnW, ESPN The Magazine, ESPN Insider, ESPN Fantasy, ESPN Games, ESPN Dallas, ESPN Los Angeles, ESPN Chicago, ESPN New York, ESPN Stats & Information, ESPN Topics and ESPN Analytics.
To decide which players to rank, we started with every player who played in the league last season, and then eliminated players who had signed overseas contracts that made them ineligible for the 2011-12 NBA season. Then we added the 60 members of the 2011 draft class, eliminating those not likely to play in the NBA by 2012. That left 500 players, according to our best information as of Aug. 15.
Schedule
• Wednesday, Sept. 28: Players 91 to 100 announced
• Thursday, Sept. 29: Players 81 to 90 announced
• Friday, Sept. 30: Players 71 to 80 announced
• Monday, Oct. 3: Players 61 to 70 announced
• Tuesday, Oct. 4: Players 51 to 60 announced
Who would've thought that a dude from IUPUI would be a top-100 #NBArank! @George_Hill3 everyone!Wed Sep 28 23:48:54 via web
William Vega
WillVega21
Rank
Player
Score
92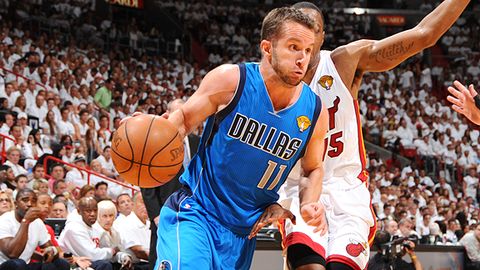 5.69
J.J. Barea
Dallas Mavericks | PG | Age: 27
Undrafted in 2006
@jjbareapr @jayfonsecapr congratulations JJ Barea ranked 92 at #nbarank....Mon Oct 17 22:36:28 via Twitter for Android
Ruben Rodriguez
rerodriguex
J.J. Barea #92 on #NBArank. This time Andrew Bynum CAN'T knock him down from his position.Wed Sep 28 22:41:58 via web
shadow black
shadowblack2929
Rank
Player
Score
93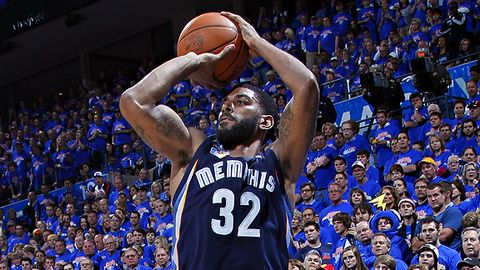 5.68
O.J. Mayo
Memphis Grizzlies | SG | Age: 23
Drafted: 3rd in 2008 (by MIN)
O.J. Mayo was almost traded for #250, Josh McRoberts, and a first-round pick that would be #296, Kawhi Leonard. No. 93 is a little high. #NBArankWed Sep 28 21:47:01 via web
Connor Cook
connorcook
Rank
Player
Score
94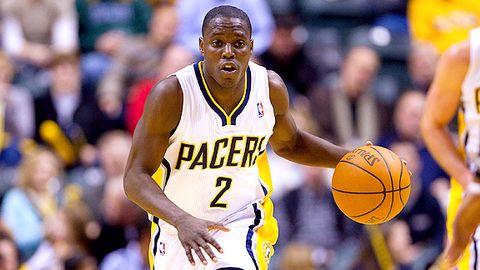 5.68
Darren Collison
Indiana Pacers | PG | Age: 24
Drafted: 21st in 2009 (by NOR)
@Darren_Collison
For some reason, being mentored by T.J. Ford just didn't have the same effect on Darren Collison as being mentored by Chris Paul. #NBArankWed Sep 28 20:10:02 via TweetDeck
Noam Schiller
noamschiller
Rank
Player
Score
95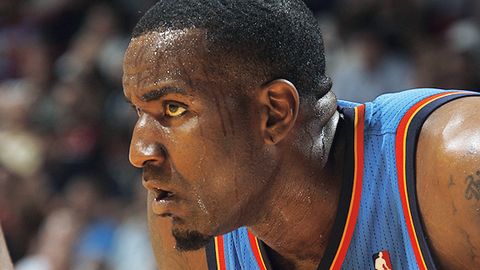 5.67
Kendrick Perkins
Okla. City Thunder | C | Age: 26
Drafted: 23rd in 2007 (by MEM)
#NBArank Kendrick Perkins if healthy will take #OKC where they need to be and that's the NBA Finals.Wed Sep 28 20:13:11 via web
Joel Morse
MorseJoel
Rank
Player
Score
96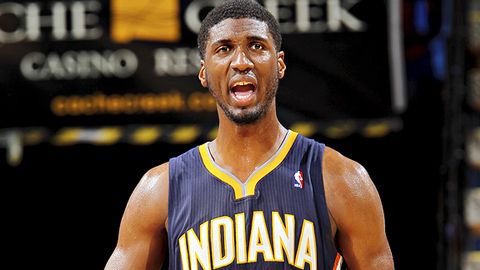 5.67
Roy Hibbert
Indiana Pacers | C | Age: 24
Drafted: 17th in 2008 (by TOR)
How are you 7'2 and you can barely get more than five rebounds per game? Roy Hibbert's #NBArank should be a lot lower. Wed Sep 28 18:59:17 via web
alex
stanchakastanie
Roy Hibbert came a long way from the kid that had to be taught how to run at Georgetown. He's now a quality big on the rise. #NBArankWed Sep 28 18:27:43 via web
Vince Greer
MrConsistentVG
Rank
Player
Score
97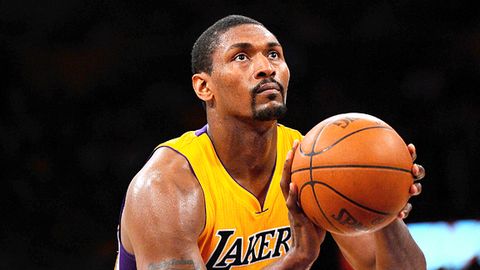 5.67
Metta World Peace
L.A. Lakers | SF | Age: 31
Drafted: 16th in 1999 (by CHI)
Metta World Peace is at #97? It's the dancing, isn't it? #NBArankWed Sep 28 17:05:58 via web
Rey-Rey
TheNoLookPass
Rank
Player
Score
98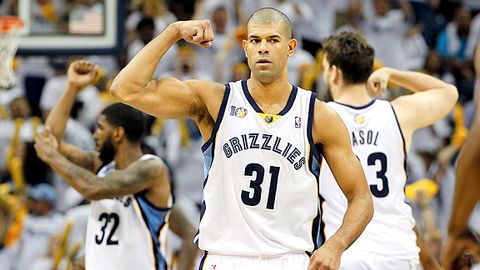 5.66
Shane Battier
Memphis Grizzlies | SF | Age: 33
Drafted: 6th in 2001 (by VAN)
The Kobe Stopper -- Shane Battier is 98. Hustle points really do go far...#NBArankWed Sep 28 16:20:56 via web
Greg Field
gregfield93
Rank
Player
Score
99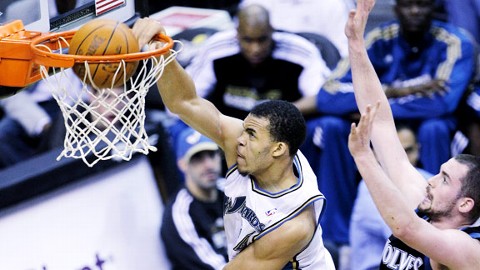 5.65
JaVale McGee
Wash. Wizards | C | Age: 23
Drafted: 18th in 2008 (by WAS)
Dunking three basketballs is Top 100-worthy in #NBArank. Now, if JaVale McGee makes that FT line dunk in a game, he'll go even higher.Wed Sep 28 15:22:18 via web
Rey-Rey
TheNoLookPass
#NBArank JaVale McGee ranks No. 99 in #NBA as a player; but his ego is ranked top 20, basketball IQ ranks in the 300s. Wed Sep 28 15:55:58 via web
Kyle Weidie
Truth_About_It
Rank
Player
Score
100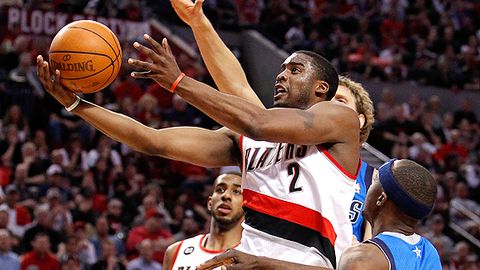 5.64
Wesley Matthews
Por. Trail Blazers | G | Age: 24
Undrafted in 2009
@wessywes2
Michael Beasley: No. 2 overall pick in 2008, 109 in #NBArank. Wesley Matthews: undrafted in 2009, 100 in #NBArank. And he'll rise.Wed Sep 28 14:31:09 via TweetDeck
devin kharpertian
uuords
Wesley Matthews is likely the highest ranked undrafted NBA player. A tribute to his work ethic and game-time performance. #NBArankWed Sep 28 14:49:52 via TweetDeck
Neil Sorenson
UpprBowlJazzFan
@NBAonESPN #NBArank 100: Wesley Matthews. Reading that, every Jazz fan hates Portland just a little more.Wed Sep 28 14:56:07 via web
Bandwagon Jazzfan
ColbySpradlin
Love waking up to motivation. RT @NBAonESPN: #NBArank 100: Wesley Matthews. Wed Sep 28 17:07:25 via Echofon
Wesley Matthews
wessywes2
* Score: Tiebreakers are first based on percentage points; scores have been rounded off. The second tiebreaker is based on John Hollinger's Estimated Wins Added for the 2010-11 NBA season (rookies were given an EWA of zero).