ESPN.com and the TrueHoop Network are ranking every NBA player -- and counting them down on Twitter (@NBAonESPN), from No. 500 to No. 1. As the rankings are announced, you can also find them here on the pages of ESPN.com.
We have already announced 401-500, 351-400, 301-350, 251-300, 201-250, 181-200, 161-180, 141-160, 121-140, 101-120, 91-100, 81-90, 71-80, 61-70 and 51-60 and will count down the rest one at a time on Twitter, for several weeks.
What is #NBArank?
#NBArank is the Twitter hashtag to use if you want to get involved in the discussion or just follow along.
You can also follow along here: @NBAonESPN
How did we rank the players?
We asked 91 experts to rate each player on a 0-to-10 scale, in terms of "the current quality of each player."
Here is the full list of voters from ESPN.com, the TrueHoop Network, TrueHoop TV, Daily Dime Live, ESPN TV, ESPN Radio, ESPN Deportes, espnW, ESPN The Magazine, ESPN Insider, ESPN Fantasy, ESPN Games, ESPN Dallas, ESPN Los Angeles, ESPN Chicago, ESPN New York, ESPN Stats & Information, ESPN Topics and ESPN Analytics.
To decide which players to rank, we started with every player who played in the league last season, and then eliminated players who had signed overseas contracts that made them ineligible for the 2011-12 NBA season. Then we added the 60 members of the 2011 draft class, eliminating those not likely to play in the NBA by 2012. That left 500 players, according to our best information as of Aug. 15.
@NBAonESPN In a season where all the defensive props of the Bulls went to the coach,Deng was the heart and soul of that defense #NBArankWed Oct 05 22:25:06 via web
hadi chaouk
HadiC25
Short of Lamar Odom, there's probably not a better fourth option in the league than Luol Deng #nbarankWed Oct 05 22:48:39 via web
Aaron Burgin
SDUTAaronBurgin
Classic case of someone being underrated for so long that he is now overrated RT @NBAonESPN: #NBArank 46: Luol DengWed Oct 05 23:16:32 via TweetDeck
Justin Rodriguez
JustRod
Rank
Player
Score
47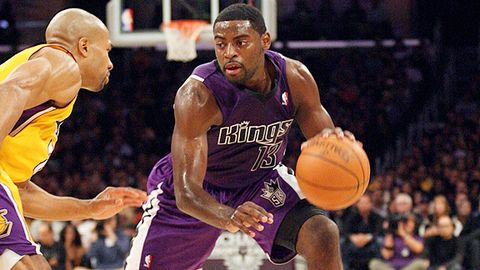 6.82
Tyreke Evans
Sac. Kings | PG | Age: 22
Drafted: 4th in 2009 (by SAC)
Breaking my Twitter silence to say that Tyreke Evans over Gerald Wallace in #NBArank is sheer lunacy. And back to silence.Wed Oct 05 20:35:21 via web
Sam Orme
TheRealSamOrme
Expecting 20-5-5 line again next year now that he's back to 100%. #NBAKings Wed Oct 05 20:14:07 via web
Alex Kramers
doktakra
@#NBArank Tyreke Evans is the one guy that COULD stop Durant and Rose from being the best in the league three to five years from now. Wed Oct 05 21:11:41 via web
courtney kennedy
KennedyCourtney
Rank
Player
Score
48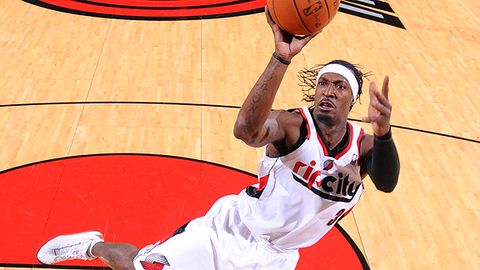 6.82
Gerald Wallace
Por. Trail Blazers | SF | Age: 29
Drafted: 25th in 2001 (by SAC)
#NBArank Gerald Wallace going before we see #bulls Luol Deng, feels like a mistake.Wed Oct 05 18:25:23 via Twitter for iPhone
Josh Eberley
JoshEberley
Gerald Wallace at 48 in #NBArank is the first ranking I've had a real issue with. Just shows you that defense is impossible to rate properly.Wed Oct 05 18:18:48 via web
Colin Zvosec
ColinZvosec
Rank
Player
Score
49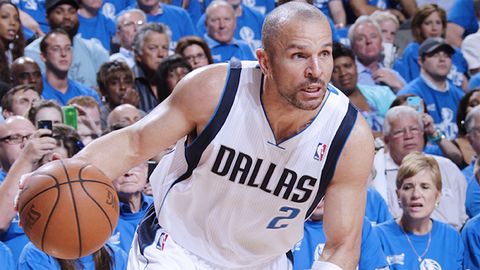 6.71
Jason Kidd
Dallas Mavericks | PG | Age: 38
Drafted: 2nd in 1994 (by DAL)
#NBArank #49 on this list is Jason Kidd, who finally got the NBA title last season with the Mavs. I wonder if the Nets are feeling jealous?Wed Oct 05 16:11:50 via web
Rick Stone
Pokermarlin
Still made the Top 50 at his age ... amazing! Wed Oct 05 16:12:34 via Twitter for iPhone
Jo Hidajat
two_legs
#NBArank #49 Jason Kidd. I wouldn't doubt it if he's still playing at this age.Wed Oct 05 16:32:29 via web
Patrick Billet
patrickbillet
Rank
Player
Score
50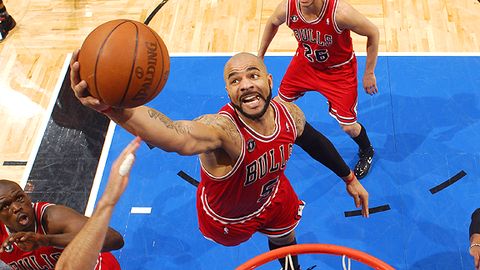 6.70
Carlos Boozer
Chicago Bulls | PF | Age: 29
Drafted: 36th in 2002 (by CLE)
@MisterCbooz
If #NBArank only counted the playoffs, Carlos Boozer would be in the low 200s.Wed Oct 05 14:19:36 via TweetDeck
Marco Romo
Marco_Romo
Another "Cavs Traitor" that will win a championship eventually before Dan Gilbert. Wed Oct 05 15:08:01 via web
Eran Soroka
sorokman
If you combine Boozer's offensive game with Taj Gibson's defensive game, you have one of the top forwards in the league #NBArankWed Oct 05 14:26:43 via Twitter for iPhone
Husam Saleh
Husam15
* Score: Tiebreakers are first based on percentage points; scores have been rounded off. The second tiebreaker is based on John Hollinger's Estimated Wins Added for the 2010-11 NBA season (rookies were given an EWA of zero).