ESPN.com and the TrueHoop Network are ranking every NBA player -- and counting them down on Twitter (@NBAonESPN), from No. 500 to No. 1. As the rankings are announced, you can also find them here on the pages of ESPN.com.
What is #NBArank?
#NBArank is the Twitter hashtag to use if you want to get involved in the discussion or just follow along.
You can also follow along here: @NBAonESPN
How did we rank the players?
We asked 91 experts to rate each player on a 0-to-10 scale, in terms of "the current quality of each player."
Here is the full list of voters from ESPN.com, the TrueHoop Network, TrueHoop TV, Daily Dime Live, ESPN TV, ESPN Radio, ESPN Deportes, espnW, ESPN The Magazine, ESPN Insider, ESPN Fantasy, ESPN Games, ESPN Dallas, ESPN Los Angeles, ESPN Chicago, ESPN New York, ESPN Stats & Information, ESPN Topics and ESPN Analytics.
Monta Ellis is ranked 41 in #NBArank, Kevin Martin is 42. In 2010-11, Martin was 19 in PER, Ellis was 43. Hollinger weeps.Thu Oct 06 22:12:33 via Tweetie for Mac
Ross Poland
logggur
#nbarank Ellis is constantly under/overrated depending on whose talking. An absolute beast offensively, but he needs to work on efficiency.Thu Oct 06 22:03:43 via web
Josh Eberley
JoshEberley
@NBAonESPN Monta's #NBArank at 41 is the same number of shots he averages per game.Thu Oct 06 22:04:24 via web
Brian Blewis
Brian_Blewis
Monta Ellis at 41. Pretty good for a guy drafted in the 2nd round. #nbarankThu Oct 06 22:03:49 via TweetDeck
Thomas
karmacomatic
Rank
Player
Score
42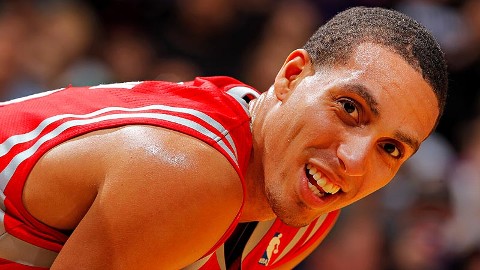 6.98
Kevin Martin
Houston Rockets | SG | Age: 28
Drafted: 26th in 2004 (by SAC)
Kevin Martin ... second in the league in scoring per minute, close to that in points given up per minute. #NBArankThu Oct 06 21:00:49 via web
Patrick Harrel
PatrickHarrel
Kevin Martin is 42 in #NBArank but out of the top 50 he's the player casual fans would be least likely to recognize at a grocery store.Thu Oct 06 20:24:28 via web
Chad Kenney
xGOJIRAx
No. 42 Kevin Martin. I wonder how many people are now thinking, "Oh yeah I forgot about him, he's pretty good." #NBArankThu Oct 06 20:12:46 via web
Jacob Tucker
TuckerJacob
Rank
Player
Score
43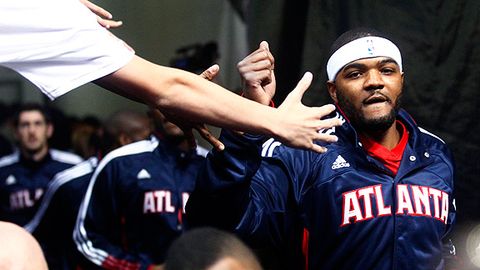 6.95
Josh Smith
Atlanta Hawks | PF | Age: 25
Drafted: 17th in 2004 (by ATL)
2010's worst All-Star snub, 2011's most disappointing apathetic performer. Thu Oct 06 18:03:38 via TweetDeck
Noam Schiller
noamschiller
If Josh Smith just improves his decision making and his basketball IQ, you're talking about a top-20 player not a top-50 player. #NBArankThu Oct 06 19:38:50 via web
William Sevidal
WillSevidalSDS
If Josh Smith adds one more tool (consistent perimeter game) to his multifaceted toolbox, he'll no longer be on the ASG snub list. #NBArankThu Oct 06 18:25:53 via web
Aaron Burgin
SDUTAaronBurgin
Rank
Player
Score
44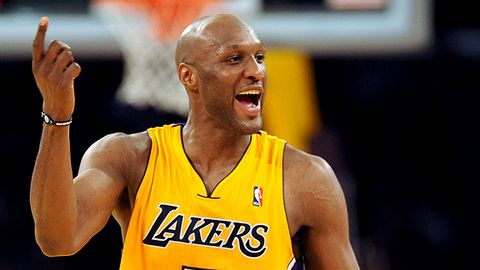 6.94
Lamar Odom
L.A. Lakers | PF | Age: 31
Drafted: 4th in 1999 (by LAC)
@RealLamarOdom
#NBArank how can Lamar Odom, who got showed up by Jason Terry, be the higher rated sixth man?Thu Oct 06 16:39:54 via web
Tim Hunsinger
timmah4114
@NBAonESPN I don't like the Lakers or Lamar Odom but he's a beast and he comes off the bench to save the Lakers.Thu Oct 06 16:27:48 via web
My World
hotones391
Lamar Odom is the poster child for inconsistency. The fact he's No. 44 on #NBArank shows just how talented he really is.Thu Oct 06 16:38:16 via web
Devin Ugland
RealDevinUgland
Rank
Player
Score
45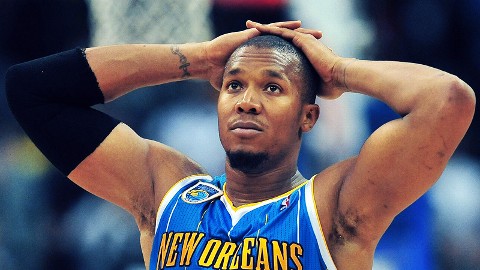 6.89
David West
N.O. Hornets | PF | Age: 31
Drafted: 18th in 2003 (by NOR)
@NBAonESPN So David West is at 45, and he's CP3's best teammate ... what does that say about the point god, Chris Paul? #NBArankThu Oct 06 14:46:45 via Twitter for Mac
Conrad Kaczmarek
conradkaczmarek
David West (45th in #NBArank) has always been kind of an enigma to me. Shows up, gets the job done... yet no one ever talks about him.Thu Oct 06 15:14:07 via web
Colin Zvosec
ColinZvosec
When he's not hurt, he's a beast!Thu Oct 06 15:26:13 via Twitter for Android
Daniel Copeland
DCthemayor
* Score: Tiebreakers are first based on percentage points; scores have been rounded off. The second tiebreaker is based on John Hollinger's Estimated Wins Added for the 2010-11 NBA season (rookies were given an EWA of zero).