ESPN.com and the TrueHoop Network are ranking every NBA player -- and counting them down on Twitter (@NBAonESPN), from No. 500 to No. 1. As the rankings are announced, you can also find them here on the pages of ESPN.com.
What is #NBArank?
#NBArank is the Twitter hashtag to use if you want to get involved in the discussion or just follow along.
You can also follow along here: @NBAonESPN
How did we rank the players?
We asked 91 experts to rate each player on a 0-to-10 scale, in terms of "the current quality of each player."
Here is the full list of voters from ESPN.com, the TrueHoop Network, TrueHoop TV, Daily Dime Live, ESPN TV, ESPN Radio, ESPN Deportes, espnW, ESPN The Magazine, ESPN Insider, ESPN Fantasy, ESPN Games, ESPN Dallas, ESPN Los Angeles, ESPN Chicago, ESPN New York, ESPN Stats & Information, ESPN Topics and ESPN Analytics.
Follow the discussion at #NBArank
Nene seems too high & too low. Few have his post game & efficiency, but he does not change games like Bogut & Chandler. #NBARankMon Oct 10 22:30:24 via Twitterrific
Jeremy Wagner
RoundballMiner
Rank
Player
Score
32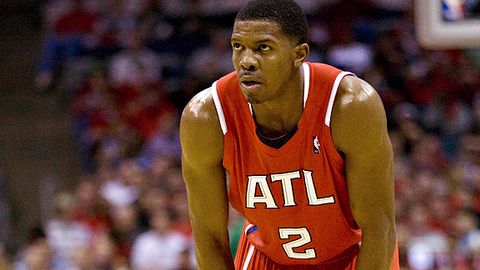 7.33
Joe Johnson
Atlanta Hawks | SG | Age: 30
Drafted: 10th in 2001 (by BOS)
Joe Johnson. The most anonymous five-time All-Star in history. #NBArankMon Oct 10 20:26:08 via web
John Hollinger
johnhollinger
Name a player ranked higher than 32 with a better truck than Joe Johnson. #nbarank http://t.co/fD25mgZIMon Oct 10 20:58:18 via TweetDeck
Justin Goldstein
jusgolds
Rank
Player
Score
33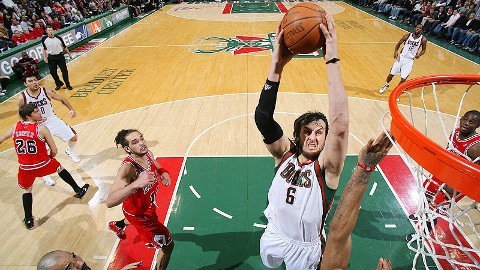 7.31
Andrew Bogut
Milw. Bucks | C | Age: 26
Drafted: 1st in 2005 (by MIL)
Andrew Bogut, who is an elite defender as a center, is a healthy elbow away from cracking the Top 25. #NBArankMon Oct 10 18:04:41 via web
Simon Chun
simonchun
As this was posted, he blocked 15 shots but wasn't on national television.Mon Oct 10 18:06:22 via TweetDeck
Noam Schiller
noamschiller
Rank
Player
Score
34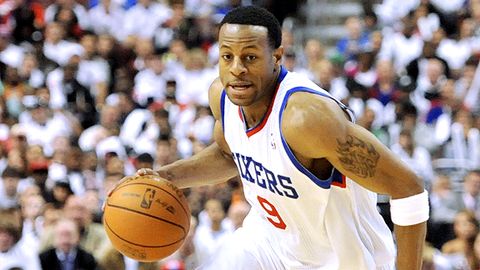 7.29
Andre Iguodala
Phila. 76ers | SG | Age: 27
Drafted: 9th in 2004 (by PHI)
#NBArank Andre Iguodala is only a consistent jumpshot away from being a top 20 player.Mon Oct 10 16:51:41 via web
Tim Hunsinger
timmah4114
Iggy's ranked 34th? I guess giving points, assists, boards AND D isn't good enough.Mon Oct 10 17:00:15 via web
Dre' Dreaming
iAmDreDennis
Good thing Philly didn't try to make Andre Iguodala into the next Allen Iverson #NBArankMon Oct 10 17:15:25 via web
#StewGotti
Aaron_Kennedy_
#NBArank 34: Andre Iguodala is good at a lot of thins, but not great at anything. I think this is too high for him.Mon Oct 10 16:10:20 via web
the man
mojotheegreat
Rank
Player
Score
35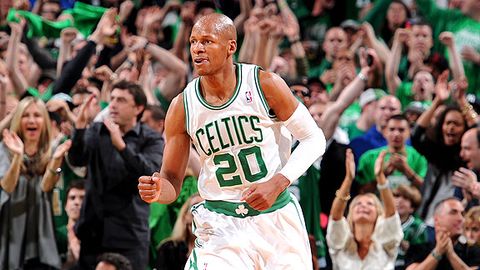 7.27
Ray Allen
Boston Celtics | SG | Age: 36
Drafted: 5th in 1996 (by MIL)
Ray Allen is a money shooter and deadly creating off curls, but adds little else at age 36. His #NBARank is a lifetime achievement award.Mon Oct 10 14:32:00 via TweetDeck
Beckley Mason
BeckleyMason
Ray Allen is number 35 because that's how many times his mom is shown each game. Family love at its finest. He's a good shooter, too.Mon Oct 10 15:38:31 via web
Greg Field
gregfield93
Ray Allen is still the best shooter in the NBA. His lack of play-making skills and defensive prowess make his #NBArank too high.Mon Oct 10 16:58:35 via web
Dre' Dreaming
iAmDreDennis
* Score: Tiebreakers are first based on percentage points; scores have been rounded off. The second tiebreaker is based on John Hollinger's Estimated Wins Added for the 2010-11 NBA season (rookies were given an EWA of zero).