ESPN.com and the TrueHoop Network are ranking every NBA player -- and counting them down on Twitter (@NBAonESPN), from No. 500 to No. 1. As the rankings are announced, you can also find them here on the pages of ESPN.com.
What is #NBArank?
#NBArank is the Twitter hashtag to use if you want to get involved in the discussion or just follow along.
You can also follow along here: @NBAonESPN
How did we rank the players?
We asked 91 experts to rate each player on a 0-to-10 scale, in terms of "the current quality of each player."
Here is the full list of voters from ESPN.com, the TrueHoop Network, TrueHoop TV, Daily Dime Live, ESPN TV, ESPN Radio, ESPN Deportes, espnW, ESPN The Magazine, ESPN Insider, ESPN Fantasy, ESPN Games, ESPN Dallas, ESPN Los Angeles, ESPN Chicago, ESPN New York, ESPN Stats & Information, ESPN Topics and ESPN Analytics.
@MarcGasol at #26 is solely due to his playoff performance, which, I might add, was an extraordinary one #NBArankWed Oct 12 00:08:24 via web
Spencer K
TheBenchReview
Marc Gasol's critics might want to ask The Big Fundamental about that 1st-round series. MGasol dominated & defeated Duncan. #NBArankTue Oct 11 23:22:55 via TweetDeck
Royce Webb, ESPN NBA
RoyceWebb
@NBAonESPN LA would've liked to undo the Gasols trade, until they remembered they got rid of Kwame and Crittenton then they laughed #NBArankTue Oct 11 23:27:34 via web
Eric Cianfrone
cfrone09
Rank
Player
Score
27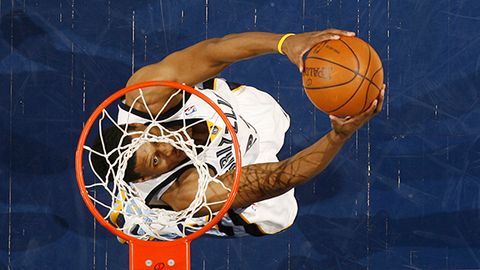 7.48
Rudy Gay
Mem. Grizzlies | SF | Age: 25
Drafted: 8th in 2006 (by HOU)
There are 29 NBA teams wishing that Memphis inexplicably trades this guy.Tue Oct 11 20:07:08 via web
Noam Schiller
noamschiller
#NBArank Rudy Gay has a knack for hitting clutch shots. Ask LeBron James ... Tue Oct 11 20:28:43 via tGadget
Justin Rodriguez
JustRod
I still think Memphis might have won West last year if Gay hadn't been hurt. #NBArankTue Oct 11 22:07:22 via web
John Hollinger
johnhollinger
Rank
Player
Score
28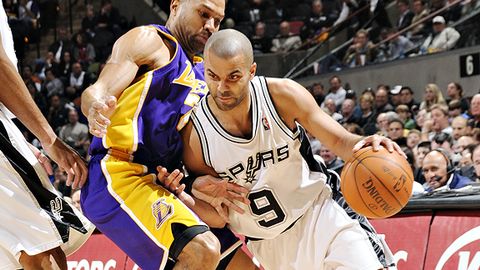 7.47
Tony Parker
S. A. Spurs | PG | Age: 29
Drafted: 28th in 2001 (by SAS)
The best floater in the game!Tue Oct 11 18:13:12 via Twitter for Android
Daniel Copeland
DCthemayor
I'll never understand why Tony Parker, with more titles than Nash, Paul, Rose and D-Will combined, never cracks a top NBA PG list? #NBArankTue Oct 11 18:37:27 via web
Aaron Burgin
SDUTABurgin
Tony Parker (@tp9network): #NBArank 28, #SpursRank 3, #LayupGeniusRank 1. Apologies to @DwyaneWade, @manuginobili & Monta Ellis.Tue Oct 11 18:32:17 via TweetDeck
Royce Webb, ESPN NBA
RoyceWebb
Rank
Player
Score
29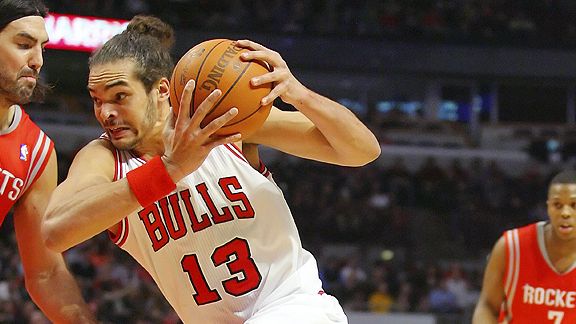 7.47
Joakim Noah
Chicago Bulls | C | Age: 26
Drafted: 9th in 2007 (by CHI)
For a guy who came into the league with tons of doubters but loads of potential, Joakim Noah has acquitted himself quite well. #NBArankTue Oct 11 16:41:36 via web
Aaron Burgin
SDUTAaronBurgin
So Noah gets a higher #NBArank than Bogut despite Bogut beating him in PPG,RPG,and BPG while not having an elite teammate like Rose? Gotcha.Tue Oct 11 16:48:14 via web
Tyler Dettmann
TDettanator
Joakim Noah is a top rebounder, underrated passer, and defends any position. Combine that with his love of the game, he is top 30 #NBArankTue Oct 11 17:13:44 via Twitter for iPad
Ben Levine
levineb
The Bulls could have Carmelo Anthony if they would've given up Joakim Noah. Noah brings a lot more to the Bulls then stats. HEART! #NBArankTue Oct 11 16:30:25 via web
Eric Lovell Brown
eVeRy1nOSlOvElL
Rank
Player
Score
30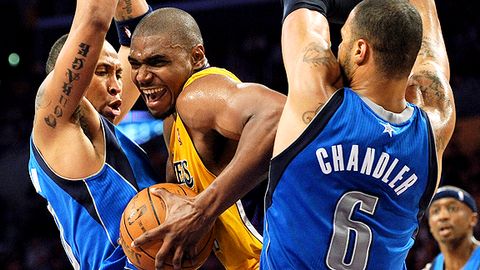 7.45
Andrew Bynum
L.A. Lakers | C | Age: 23
Drafted: 10th in 2005 (by LAL)
@AndrewBynum
Eleven points, nine rebounds, one injury-free season. Looks like someone voted on potential with Andrew Bynum.Tue Oct 11 14:25:07 via web
Joel Hart
joelhart1
#NBArank Andrew Bynum I guess his potential matters more than what he has done.Tue Oct 11 16:26:29 via web
the man
mojotheegreat
* Score: Tiebreakers are first based on percentage points; scores have been rounded off. The second tiebreaker is based on John Hollinger's Estimated Wins Added for the 2010-11 NBA season (rookies were given an EWA of zero).