ESPN.com and the TrueHoop Network are ranking every NBA player -- and counting them down on Twitter (@NBAonESPN), from No. 500 to No. 1. As the rankings are announced, you can also find them here on the pages of ESPN.com.
What is #NBArank?
#NBArank is the Twitter hashtag to use if you want to get involved in the discussion or just follow along.
You can also follow along here: @NBAonESPN
How did we rank the players?
We asked 91 experts to rate each player on a 0-to-10 scale, in terms of "the current quality of each player."
Here is the full list of voters from ESPN.com, the TrueHoop Network, TrueHoop TV, Daily Dime Live, ESPN TV, ESPN Radio, ESPN Deportes, espnW, ESPN The Magazine, ESPN Insider, ESPN Fantasy, ESPN Games, ESPN Dallas, ESPN Los Angeles, ESPN Chicago, ESPN New York, ESPN Stats & Information, ESPN Topics and ESPN Analytics.
Paul Pierce, probably the most consistent performer out of the Big Three since they formed. Can't count more than 20 players better. #NBArankWed Oct 12 23:01:56 via web
Baldur H Halldórsson
Baldur_
#NBArank Paul Pierce, his game ain't pretty, but damn effective! #2010magicfanWed Oct 12 22:59:44 via web
the man
mojotheegreat
Pierce would have been lower than 21 five years ago when he was in his prime & avg'd nearly 27 PPG. About time he gets his credit. #NBARankWed Oct 12 22:11:14 via web
Mike Flanagan
mikeflanagan2
Rank
Player
Score
22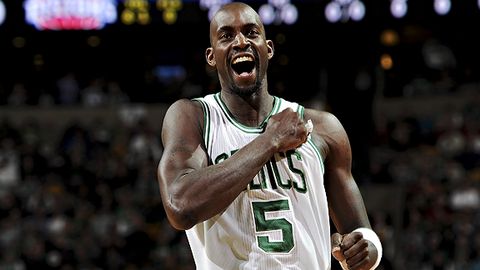 8.01
Kevin Garnett
Boston Celtics | PF | Age: 35
Drafted: 5th in 1995 (by MIN)
How is Kevin Garnett ahead of LaMarcus Aldridge? I'd rather have the younger player who puts up better numbers on my team. #NBArankWed Oct 12 20:14:48 via web
Jordan
IceIsNice3
No one in the game plays with more passion than #NBArank number 22 Kevin Garnett. You might hate him but you'd take him on your team!Wed Oct 12 20:13:35 via web
dom dimauro
dimauro13d
At 22 on #NBArank Kevin Garnett deserves this spot largely due to the fact his game is in constant beast mode. Wed Oct 12 20:21:32 via UberSocial for BlackBerry
Mike Recchia
Recchia1
#NBArank 22: Kevin Garnett is HOF-worthy when healthy, but at this age his body is failing him more often than not. Wed Oct 12 20:07:00 via web
the man
mojotheegreat
Rank
Player
Score
23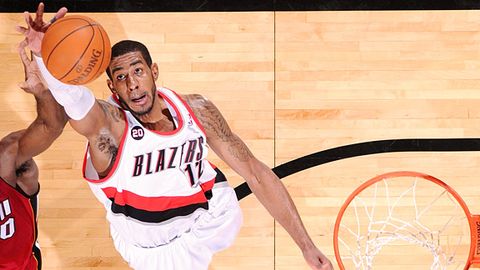 7.98
LaMarcus Aldridge
Por. Trail Blazers | PF | Age: 26
Drafted: 2nd in 2006 (by CHI)
LaMarcus Aldridge is 23rd in #NBArank it's well deserved. He showed last year that he is going to be hard to stop in the post.Wed Oct 12 18:33:00 via Twitter for iPhone
Nick adamson
BlazenHawks
In the last two years, LaMarcus Aldridge has quietly transformed into one of the most reliable and hardworking big men in the league. #NBArankWed Oct 12 18:33:44 via web
Jabroni Free Sports
JabroniFS
Too low. The Blazers success lives and dies by LA's play right now. Wed Oct 12 18:25:23 via TweetDeck
Barbara Titus
BarbaraTitus
Before last season, I thought LaMarcus Aldridge was just another second or third fiddle for a good team. Glad he proved me wrong. #NBArankWed Oct 12 18:07:04 via web
Rey-Rey
TheNoLookPass
Rank
Player
Score
24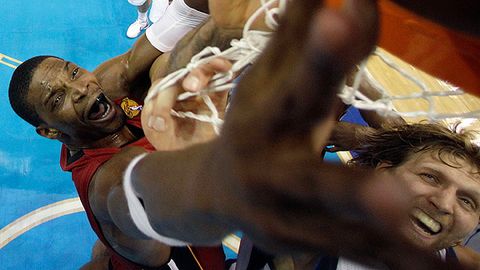 7.97
Chris Bosh
Miami Heat | PF | Age: 27
Drafted: 4th in 2003 (by TOR)
Chris Bosh ranked number 24 in #NBArank, which is also the amount of times he cries, screams, and pounds his chest a game for no real reason. Wed Oct 12 16:49:27 via web
Zach Wright
TheRealZW
Bosh got a lot of heat this season (no pun intended) for being part of the big 3. He's still a top 25 player & would be number 1 on some teams #NBArankWed Oct 12 16:44:33 via web
Peter Kbaum
PMKirsch
#NBARank. Hate if you will, but Chris Bosh is extremely talented operating on the left block and had unfair expectations due to how well he played in Toronto. Wed Oct 12 16:35:51 via web
Avu Chaturvedi
avuc92
Chris Bosh ranked number 24. Easily top 10-to-15 player if he is the first option. Also, at this point in his career he is better than Duncan. #NBArankWed Oct 12 16:55:38 via web
Robert Jacobs
RobBJacobs
Rank
Player
Score
25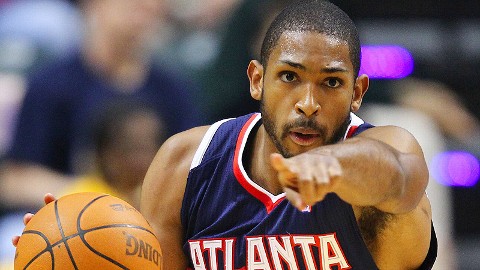 7.80
Al Horford
Atlanta Hawks | C | Age: 25
Drafted: 3rd in 2007 (by ATL)
@Al_Horford
Al Horford may be the most underappreciated player in the league -- especially by members of his own team. #NBArankWed Oct 12 14:34:32 via TweetDeck
Beckley Mason
BeckleyMason
Love Horford and he is a great player, but I think this ranking is a little skewed due to the fact the East has weak centers. #NBArankWed Oct 12 14:38:37 via web
David Rodriguez
DRod1226
Horford was the most consistent Hawk all year last year. Imagine what he'd do in a system with some structure. #NBArankWed Oct 12 14:24:00 via web
Eric Lovell Brown
eVeRy1nOSlOvElL
Imagine what Al Horford could do if he didn't have to play out of position his entire career. Youngster's a stud. #NBArankWed Oct 12 14:49:52 via web
Aaron Burgin
SDUTABurgin
* Score: Tiebreakers are first based on percentage points; scores have been rounded off. The second tiebreaker is based on John Hollinger's Estimated Wins Added for the 2010-11 NBA season (rookies were given an EWA of zero).