ESPN.com and the TrueHoop Network are ranking every NBA player -- and counting them down on Twitter (@NBAonESPN), from No. 500 to No. 1. As the rankings are announced, you can also find them here on the pages of ESPN.com.
What is #NBArank?
#NBArank is the Twitter hashtag to use if you want to get involved in the discussion or just follow along.
You can also follow along here: @NBAonESPN
How did we rank the players?
We asked 91 experts to rate each player on a 0-to-10 scale, in terms of "the current quality of each player."
Here is the full list of voters from ESPN.com, the TrueHoop Network, TrueHoop TV, Daily Dime Live, ESPN TV, ESPN Radio, ESPN Deportes, espnW, ESPN The Magazine, ESPN Insider, ESPN Fantasy, ESPN Games, ESPN Dallas, ESPN Los Angeles, ESPN Chicago, ESPN New York, ESPN Stats & Information, ESPN Topics and ESPN Analytics.
What's so sweet about 16 again?Thu Oct 13 22:51:56 via Twitter for iPhone
Kevin Love
kevinlove
K.Love might be a stat stuffer, but not a game changer to get wins for his team #NBArankThu Oct 13 22:57:34 via web
Briant
Opt2o1
Really, 16? The 30-30 game alone should get Kevin Love in the Top 15 of #nbarank.Thu Oct 13 22:41:35 via Twitter for Android
Aaron Burgin
SDUTABurgin
If Kevin Love was on a winning team, he would definitely have a higher rank, but 16 just goes to show how good this guy really is! #NBArankThu Oct 13 22:13:40 via Plume
Norvin Lopez
NorvinLopez
Rank
Player
Score*
17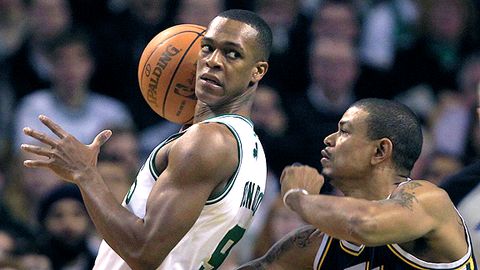 8.19
Rajon Rondo
Boston Celtics | PG | Age: 25
Drafted: 21st in 2006 (by PHX)
I'd like to see Rajon Rondo play somewhere else and see where he lands on #NBArank. #DAntoniQuotesThu Oct 13 20:10:58 via web
Rey-Rey
TheNoLookPass
#NBArank in what world is Rajon Rondo better than Chris Bosh?Thu Oct 13 20:14:45 via web
Rodrigo Vázquez
rod_vazquez
#NBArank 17: Rajon Rondo can't shoot outside of 15 feet, but he can pass, rebound and defend. I think that makes up for it.Thu Oct 13 20:09:34 via web
the man
mojotheegreat
Rank
Player
Score
18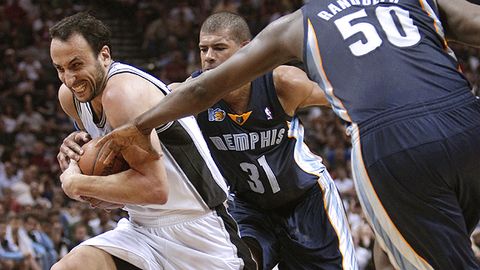 8.16
Manu Ginobili
S.A. Spurs | SF | Age: 34
Drafted: 58th in 1999 (by SAS)
Ranking ESPN de los mejores jugadores de la NBA. Me pusieron 18. http://t.co/bvuJAiG6. Nada mal para alguien c/ + de 1/3 de siglo... (ESPN Ranking of the best players in the NBA. They put me 18th. Not bad for someone more than a third of a century old...)Thu Oct 13 21:42:53 via TweetDeck
Manu Ginobili
manuginobili
Manu Ginobili. Number 18 in #NBArank, and number 1 in #RecklessPenetrationsRank, as well as in #BatBusterRank.Thu Oct 13 18:12:20 via Mobile Web
Eran Soroka
sorokman
@NBAonESPN Manu Ginobili: Most underrated draft pick EVER. Will go into the Hall of Fame as the lowest pick. #unbreakablerecords #NBArankThu Oct 13 18:24:45 via web
Clint Peterson
Clintonite33
Rank
Player
Score
19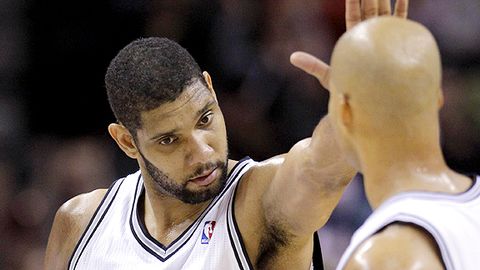 8.16
Tim Duncan
S.A. Spurs | PF | Age: 35
Drafted: 1st in 1997 (by SAS)
#NBArank Tim Duncan at 19 at age 35 and still the most fundamental big man in the game. Thu Oct 13 17:31:28 via UberSocial for BlackBerry
Justin ector
jmoney818
#NBArank feels like Tim Duncan at 19 is a lifetime achievement award ...Thu Oct 13 18:07:44 via web
Jason Koehne
Devastator510
I will credit Tim Duncan for being the anti-Ewing at the end of his career. He has sacrificed his numbers and touches for the team. #NBArankThu Oct 13 18:29:23 via web
Vince Greer
MrConsistentVG
#NBArank First an All-Star Game, now top 20 in NBArank? Tim Duncan keeps getting these lifetime achievement awards.Thu Oct 13 17:00:42 via tGadget
Justin Rodriguez
JustRod
Rank
Player
Score
20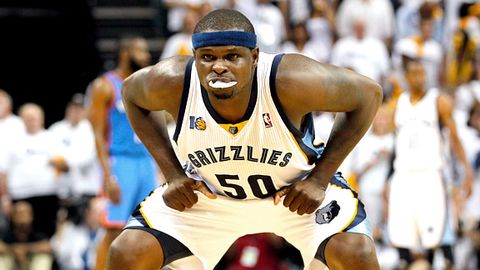 8.12
Zach Randolph
Memphis Grizzlies | PF | Age: 30
Drafted: 19th in 2001 (by POR)
#NBArank 20: Zach Randolph is a machine. If you want a championship team in fantasy basketball, look to get him.Thu Oct 13 16:03:35 via Power Twitter
Tyler Glass
irishfan10839
Zach Randolph's number 20 in the #NBArank is well deserved after his dominant playoff performance.Thu Oct 13 16:35:15 via web
Mike Johnson
mikejohnson2315
I know what the numbers say, but Kevin Love and Blake Griffin were not better players than Zach Randolph (or Aldridge) last season. #NBArankThu Oct 13 15:59:59 via TweetDeck
Chris Herrington
FlyerGrizBlog
#NBArank We now live in a world where people think Zach Randolph is ranked too low as the 20th best player. Crazy, but rightfully so.Thu Oct 13 16:38:16 via TweetDeck
Nigel Broadnax
BroadnaxWrites
* Score: Tiebreakers are first based on percentage points; scores have been rounded off. The second tiebreaker is based on John Hollinger's estimated wins added for the 2010-11 NBA season (rookies were given an EWA of zero).