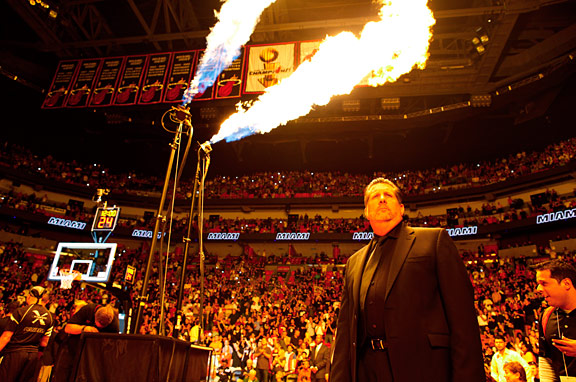 Mark Peterson/Redux for ESPN The Magazine
PROTECTING THE HOUSE
It's a good thing Jim Spencer always carries his walkie-talkie. Without it, he'd never been found. As assistant general manager and VP of operations for AmericanAirlines Arena, Spencer is charged with making sure everything is in working order, from the trash removal system to the urinals in the upper deck. Spencer paces the confines of the arena all day, every day, looking for anything that could be amiss. A perfectionist by nature, he takes great pride in the appearance of the arena that he helped build from the ground up. "The tiniest little thing gets me," Spencer says. "I am as obsessed with the plastic fraying on a cup holder in the 300 level as the paint on the walls of our Flagship Lounges."
---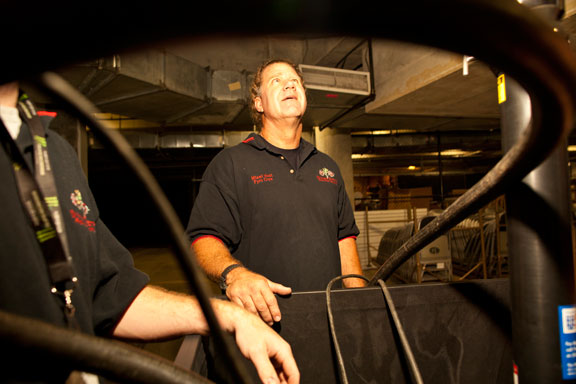 Mark Peterson/Redux for ESPN The Magazine
MANNING THE FLAMES
One of the Heat's signature spectacles is the fire show that takes place before every game. Bursts of fire shoot up to the ceiling from the court, and the arena erupts. Russ Ingram and his fellow pyrotechnicians wheel four propane tanks with 15-foot rods onto the court when the last player has left warm-ups, and then the show begins after the last note of the anthem has been sung. The one-minute show features eight blasts of fire from each of the four vessels. "We turn the tanks at 45-degree angles, so the fans can really feel it, all the way up to the 300 level," Ingram says. Safety comes first, as Ingram and his fellow pyros are trained to make sure no one gets burned.
---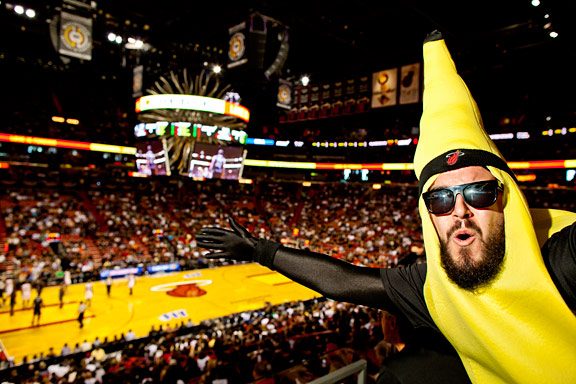 Mark Peterson/Redux for ESPN The Magazine
APPEALING TO THE FANS
If you want to get attention at a sporting event, dressing weirdly and behaving wildly is your best bet. And nobody has been a more successful attention-grabber than Banana Man, whose fruit-themed costume inspired the team to make him an official part of its game-day Xtreme team. Bananas don't talk, obviously, so Banana Man has his own assistant, BruceBruce, who communicates with fellow fans on his behalf. With his run of the arena, Banana Man can get any section fired up with his signature costume and silly dance moves.
---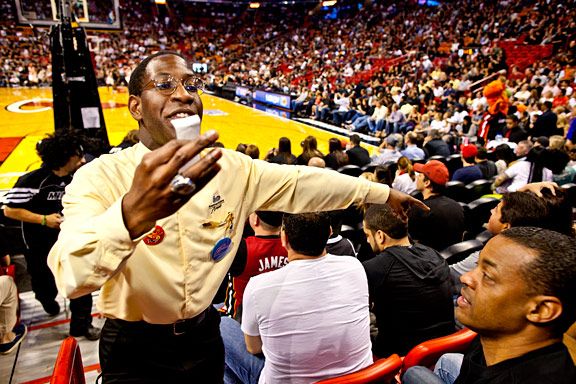 Mark Peterson/Redux for ESPN The Magazine
"GLAD TO HAVE YA!"
If you're lucky enough to sit in section 124 behind the basket at AmericanAirlines Arena, you'll be greeted and seated by usher Olson Frenelle, who's worked at the arena for 13 years. His section is comprised mostly of season-ticket holders and regular guests, so he makes an effort to greet each person by name with a "Glad to have ya!" Frenelle's job is to make sure fans find their seats easily, and to make sure all of section 124 enjoys the game without conflict. "If I do my job professionally, we shouldn't ever have any problems. While the fans watch the games, I watch them," he says. But Frenelle's not all watchdog. "I'm a big fan myself. I love being at these games, and the people in this section make my job pretty easy." The admiration is mutual. Folks in section 124 go out of their way to greet Frenelle and pat him on the back. Says one season-ticket holder: "I look forward to seeing Olson as much as I do the game itself."
---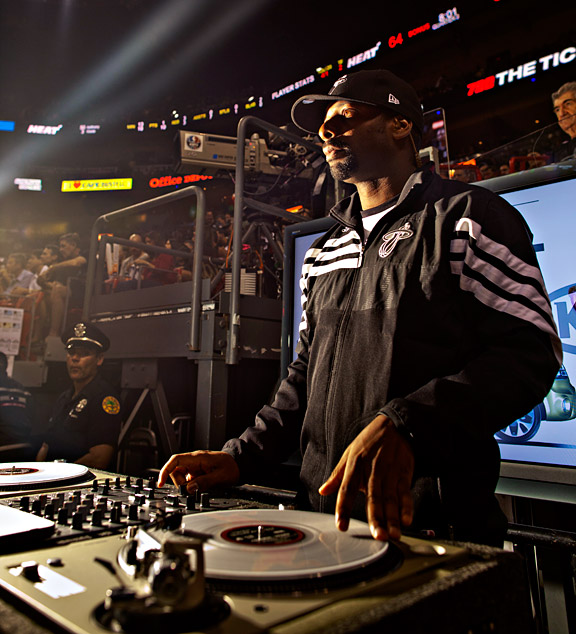 Mark Peterson/Redux for ESPN The Magazine
SPINNING WITH STYLE
Celebrity DJs are standard fare in the off-court lives of NBA stars, but the Heat were the first team to employ one full-time for games. For 12 seasons, DJ Irie has been spinning 95 percent of Miami's home games. He was the first team DJ of any pro sports franchise. "At first Pat Riley hated me," Irie recalls. "He thought it was so stupid to have a DJ. But I've grown on him. He actually invited me to spin his Hall of Fame induction party in 2008. I can't dribble, but I'm a part of the team. I have a championship ring!" Spinning for a sporting event is a little different than for Riley's Hall of Fame fete or Dwyane Wade's 30th. Irie has musical control over pregame, three timeouts and a couple of inbounds plays. "Miami's a very proud town," he says, "I play a lot of local music." That playlist runs the gamut from Gloria Estefan and Jimmy Buffett to Flo Rida, Pitbull and Rick Ross. The biggest crowd-pleaser? "Enrique Iglesias," Irie says. "The fans love Enrique."
---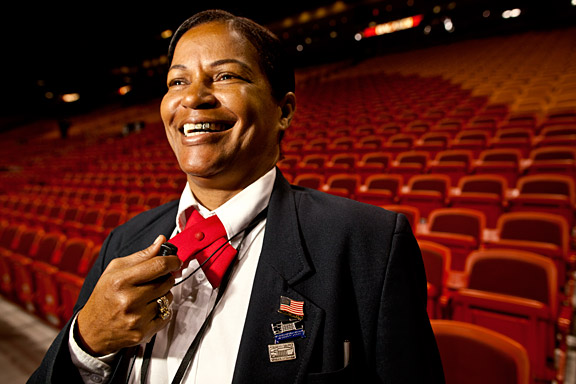 Mark Peterson/Redux for ESPN The Magazine
SOCIAL SECURITY
Venida Briggs has been doing court security for the Heat for the past decade. Briggs secures the court during the Heat's 9 a.m. pregame practice, ensures media are properly credentialed and makes sure fans stay clear of the floor during warm-ups. Briggs is also tasked with searching the visiting players' bags as they enter the building. "No one really loves getting searched but everyone is polite about it," Briggs says. "And they sure do have some fancy bags." After so long at her post, all the players recognize Briggs, even from the opposition. "Every single game at least a few guys walk in and say, 'You're still here?!'" Briggs says. "I like to think it's nice for them to see a familiar face."
---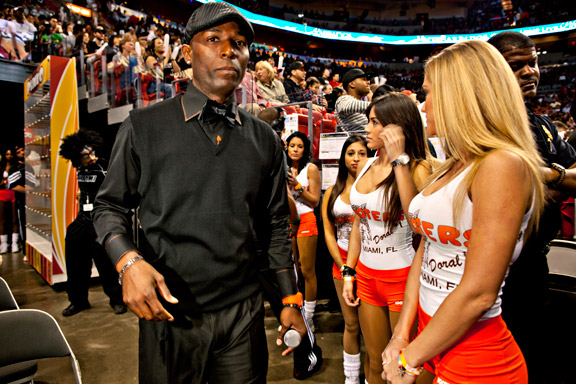 Mark Peterson/Redux for ESPN The Magazine
PASSION TO PAYCHECK
Uptown Dale McLean is Heat TV's in-game hype man. A longtime season-ticket holder, Uptown Dale was discovered organically: "I'd get section 112 up and going crazy. One day, they came to me and said, 'We might have a place for you in the organization.'" Six years later, Uptown Dale is a Heat celebrity, roaming the stands to host fan competitions, running the T-shirt tosses and coordinating eight sponsored timeout promotions per game, like this one with the Hooters girls. "I'm like the glue, the peanut butter and jelly in the sandwich," he says. "I make sure the folks in the upper deck are as much in on the action as the celebrities courtside."
---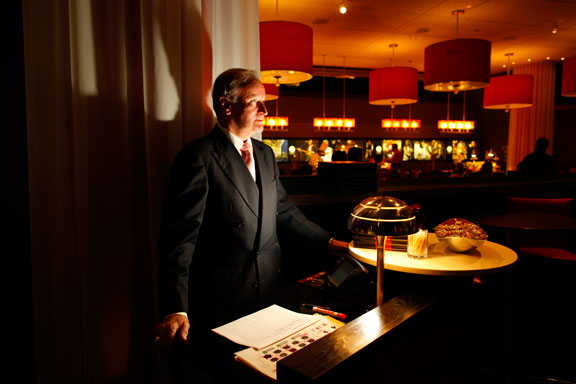 Mark Peterson/Redux for ESPN The Magazine
TABLE FOR TWO?
Miami's premium seats feature membership to two Flagship Lounges. In addition to the ticket price, fans pay annual membership to access courtside lounges with full bars and high-end, sit-down restaurants. Smith & Wollensky vet Paul Spiess mans the host desk at Flagship South, a more refined feel than the party room across the court at Flagship North. "We have a tremendous clientele that comes through here," Spiess says. "I see a lot of familiar faces from my days in fine dining." Guests reserve tables months in advance, with pregame and halftime seating at a premium, but Spiess knows it's important to accommodate all guests. "Since it's a private club, I want to exceed our clients' expectations. My cell phone is constantly ringing. I need to know everyone's name, and what they want to drink before they've even ordered."