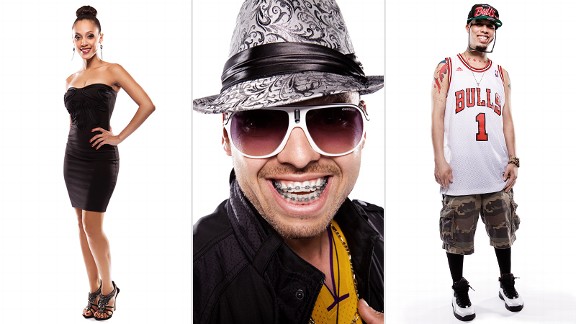 Nathaniel Welch for ESPN The Magazine
1. Recording artist Phyllisia Ross, who sang the national anthem, Miami
"When I'm performing, I go for something sexy that accentuates but doesn't distract. The Heat are a family affair: My stepdad (Eric Reid) does their TV play-by-play."
2. Jose Valenzuela, LA-based convenience store owner, aspiring singer
"I was vacationing in Miami by myself. Everywhere I went, girls wanted a picture of me. By the end, I wasn't vacationing alone."
3. Alex Cruz, Chicago-based club promoter who flew to Miami for the game
"My style in one word: swag. I wore my Bulls jersey, threw on shades, mixed it up with camo shorts and talked mad s--."
---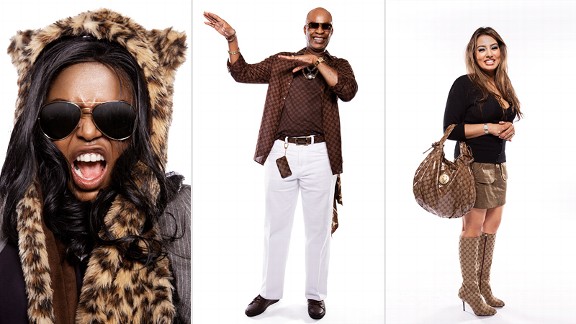 Nathaniel Welch for ESPN The Magazine
1. Alice Lesabe, student at the University of Hertfordshire (U.K.) on vacation in Orlando
"I drove to Miami for three reasons: LeBron James and his long legs! Forget comfort; beauty is pain! And leopard print is definitely a must-have this season."
2. George Reid, Miami bartender
"When my girlfriend and I go to games, I'm the flashy one. My cotton shirt, linen top, shoes, belt and hanging purse are all Louis Vuitton. The pants are Rocawear."
3. Shireen AliNiazee, journalist
"My husband works with the Heat, so we go to all the games. In Miami, less is better, but my style is about layers. I added my Gucci hobo and knee-high Gucci boots, which are very in."
---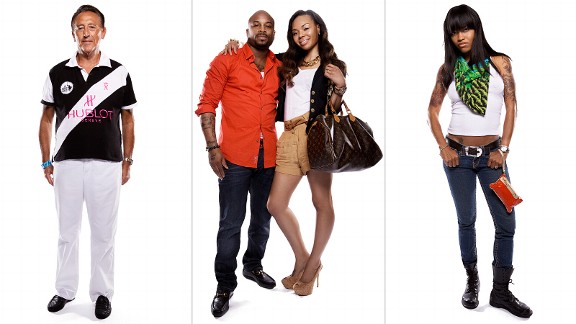 Nathaniel Welch for ESPN The Magazine
1. Eric de la Croix, professor emeritus, London and Miami
"My son is the president of Hublot Latin America, a Louis Vuitton company that has deals with the Heat and Dwyane Wade. On this day, I wore free advertising."
2. Camario Richardson, store manager, Cleveland, and Brittany Nichols, Akron, Ohio, stylist
CR: "I'm a GQ type of guy." BN: "And I'm just fabulous! And we're both big fans of LeBron's." CR: "He may have left us, but we'd follow him to the moon."
3. Janice Freeland, Fort Lauderdale photographer
"Before the game, we went to Hooters. After, we went to a strip club. So I dressed eclectic and fun: Versace motorcycle jacket, vintage boots, True Religion jeans and Hanes wifebeater."
---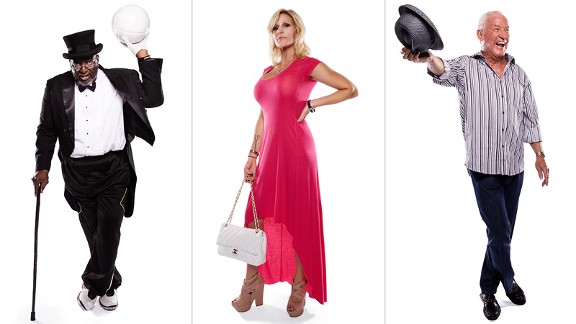 Nathaniel Welch for ESPN The Magazine
1. The Rev. Abraham J. Thomas (aka the Heat Man), associate pastor at Mount Hermon AME Church in Miami Gardens
"I've been dressing like this since the 2006 season because I felt that the team is worthy of impeccable dress, including all white in the playoffs for my white-hot Heat. These days, I wear normal clothing only for church. They have a dress code."
2. Heather Wahl, hairstylist, Fort Lauderdale
"I like to dress trendy and colorful, as you can see with this dress, which is so hot. The white Chanel purse adds class, and the BCBG heels, contrary to appearance, are just comfortable to walk around in."
3. Dan Wheeler, author of WheelerWrites.com, Miami
"You can have fun at any age! I sit courtside in 'Dwyane's Corner' because Wade has four seats there too. Once, I caught a loose ball as I was stuffing my face with greasy food. I threw it back, with extra grease; nobody scored for the next three minutes."
---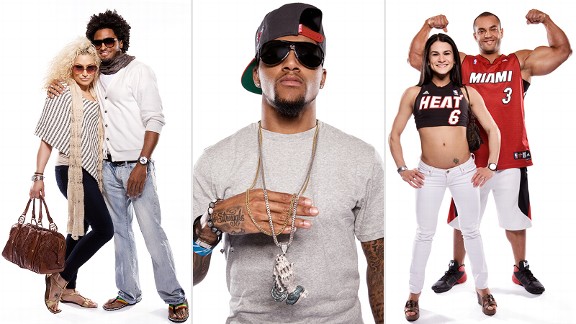 Nathaniel Welch for ESPN The Magazine
1. Ligy Alarcon, sales rep, and Ashare Kingston, photographer, both of Miami
AK: "My style is superstar casual." LA: "Mine is rock-star elegance. Together we're crazy, cool and classy."
2. DeSean Jackson, Eagles WR "I like to keep it young, fly and flashy. I chose this Bulls hat because I'm really close with Derrick Rose. This pendant was the first piece I bought when I made it to the NFL. I bring it out for special occasions, like floor seats at the Heat-Bulls game."
3. Magela and Alejandro Cambronero, national figure competitor and national bodybuilding competitor, respectively, Miami
MC: "In 2003, we got married and became season-ticket holders." AC: "We never miss a game -- or forget our jerseys." MC: "I take a kids shirt and cut off the sleeves and stomach. But it's the same thing." AC: "We're proud of our team and our bodies. We like to show both off."