ESPN.com and the TrueHoop Network are ranking every NBA player -- and counting them down on Twitter (@NBAonESPN), from No. 500 to No. 1. As the rankings are announced, you can also find them here on the pages of ESPN.com.
Only question left to ask about LeBron James is whether he'll be #1 all-time, not just in 2012-13 #NBARank

— Kenny Ducey (@KennyDucey) September 27, 2012
With his first championship in tow, Lebron has finally earned his Twitter name. @kingjames #NBARank

— Sterling Griffin (@sterlinggriffin) September 27, 2012
He was a 98 on 2k before the ring.... RT @barelyfamous_: #NBArank 'd @kingjames at 9.99...damn near perfect player!!

— IG: ayoNico1 (@ayoNico) September 27, 2012
After Olympic Gold and a NBA Championship @kingjames is ready to defend his title sitting atop @nbarank

— Joel Morse (@MorseJoel) September 27, 2012
2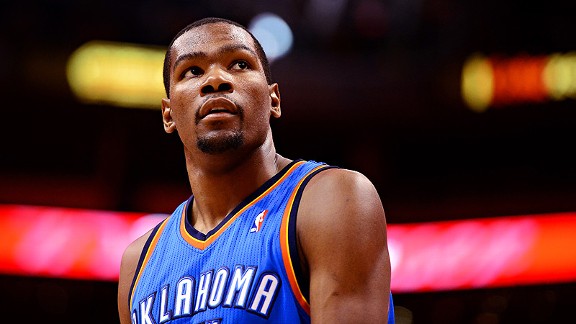 9.70
Kevin Durant | @KDTrey5
Oklahoma City Thunder | SF | Age: 23 | 2011 rank: #6
#2 in #NBARank, runner-up in the Finals.....if you ask me, @kdtrey5 has all the motivation he needs this coming season.

— Andross Vandelay (@M4RSZ) September 27, 2012
#NBArank 2 Kevin Durant. The young fella (24 years old) has already scored almost 10,000 career points. You think Kareem is panicking yet?

— Petar Serafimovski (@Petar_Sera) September 27, 2012
Kevin Durant finishes second in #NBARank, plus a recap of the whole team: dailythunder.com/2012/09/nbaran…

— Royce Young (@dailythunder) September 27, 2012
3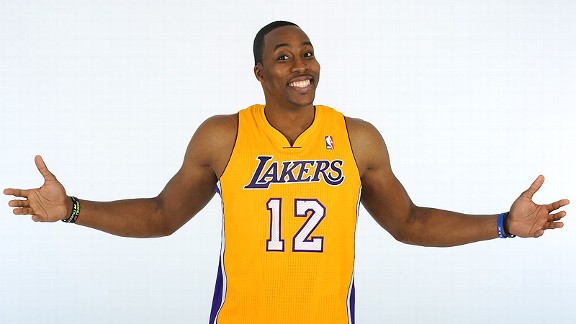 9.58
Dwight Howard | @DwightHoward
Los Angeles Lakers | C | Age: 26 | 2011 rank: #2
Howard #NBARank-ing ahead of Kobe should put to rest any doubt over "whose team it is" in LA. (Still Jerry Buss, I think).

— Beckley Mason (@BeckleyMason) September 27, 2012
@nbaonespn After all that happen last year, the best Big Man in the league @dwighthoward comes in at 3 on the #NBArank

— Mr. Headen (@Mike_Money_) September 27, 2012
But Dwight Howard at #3 in NBA Rank? I think he's the 3rd best player in LA, forget about the league

— Abdullahi Pierce (@TheOnly_Hershey) September 27, 2012
@dwighthoward finishes 3rd in #NBArank -- Means Lakers have 4 players from 3-19. That's a good team. BK

— Kamenetzky Brothers (@ESPNLandOLakers) September 27, 2012
4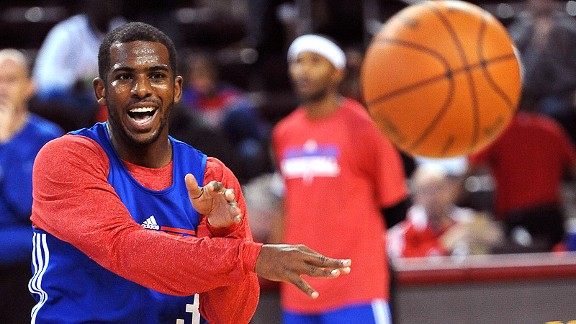 9.52
Chris Paul | @CP3
Los Angeles Clippers | PG | Age: 27 | 2011 rank: #4
.@cp3 at No. 4 on @nbaonespn #NBArank. There's no better floor general in the game.

— Austin C Martin (@AustinCMartin) September 27, 2012
"Chris Paul controls the game like no other. I had my doubts, but now I'm a believer! He deserves it! @nbaonespn: #NBArank 4: Chris Paul"

— Omar Lopez-Thismon (@Omarglt89) September 27, 2012
Chris Paul comes in at No. 4 in #NBARank. This is why "basketball reasons" is still a sore subject for Lakers fans.

— Arash Markazi (@ArashMarkazi) September 27, 2012
5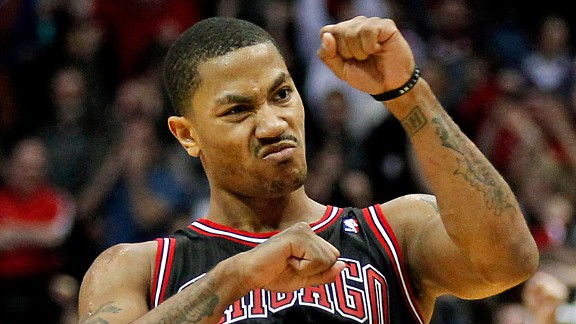 9.02
Derrick Rose | @drose
Chicago Bulls | PG | Age: 23 | 2011 rank: #8
Derrick Rose's value became even more apparent after Chicago's first-round face plant against Philly. #nbarank

— Aaron D. Burgin (@TheFullTimeDad) September 27, 2012
Rose came in with a score of 9.02 which means some people gave him a 10; the same score as Lebron. RT @nbaonespn #NBArank 5: Derrick Rose

— Reid Gray (@graytr) September 27, 2012
Derrick Rose is only 23 too he's going to be number 1 on that #NBArank in a few seasons

— Caleb(@HPSage) September 27, 2012
Chicago Bulls star guard Derrick Rose is ranked fifth overall in the NBA according to ESPN. Rose is the youngest MVP ever at 22. #NBARank

— Michael Scotto (@MikeAScotto) September 27, 2012
What is #NBArank?
#NBArank is the Twitter hashtag to use if you want to get involved in the discussion or just follow along.
You can also follow along here: @NBAonESPN
How did we rank the players?
We asked 104 experts to rate each player on a 0-to-10 scale, in terms of "the current quality of each player."
Here is the full list of voters from ESPN.com, the TrueHoop Network, TrueHoop TV, Daily Dime Live, ESPN TV, ESPN Radio, ESPN Deportes, espnW, ESPN The Magazine, ESPN Insider, ESPN Fantasy, ESPN Games, ESPN Dallas, ESPN Los Angeles, ESPN Chicago, ESPN New York, ESPN Stats & Information, ESPN Topics and ESPN Analytics.