David Kahn did say he'd take his time in deciding the future of coach Kurt Rambis.

But after waiting three months to finally give Rambis his walking papers, and giving a few more black eyes to an already beleaguered Timberwolves franchise, should Kahn be next on the chopping block?

For this unique situation, six NBA writers sort through the mess in Minnesota:
1. Should the Wolves have fired Kurt Rambis?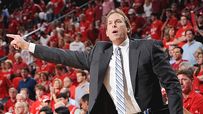 Jovan Buha, ClipperBlog: Definitely. Minnesota was never the right fit or environment for Rambis. As Zach Harper pointed out Tuesday, Rambis can only be a good coach with the right organization, team and system. The Wolves' record could have been a little bit better, but I think their struggles had more to do with the roster itself.

Zach Harper, Daily Dime Live: Absolutely. Rambis was never the right fit for the parts that David Kahn brought in before he was hired, and even to a degree after Rambis was hired. Rambis did a fairly decent job developing a couple of young players, but overall his game management, especially in the fourth quarter, was just bad. He needed to go.

Patrick Hayes, PistonPowered: Rambis wasn't given much to work with, but the fact is most coaches who win only 32 games in two seasons typically don't get a third season. The plight of the Wolves is not the fault of Rambis, but changing coaches isn't an unwarranted decision either.

Bret LaGree, Hoopinion: Yes. Rambis was a bad head coach for the Timberwolves. However, using the structure of "[Insert Name] was a bad [Insert Role] for the Minnesota Timberwolves," he was not the only employee who deserved to be relieved of his duties.

Benjamin Polk, A Wolf Among Wolves: Rambis has his faults. His teams were consistently terrible defensively. His rotations were often baffling. He didn't seem to have that teacher's knack for nurturing young players. But considering his team's youth and talent level, its myriad injuries, and the high turnover from Year 1 to Year 2, I think he deserved another shot.

Michael Schwartz, Valley of the Suns: Kurt Rambis can coach in this league, but he just wasn't a good fit for the up-tempo, Ricky Rubio Wolves. They should scrap the triangle, play to their strengths and try to run teams out of the gym with all the offensive firepower they now possess. Minnesota needs a coach who will embrace that style.
---
2. Describe the process that led to Rambis' removal in one word.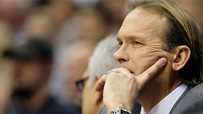 Jovan Buha, ClipperBlog: Unethical. Minnesota knew Rambis was going to be fired well over three months ago, so why drag out the process? The professional thing to do would have been letting him go right after the season, not publicly humiliating him.

Zach Harper, Daily Dime Live: Embarrassing. It took nearly three months to "relieve him of his coaching duties" and roughly three weeks to fire Rambis after the initial reports of letting him go leaked to the press. Since the end of the regular season, multiple coaching candidates have been scooped up while the Wolves tried to persuade Rambis to work in the front office for the duration of his contract.

Patrick Hayes, PistonPowered: Entertaining. Not so much for Kurt Rambis, I'm sure. David Kahn is the gift that keeps on giving. It would become a cliché to make fun of his missteps if he didn't up his game with every public bumbling. The man is an artist.

Bret LaGree, Hoopinion: Lugubrious. Specifically in the exaggeratedly or affectedly dismal sense of the word. Firing a coach who loses 80 percent of his games needs no explanation and, in most circumstances, only slightly more contemplation. From the outside, there's no material benefit to dragging out the resolution of Rambis' fate.

Benjamin Polk, A Wolf Among Wolves: Embarrassing. Kahn and Wolves owner Glen Taylor seem to not understand that, however well-reasoned your decisions, it matters very much how they are perceived around the league. Firing Rambis may turn out to be a good call. But this debacle has only served to wear away at the team's already frayed credibility.

Michael Schwartz, Valley of the Suns: Kaaaaaaaahhhhhhhnnnnnnn! You could call this process a microcosm of everything that has gone wrong for the franchise since Kahn took over.
---
3. Should the Wolves fire David Kahn?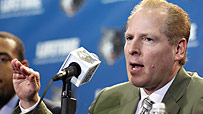 Jovan Buha, ClipperBlog: Yes. I never support a human being losing his livelihood, but this is a business, and Kahn has failed to construct a successful roster. His list of blunders and mishaps continues to grow, and it's just a matter of time before the Timberwolves have had enough. They shouldn't drag this one out.

Zach Harper, Daily Dime Live: Without a doubt. Kahn has been putting together a roster of mismatched parts and butchered two out of the three drafts since he was hired.
Twice he's gone into a draft without a head coach for next season in place. Kahn's biggest coup has been convincing the Wolves' 2009 first-round pick to finally play for them.

Patrick Hayes, PistonPowered: For all of his mistakes, he's actually assembled an exciting, inexpensive young roster. He says embarrassing things fairly regularly, and the clumsy way he went about firing a respected basketball man like Rambis certainly won't endear him to fans. But if the team shows improvement and is fun to watch, it will be easier to ignore Kahn's personality.

Bret LaGree, Hoopinion: Kahn has generally made bad decisions that have not helped the organization get better. But given Glen Taylor's record of stewardship of the Timberwolves, that in no way disqualifies Kahn from serving as Taylor's general manager.

Benjamin Polk, A Wolf Among Wolves: Kahn's signature move as GM remains trading up to draft Ricky Rubio. Though we've often been puzzled by Kahn's decision making, his weirdly condescending manner and his passive-aggression, I think he deserves the chance to see how Ricky works out. (Although I was certainly making sweet eyes at Kevin Pritchard when Portland let him go.)

Michael Schwartz, Valley of the Suns: Absolutely not. He might just be on the verge of getting it right. With prized point guard Ricky Rubio and No. 2 pick Derrick Williams joining rebounding juggernaut Kevin Love, Kahn finally has a talented young core in Minnesota. Give him at least another year to see if this was all part of his master plan.
---
4. Over his two years in Minnesota, what's been Kahn's biggest mistake?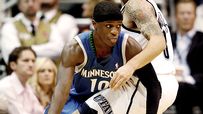 Jovan Buha, ClipperBlog: The people's choice is Jonny Flynn, but trading Al Jefferson to the Jazz for Kosta Koufos and a couple of first-round draft picks is his biggest mistake. Jefferson and Love were never going to work out as a frontcourt, but the Wolves should have gotten a lot more in return for Big Al.

Zach Harper, Daily Dime Live: The way he's conducted himself. At this point, it's not even about the moves he's made. It's the way he tries to sell it to the fans and media and the execution of these moves. He always answers a question by avoiding the question and throwing someone else under the bus. His way of speaking a lot without ever really saying anything has alienated just about everybody.

Patrick Hayes, PistonPowered: Darko Milicic. Not signing him; talking about him. Kahn never let go of an opportunity to hyperbolically sing the praises of a player whose limits had long ago been exposed. If Milicic had never come into Kahn's life, Kahn would seem a little less crazy now.

Bret LaGree, Hoopinion: Jonny Flynn was not one of the top six point guards -- much less one of the top six players -- in the 2009 draft. Drafting Flynn immediately after Ricky Rubio demonstrated fundamental management incompetence spanning the areas of scouting, analysis and roster construction in front of the largest audience Kahn's Timberwolves ever commanded.

Benjamin Polk, A Wolf Among Wolves: Easy one: drafting Jonny Flynn. They could have taken Stephen Curry. They could have traded down once Rubio fell to them at No. 5. But they didn't do either of those things and, just two years later, they have essentially nothing to show for it.

Michael Schwartz, Valley of the Suns: Passing on Stephen Curry to draft Jonny Flynn. Few could have expected Flynn to be such a colossal bust, but it was obvious on draft day that the 6-foot Flynn would not be an ideal running mate for Rubio. A core of Rubio, Curry and Love would have made Minny one of the most exciting young teams in the league.
---
5. What's your favorite memory from the Kahn-Rambis era?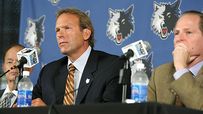 Jovan Buha, ClipperBlog: The Darko Milicic signing. Both Kahn and Rambis thought Darko could come in and provide the size, defense, passing and toughness the Wolves sorely lacked. Boy, were they wrong. Milicic played above average defense, at times, but his offensive game was pedestrian and never developed into what they envisioned.

Zach Harper, Daily Dime Live: Kevin Love's double-double streak. Rambis actually started Ryan Hollins over Love for quite a while during his first year as coach. Love is the only player on the roster from before Kahn's tenure, and he happens to easily be the best player on the team. His perseverance through the incompetency that has been flowing through this organization is a testament to his ability and work ethic.

Patrick Hayes, PistonPowered: Hands down, the term-paper assignment. To ask a head coach -- whom you would think is constantly in contact and communicating with a GM -- to write a detailed report on changes he would make if retained seems crazy. Should we assume that Rambis got a bad grade on the assignment?

Bret LaGree, Hoopinion: The Kahn-Rambis Timberwolves went 32-132. There are only least bad memories. If any good comes out of the Kahn-Rambis era, it'll be -- should they take advantage of them in the context of better teams -- the opportunities Michael Beasley, Anthony Randolph and Anthony Tolliver got to play last season.

Benjamin Polk, A Wolf Among Wolves: It's become a cliché at this point, but at the time Love's 30-30 game was pretty magical. Of course, Love was a McHale pick who was just coming off a Rambis benching, so it's a little hard to consider that a part of the "Kahn-Rambis" era. Also, that seems like thousands of losses ago.

Michael Schwartz, Valley of the Suns: Kahn's summer league proclamation that Darko Milicic was "like manna from heaven" for the Wolves, with passing ability like Vlade Divac. The observation was laughable at the time, and seems even more ridiculous after Darko produced below replacement-level numbers this past season and ranked 25th among centers in assist ratio.


ESPN.com and the TrueHoop Network
Zach Harper is the host of Daily Dime Live on ESPN.com. Jovan Buha, Patrick Hayes, Bret LaGree, Benjamin Polk and Michael Schwartz write for the TrueHoop Network.
• Follow ESPN's NBA coverage on Twitter | On Facebook