Derrick Rose recently told Comcast SportsNet that he's "damn confident" in the Bulls' roster moving forward. But should we have the same faith in Rose's ability to rein in another MVP award?

For Thursday's 5-on-5, we worked up the confidence to ask our four NBA experts, and you, the fans, via Facebook and Twitter which big-time players and teams you're already backing for next season ... whenever that may be.

So, on a scale from 1 to 10, here's how confident we are that in 2011-12 ...
1. Derrick Rose will repeat as league MVP.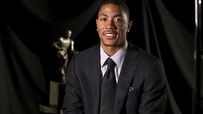 Chris Wait, via Twitter: 3. Voters love two things: the new guy and team improvement. Unless Rose averages 30 points and 10 rebounds and the Bulls win 65-plus games, he has no chance.

Chip Crain, 3 Shades of Blue: 5. D-Rose certainly will garner lots of attention, but the fact that he ran out of steam during this past postseason will weigh on the minds of many voters. I expect Kevin Durant to be the odds-on favorite.

Devin Kharpertian, Nets Are Scorching: 3. It's not impossible, but I doubt Rose will win a second straight MVP in just his fourth season. After being shut down by Miami in the playoffs, he'll now need to play above the lofty expectations he set for himself in 2010-11. He's a great player and will continue to be one, but I think doing so is unlikely.

Brian Robb, Celtics Hub: 3. The competition around the league will be as stiff as ever, while the scrutiny on Rose will be magnified after a difficult postseason. All of this should make a repeat a major challenge. Look for the ever-improving Kevin Durant, surrounded by a strong supporting cast, to serve as one of the main contenders.

Ethan Sherwood Strauss, HoopSpeak: 3. Rose was a stretch as MVP this past season, and this season he won't be surprising voters. I expect a great season from him, but it's far safer to wager on a new story.
---
2. The Thunder will finish with the best record in the West.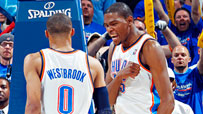 Zack Cooley, via Twitter: 9. With so many aging teams in the West, the Thunder are in good position to be on top all season, especially now that they'll have Kendrick Perkins for the whole season.

Chip Crain, 3 Shades of Blue: 8. I feel like OKC is another year away from being the Team in the West, but Dallas is the only club I expect to be definitively better than the Thunder this season. The Grizzlies and a hopefully retooled Lakers team should be right there with them.

Devin Kharpertian, Nets Are Scorching: 7. Los Angeles, San Antonio and Dallas are all bound to decline, which would leave an opening at the top of the West. After Oklahoma City reached the Western Conference finals, you'd expect it to be hungry. Still, some thought the Thunder would make that leap last season, too.

Brian Robb, Celtics Hub: 7. Although it would be tough to consider the Thunder the outright favorite, who exactly will stand in their way? An aging Dallas team that could be missing key pieces from its Finals run? The Lakers with a new coach and system? The ancient Spurs? I'll take my chances with a youthful OKC squad that maintains some continuity.

Ethan Sherwood Strauss, HoopSpeak: 6. The field is often the most imposing team, but I still like OKC in the West. James Harden's recent learning-curve dominance should further elevate the efforts of the inchoate squad that's already great.
---
3. CP3, Dwight and D-Will will not change teams before season's end.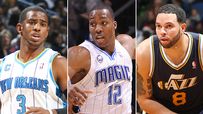 Bryan Toporek, via Twitter: 3. D-Will stays. The NBA-owned Hornets won't trade CP3. But the Magic will realize that they have to trade Howard. They don't wanna get LeBron'd and end up with little to show for a lost superstar.

Chip Crain, 3 Shades of Blue: 2. I expect at least two and quite possibly all three to be playing for another team by February (provided the season starts on time) -- and it wouldn't surprise me if one (or two) of them wound up wearing Forum Blue and Gold, either. The Lakers are begging for a roster shake-up.

Devin Kharpertian, Nets Are Scorching: 3. I don't think Howard or Williams will be traded, but I wouldn't be surprised if Chris Paul was sent packing, with both Los Angeles teams potential destinations.

Brian Robb, Celtics Hub: 4. It's tough to gauge without knowing what the future CBA looks like, but you're looking at three players in less-than-ideal situations. None of them will be competing for championships with his original team, so if the past couple of seasons have taught us anything, I'll lean toward at least one star's being on the move.

Ethan Sherwood Strauss, HoopSpeak: 2. I don't see the sense in everyone staying, especially when two players (Howard, Paul) seem to be in dead-end situations. Someone will be spared KG's pre-Boston career.
---
4. The Lakers and Celtics will make it past the playoffs' second round.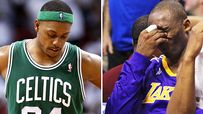 Swift James, via Facebook: Lakers 5, Celtics 5. I think these teams need some changes. Their conferences are getting stronger, and they will need to alter their rosters to keep up. If the Lakers or the Celtics get below a No. 3 seed, both could be out in the first round.

Chip Crain, 3 Shades of Blue: Lakers 7, Celtics 5. The Lakers still will be one of the four best teams in the West no matter what they do or don't do in terms of changing their roster.

The Celtics aren't getting old -- they are old. Their depth isn't what it used to be, and they are one Rajon Rondo injury from being a mediocre team.

Devin Kharpertian, Nets Are Scorching: Lakers 3, Celtics 3. They each have an outside shot, but I don't see it happening. Both franchises have been stellar the past few season, and both hit a wall in the 2011 playoffs. With Miami, Chicago and Oklahoma City on the rise, L.A. and Boston have some moves to make before we can consider them serious contenders again.

Brian Robb, Celtics Hub: Lakers 6, Celtics 8. It may be the Celtics homer in me, but there is too much pride, urgency and talent remaining on the roster to fall short of one final deep playoff run.

The same goes for the Lakers -- but a lack of faith in Mike Brown's coaching abilities knocks this number down a couple of notches.

Ethan Sherwood Strauss, HoopSpeak: Lakers 4, Celtics 2. Jeff Green has logged four mediocre years in the NBA, and Danny Ainge is talking about starting the guy over Paul Pierce? I can't predict playoff success for a team that even hints at giving Green big minutes. Perhaps that's reductive, but it's a rule.

The Lakers have a better shot, especially because there's a slight chance that Dwight Howard will be their starting center.
---
5. The Mavericks and Heat will make the NBA Finals again.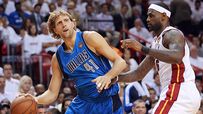 Steven Kilpatrick, via Facebook: Mavs 3, Heat 8. My master's thesis in poetry actually contains poems about the '06 collapse, so it pains me to type that. But Jason Kidd is older, Tyson Chandler and J.J. Barea may not be back, and some guys could be tired from playing international ball. I think the Mavs will win a series, but I'm not sure that their old, tired legs can bring them back up to the long postseason mountaintop.

Playing in a weaker conference in a potentially shortened season -- which will help keep the Big Three from wearing down as much -- looks like a pretty sweet deal for the Heat. Still, the CBA could kick them where it hurts and leave less wiggle room in free agency.

Chip Crain, 3 Shades of Blue: Mavs 8, Heat 8. I actually feel good about this ... and not just because I predicted that Dallas would make the Finals this season. Anything can (and will) happen, but you have to pencil both in as the best teams in their respective conferences. Miami gets another offseason to add depth, and Dallas can get Caron Butler back. Why not?

Devin Kharpertian, Nets Are Scorching: Mavs 5, Heat 8. The West is wide-open next season. Between Dallas, Oklahoma City, Los Angeles and San Antonio as well as some potential title contenders like Denver and Memphis, several teams could make it all the way to the Finals. The East is less contentious: Only the Bulls, the Heat and maybe the Celtics have serious shots at the title.

Brian Robb, Celtics Hub: Mavs 3, Heat 7. A challenging Western Conference combined with a past-its-prime core makes a repeat visit a bit too much to ask of the Mavs. I expect the Thunder to push down the door they knocked on last season.

For the Heat, the talent is clearly there, and the help around the Big Three may be even better.

Ethan Sherwood Strauss, HoopSpeak: Mavs 4, Heat 6. Can Father Time be twice defied? I have no clue how Dallas pulled this off the first time. I'll bet against it with a healthy amount of trepidation.

As presently constructed, Miami is better than the other teams in the East. I think this is where some obligatory "What if LeBron vanishes?" comment goes.


ESPN.com and the TrueHoop Network
Chip Crain, Devin Kharpertian, Brian Robb and Ethan Sherwood Strauss write for the TrueHoop Network.
• Follow ESPN's NBA coverage on Twitter | On Facebook