For the next edition of their basketball video game, "NBA 2K12," 2K Sports is offering three different box covers featuring three different players. The choices are a few guys you may have heard of: Michael Jordan, Magic Johnson and Larry Bird.

Not bad. But what if you had your choice of every player to grace the NBA hardwood? Would you stick with the all-time greats or go with a hometown hero?

To answer that question and more, we pass the controls to our 5-on-5ers for today's gamer-inspired edition:
1. If you could pick any player ever, who'd be on your cover?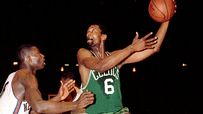 Devin Kharpertian, Nets Are Scorching: Bill Russell. A sport's biggest winners should grace its video game covers, and no one has ever equaled Russell in that category. Not even Jordan can claim Russell's 11 championship rings. It would be a nice tribute to the greatest player of the pre-video game era.

Zach Harper, Daily Dime Live: Jason Williams. J-Will was the embodiment of video game play, except he manned the controller in actual NBA games. He would throw impossible passes to see if the spectacular would get through the defense. He'd pull up for a 3 on a fast break when it was an insane thought. And he was brave enough to never consider hitting reset when things weren't going his way.

Justin Verrier, ESPN.com: Shawn Kemp. The Reign Man was the Blake Griffin of the 16-bit era. Putting him on the cover would be a nice homage to one of the best in-game dunkers -- both digital and actual -- ever (see for yourself), and it would expose Kemp to NBA noobs for reasons other than his off-court legacy.

Spencer Wellesley Percy, Queen City Hoops: Julius Erving. Dr. J's underneath-the-basket reverse layup is probably the best play of all time. He deserves to be on my cover.

Royce Young, Daily Thunder: I think the only correct answer here is Brian Cardinal. I mean, he's an NBA champion now, he has a great nickname ("The Custodian"), and I'm sure he'd pull out a great pose for it. Isn't this really kind of a no-brainer?
---
2. Who would you start your team with: Bird, MJ or Magic?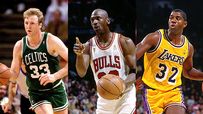 Devin Kharpertian, Nets Are Scorching: MJ. There's just no other option. You're talking about three of the top five players of all time, so you'd be happy with any of them. But if you had your pick between them? It's MJ. There's no debate.

Zach Harper, Daily Dime Live: Michael Jordan. It would be fun to try to be different by making the argument for Magic or Bird. Both were transcendent players in their own way and are the best to ever play at their positions. But Jordan is still the greatest player of all time. I'll take his historic play from both sides of the floor and the legend and marketing that follow suit.

Justin Verrier, ESPN.com: It feels wrong to so easily dismiss both Bird and Magic, who'd be in a tooth-and-nail battle for the top spot if any other all-time great was manning the third position of this basketball love triangle. But against Jordan, you just can't win.

Spencer Wellesley Percy, Queen City Hoops: I know that Jordan will be the popular pick here, but when you look at Magic Johnson's career averages (19.5 points, 11.2 assists, 7.2 rebounds), it's a no-brainer to me. Only Oscar Robinson seemed to define the triple-double like Magic did, and I don't know that we will ever see a player as well-rounded as Johnson again. If you're sitting there screaming "LeBron" at the computer, he has to get one championship first. Magic's got five.

Royce Young, Daily Thunder: I don't even have the temptation to try and be contrarian. You can't possibly justify going with someone other than MJ. I'm really trying to think of a reason and the only one I've got is that he was last of the three in the hair department.
---
3. Create a player: Which attribute would you borrow from each?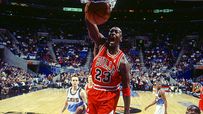 Devin Kharpertian, Nets Are Scorching: Imagine a player with Magic's court vision and Bird's shooting ability. That guy's already on MJ's level. Now add Jordan's incomparable urge to destroy everything in his path. The English language is ill-equipped to describe the greatness of that monster.

Zach Harper, Daily Dime Live: I'll take Bird's anticipation. On both ends of the floor, I don't know that anybody saw the game unfolding quite like him. I'll take Magic's vision, because nobody saw the passing angles like he did. And I'll take Jordan's tenacity, because nobody was ever going to will themselves and their teammates to victory quite like him.

Justin Verrier, ESPN.com: For my NBA mashup, I'd combine the basketball brain of Bird with Magic's almost unparalleled passing skills and whatever it is that allowed Mike to fly through the air. Not even cheat codes should be allowed to access such a player.

Spencer Wellesley Percy, Queen City Hoops: If I have to pick one for each I would take the "killer instinct" from Jordan, the ability to never take a play off from Bird and the all-around versatility from Magic.

Royce Young, Daily Thunder: Bird's shooting touch, Magic's vision and MJ's athletic ability. You'd have a player that could get to the rim with ease, hit from the outside and still be able to set up teammates. Basically, the player we all dream of LeBron James being if his talent were fully realized.
---
4. Fantasy draft: Which current player is your No. 1 pick?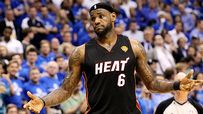 Devin Kharpertian, Nets Are Scorching: In today's NBA, I'd still take LeBron James. He may get piled on for his failures, but over the course of his playoff career, the good games heavily outweigh the bad ones. It's easy to forget how he steamrolled Boston and Chicago before stalling in Dallas. His best years are still ahead.

Zach Harper, Daily Dime Live: Even with the curious/troublesome ways he's been bounced from the playoffs the last two years, LeBron James is still the best player in the league. We never saw the Cavaliers execute a competent plan to build around him. I'll take him with my first pick and pray that he doesn't disappoint when the pressure is on.

Justin Verrier, ESPN.com: The potential lingering effects of LeBron's late-game playoff issues, in addition to the almost unreal pressure he'd bring on himself and his teammates with the cloud of scrutiny that hovers over his every move, scare me just enough that I'd probably panic and take Dwight Howard with a second left on the clock. Howard can single-handedly change the game on the defensive end, and at 25, he's one year younger than James. Besides, any good fantasy player knows how to take advantage of a position scarcity.

Spencer Wellesley Percy, Queen City Hoops: Kevin Durant. Don't even have to think hard about this one. He's the youngest superstar in the league, he's as pure a scorer as anyone, and his athletic ability is second to none at his size. Durant will be the best player in the league within the next five years and win numerous championships when the Thunder realize they need a makeover at a few key positions (point guard and center come to mind).

Royce Young, Daily Thunder: The NBA has an unbelievable surplus of young talent, which means the crop is a healthy one to choose from. But it's always -- always -- LeBron when you're starting a team from scratch with a current player. Still young (26), supremely talented, entirely unguardable, and capable of winning.
---
5. Franchise mode: What's the first big trade you would make?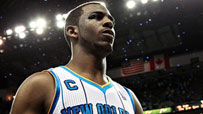 Devin Kharpertian, Nets Are Scorching:

Bulls-Hawks-Lakers swap. (See the deal)

Why not go enormous? I like this deal for each team: Chicago gets the second wing scorer it needs to beat Miami; Atlanta gets a do-over with a young franchise center and affords Al Horford a much-needed move to power forward; and Los Angeles gets a jolt of ridiculous athleticism at the forward slots. One caveat: Chicago would have to move Carlos Boozer and his remaining $60 million immediately.

Zach Harper, Daily Dime Live: Paul to the Spurs for Parker. (See the deal)

I think I could trick the digital Hornets with a trade of Tony Parker, Tiago Splitter and James Anderson for Chris Paul. It would allow me to run out a trio of Duncan, Ginobili and Paul for the next two years, and then give R.C. Buford and Gregg Popovich the pleasure and opportunity of building with CP3 as the centerpiece.

Justin Verrier, ESPN.com: CP3 to the Magic. (See the deal)

Unfortunately, not even cyber Dell Demps would take Gilbert Arenas off the Magic's hands. But in exchange for a moderate haul of Jameer Nelson, Brandon Bass and Ryan Anderson (and the real icing of the cake, Daniel Orton), the world becomes a better place for getting to see CP3 and D12 play together. Not even Hedo Turkoglu could ruin that.

Spencer Wellesley Percy, Queen City Hoops: Paul to OKC for Westbrook. (See the deal)

If I'm Oklahoma City and I'm trying to put the right pieces around my franchise player to win a title, I make a change at point guard. I find a way to get Chris Paul by shipping Russell Westbrook and my overvalued center to NOLA. The Hornets get a young inside-outside combination to build on, while I get a true PG to pair with Durant.

Royce Young, Daily Thunder: Steve Nash to NY for Billups, Fields. (See the deal)

Nash deserves the opportunity to contend for a title and teaming him with Melo and Amare gives him that chance. Plus, how stinking cool would that team be?


ESPN.com and the TrueHoop Network
Zach Harper is the host of Daily Dime Live. Justin Verrier is an NBA editor for ESPN.com. Devin Kharpertian, Spencer Wellesley Percy and Royce Young write for the TrueHoop Network.
• Follow ESPN's NBA coverage on Twitter | On Facebook