After years of finishing at the bottom of the standings, the Memphis Grizzlies have finally scratched and clawed their way to the top.

Or have they?

After knocking off the top-seeded Spurs and taking the powerful young Thunder to seven games, the Griz became the feel-good story of the 2011 playoffs, turning Zach Randolph into the unlikeliest of heroes in the process. And with the bulk of a burgeoning core returning, it's all up from here ... right?

Our squad answers that and more on the third stop of our Southwest Division tour:
1. Are the Grizzlies contenders or pretenders?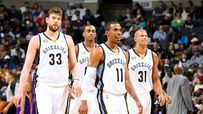 Kevin Arnovitz, ESPN.com: The Grizzlies have won 24, 40 and 46 games over the past three seasons, so there's a definite upward trajectory here. But until they recruit some serious perimeter shooting, they're merely pretenders -- albeit a scrappy and intriguing pretender and a whole lot of fun to watch.

Chip Crain, 3 Shades of Blue: Contenders. They started to finally play together at the end of last season and have an identity now that the entire team is buying into. And with most of the players still on rookie contracts, the future looks very bright in Memphis. This team was only one triple-overtime game away from the conference finals, after all.

Justin DeFeo, Nets Are Scorching: Pretenders. The Grizzlies are about a year or two away from being championship contenders, but last season's success wasn't a fluke. With some of their best players young and still improving, and with age catching up to the old guard in the West, anything can happen.

Brian Robb, Celtics Hub: Contenders. Memphis has a young, promising core that defends well and has three of its top players (Zach Randolph, Rudy Gay, Mike Conley) locked up for the long term. With that formula for success, it's tough to make a case for three to four other Western Conference rosters I'd take over the Griz's for the foreseeable future.

Royce Young, Daily Thunder: Absolutely contenders. Assuming Marc Gasol is retained, they're bringing back a better team than the one that fell to the Thunder in seven games in the West semifinals. Imagine if that team had its best scorer in Rudy Gay for the postseason. Add him to a core of Zach Randolph, Gasol and Mike Conley and you've got a very good team.
---
2. Should the Grizzlies consider trading Rudy Gay?
Kevin Arnovitz, ESPN.com: There's a temptation to believe that if a team can succeed and improve without a specific player -- as the Griz did last spring with Gay sidelined -- that means he's expendable. Should Chris Wallace listen to offers for Gay? You bet. But with four years remaining on a hefty contract, it's unlikely he can get equal value in return.

Chip Crain, 3 Shades of Blue: No, the Grizzlies shouldn't trade Gay unless they can find someone of equal or superior talent to replace him. The team was 13-2 in the last 15 games he played before his injury and is better with him than without him.

Justin DeFeo, Nets Are Scorching: There are few untouchable players in the NBA, and Rudy Gay is not one of them. The Grizzlies have already showed they can win without Gay in the lineup. If a trade comes along that makes sense for them, they should absolutely consider it.

Brian Robb, Celtics Hub: Not anytime soon. The one thing Memphis lacked in its impressive run to the Western Conference semifinals was consistent offense. Although Gay's bloated contract will likely limit the team's flexibility under the next CBA, trading its best scorer seems foolish.

Royce Young, Daily Thunder: No way. Sure they caught fire once he went down but I don't think that's an indictment on Gay. Plus, that would be assuming Tony Allen would continue to play high-quality, productive ball on both ends. Seems like a hefty risk to me.
---
3. After getting an extension, which Z-Bo will show up next season?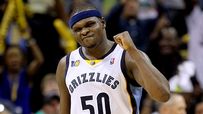 Kevin Arnovitz, ESPN.com: With Randolph, all bets are off, but there was unquestionably a different vibe to his game last season. Was he a guy with dollar signs in his eyes, or a player who finally found a team and coaching staff that understood how to maximize his talents and minimize his liabilities? The truth probably lies somewhere in between.

Chip Crain, 3 Shades of Blue: Z-Bo may have played the last two seasons only for a contract but it is more likely that he has actually matured. Randolph isn't the player he was earlier in his career, when he partied all night and hung out with the wrong group of people. He's a family man and loved in Memphis. There is no reason not to assume he comes back ready to play.

Justin DeFeo, Nets Are Scorching: On the court, you always know what you're getting with Z-Bo -- about 20 points and 10 rebounds. It's off the court where his problems arise. But I suspect the Z-Bo who loves the city of Memphis and has matured will show up next season.

Brian Robb, Celtics Hub: The motivated one. It took me a while to get on board with Z-Bo, a player who has always put up good numbers on bad teams for the vast majority of his career. After getting a taste of a winning environment last season, however, I expect his strong, focused play to continue as Memphis continues to climb the standings.

Royce Young, Daily Thunder: Good Z-Bo. The one that puts up a double-double just by putting on a uniform. He's past all the issues that held him back in Portland, New York and Los Angeles, and you could tell he completely ate up the love he got last year. He's not going to backslide and lose out on all that now.
---
4. Which Gasol would you rather have: Marc or Pau?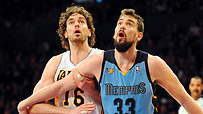 Kevin Arnovitz, ESPN.com: Ah, the great "Sophie's Choice" question. With the Wilkins and Grant brothers, it was so easy! But Marc or Pau is a more complicated choice. The senior Gasol will earn $57 million over the next three seasons when he'll be 31, 32 and 33. Meanwhile, Marc will certainly receive a hefty payday in his first post-rookie contract. I'll go with youth over legacy -- but Pau can suit up for me anytime.

Chip Crain, 3 Shades of Blue: Pau is a highly skilled player, but on this Grizzlies team, Marc brings more to the table. The Grizzlies were soft with Pau as the leader, while Marc brings a toughness to the court the city has never had before. He's also much younger than his brother, so he should be able to maintain this level or even improve on last season. Pau's best years are likely behind him.

Justin DeFeo, Nets Are Scorching: Despite Pau's lackluster postseason and Marc's emergence, I'd still rather have the older brother given the stages of their careers. Let us not forget that only two seasons ago, Pau was winning a second straight championship and was viewed as arguably the Lakers' best player.

Brian Robb, Celtics Hub: Marc. Coming off a career season, he gets the checkmark in most relevant categories. Younger, more affordable, bigger and a better defender. If you're looking for offense, Pau is your guy, but as an all-around player, I'll stick with the younger brother.

Royce Young, Daily Thunder: I'd still want Pau. Marc is very, very good. He's younger and probably cheaper. But he's just not quite the player Pau is. With the age difference not being massive and with their paychecks probably not looking all that different eventually, you want the better player, and that's Pau.
---
5. More important 2012 restricted free agent to re-sign: Arthur or Mayo?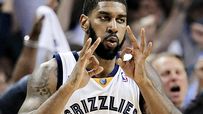 Kevin Arnovitz, ESPN.com: O.J. Mayo is a dynamic player, but provided Gay can return to full strength at the wing, Darrell Arthur might be the more sensible choice. Arthur has emerged as an elite defender and quality offensive player with a reliable midrange shot. Winning teams need functional role players, and Arthur looks the part. Mayo still has upside but is trending downward in Memphis.

Chip Crain, 3 Shades of Blue: Mayo was lost for most of last season trying to find his role on the team, but he is an extremely talented player who brings a scoring energy needed off the bench for the Grizzlies. However, Arthur is the only big man off the Grizzlies' bench right now. If the Grizzlies were to lose Arthur, it would be very difficult to replace him. With Xavier Henry, Tony Allen and Sam Young on the roster, the loss of Mayo could be masked more easily by the team.

Justin DeFeo, Nets Are Scorching: They are both good players, but I think Mayo plugs more holes for the Grizzlies than Arthur does. Mayo's ballhandling, shooting, defense and toughness give them a lot of versatility in their backcourt. He also provides the Grizzlies with swagger and a guy unafraid of the big moment.

Brian Robb, Celtics Hub: Mayo. But it wasn't an easy decision. Mayo is a polarizing player in NBA circles, but he's so young (23) it's tough to give up on that offensive promise. On a team in which scoring will continue to be an issue, Mayo's ability to spread the floor is needed.

Royce Young, Daily Thunder: Mayo. The Grizzlies were dead last in the league in 3-pointers made last season and that really ended up being one of the biggest reasons Oklahoma City finished them off. The Grizzlies obviously want to beat you up in the paint but teams like the Thunder can just pack it and leave Memphis shooters open. After Lionel Hollins inserted Mayo into the starting five in that series, the Grizzlies were a new team. He's vital in not just scoring, but keeping some pressure off Z-Bo and Gasol.


ESPN.com and the TrueHoop Network
Kevin Arnovitz writes for ESPN.com. Chip Crain, Justin DeFeo, Brian Robb and Royce Young write for the TrueHoop Network.