The New Orleans Hornets enter perhaps the most pivotal season the franchise has faced since the move to the Big Easy back in 2002.

Two-time All-Star David West will hit the open market when free agency begins. All-world point guard Chris Paul can do the same the following summer, if he's not jettisoned for some type of compensation before then. And even if both decide to stay with the only NBA franchise they've ever known, there's a chance the team itself may be on the move again.

What should we expect in NOLA next season? Our five-man team continues our Southwest Division surveys by breaking down the buzz on the bees:
1. Fact or Fiction: Chris Paul will remain with the Hornets after 2011-12.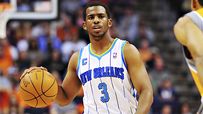 Chris Palmer, ESPN The Magazine: Fiction. This is tough. Chris Paul is nothing if not extremely loyal. He's tied to New Orleans in ways beyond basketball and would love to stay, but if things look bleak (and they will) his loyalty could be tested. Paul wants to be on a winner and ultimately that will drive his decision.

Eddy Rivera, Magic Basketball: Fiction. Chris Paul has made it clear that he wants to win. Last summer, in fact, Paul even went so far as to say that he'd be open to a trade if the Hornets weren't committed to winning. Although New Orleans will do everything in its power to surround Paul with a winner, it's unlikely that he'll sit and wait around any longer.

Ryan Schwan, Hornets 247: Fiction. As painful as it is to say it, Hornets GM Dell Demps has a single season to convince Paul he can put together a winner in New Orleans, but now, with the lockout, that one chance is likely to be cut short or eliminated altogether. Barring an amazing turnaround in the CBA negotiations, Paul is gone.

Ethan Sherwood Strauss, HoopSpeak: Fiction. I feel for Hornets fans, but this is barely a franchise -- unless a tycoon buys it. Paul needs to leave for the good of his career, and the good of the league.

Jared Wade, 8 Points, 9 Seconds: Fiction, unfortunately. I believe Chris Paul truly wants to remain in the New Orleans community. But he must fear that his body may prohibit him from remaining elite as long as his talent would otherwise allow, and the Hornets have surrounded him with nothing. With the current uncertainty surrounding ownership, he will likely be forced to eject.
---
2. More risky: Losing David West or signing him to a long-term contract?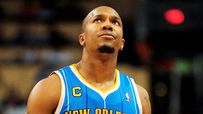 Chris Palmer, ESPN The Magazine: Signing West to a long-term deal. How he'll return is one of the biggest question marks in the league right now. A long-term, big-money deal could unnecessarily hamstring the Hornets at a time when they need to make positive strides to keep Paul as their centerpiece. If West was 24, the risk would drop considerably, but it'd still be a risk nonetheless.

Eddy Rivera, Magic Basketball: Signing him to a long-term contract. It's easy to say that losing West is riskier, given that the Hornets are in desperate need of surrounding Paul with enough talent that will entice him to stay long-term. However, the 30-year-old West will inevitably decline as he gets older and his contract may become an albatross for a Hornets team looking to reload with Paul or rebuild without him.

Ryan Schwan, Hornets 247: Losing David West, if there is a season. Among free agents, only Nene would be an upgrade at his spot and it's not likely that the Nuggets big man will come to New Orleans. So to keep Paul, they'll need West. With a game not predicated on athleticism or great physical gifts, I expect West will age well.

Ethan Sherwood Strauss, HoopSpeak: I'd say losing David West is more risky because New Orleans can't rely on wooing top-flight free agents. West isn't a good defensive player, but a pick-and-pop power forward opens up an offense.

Jared Wade, 8 Points, 9 Seconds: Signing him. West is an excellent offensive contributor but a precipitous drop-off in production could be just around the corner. Guys such as Gilbert Arenas and Elton Brand are poster children for what can happen when you commit long-term to a guy you think will recover from a major leg injury. Unless the deal is a bargain, let him walk.
---
3. Fact or Fiction: CP3 is the only above-average Hornet under contract.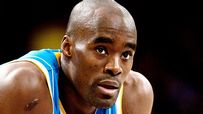 Chris Palmer, ESPN The Magazine: Fact. Is there a superstar surrounded by less talent? That answer is a resounding no. Emeka Okafor is on the border of "above average," and his 9.5 rebounds per game are nothing to scoff at, but he doesn't wow you or change the game. Even John Wall is surrounded by more long-term potential at this point.

Eddy Rivera, Magic Basketball: Fiction. Okafor is still an above-average player. Almost any advanced statistic -- whether it's PER, WARP, etc. -- rates Okafor as someone that brings more value to his team than the average player. Okafor is not offensively gifted but he's efficient, and he's a net-plus shot-blocker, rebounder and defender.

Ryan Schwan, Hornets 247: Fiction. Okafor is paid like a star even though he isn't one, but don't let that muddy the water: He's an above-average rebounder, shot-blocker, finisher and defender. That makes him an above-average player in my book.

Ethan Sherwood Strauss, HoopSpeak: Fact. And yuck. Paul's a higher-level alchemist.

Jared Wade, 8 Points, 9 Seconds: Fiction. Okafor is a very good, if limited, player. Trevor Ariza is a good, if limited and overpaid, wing. Aside from Jarrett Jack, even characterizing anyone else on the roster as "below-average" would be complimentary.
---
4. Fact or Fiction: The Hornets will make the playoffs next season.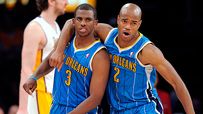 Chris Palmer, ESPN The Magazine: Fiction. This bunch showed some grit on defense and has one of the best young coaches in Monty Williams. But without defensive guru Michael Malone and little margin for error for Paul, I don't see the Hornets in the postseason. In addition to last season's top seven out West, the Clippers and Rockets will both make legit runs at the playoffs.

Eddy Rivera, Magic Basketball: Fact. Assuming that Paul is with the Hornets for the entire season and he stays healthy, assuming that West re-signs and recovers from knee surgery, and assuming that general manager Dell Demps continues to try to improve the roster, then the chances are good. It's tempting to bet on the field, though.

Ryan Schwan, Hornets 247: Fact. If there is a season, I expect the Hornets to be fighting for one of the bottom four seeds again. They have the money to sign a power forward and a wing of reasonable quality, and that's all you need with CP3.

Ethan Sherwood Strauss, HoopSpeak: Fact. This is a testament to how brilliant I think Chris Paul is, and nothing more.

Jared Wade, 8 Points, 9 Seconds: Trick question -- there won't be a 2011-12 season. But if there somehow will be? Fiction. I doubt they pull off such an improbable feat two years in a row. Chris Paul is a Hall of Famer, not a warlock.
---
5. Fact or Fiction: The team will remain in New Orleans over the long haul.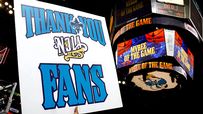 Chris Palmer, ESPN The Magazine: Fact. That is if David Stern gets his way. (Hint: Stern always gets his way.) But if the poor attendance continues and the team keeps hemorrhaging money (isn't that what this lockout is about?), then it makes sense to move. If I had the money I'd buy the team and move it to Las Vegas.

Eddy Rivera, Magic Basketball: Fiction. Although it's clear that the NBA and city of New Orleans will do everything in their power to keep the Hornets in town, "long haul" implies a lengthy period of time. And it's hard to imagine, with so many question marks surrounding the Hornets' future in New Orleans, that another market wouldn't swoop in to take the franchise elsewhere sooner or later.

Ryan Schwan, Hornets 247: Fact. Despite all the rhetoric about the Hornets being a sink-hole, they would have made a profit last season if they hadn't been stuck servicing a pile of debt left for them by their previous owner. With a new owner to wipe out some of the debt and NBA owners intent on improving the CBA in their favor, the team will be in N.O. for a while.

Ethan Sherwood Strauss, HoopSpeak: Fiction. I don't think it can or should. New Orleans is a world-class town, but it now has fewer people than Omaha, Nebraska. The NBA has had trouble in the smaller Southern cities, and I'm not sure that staying in places such as New Orleans, Charlotte and Memphis makes sense long term.

Jared Wade, 8 Points, 9 Seconds: Fact. This response may be coming from the part of my brain that processes hope more so than the small part that understands logic, but the league mishandled the Sonics situation so badly that, when you factor in the bad will the lockout is generating, I think Stern and his cohorts will move mountains to find a buyer committed to NOLA.


ESPN.com and the TrueHoop Network
Chris Palmer writes for ESPN Insider and ESPN The Magazine. Eddy Rivera, Ethan Sherwood Strauss and Jared Wade contribute to the TrueHoop Network.