With Dwight Howard leading the way, the Orlando Magic have quickly become a force to be reckoned with in the Eastern Conference, finishing with more than 50 wins in each of the past four seasons.

But after a questionable midseason trade led to a first-round ouster for the first time in that span, does Orlando still have its magic touch? And, more importantly, does it have enough long-term potential to convince Dwight Howard to stick with the only franchise he's ever known?

After dissecting the Hawks' offseason questions on Monday, our Southeast Division tour continues with a look at the Magic's next moves.
1. Bigger upside/bigger disaster: Gilbert Arenas or Hedo Turkoglu?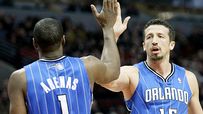 Nate Drexler, Magic Basketball: Upside: Turkoglu. Neither player added much value this past season, but Turk's flashes of stability and awareness far outweighed Arenas' presence on the offensive side.

Disaster: Arenas. I've never seen a player as disenchanted and uninterested as Gilbert was in 2010-11. It was painful. And have you seen his contract?

Rob Mahoney, The Two-Man Game: Upside and disaster: Arenas. For all of his weaknesses, Hedo Turkoglu's game largely falls in intermediate ranges. Arenas, on the other hand, still has the potential to be something resembling a dynamic player, but more likely will bottom out with iffy defense and self-destructive offense.

Eddy Rivera, Magic Basketball: Upside and disaster: Arenas. Gilbert Arenas already proved he was a bigger disaster than Hedo Turkoglu last season -- the numbers only begin to reveal an inconvenient truth. But Arenas also showed glimpses of the player he once was. Arenas at his zenith will never see the light of day again, but if he can get into shape and play heavy minutes, his upside is bigger than Turkoglu's.

Matt Scribbins, Magic Basketball: Upside: Arenas. He is three years younger than Turkoglu, and injuries made Arenas appear much worse last season than he actually is. The 29-year-old may regain his status as a good player if he can mix in some knee rehabilitation in between planking pictures.

Disaster: Arenas was a disaster last year, and his monster contract only added to the misery. Gilbert's was paid nearly $18 million last season to score, but his shooting percentage (.366) looked more like a great batting average.

David Thorpe, Scouts Inc.: Upside: Turkoglu. If he allows SVG to get into his psyche again, there's no reason Turkoglu can't get very close to his level of play from the Magic's NBA Finals run in 2009.

Disaster: Arenas has disaster written all over him. That argument is heavily supported by his words, not mine, almost every time he speaks/tweets publicly.
---
2. Who should start at power forward?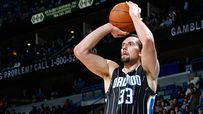 Nate Drexler, Magic Basketball: Ryan Anderson. He has a better player efficiency rating (PER), and Orlando has a better plus/minus rating with him in the starting lineup. Stan Van Gundy indicated last year that Bass was a better fit as a starter, but the Magic gain an extra outside threat with Anderson on the court.

Rob Mahoney, The Two-Man Game: Ryan Anderson, though he's not a significantly better choice than either Brandon Bass or Earl Clark. Stan Van Gundy essentially has his choice of various skill players to plug in at the 4, and Anderson simply seems to be the most practical choice in the context of the starting lineup.

Eddy Rivera, Magic Basketball: Not Anderson or Bass. Anderson is a per-minute darling who can undoubtedly produce when he's on the court, but he's better served as a role player coming off the bench because of his defensive shortcomings. When Bass isn't scoring, he isn't bringing much else to the table. Bass' ability to score is better served on a second unit that's in need of instant offense. But if I had to choose, I'd go with Anderson.

Matt Scribbins, Magic Basketball: Ryan Anderson. He made great strides in his third NBA season, improving on both ends of the floor. Stan Van Gundy wants his team to shoot either 3-pointers or layups and Anderson excels at both -- a rare combination for a power forward.

David Thorpe, Scouts Inc.: Dwight Howard is best served when a 4 who can shoot perimeter 3s is on the floor, lifting high on Howard pick-and-rolls. That makes Anderson the only choice. Bass and Clark can impact the game, but they can't help Howard or the offense like Anderson can.
---
3. Fact or Fiction: Jameer Nelson is a better PG than Gilbert Arenas.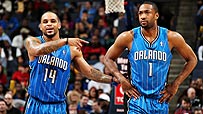 Nate Drexler, Magic Basketball: Fact. Gilbert was a disaster last season and even the ghost of Jameer Nelson tries harder than Agent Zero Percent Effort. If Jameer could get his long-range jumper in order, he'd be better than several other point guards, too.

Rob Mahoney, The Two-Man Game: Fact. Nelson may be underwhelming at times, but he's still a solid pick-and-roll ball-handler, spot-up shooter and creator in basic offenses. Nothing he does is particularly spectacular, but Nelson's play is far more beneficial to a team than Arenas' typically inefficient struggles.

Eddy Rivera, Magic Basketball: Fact. Although Nelson produces like an average player more often than not, he's an All-Star caliber point guard when he's at the top of his game. As for Arenas, it can't be understated how bad he was this past season. Arenas can be good, but not better than Nelson.

Matt Scribbins, Magic Basketball: Fact. He may not have the same fame, but his performance is much more consistent. Nelson can knock down the 3-point shot more frequently than Arenas, which is vital in Orlando's offense. Furthermore, Nelson's defensive numbers are improving, and he is great running the pick-and-roll with Dwight Howard.

David Thorpe, Scouts Inc.: Fact. Arenas is years away from being a consistent-level starter. Nelson has the game and the attitude to run the team, and is respected by that entire roster.
---
4. Fact or Fiction: The Magic are title contenders.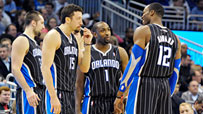 Nate Drexler, Magic Basketball: Fiction. Not at this point. There needs to be some rebuilding first, and probably some painful years being the fourth best team in the East. But with Stan Van Gundy at the helm, this won't be fiction for much longer.

Rob Mahoney, The Two-Man Game: Fact. Their path to the title would depend heavily on hitting preferred playoff opponents, but so long as Orlando boasts a truly elite defense and maintains an average offense (or better), they have a shot at a championship. It's not a particularly good shot, mind you, but it's enough to qualify them as contenders.

Eddy Rivera, Magic Basketball: Fiction. Looking back on it now, the window closed for the Magic when they lost Game 6 of the 2010 Eastern Conference finals against the Celtics. After that, Orlando was never the same again and has been going down a slippery slope of mediocrity. It's only because of Dwight Howard's brilliance that the Magic haven't become irrelevant yet.

Matt Scribbins, Magic Basketball: Fiction. The Bulls will make make another leap forward, the Heat will have a year of experience under their belts, and the Magic will be constantly bombarded about Dwight Gate 2012. Way too much to overcome.

David Thorpe, Scouts Inc.: Fact. No team has both the best big man in the game and a top-tier coach other than Orlando. A few poor personnel decisions can keep the Magic from probably winning a ring, which means they are also just one or two good decisions away from getting back to that spot.
---
5. Fact or Fiction: Dwight Howard will stay with Orlando after 2011-12.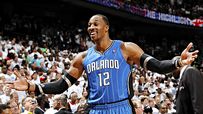 Nate Drexler, Magic Basketball: Fiction. LeBron James broke the seal on All-Stars jumping ship when they aren't winning championships. At this point in his career, it's what Dwight is looking for, too. I know he has love for Orlando, but the end game is getting a ring, and that championship isn't in the immediate future for Orlando.

Rob Mahoney, The Two-Man Game: Fiction. Howard's bizarre twisting of words and rules surrounding his future in Orlando (and his ability to sign an extension with the Magic) seems to suggest that he'll slink out the back door. It's hard to blame him, too; with Arenas and Turkoglu due over $66 million in the next two seasons, it will be hard for the Magic to make any substantial moves to improve. Other teams will likely offer brighter opportunities.

Eddy Rivera, Magic Basketball: Fiction. Barring a miracle, Dwight Howard's days in a Magic uniform are numbered. Howard wants to win a championship and Orlando isn't in the position to do that right now. No offense to Anderson, but when he's the second-most productive player on the roster, there's a problem. Howard deserves better. As they say, the grass is always greener on the other side.

Matt Scribbins, Magic Basketball: Fiction. He likes Orlando, but he has made it clear he wants to play for a contender. Otis Smith better make some legitimate attempts to upgrade the roster (that actually work) or Dwight will be headed out of town posthaste.

David Thorpe, Scouts Inc.: Fact, but no one knows, including Dwight. If he knew someone like CP3 was heading to O-town, he'd definitely stay. Orlando's execs have to be focused on that. Absent some good player acquisitions, he's gone. Getting studs to team with Dwight should not be hard.


ESPN.com and the TrueHoop Network
David Thorpe is an NBA analyst for ESPN.com's Scouts Inc. Nate Drexler, Rob Mahoney, Eddy Rivera and Matt Scribbins contribute to the TrueHoop Network.