Fifty-eight wins. Three All-Stars. And one trip to the NBA Finals.

But even after the best NBA season Miami has seen since 2005-06, Heat fans can't help feeling a bit let down by the first go-round in the Big Three era. Especially as a certain promise by a certain big-name free agent at a certain sensory-overloading mega introduction party still lingers over the franchise.

Still, with LeBron James, Dwyane Wade and Chris Bosh signed up for at least three more seasons (barring any potential CBA shakeups), things still look pretty bright in South Beach, right? After making a stop in Orlando, our Southeast Division debaters look 200-plus miles south and size up the reigning Eastern Conference champs.
1. Fact or Fiction: The Heat are the most despised sports team ever.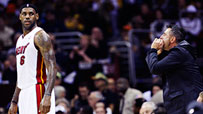 Brian Windhorst, Heat Index: Fiction. The 1980 Russian Olympic hockey team has to have the edge, right? Sure, if you take out the jingoistic aspect, the Heat would be right up there. Especially because the national dislike extended for a year, from the free-agent signings in July 2010 to this June's NBA Finals loss (and perhaps beyond). But the "Miracle on Ice" may be the single biggest nationally celebrated win for the country of the past 50-plus years. The country certainly seemed to despise the heavy favorites from Russia.

Ethan Sherwood Strauss, HoopSpeak: Fact. But I think it speaks more to the time than to the team. Social media bonding allows for us to instantly agree on the day's GREAT VILLAIN, and then the 24-hour news cycle compels us to build content on that framing.

Tom Haberstroh, Heat Index: Fiction. With today's technology, it might seem like the breadth of hate is as vast as any time. However, in order for hatred to cut deep, a title seems like a necessary component. Until the Heat win The Big One, I say the shoe fits better on the Bad Boys, the 1988-89 Detroit Pistons.

Beckley Mason, HoopSpeak: Fiction. America doesn't like the Heat, but I bet a greater percentage of Yankees were fighting mad at the USSR Olympic team that stole the 1972 Olympic gold medal from Doug Collins & Co. I was born 14 years later, and I still hate that team fo -- ach! … Rage … taking over … (muffled cursing).

Ryan DeGama, Celtics Hub: Fact. Think about this: Was Shaquille O'Neal better than Bill Russell? He certainly appeared more dominant. But give Russ modern advantages in nutrition, training and genie-based starring roles and we might think differently. It's the same thing with Miami. Media and modern culture have created an environment conducive to irrational hate. So, don't give LeBron all the credit. Take some for yourself.
---
2. Fact or Fiction: LeBron's fourth-quarter struggles are a major concern.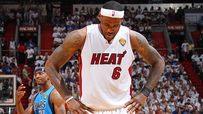 Brian Windhorst, Heat Index: Fiction. James had some of the biggest fourth quarters of his career during the Heat's run in the 2011 playoffs and has won numerous games with strong late-game play over the past few seasons.

If there's a concern, it's in James' ability to handle big-game pressure. He's had unexplainable, aloof playoff performances the past two years that defined his play in those postseasons. Diagnosing and addressing that trend, from first quarter to fourth, is the issue.

Ethan Sherwood Strauss, HoopSpeak: Fiction. Per the infamous Finals: I saw no fourth-quarter disappearing act from LeBron because he never really appeared. The concern should pertain to why James became half himself when so near the ultimate goal. This was a Finals problem, not a crunch-time problem.

Tom Haberstroh, Heat Index: Fiction. No NBA player with his talent (or any player for that matter) has ever had a quarter curse. I suspect he'll get over it in time just like he triumphed over the Boston Celtics, a team that seemed like his Kryptonite for years.

Beckley Mason, HoopSpeak: Fact. Despite all the scrutinizing and bellyaching, the Heat have less to be worried about than just about every other team in the league. Still, insomuch as LeBron plays a mammoth role in their offense and their offense was relatively shoddy in crunch time, his play is cause for concern. But he's not the whole problem, nor the whole solution.

Ryan DeGama, Celtics Hub: Fact. If we weren't cherry-picking certain memorable failures, LeBron would look great. In that sense, it's unfair to call it a major concern. But my nonexistent degree in psychology suggests to me that James is a guy too comfortable deferring during key stretches, as though he'd rather avoid the moment lest it define him inappropriately.
---
3. Fact or Fiction: The Heat are Dwyane Wade's team.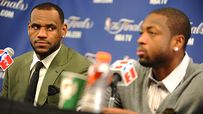 Brian Windhorst, Heat Index: Fact. It was a fact before James got there, during the regular season, and during the postseason. James is the more talented and perhaps the more vital player to the Heat. But Wade is the captain and the emotional leader. He also remains No. 1 in fans' hearts.

Ethan Sherwood Strauss, HoopSpeak: Fiction. While I'm cool with players getting a healthy chunk of BRI, I'll stop at individual players owning teams. Calling the Heat "Wade's team" is a fun way to tweak LeBron, but I'm not sure what such a statement even means. Also, the media consensus on this dramatically shifts in response to events.

Tom Haberstroh, Heat Index: Fiction. Honestly, if we must play the fill-in-the-blank game with "The Heat are ____ ____'s team," then I don't see how any name makes sense other than Micky Arison.

Beckley Mason, HoopSpeak: Neither. In my opinion, Dwyane Wade and LeBron's relationship is one of the most interesting in sports. I've heard and read that James sees Wade as a kind of big brother, and I get the sense that the Heat were and are Wade's team. Still, LeBron is the superior player and the redundancy of their skill sets complicates the traditional 1-2 "pecking order."

Ryan DeGama, Celtics Hub: Fiction. But I'm not sure they're LeBron's team either. What, practically, does the designation even mean? That Wade should always take the last shot? I think Miami is largely where it was a year ago on this front. That doesn't strike me as any major reason for concern.
---
4. Fact or Fiction: Miami will have the NBA's best record in '11-12.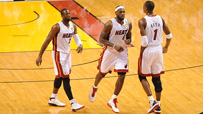 Brian Windhorst, Heat Index: Fact. Although it is hard to predict how the league will look post-lockout, let's assume the top teams will mostly have stability in their rosters for the short-term. The Heat had the third-best regular-season record in the league (58-24) last season despite a 9-8 start, and simple growing pains cost them several games. The Bulls would have a strong case as well, but the Heat seem like they could carry the back half of last season into major regular-season success next season.

Ethan Sherwood Strauss, HoopSpeak: Fact. The best record goes to the team least validated by getting it.

Tom Haberstroh, Heat Index: Fact. LeBron James, Dwyane Wade and Chris Bosh won't require an extended jell phase like we saw in 2010-11. They have the best chance at the top overall seed, although I'll peg the Chicago Bulls and the Oklahoma City Thunder to be right there with them.

Beckley Mason, HoopSpeak: Fiction. I think it's even money between Oklahoma City, Chicago and Miami -- whoever is healthiest wins. I'll take the field, but I think if everyone on every team is healthy all season, the Heat are primed for a monster season.

Ryan DeGama, Celtics Hub: Fact. They nearly got there last season fielding a team filled with utterly dispensable spare parts behind James, Wade and Bosh. But this Miami squad is being judged on LeBron's pledge to win seven-plus NBA titles, not whether they can stay focused through the regular season.
---
5. Fact or Fiction: The Heat are the team of the next decade.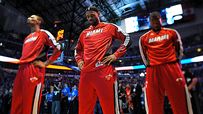 Brian Windhorst, Heat Index: Fiction. They probably will be in good position to challenge for a title next season and perhaps the season after that. But new restrictions in a reworked CBA, especially if a hard salary cap is instituted, may paint the Heat into a corner. If the owners get their way -- and don't think for a second that the majority isn't targeting the Heat's grand plans as a pleasant side benefit of their desired new structure -- Miami simply may not be able to keep all three of its All-Stars together and field a well-rounded team.

Then again, maybe it will. Right now everyone is guessing at what the future might look like. But many in the league are guessing the new rules won't favor a Heat dynasty.

Ethan Sherwood Strauss, HoopSpeak: Fact. In my crystal ball, I see the Heat winning four rings, followed by all of us contriving stories about how LeBron's grown as a person, because obviously you can't win a shiny thing unless you grow as a person.

Tom Haberstroh, Heat Index: Fact. No team has a collection of three players as woefully underpaid going forward as the Heat do with LeBron, Wade and Bosh. In the long haul, bang-for-the-buck is what matters. And they have a lot of bang.

Beckley Mason, HoopSpeak: No idea. It will take three titles to definitively own that accolade, and no potential "Team of the Decade" has won one. Miami better start collecting titles soon because Wade, 29, seems headed for a big drop-off after 2014-15. However, three other teams have won three titles in five years since 1996, why not the team featuring two of the game's five best players?

Ryan DeGama, Celtics Hub: Fiction. I have enough lingering concerns about Wade's future health that I'd probably take OKC, which has better roster balance and no lack of young, top-of-the-rotation talent. The Heat should own the next couple of years though.


ESPN.com and the TrueHoop Network
Tom Haberstroh and Brian Windhorst cover the Heat and the NBA for ESPN.com's Heat Index. Ryan DeGama, Beckley Mason and Ethan Sherwood Strauss contribute to the TrueHoop Network.