After dealing Gerald Wallace -- the only All-Star in franchise history -- and Stephen Jackson, the Charlotte Bobcats are officially in rebuilding mode. Can lottery picks Kemba Walker and Bismack Biyombo, and new general manager Rich Cho, help get the Cats on the right track?

From the point guard battle between Walker and D.J. Augustin to whether owner Michael Jordan could take every player on his roster in a game of one-on-one, our 5-on-5 crew continues its Southeast tour with a breakdown of the Bobcats.
1. Fact or Fiction: Walker will become the starting PG in his rookie year.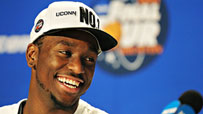 Spencer Wellesley Percy, Queen City Hoops: Fact. There are few believers in D.J. Augustin left in Charlotte. Besides, Walker seems to have all the intangibles of being a great pro at this position. He is a great leader on the floor, pushes the tempo (which coach Paul Silas loves) and can flat-out score. I don't think Kemba will have a problem distributing the ball in Silas' up-tempo offense, either.

Rashad Mobley, Truth About It: Fact. Augustin will win the job initially -- partly because of his NBA experience and partly because he will be motivated by Walker's presence. But once the Bobcats reach the halfway mark of the season (abbreviated or otherwise) and realize they won't sniff the playoffs, it is Walker's job to lose.

Zach Harper, Daily Dime Live: Fact. Whether it's because of an injury to Augustin or his ability to actually run a team, Walker will be the starting PG for Charlotte at some point this coming season. If the Bobcats can get their transition game going and find some consistent scoring options, Walker will be a no-brainer to start. If not, Augustin's scoring ability will keep the job.

Justin DeFeo, Nets Are Scorching: Fact. I can see certain scenarios in which Walker becomes the starter, especially since it seems D.J. Augustin is his only competition at the spot. However, I feel Walker's role would be best served as a scoring guard off the bench, a la Jason Terry.

Jovan Buha, ClipperBlog: Fact. Does anyone believe that Augustin will keep his starting job all season long? Walker has the pedigree, irrational confidence and shot-making ability to lead this team. He won't start from Day 1, but I think the midway point of the season isn't too ludicrous a prediction.
---
2. Fact or Fiction: Michael Jordan is the right owner for the Bobcats.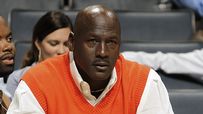 Spencer Wellesley Percy, Queen City Hoops: Fact. Jordan has struggled to put a winning product on the floor in Charlotte so far thanks to bad draft picks and questionable trades, but much of this problem was addressed by hiring Cho as GM just before the 2011 draft. Expect Cho to have the most say in player-acquisition decisions for Charlotte in the future.

Rashad Mobley, Truth About It: Fact. If one of the five greatest players to ever play basketball cannot return to the state where he grew up and starred in college and make the team successful with the aid of endless resources, who can? And he only helped his cause by hiring Cho.

Zach Harper, Daily Dime Live: Fact. Now that Cho is theoretically in charge of personnel decisions, Jordan is the guy you want signing the checks. He probably has enough money to truly fund the team, and he's so competitive with everything that he'll spend to keep them competitive. I'm sure he's more than happy to gamble on bringing in players, even if it's costly.

Justin DeFeo, Nets Are Scorching: Fiction. Jordan definitely brings a certain cachet and a "face" to the organization, but I have yet to be impressed with his basketball ownership acumen. Until he proves he can deliver winning seasons like he did as a player, I would say there are better owners out there.

Jovan Buha, ClipperBlog: Fact. I like Jordan's recent moves of hiring Cho and drafting Walker and Bismack Biyombo. On the other hand, trading Wallace for nothing wasn't the smartest move, and the Bobcats' roster is actually worse than when MJ acquired it. It's too early to tell, but I'll give him the benefit of the doubt for now.
---
3. Fact or Fiction: Jordan could beat any Cats player in one-on-one.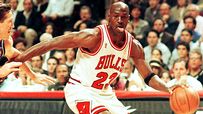 Spencer Wellesley Percy, Queen City Hoops: Fiction. Even though Jordan practices with the team quite a bit, it's clear that his body isn't even close to where it once was. Players such as Gerald Henderson, Corey Maggette, Tyrus Thomas and Walker would be good competition.

Rashad Mobley, Truth About It: Fiction. I give Jordan a fighting chance against everyone except Kwame Brown. Brown took a lot of heat from Jordan when they were both with the Wizards, and even though all is seemingly well in Charlotte, a one-on-one match would exhume Kwame's demons. Kwame would love to embarrass MJ.

Zach Harper, Daily Dime Live: Fact. DeSagana Diop is under contract with the team, so Jordan could definitely take him. Most likely, if he can get a player on the block in these one-on-one matchups, he can get off a good enough shot. Also, he could always threaten to trade them to Cleveland if they beat him.

Justin DeFeo, Nets Are Scorching: Fact. I'm not really sure how he'd stay in front of the small, quick guys, but I'm willing to bet that Jordan's got enough guile and moxie to figure it out. If we learned anything from his career, it's to never bet against him.

Jovan Buha, ClipperBlog: Fact. I'm not one to aggrandize Jordan's legendary stature more than the next guy, but does anyone on this roster even pose a threat? Kemba, Maggette and Henderson are the team's best one-on-one players, but do any of those names scare you? I didn't think so.
---
4. Biyombo and Walker aside, does Charlotte have any keepers?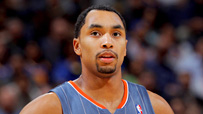 Spencer Wellesley Percy, Queen City Hoops: Gerald Henderson and Tyrus Thomas. Both are young, high-upside players who are great defenders, play hard on both ends and are great teammates. Henderson began to develop a better jump shot last season, while Thomas should be entering the prime of his career (as long as he can stay healthy).

Rashad Mobley, Truth About It: No. Boris Diaw, Thomas and Maggette could be keepers, but their motivation and intensity are always question marks. Augustin and Henderson have shown flashes, but they've yet to take that big leap. Those five, along with the rest of the roster, could easily be traded for better players who complement Biyombo and Walker.

Zach Harper, Daily Dime Live: Henderson could end up being a very solid and productive role player as his career progresses, but in terms of franchise building blocks, this team is extremely lacking. Even with Walker and Bismack, you could argue they don't have true cornerstones. They could really use a home run in next year's draft.

Justin DeFeo, Nets Are Scorching: Aside from those two, it's a bunch of eighth and ninth men. Augustin played OK as a starter last season (14.4 points, 6.1 assists per game), but I'm not entirely sold on him. The Bobcats are a supporting cast lacking a star.

Jovan Buha, ClipperBlog: No. The only possible keeper would be Thomas, who's reportedly working on his mental approach to the game as well as a post move or two. Other than that, Augustin is better served as a backup, Maggette and Boris Diaw are past their respective primes, and Henderson is a fringe rotation player.
---
5. Fact or Fiction: The Bobcats are now on the right track.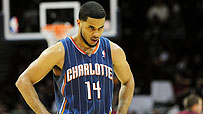 Spencer Wellesley Percy, Queen City Hoops: Fact. To many it may seem as if they have shipped away the only good players they had, but the Bobcats also shed some serious salary and set themselves up to make a push in free agency next summer. Charlotte's still years away from contending, but making the commitment to go young and start from scratch is the right move. Everyone knows the worst thing to be in this league is consistently mediocre.

Rashad Mobley, Truth About It: Fiction. The hiring of Cho and the arrival of Walker and Biyombo aren't quite enough to offset the departures of Stephen Jackson, Gerald Wallace and Tyson Chandler. They still need to make one or two more major moves to contend with the Eastern Conference's elite.

Zach Harper, Daily Dime Live: Fiction. They still don't have anything resembling a franchise guy and their financial situation isn't exactly attractive, even if the new salary cap and structure resemble the one that just expired. Cho could end up swinging some deals and drafting well to put them on that track soon, but as of right now, they're still looking at it from a distance.

Justin DeFeo, Nets Are Scorching: Fact. Hiring Cho was the type of basketball-savvy move the Bobcats needed. Cho is the type of executive who's capable of producing a winning basketball product. They're on the right track, but there are still a lot of moves that need to happen before the Bobcats are good.

Jovan Buha, ClipperBlog: Fiction. The Bobcats have recently taken risks where they'd normally play it safe, so at least they're making some progress. At the same time, unless Kemba or Biyombo becomes an All-Star, this team isn't going to be competitive (or in playoff contention) for the foreseeable future.


ESPN.com and the TrueHoop Network
Zach Harper is the host of Daily Dime Live on ESPN.com. Jovan Buha, Justin DeFeo, Rashad Mobley and Spencer Wellesley Percy contribute to the TrueHoop Network.