Blake Griffin made being a Clippers fan cool last season en route to being named a Western Conference All-Star and the Rookie of the Year. Can he go from first-year wonder to league MVP, lifting the Clippers to the postseason in the process?

Our five-man panel weighs in on the fourth stop of our Pacific Division tour.
1. Fact or Fiction: The Clippers will make the playoffs next season.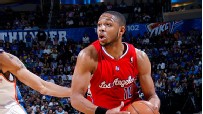 Jovan Buha, ClipperBlog: Fact. Call me a wishful thinker, but I see the Clips sneaking in behind the Mavericks, Thunder, Lakers, Spurs, Grizzlies and Blazers (all near-locks for the playoffs). The Nuggets, Hornets and Jazz will provide competition, but the one-two combo of Griffin and Eric Gordon should secure a postseason spot.

Nick Flynt, ClipperBlog: Fiction. The Clippers are going to win more games, even if only by virtue of fewer injuries and a little development. Sadly, I don't think the rest of the Western Conference is likely to allow an around-.500 team into the playoffs.

Jordan Heimer, ClipperBlog: Fact.
The focus will remain on Blake and his dunks, but it will be their defense that leads the Clips back to the promised land. Gordon, Griffin and DeAndre Jordan all have the ability and enthusiasm to lead a stalwart defense -- with another season to congeal as a unit, they will.

Breene Murphy, ClipperBlog: Fiction. While remotely possible, the Clips would roughly need to make a 14- to 18-game improvement. But devoid of the continuity of summer league and team practices to help develop the young guys, I don't see that big a leap happening. They'll scare some teams, and they'll be a LeaguePass favorite, but they need one more year of seasoning.

Charlie Widdoes, ClipperBlog: Fact. This comes down to health, because even if the complementary parts don't come along as hoped, Gordon and Griffin should be able to carry them to the eighth seed if they can play close to 82 games. Blake will have them working together during the lockout, which cannot be understated for a franchise hoping to turn promising individuals into team success.
---
2. Fact or Fiction: Blake Griffin will win an MVP award as a Clipper.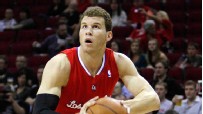 Jovan Buha, ClipperBlog: Fiction. For Griffin to ascend to MVP proportions the Clippers would have to have one of the best records in the league (the standard MVP qualifications these days). I don't see that happening for at least another 3-5 years (if ever), at which point Blake may be already long gone.

Nick Flynt, ClipperBlog: Fact. Yes, the lockout could cost Blake a year of development while also moving him closer to leaving the Clippers' contractual control. However, Blake is so hyped that voters won't be able to resist giving him the votes if the Clippers put together a 50-win team with him at the helm, and I can see that happening in three seasons.

Jordan Heimer, ClipperBlog: Fact.
"As a Clipper." I hate the ominous phrasing of this question. But I'm saying "fact" here in part because Griffin is a Clipper. Let's say a few years from now Blake puts together a great season, jumps over another Kia and turns the league's stepchild franchise into a contender. Who doesn't vote for that?

Breene Murphy, ClipperBlog: Fact. And maybe soon, making his potential departure a moot point. I don't recall seeing a player improve in one season as quickly as he did. From his free throws to his defense, he made huge strides as the year progressed. What's next? Refining his jumper and leading the team to wins, and that's what wins MVPs.

Charlie Widdoes, ClipperBlog: Fact. He should be one of the best players in the league shortly, but he also possesses the kind of personality and style of play that the league and media members tend to get behind in award voting. If the Clippers do rise to make the playoffs, you could certainly see Griffin gaining support like Derrick Rose last year.
---
3. Fact or Fiction: Re-signing DeAndre Jordan is a must.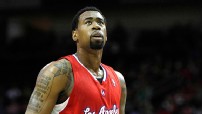 Jovan Buha, ClipperBlog: Fact. There seems to be a divide over how good Jordan can become and I consider myself an optimist. He may not have any semblance of an offensive game outside of five feet, but Jordan can rebound, defend, finish plays, and breathe life into a team sometimes lacking motivation. Simply put, he's a keeper.

Nick Flynt, ClipperBlog: Fiction. To me, a "must sign/re-sign player" is a guaranteed superstar. The Clippers are right to want to re-sign DeAndre, but not if it means massively overpaying him. Eric Gordon and Blake Griffin are going to be restricted free agents before the Clips know it, and the team is also eyeing a future max contract player -- stay flexible.

Jordan Heimer, ClipperBlog: Fact.
Last year was a breakout season for DeAndre, who, thanks to a refined understanding of weakside help and rotations, took major steps toward becoming an elite defender in the paint. Sure, his wingspan is also his shooting range, but what he does, he does well -- his 72 percent shooting inside the restricted area was third in the league.

Breene Murphy, ClipperBlog: Fact. DeAndre Jordan is just a better pairing for Blake Griffin than Chris Kaman. DJ is a low-usage, alley-oop target for Blake, Mo and EG, a shot-blocking help defender and Blake's closest friend. He shouldn't be overpaid, but he's integral to the team's future success.

Charlie Widdoes, ClipperBlog: Fact. If you could count on Chris Kaman to play a full season, I guess this becomes fiction. But you can't, and that makes DeAndre irreplaceable. Just 23, he's already a fantastic finisher at the rim and could become the anchor of the Clips' developing defensive identity if he continues to improve like he has in his first three seasons.
---
4. Fact or Fiction: Bledsoe and Aminu are the future 1 and 3 for L.A.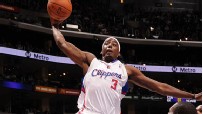 Jovan Buha, ClipperBlog: Fiction. Bledsoe is a terrific off-the-bench, change-of-pace combo guard, but asking him to start may be too much. Aminu, on the other hand, is more talented, but lacks consistency and is turnover-prone. Both can eventually start; it's just a matter of whether they'll deserve to, which seems unlikely.

Nick Flynt, ClipperBlog: Fiction. I'd love, LOVE to believe in Bledsoe or Aminu as future starters, but neither one of them has shown enough actual basketball ability to make me buy into that. To bet on both of them panning out would be crazier than the most ridiculous Vegas prop bet Bill Simmons has ever considered.

Jordan Heimer, ClipperBlog: Fact … but only if the Clippers are patient. They're both tremendous athletes, with rookie seasons marred (unsurprisingly) by inconsistency. Bledsoe has a bad habit of driving into the teeth of a set defense, while Aminu struggles with an erratic shot. A barrage of late-season scoring showed that Bledsoe may be closer, but -- eventually -- it's Aminu who could become something really special.

Breene Murphy, ClipperBlog: Half-fact. Barring a miraculous pickup of CP3 or Deron, I think Bledsoe is the future point. However, with the SF depth in the next draft and the Clippers' opportunity to pick up a quick fix by trading Kaman, Aminu might find himself playing off the bench or playing for another team.

Charlie Widdoes, ClipperBlog: Presently, that's a fact. I'm a big believer in Bledsoe (think it's easier to get someone to slow down than speed up) and think Aminu has great potential as a 4 in small lineups. We could see Minnesota's first-rounder turn into one of these, though, either in the draft or through a trade.
---
5. What do the Clips have to do to become contenders?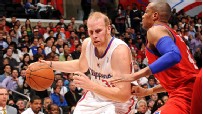 Jovan Buha, ClipperBlog: With a core of Griffin, Gordon, Jordan, Bledsoe and Aminu, the Clippers have a good foundation for the next decade. Regardless, player development and adding complementary pieces should be at the top of the to-do list. The question is can this team contend with Vinny Del Negro as its coach and Donald Sterling as its owner?

Nick Flynt, ClipperBlog: Among things the team can control: Acquire another good (if not great) rotation player to play alongside Eric Gordon and Blake Griffin. Among things it can't control: Have good luck in general (something the Clippers have never had), but especially in regard to the health of key players.

Jordan Heimer, ClipperBlog: Improve at the point. Clipper Nation largely hailed the trade that exiled Baron Davis to Cleveland for Mo Williams, mostly, I think, on the theory that anyone was better than Baron. The numbers don't bear that out. Williams had a lower effective field goal percentage than Baron last season, shoots way too many 3s and is a weak link defensively.

Breene Murphy, ClipperBlog: Stay healthy, continue to draft well (they own Minnesota's No. 1 as well as their own next year), trade Kaman and his expiring contract for a better long-term fit and develop their young talent, bench and coach.

Charlie Widdoes, ClipperBlog: In order to become contenders, they must turn raw tools and effort into cohesive team performance on the defensive end. They can get by offensively running simple pick-and-rolls with Griffin and Gordon for now, but must find a way to use their length and athleticism to their advantage on D to go with their already strong team rebounding.


ESPN.com and the TrueHoop Network
Jovan Buha, Nick Flynt, Jordan Heimer, Breene Murphy and Charlie Widdoes contribute to the TrueHoop Network.