The Detroit Pistons franchise must have hit rock bottom last season, lowlighted by a boycott hatched by disgruntled veterans.

Forget Bad Boys -- these were Sad Boys. And now they won't have an exasperated John Kuester raising a disbelieving hand to his shiny pate to kick around anymore.

Will new coach Lawrence Frank be able to bring order to a team that seems guard-heavy with not enough minutes (or ball) to go around?

Looking for some answers, our panel goes 5-on-5.
1. Who should start at PG and SG for Detroit?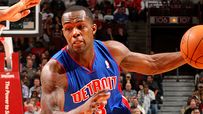 Dan Feldman, Piston Powered: Rodney Stuckey and Ben Gordon, I guess. Brandon Knight isn't ready to start, and Richard Hamilton has been steadily regressing. Start the best players and create a culture of competition and accountability. I think Stuckey and Gordon would win that battle, but let it play out rather than handing someone a spot.

LZ Granderson, ESPN.com: I'd go with Stuck and Gordon. Defensively they won't be what Lawrence Frank wants, but offensively they give the team the best chance to win right now. Especially if Stuck is allowed to be a scoring PG because he attacks the paint more when he's looking for his own offense. And if Gordon's off, Brandon Knight will get his minutes and Stuck slides over.

Patrick Hayes, Piston Powered: Knight is a big part of Detroit's future, but with no summer league, it's unfair to expect he'll win the job. Stuckey often suffers from tunnel vision, but he's improved each of his four seasons and should start at PG. Gordon has been a disappointment, but Detroit needs to give him a look as the full-time starter at SG.

Bret LaGree, Hoopinion: Stuckey should start at the point. More important than who starts alongside Stuckey is correctly identifying who between Rip Hamilton or Ben Gordon will better complement Knight and pairing him with Knight as much as possible.

Kyle Weidie Truth About It: Inconsistently, maligned players Will Bynum and Stuckey are probably aiming for a fresh start under new coach Lawrence Frank. Problem is, both of their positional talents align with draft pick Knight when grossly overpriced 2s Gordon and Hamilton should be shown the door at any cost. Good luck.
---
2. Are the Pistons' future SF and PF on the roster?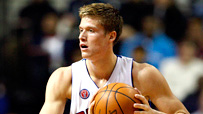 Dan Feldman, Piston Powered: No. I think Austin Daye is a better shooting guard than forward, and I'm not sure Jonas Jerebko will ever be better than a lower-end starter on a good team or a very good backup. Hustle players like him are great to have, but you don't build around them.

LZ Granderson, ESPN.com: I think so. Last year you had an inexperienced coach managing spoiled, pouting vets. Same scenario with Michael Curry. This season is different with Frank and hopefully Rip and Prince will be gone. The young guys like Jerebko and Daye can run and can play but they haven't had a coach who will let them make mistakes before. Now they do. I think Charlie V will be moved but Singler's going to surprise some people the way Landry Fields did in N.Y.

Patrick Hayes, Piston Powered:
If Greg Monroe's future is at PF, then yes, he's the team's future PF, but he could be the future at C, too, with no long-term answer there either. Jerebko will give quality minutes at either forward spot and Daye is loaded with potential, but at this point, we haven't seen enough of either to pencil them in as future starters.

Bret LaGree, Hoopinion:
If Jerebko fully recovers from his Achilles injury he could develop into a fine complementary starter for a good team. Less optimistically, unless Joe Dumars does something impressive, the Pistons' power forward of the future is on the roster and his name is Charlie Villanueva.

Kyle Weidie, Truth About It: Monroe at the 4 is a start to a solid core. Daye needs time to develop, because his promise is palpable but perhaps not enduring as a starter. Ideally, Jerebko recovers from the Achilles tendon that kept him out all last season; the Swede's do-it-all willingness makes him the ideal 3.
---
3. What is the ceiling for Greg Monroe?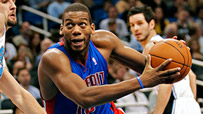 Dan Feldman, Piston Powered: LaMarcus Aldridge-level. But it's foolish to spend too much time dreaming about a player reaching his best-case scenario. Most never will approach that status. Mehmet Okur-level (quality starter who sneaks into an All-Star Game) is much more likely and certainly not a bad consolation. But now I'm dreaming of an Aldridge clone on the Pistons …

LZ Granderson, ESPN.com: I'd be very happy with David West. Like him, Monroe lacks the size and explosiveness to be dominant in the paint but he's a hard worker. A solid double-double and good interior D is not bad at all. And he's a pretty good passer. If Max had his size or if Monroe had Max's explosiveness, Detroit would have a hell of a player. Oh well.

Patrick Hayes, Piston Powered: Monroe was the third-best rookie in the league last season despite getting overlooked at awards time because his game lacks flash. Once he became a rotation staple, he was a reliable double-double guy every night. I don't think 16-18 points and 8-10 rebounds per game and improved defense are outrageous expectations for him in Year 2.

Bret LaGree, Hoopinion: Monroe had a great, under-recognized rookie season and he has significant room to grow offensively if he can take on a larger scoring role. Better than speculating about his ceiling, let's appreciate how high his floor is as a two-way rebounder, aware defender and efficient offensive player.

Kyle Weidie, Truth About It: Monroe is kind of like Chris Webber, if Webber played more like a big man. Sure, Monroe has fewer handles, not as much sneer and no relationship history with Tyra Banks, and that actually might be a positive. Nor is Monroe the jumper like C-Webb, but he's agile, perimeter-capable and probably more willing to bang his body.
---
4. Should Detroit try to keep Tayshaun Prince and Rip Hamilton?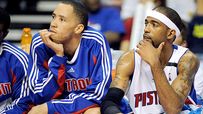 Dan Feldman, Piston Powered:
Hamilton -- definitely not, but they probably won't have a choice. Prince is much more complicated. The aging and proud veteran has little value to the rebuilding Pistons, but he has plenty elsewhere. Barring a surprise sign-and-trade, the Pistons will have to re-sign Prince and trade him later or let him walk for nothing. Neither sounds great (or awful).

LZ Granderson, ESPN.com: Noooooooooooooooooooooooooo. Guys who have won as much as those two have but lack the talent to be the man for a rebuilding franchise make for bad juju. Thus the past three seasons. Plus they're good men who have accomplished a lot, and should have a chance to win one more now.

Patrick Hayes, Piston Powered: Absolutely not. Their contributions to a championship team will never be forgotten, but the unhappiness of both in a rebuilding situation was one of many unnecessary distractions last season. Both would play better on more talented contending teams elsewhere and the Pistons would be better served seeing what they have in their young players this season.

Bret LaGree, Hoopinion: At this point in the success cycle, the Pistons shouldn't want to hang on to players in their 30s. Of course, neither player's age is a secret, so trying not to keep them is an easy decision in theory but tricky in execution.

Kyle Weidie, Truth About It: Certainly not. Both players clearly have their minds elsewhere, and that's never good for team business. Prince still has plenty of trade value. Detroit might be stuck with Hamilton, because if NBA teams are awarded a single-cut amnesty, the $37 million owed to Gordon might make more sense to snip.
---
5. When will the Pistons make the playoffs again?


Dan Feldman, Piston Powered: Typing those previous answers was tough. The Pistons require a lot of work before they can even see the light at the end of the tunnel. Still, making the playoffs isn't that hard (most teams do it), and the Pistons have a solid amount of talent and a few improving youngsters. 2013.

LZ Granderson, ESPN.com: You have to ask yourself, who is going to fall behind the Pistons? Indiana would if it move Granger for youth. The Sixers could if they move Iggy for youth. Both players are on the block, so I say yes, 2011-12 playoffs. If there is a 2011-12.

Patrick Hayes, Piston Powered:
The Pistons will be a playoff team again in the 2013-14 season. Barring a miracle trade of bad assets for good ones, it's unrealistic to expect a quick turnaround this season. But if the Pistons can peddle a bad contract, develop the young players and add another asset in the draft, they could easily become exciting up-and-comers in 2013-14.

Bret LaGree, Hoopinion: 2013. Because they're in the Eastern Conference, even the toxic 30-win 2011 Pistons were only seven games off the playoff pace. A year of development for Monroe and Knight, a good 2012 draft pick and the value Lawrence Frank brings -- beyond being not-Kuester -- should have them pushing .500 within 18 months.

Kyle Weidie, Truth About It: Detroit isn't getting to the postseason for several years. That team thing they did in winning a championship was cute, unique and special in a Larry Brown kind of way. The talent to navigate the ship into postseason waters isn't there, much less so with the now-heightened need for a star to succeed. Set your calendars for 2017.


ESPN.com and the TrueHoop Network
LZ Granderson writes for ESPN.com. Dan Feldman, Patrick Hayes, Bret LaGree and Kyle Weidie contribute to the TrueHoop Network.