After the Carmelo Anthony drama last season, Denver became a powerhouse in the second half of the season and earned the No. 5 seed in the West. Now they have some questions to answer. Chief among them: Do the superstar-less Nuggets have enough talent on their roster to challenge for the top spot in the conference?

Our panel of 5-on-5 experts have the answers:
1. Fact or Fiction: Andre Miller will and should start at PG over Ty Lawson.

Graydon Gordian, 48 Minutes of Hell: Fiction. It's a good problem to have -- either way, the Nuggets have an excellent combination of veteran savvy and youthful athleticism at the point guard position. At this point in their careers, I might give the nod to Lawson, but they should both see a fair amount of time on the floor.

Spencer Hall, Salt City Hoops: Fiction.
Andre Miller will forever have a place in my heart for his spectacular run in the 1998 NCAA tournament. His NBA teams seem to overachieve in the same ways, making him a nice leader for the post-Melo Nuggets. But kids in high school were in diapers the year Miller made the NCAA title game. It's time for Ty Lawson to get the start.

John Hollinger, ESPN.com: Fiction. Lawson is better, younger and more suited to the blistering tempo at which Denver plays best. Additionally, Miller has only one year on his deal and may very well be traded by midseason for younger assets.

Jeff Skibiski, Forum Blue & Gold: Fiction. When Denver traded away Carmelo Anthony, they committed to their youth movement -- and with overwhelmingly positive results in the second half of the season. Miller's veteran savvy will be a valuable asset coming off the Nuggets' bench, but Lawson is still better-suited to run Denver's high-octane offense.


Jeremy Wagner, Roundball Mining Company:
Fiction. Miller is still a good player and he will play plenty of minutes. But these two are on opposite trajectories and it behooves the Nuggets to ensure that Lawson continues to develop. As the saying goes, it is not who starts, but who finishes, and do not be surprised to see Miller and Lawson on the floor together in crunch time a la Lawson and Raymond Felton last season.
---
2. Fact or Fiction: Denver should re-sign J.R. Smith and Kenyon Martin.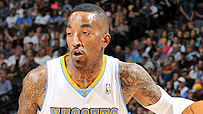 Graydon Gordian, 48 Minutes of Hell: Fiction. Both will demand too high a price for abilities that an incredibly deep Denver team can find elsewhere. It's not necessarily wrong to re-sign either, but don't do it for too much.

Spencer Hall, Salt City Hoops: Fact. I've been a secret Nuggets fan for a few years, and it's been almost completely based on their culture as the antithesis to the Jazz. As much as I love disciplined play from a Jerry Sloan team, there's something wrongly exciting watching an unhinged and ill-advised J.R. Smith and Kenyon Martin go to work. The Denver culture is based on these two; they have to bring them back.

John Hollinger, ESPN.com: Fiction. The Nuggets now have enough wing talent that keeping the mercurial Smith around doesn't justify the headache. Martin could be kept if the price gets low enough, but they shouldn't overreach for a 33-year-old with bad knees.

Jeff Skibiski, Forum Blue & Gold: Fiction/Fact. The J.R. Smith experiment in Denver has run its course. Denver will miss Smith's instant offense, but what their bench loses there, they'll hopefully gain in consistency. On the other hand, Martin is an emotional leader and defensive anchor who should be brought back, albeit on a short-term deal and at a significantly reduced price.


Jeremy Wagner, Roundball Mining Company: Fiction for J.R., Fact for Kenyon. For the first time since they signed Martin to his monstrous contract in 2004, the Nuggets have some payroll flexibility and they should handle it with care. Kenyon is the more important player for the Nuggets since no one on the roster can match his unique set of talents, while Smith remains an enigma. Denver cannot wait forever on J.R.
---
3. Fact or Fiction: Denver must re-sign Arron Afflalo.

Graydon Gordian, 48 Minutes of Hell: Fact. Afflalo is the kind of quality role player who can be signed at a reasonable price. Keep him.

Spencer Hall, Salt City Hoops: Fact. Afflalo is a nice player and seems to fit well with the rest of the team. Denver's hopes rest on having great chemistry, and it takes great role players to make that happen.

John Hollinger, ESPN.com: Fact. Any debate over the importance of this move evaporated when Wilson Chandler agreed to play in China this year. Afflalo is a great complementary player because he can guard all the tough wing players and allow Danilo Gallinari to focus on offense; plus, Afflalo is a very good spot-up shooter and defenses have to respect him. He'll never be more than that, but winning teams need players like him.

Jeff Skibiski, Forum Blue & Gold: Fact. Afflalo's scoring average has increased during each of his first four seasons in the league, including '10-11 when he shot nearly 50 percent from the floor. If the Nuggets are smart, they'll ink him up now and reap the benefits of a potential breakout season on both ends of the court.

Jeremy Wagner, Roundball Mining Company: Absolute 100 percent fact. Afflalo is a dedicated and hardworking player whose never-say-die attitude is something the Nuggets need. He returns from every offseason an improved player, something not every NBA player can boast. Plus, he is the first shooting guard Denver has had who can actually shoot and defend since ... ever.
---
4. Fact or Fiction: Denver cannot let Nene get away.
Graydon Gordian, 48 Minutes of Hell: Fact. Frontcourt players of Nene's quality are not easy to come by. He was the anchor of a team that was surprisingly formidable on the defensive end last season. The Nuggets won't be able to maintain that defensive intensity without him. If you're gonna break the bank for one current player, I'd do it for Nene.

Spencer Hall, Salt City Hoops: Fact. Just like J.R. Smith and Kenyon Martin, Nene is part of that same culture of raw power and emotion. It's hard to imagine the Nuggets without him and I'd be sad to see him go. Teams in the second tier have to hold on to the things that make them relevant. In Denver's case, it's their identity as ferocious. They risk losing that if they give up a competitor like Nene.

John Hollinger, ESPN.com: Fact. He's the best player on the team, and as a young, talented center, he's the hardest to replace. One of the most underrated (and unselfish) players in basketball, he's the closest thing to a star on the new-look, post-Melo Nuggies.

Jeff Skibiski, Forum Blue & Gold: Fact. Nene has quietly emerged as arguably the second-best center in the league, not to mention the most valuable player for Denver's post-Melo squad. Lose the still-improving Nene and the Nuggets also risk losing the incredible chemistry they showed in the second half of last season.


Jeremy Wagner, Roundball Mining Company: That is definitely a fict or a faction. While an All-Star level talent, Nene remains an inconsistent contributor from quarter to quarter, and his lack of rebounding has hounded Denver against the larger front lines of the West; landing a larger quality player to put next to him is easier said than done. Losing Nene would usher in a complete rebuilding project for Denver, but we will dig into that in Question 5.
---
5. Fact or Fiction: The Nuggets are dark-horse contenders in the West.


Graydon Gordian, 48 Minutes of Hell: Fiction. Yes, the Nuggets have what it takes to cause a lot of trouble in the playoffs, and possibly even knock off a more highly touted contender, but I don't see them winning three playoff series against the teams of the West.

Spencer Hall, Salt City Hoops: Fact. The Lakers and Mavericks will be the class of the West when play resumes, but the rest of the field is up for grabs. There's no reason to think the Nuggets couldn't be part of it. They have the rare opportunity to be the star-less team with great chemistry that makes some noise. I don't think they'll win the West, but they have a chance at winning Best in Show.

John Hollinger, ESPN.com: Fact. The Nuggets won 50 games even with the Melo circus last season, going 18-7 after the trade. They have a long to-do list -- identify a starting power forward, keep the key free agents and keep Lawson healthy (his health being an underrated factor in their playoff defeat), but it's a potentially dangerous squad.

Jeff Skibiski, Forum Blue & Gold: Fiction. The Nuggets played their hearts out after they were freed from the shackles of Melo's trade drama. Still, without a true go-to player, their outstanding performance was more fool's gold than that of a true contender for the West crown.

Jeremy Wagner, Roundball Mining Company: Fiction. The Nuggets' post-Melo, late-season we'll-show-you blaze of glory, fueled by selfless play, fell short of producing any playoff success as they floundered down the stretch in close games. The worst outcome of the Melo trade was for Denver to be good enough not to rebuild, but bad enough not to contend. They are staring that possibility in the face, and it might take Nene signing elsewhere to push the team into a rebuilding mode.


ESPN.com and the TrueHoop Network
John Hollinger writes for ESPN.com. Graydon Gordian, Spencer Hall, Jeff Skibiski and Jeremy Wagner write for the TrueHoop Network.