In Portland, a wealth of talent, far too many injuries and waves of turnover in the front office have given fans more of a roller-coaster ride than they really wished for.

So what happens now? Is this the year that things calm down in Rip City? Can Brandon Roy and Greg Oden return to their former glory? Are the Blazers a team to be reckoned with?

We take a crack at solving this enigmatic team, 5-on-5 style:
1. Are Raymond Felton and Wes Matthews the answer in the backcourt?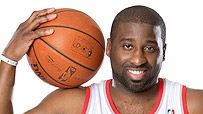 Henry Abbott, TrueHoop: Not if you want to win a title! Even as Brandon Roy, Greg Oden and LaMarcus Aldridge approach the age they should be peaking, two out of three are injured and the team is nowhere near the NBA Finals. And now the backcourt is a pair of guys who are here because their last teams didn't rate them as top players.

Tim Donahue, Eight Points, Nine Seconds: Reggie Miller and Mark were "the answer" in the backcourt. Chauncey Billups and Rip Hamilton were "the answer" in the backcourt. Rajon Rondo and Ray Allen have been "the answer" the backcourt. Raymond Felton and Wes Matthews are just a couple of good guys who are better than most think, but not as good as you'd like for "the answer."

Jordan Heimer, ClipperBlog:
Not unless the question is "Which Western Conference backcourt will play hard on defense and jack up a huge amount of 3-pointers?" Felton and Matthews are solid players who should help spread the floor for LaMarcus Aldridge, but in a league currently stacked with elite guards, two guys who will never sniff an All-Star Game can't really be called "the answer."

J.M. Poulard, Warriors World: They will be a decent-shooting backcourt that will be able to match the production of and occasionally overwhelm some other guards throughout the regular season. Will they be able hold their own, especially late in playoff games, against the likes of the Mavs, Lakers, Spurs and Thunder? For now my answer is no.

Andrew Tonry, Portland Roundball Society: I love Andre Miller and will miss him. Nonetheless, the steely-eyed veteran point guard wasn't enough to put the Blazers over the hump. He was only getting older. But right now, Raymond Felton feels like a downgrade, so it's hard to imagine the Blazers getting immediately better. And as it stands neither of the Blazers' backcourt starters, Felton and Matthews, is of All-Star-caliber talent. These days that's not enough.
---
2. What do you expect to become of Brandon Roy?
Henry Abbott, TrueHoop: He'll work his tail off to fight through injuries to become, essentially, Michael Jordan -- from the immobile Wizards years.

Tim Donahue, Eight Points, Nine Seconds: What do I expect? Just enough flashes of greatness to remind us all of how much his knees are stealing from him. What do I hope? Well, if I can't ask for a full recovery, then I'd hope that his body will permit him to at least get back to where Grant Hill has gotten.

Jordan Heimer, ClipperBlog: I'm not a doctor and I don't play one on TV. But basketball players need knees, and knees, in turn, need cartilage. Sure, some players are able to adapt their games in response to injuries, but it's hard to see how a player formerly famed for his "sneaky speed" can be effective without healthy knees.

J.M. Poulard, Warriors World: Given the knee concerns, one would think that he would maintain his role as a player coming off the bench. If he can accept the new direction, he might become the next coming of The Microwave, Vinnie Johnson. Indeed, he can still score, handle the ball and set up his teammates, which would make him a terrific sixth man.

Andrew Tonry, Portland Roundball Society: I expect Brandon Roy to do his best. I expect him to work hard and very occasionally harness that vintage, unstoppable, game-taking clutch talent. Roy will continue to be loved in Portland -- not for his contract, but for his heart. Barring any unforeseen advance in medical science, Roy will come off the bench. But even if he could deliver sixth-man-of-the-year impact -- which he cannot -- Roy's max deal will hamstring the Blazers. Indeed, the contract is quickly becoming one of the NBA's worst.
---
3. What do you expect to become of Greg Oden?
Henry Abbott, TrueHoop: He's a nice guy. Seems cruel to answer that question honestly in print. I'll say this: There's still a chance, not saying a big chance, he could start on a really good team.

Tim Donahue, Eight Points, Nine Seconds: Nothing. I'm not even sure I have hope at this point. If -- if -- he could ever get healthy, I see a good-to-excellent defensive center, but the demands of the NBA are just so unforgiving to a damaged body. Man, first Brandon Roy and now my fellow Hoosier Greg Oden. This is more depressing than the lockout. Make it stop.

Jordan Heimer, ClipperBlog: Unfortunately, when a player has lost three of his first four seasons to injury, what you expect is more of the same. What I hope is that he's healthy enough to play 60-70 games. Unlike Roy, even a reduced Oden could still be an effective piece, pacing the Blazers defensively and on the boards.

J.M. Poulard, Warriors World: It's hard to imagine Oden being able to play anything more than 50 to 60 games per season; but when he does suit up he is a quality defensive center that impacts the game despite his limited play due to foul trouble. His career numbers per 36 minutes: 15.3 points, 11.9 rebounds and 2.3 blocks per game.

Andrew Tonry, Portland Roundball Society: I'm through guessing. Great if he makes it, too bad if he doesn't. All I know is that I wouldn't want to be the new Blazers GM and be forced to gamble on Oden as my first order of business. It's make or break. Welcome aboard. Oh, and the owner's a bit, shall we say, eccentric.
---
4. Are Nicolas Batum and LaMarcus Aldridge future All-Stars?
Henry Abbott, TrueHoop: You don't have to squint very much to see Aldridge making the cut -- he puts up big numbers. But he'll miss Andre Miller's lobs, his main sources of easy buckets. Batum remains tantalizing, but I worry he may be like Rudy Fernandez -- suited to an offense that creates more space and movement than Portland's.

Tim Donahue, Eight Points, Nine Seconds: I'd say probably for Aldridge and probably not for Batum. In the East, I'd consider it more likely -- see: All-Star Jamaal Magloire -- but it's always tough in the West. Aldridge seems poised to reach that level, but I think a lot would have to happen to get Batum there.

Jordan Heimer, ClipperBlog: As great as Tim Duncan is, last season was probably his final All-Star appearance. Unless Lamar Odom has a monster first half, Alridge is a good bet to take the vacated spot. Batum's a much longer shot. He's a nice player, but "nice players" rarely crack the All-Star team in the West.

J.M. Poulard, Warriors World: Batum is a terrific player but unless he gets more scoring opportunities he will not become an All-Star. Aldridge on the other hand is one of the best power forwards in the league. Also, Duncan's selection last season was essentially a career achievement reward, but such will not again be the case, thus opening the door for LaMarcus.

Andrew Tonry, Portland Roundball Society: Aldridge will be an All-Star for sure. Perennial Western power-forward Tim Duncan will so bequeath his spot. Plus a number of good West Coast big men have headed east in recent years. If Zach Randolph can do it, Aldridge is a shoo-in.
---
5. On a 0-to-100 scale, rate Portland's chances of cracking the West elite.

Henry Abbott, TrueHoop: I'd say there's about a 1-in-3 chance that a team with LaMarcus Aldridge as its best player makes a Western Conference finals in the next several years. (How's that for sounding really specific while being really vague?)

Tim Donahue, Eight Points, Nine Seconds:
This is pretty interesting. The Lakers, Spurs and Mavs all have a lot of miles on them, and the Thunder are the only elite team with youth. Nobody else seems to be coming hard, and Portland is even with or ahead of other hopefuls in Denver, Memphis and New Orleans. Let's call it 70/30.

Jordan Heimer, ClipperBlog: 10 -- or whatever the odds are that absolutely everything breaks right. If LaMarcus is as good as he was last season. If Oden and Roy somehow defy medical science and play full seasons. If McMillan can keep the team playing hard-nosed basketball night after night. If the Lakers, Mavs and Thunder contract Portland's bad luck. If ... you know what? 10 is high.

J.M. Poulard, Warriors World: 60. Joining the elite would mean that Portland would be somewhere among the best three teams or four teams in the Western Conference; and for the time being those are Dallas, Los Angeles and Oklahoma City. Now add the up-and-coming Nuggets, Grizzlies and Clippers, and things could potentially get tougher for the Blazers.

Andrew Tonry, Portland Roundball Society: Up here in Portland basketball season comes at the same time as the rain. It's not a hopeful time of year, and neither is the Blazers' immediate outlook. The roster has gone from deep and promising to thin and questionable. Nonetheless, with Nate McMillan pushing, the Blazers will continue to overachieve. They just won't be contending for a title anytime soon.


ESPN.com and the TrueHoop Network
Henry Abbott writes for TrueHoop. Tim Donahue, Jordan Heimer, J.M. Poulard and Andrew Tonry contribute to the TrueHoop Network.