Which way are things leaning heading into the 2011-12 season? After breaking down every team in the Association, our 5-on-5 squads now take aim at the top debates in each division.

Assuming all CBA-related issues are solved in order to start the season on Nov. 1, here's what we see for the rough-and-tough Southwest:
1. Over/Under: The Mavs reach the Western Conference finals.
Note: Over means they reach the NBA Finals. Under means they do not reach the West finals. Push means they lose in the West finals.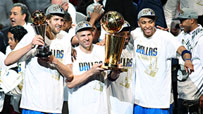 Rob Peterson, Hardwood Paroxysm: Under. As much as the Mavs captured (most) everyone's hearts in the Finals, I believe they will suffer from a bit of a championship hangover. Plus, they're getting a bit long in the tooth. How much do they have left in the tank? Will they be hungry? I'm thinking it will be Lakers and Thunder in the West finals.

Chris Palmer, ESPN The Magazine: Push. The Mavs' miracle run to capture their first title was impressive on many levels. But nearly as impressive were the strides the young guns from Oklahoma City made. This season the Thunder will take the next step and represent the West in the Finals by toppling the Mavs in the conference finals. Sure Dallas will have Caron Butler in the mix but it won't make much of a difference against an OKC team that's a year wiser and dying to erase the sting from last season's loss to Dallas.

Andrew McNeil, 48 Minutes of Hell: Push. The chances of Dallas making the NBA Finals again are slim, in my opinion, but I don't think any Western Conference contender improved itself enough through the draft or trades to keep the Mavs or Thunder from the West finals.

Graydon Gordian, 48 Minutes of Hell: Push. The Mavs are that peculiar breed of team that could lose in the first round or win another title. But I think they've got enough left in the tank to make it back to the West finals, where an up-and-comer will emerge as a true contender and knock the Mavs off.

Justin DeFeo, Nets Are Scorching: Under. Last season, the Mavericks had one of the more improbable runs in playoff history, so don't expect a repeat. They still have Dirk, but with another season on the knees of aging veterans like Jason Kidd and Shawn Marion, and with improving rosters in Oklahoma City and Memphis, the road to the Western Conference finals will be much tougher this time around.
---
2. Over/Under: 50 wins for the Grizzlies in 2011-12.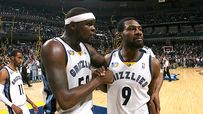 Rob Peterson, Hardwood Paroxysm: Over. Adding Rudy Gay back into the mix may take some time, but after their impressive run in the postseason, you have to believe they have the pieces and the desire to get to 50. That goal and the ability to have home-court advantage for at least the first round, and maybe the conference semis, should keep them in the hunt for 50-plus.

Chris Palmer, ESPN The Magazine: Over. They won 46 with their second-leading scorer, Rudy Gay, playing only 54 games. Much like the Thunder, this is another relatively young team on the rise with the ability to out-gun opponents. With the continued development of Marc Gasol and Mike Conley, they've got a quality player at every position.

Andrew McNeil, 48 Minutes of Hell: Tentative over. Assuming the Grizzlies aren't hurt too much by free agency when it begins, there's a lot of talent on this roster, young talent. They could develop into a perennial Western Conference playoff contender. I'm just as amazed by this as you are.

Graydon Gordian, 48 Minutes of Hell: Over. This young Grizzlies team, beaming with newfound confidence, is going to have a great year. They played so well in the playoffs that many people forget that they were doing so without Rudy Gay, arguably their best player. They will reach 50 wins easily.

Justin DeFeo, Nets Are Scorching: Over. 50 wins is only a four-game improvement from the 2010-11 regular season -- an easy task for a team with renewed confidence after its recent playoff success. Better still, the Grizzlies will return Rudy Gay to their already-improving roster.
---
3. Over/Under: 82 more games played in New Orleans for Chris Paul.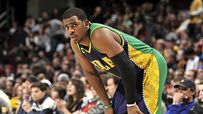 Rob Peterson, Hardwood Paroxysm: Under. Considering he's never played 82 in his career, I'll stay with the safe prediction. As for sticking around the Crescent City after the trade deadline, Paul is in the last year of his deal. Like the Nuggets with Melo, would the Hornets want to get something for Paul before he's a free agent? That would be the smart play.

Chris Palmer, ESPN The Magazine: Under. Things aren't exactly looking as bright as they could be in New Orleans. You gotta feel sorry for Paul having to constantly be in a situation defined by discord, turmoil and uncertainty. His desire to play for a winner or help build one in New York is well known. Paul's rep is that of being extremely loyal to the Hornets. But it's time to move on. They've got to give him what he wants and trade him to a place where he can be happy while getting quality replacements in return.

Andrew McNeil, 48 Minutes of Hell: Over. The hot trend for NBA superstars is to find themselves some top-tier teammates and try to take on the world. Chris Paul doesn't seem wired that way. He's a fiery, competitive guy out on the court. Few superstars take offense with losing as much as him. I see him sticking around in New Orleans for a while.

Graydon Gordian, 48 Minutes of Hell: Under. Will the Hornets realize that Paul is leaving town either way and try to get value back for him in a trade? Will Paul exercise his player option at the end of a shortened season? How many more seasons will the Hornets play in New Orleans? The odds seem stacked against 82 more games in Louisiana for Chris Paul.

Justin DeFeo, Nets Are Scorching: Under. It's clear the landscape of the league is shifting, leaving Chris Paul with no other choice but to join forces with another star in order to compete for a championship. It's unlikely that the Hornets will attract a suitable running mate in New Orleans, so next season will be Paul's last there.
---
4. Over/Under: 55 wins for the Spurs next season.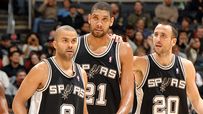 Rob Peterson, Hardwood Paroxysm: Under. Though, every time I think the Spurs will slide, they prove me wrong. Last season, they proved everyone wrong. I don't think they have another 55-win campaign in them. No one manages his players' minutes as well as Gregg Popovich, but not even he can make Tim Duncan or Manu Ginobili young again. They've had their time.

Chris Palmer, ESPN The Magazine: Under. I think it's officially over in San Antonio. The way they got bounced in the first round by Memphis was demoralizing. Age, injuries and now apathy will finally do them in. They may creep to 50 wins but I'm seeing another first-round exit in their very near future, too.

Andrew McNeil, 48 Minutes of Hell: Tough call, I'm going to say under. A lot of things went right for the Spurs last season up until the latter stages of the regular season, and then a lot of things went wrong. The type of players the Spurs want to bring in won't help them win games in the regular season.

Graydon Gordian, 48 Minutes of Hell: Push. Fifty-five wins sounds about right for a team that, although no longer a contender, will still be formidable. With the Spurs locked into a few big contracts that no one else will want, they have no choice but to make one more title push. They'll fall short of their goals, but along the way they'll manage to win 55.

Justin DeFeo, Nets Are Scorching: Under. That slam you heard? That was the sound of the Spurs' title window closing. With the core of Tim Duncan, Manu Ginobili and Tony Parker getting older by the day, the Spurs are at the tail end of a dynasty.
---
5. Over/Under: One more season in lottery before Rockets make playoffs.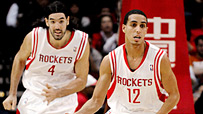 Rob Peterson, Hardwood Paroxysm: Push. I think they're on the outside looking in one more season. Losing Yao Ming to retirement won't hurt them. Essentially, he hasn't played for them in two seasons. It's having a new coach and a shortened offseason that will hold them back. They're going to need time to learn Kevin McHale's system, style, manner.

Chris Palmer, ESPN The Magazine: Under. Rockets are back in this season. They'll squeak into the playoffs at the No. 8 spot. So if they're in that logically means somebody from last season is out. I'm looking at you, New Orleans Hornets. The 39 wins you'll get won't be enough. With Kevin McHale in charge of an underrated mix of young talent in Houston, the Rockets are headed in the right direction. The difference? Hasheem Thabeet finally has his breakout year.

Andrew McNeil, 48 Minutes of Hell: Over. I don't think the Rockets improved themselves enough through the draft. What they really need to do is bottom out and get a high lottery pick. They're in NBA purgatory right now, contending for the playoffs and then ending up with a terrible lottery pick.

Graydon Gordian, 48 Minutes of Hell: Over. Although the Rockets have plenty of young talent, and could easily make the playoffs this coming season, it will take a couple of years to fill the hole left by Yao Ming's retirement. Until they can get their hands on a true franchise player, they'll be just outside the playoff pack.

Justin DeFeo, Nets Are Scorching: Over. I'd expect the Rockets to again be in the playoff hunt in the Western Conference. But with a roster filled with relatively unproven players (outside of Luis Scola) and a new coach, there are still too many question marks to say Houston will make the playoffs next season. This team still feels at least a year away.


ESPN.com and the TrueHoop Network
Chris Palmer writes for ESPN The Magazine and ESPN Insider. Justin DeFeo, Graydon Gordian, Andrew McNeil and Rob Peterson contribute to the TrueHoop Network.