The stars will certainly be out in full force in the Southeast Division in 2011-12. But with great power comes great questioning of their abilities.

How many titles will the Miami Heat's stars bring back to South Beach? For how much longer will Orlando's supersized superstar man the middle for the Magic? Do the Charlotte Bobcats even have a star?

Those are just some of the questions our panel tackles in today's game of Over/Under, Southeast-style.
1. Over/Under: Three titles for Miami's big three.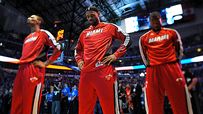 Nate Drexler, Magic Basketball: Under. The Heat will figure things out, and I do believe they have another gear that has not been seen. I expect at least one championship, maybe two, but to bet on three puts them in Kobe/Shaq/Jordan territory, and that is walking on eggshells.

Tom Haberstroh, Heat Index: Push. Here's another question: Will the Miami big three even have three seasons together? I can envision a scenario in which Chris Bosh helps the Heat win a couple titles and then decides he wants to be a No. 1 option again elsewhere. If the Heat trio decides to re-up on their contracts after 2013-14, I can see more than three titles, but that's an Eddy Curry-sized "if."

John Krolik, Cavs: The Blog: Over. The team was basically two quarters away from a title last season, their core is young, and I think they're only getting better. Still, there's no such thing as an easy championship, so I wouldn't be surprised if they came away with none either.

Spencer Wellesley Percy, Queen City Hoops: Over. These guys will figure it out; they're simply too good not to. No East team will get in their way, and OKC will be a speed bump, not a red light.

Kyle Weidie, Truth About It: Under. Title windows will close even quicker as other stars join forces and if the new CBA shortens the length of contracts. Miami's big two of James and Wade is good for a stellar regular season, even a good playoff run or so in a vulnerable year. But consistent championship material they are not.
---
2. Over/Under: 82 more games played in Orlando for Dwight Howard.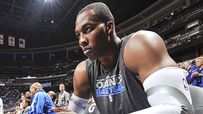 Nate Drexler, Magic Basketball: Push. It's a shame because the Magic could cash in big-time on Dwight if they decided to trade him before the end of the season. Free agency will be as anticlimactic as it is foolish, but that is kind of how Otis Smith rolls.

Tom Haberstroh, Heat Index: Under. The rubble in Cleveland after LeBron took his talents to South Beach? That will be in Orlando if Howard walks without an extension. Considering Howard's charisma and off-court marketability, I see him leaving for brighter pastures in his prime. The question becomes whether the Orlando organization has the stones to get a return on his departure or not.

John Krolik, Cavs: The Blog: Under. We're assuming the season starts on time, Howard goes all 82 again and doesn't leave at the end of the season or before. Assuming two out of those three things will happen is optimistic.

Spencer Wellesley Percy, Queen City Hoops: Under. He wouldn't sign an extension with Orlando last season, so I would take that as a sign that he'll be gone before the start of the 2012-13 season.

Kyle Weidie, Truth About It: Under. Howard's penchant for technical fouls will force him to miss at least one of 82 regular-season games, even if he stays in Orlando -- which isn't likely given a McDonald's-sized ego that desires to be the center of attention in a bigger market.
---
3. Over/Under: Four East teams are better than the Hawks.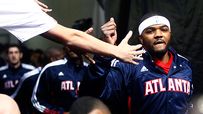 Nate Drexler, Magic Basketball: Over. The Hawks have been a perpetual 5-seed for years, and the Knicks will likely take that "best of the bottom four" crown from Atlanta this season when playoff time comes around. Atlanta suffers from mediocrity and lack of star power. At least the Knicks have star power.

Tom Haberstroh, Heat Index: Over. Although, I'm not all too confident about that. Here's why: We don't know what the new CBA will bring or how free agency will shake out. Each of those big-time variables greatly affect the Hawks' competition: the Pacers and the 76ers. I'll hedge and say one of those two teams cruises by the Hawks, and that's before we consider Melo and Amare.

John Krolik, Cavs: The Blog: Over. I don't see the Hawks moving in a positive direction. The Bulls, Celtics and Heat will definitely finish ahead of them, and at least one or two other teams will be good enough to stay ahead of them.

Spencer Wellesley Percy, Queen City Hoops: Over. Of the East teams that finished ahead of them -- Chicago, Miami, Boston, Orlando -- the Magic are the only questionable one. But I still don't see the Hawks in the top 4 happening.

Kyle Weidie, Truth About It: Under. The Hawks have a couple things working for them: (1) Barring a trade, Kirk Hinrich is under contract for another season, and he's more than glue -- he's like trying to chew six saltine crackers, peanut butter and honey at the same time. (2) They no longer have in-fighting ownership; new owner Alex Meruelo aims to be the pizza parlor to Mark Cuban's dot-com.
---
4. Over/Under: Six All-Star Game appearances in John Wall's career.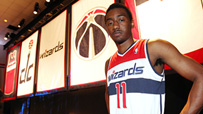 Nate Drexler, Magic Basketball: Under. It takes something special for a scoring point guard to appear in the All-Star Game. Wall will be competing with D-Rose and Deron Williams for the next few seasons, leaving little hope for multiple appearances. Here's the other thing: It helps to be on a good team to land a roster spot on the All-Star team. Wall is at a distinct disadvantage.

Tom Haberstroh, Heat Index: Under. There's a chance that Chris Paul, Derrick Rose, Rajon Rondo and Deron Williams pace the Eastern Conference All-Star squad for years to come. All-Star rosters typically leave room for two to three point guards for each squad. After considering the potential competition, six selections suddenly seems high. Five? I'm cool with that.

John Krolik, Cavs: The Blog: Under. Six All-Star games is a lot. Wade and Rose are still young, the Wizards won't be good soon, and Wall still has a seriously, seriously broken jumper. He has the talent to do it and I'd love to see it happen, but I'd feel more comfortable predicting two or three. Then again, if he makes it in the next year or two, six is probably a conservative number.

Spencer Wellesley Percy, Queen City Hoops: Over. But that's assuming the Wizards get a little better in the next few seasons. But even if their record isn't any better next season, the potential for an exciting brand of basketball, especially with Jan Vesely in the mix, will draw some attention to Wall.

Kyle Weidie, Truth About It: Push. Yi Jianlian's likely departure from the Wizards hurts. (Remember when Steve Francis was voted a starter in '04? Thanks, Yao Ming.) But Wall still has the charisma and moxie to boost his rep in the NBA's popularity contest. Coaches love what he has, too, so Wall will often get their vote. Now he just has to win.
---
5. Over/Under: One future star on the Bobcats' roster.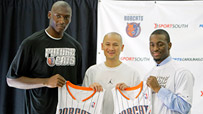 Nate Drexler, Magic Basketball: Push. Bismack Biyombo has a higher ceiling than Kemba Walker, and despite what he was able to do at UConn, I don't see Kemba joining the likes of D-Rose or Chris Paul at the pro level. And let's face it -- that's what it takes for a scoring guard to be a star.

Tom Haberstroh, Heat Index: Under. On this squad? No way. Although I will say that there's a strong possibility that Kemba Walker and Bismack Biyombo each receives a gold star from me one day. That's an endorsement, right?

John Krolik, Cavs: The Blog: Under. I think Biyombo will be their best player in two or three years and a guy every coach in the league would kill to have on their roster, but I don't think he'll be a "star." Although I think he'll be better than some "stars," like Monta Ellis, if that makes sense. Kemba can be solid, but he's not a star either.

Spencer Wellesley Percy, Queen City Hoops: Under. Kemba has the best chance, but nobody really has a good idea about what he will evolve to become in the NBA.

Kyle Weidie, Truth About It: Under. If this were 2001, I'd still say no; Kwame Brown has tiny hands. But if the definition of "star" is "will one day appear in an All-Star Game," then yes. Kemba Walker might do. Remember: Jamaal Magloire was once an All-Star.


ESPN.com and the TrueHoop Network
Tom Haberstroh contributes to ESPN.com's Heat Index and ESPN Insider. Nate Drexler, John Krolik, Spencer Wellesley Percy and Kyle Weidie write for the TrueHoop Network.