Now, we're getting to the best the game has to offer.

The #NBArank countdown is approaching the top 100 in the NBA. Which players in that neighborhood are reckoned too high or too low?
1. Which team should have the most players in the #NBArank top 100?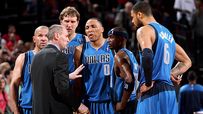 Nate Drexler, Magic Basketball: Dallas may have just won a championship, but I think the Blazers should have the most in the top 100. You certainly can't call Portland "star-studded," but top-100 players go well into the Blazers' bench. In fact, what they probably need is a true superstar to complement their host of talent.

Joe Gerrity, Hornets 24/7: Dallas seems like an obvious choice since us basketball-deprived writers probably still have championship memories floating around inside our minds, but Memphis is the deepest team in the league. Grizz it is.

Tom Haberstroh, ESPN.com: Mavericks. Few teams can compete with the defending champs for roster depth top to bottom. And you can thank owner Mark Cuban's pocket depth -- and smarts! -- for that.

James Ham, Cowbell Kingdom: The way it usually works out is that the guy who spends the most money usually has the most toys. That guy is typically Mark Cuban, so I'm going to say that the Dallas Mavericks should have the most players in the top 100. The Mavs go 10 deep; something the Lakers, Heat or Bulls only dream about.

Rob Mahoney, The Two Man Game: Dallas. The Mavs' unorthodox distribution of talent was once considered one of the team's weaknesses, but things seemed to work out for them in June. Dallas is definitely a one-superstar club, but in the past year they've proved that such a model can fly in the face of top-heavy two- or three-star outfits, largely due to the strength of the team's incredible depth in the 50-100 range.
---
2. Which team should have the fewest players in the top 100?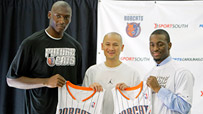 Nate Drexler, Magic Basketball: The Bobcats. Some fans might place Kemba Walker on the list, but being that he (and many others) are untested, a top-100 goose egg is in order.

Joe Gerrity, Hornets 24/7: I don't recall seeing His Airness on the list. If we're not counting him, Charlotte is looking particularly short of century club members.

Tom Haberstroh, ESPN.com: The Bobcats. However, Tyrus Thomas was the owner of a top-51 player efficiency rating last season. He ranked 51st among qualified players, but he stayed on the bench most of the time. Charlotte's only hope of a top-100 player next season may be another unretirement from Michael Jordan.

James Ham, Cowbell Kingdom: This is tough. Cleveland? Charlotte? Both of these teams have done a solid job of hitting the reset button by clearing out both salary and talent over the past few seasons. At least Cleveland has two top-5 picks to build around for the future. I think Charlotte gets the nod, but it's close.

Rob Mahoney, The Two Man Game: Charlotte. The Bobcats have a number of likable young players, but they're sorely lacking in top-level talent. Tyrus Thomas and D.J. Augustin deserve consideration for the latter spots of the top 100, but ultimately they're edged out by other players due to inconsistency (though mostly due to injury) and defensive limitations, respectively.
---
3. Which player in the #NBArank top 100 deserves it least?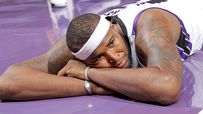 Nate Drexler, Magic Basketball: I am not ready to have DeMarcus Cousins in the top 100. His scoring might be a bit inflated based on his unfortunate position playing for the Kings. For a guy with his athletic ability, I can't justify a top-100 spot with a player efficiency rating below 15.

Joe Gerrity, Hornets 24/7: I can't think of anyone to pick except Brandon Roy. Sorry. The isolation specialist shot 40 percent and had a sub-14 PER last season. Not to pile on, but he was out for months with pain in both of his cartilage-free knees. Maybe the lockout does him wonders. I'm not betting on it.

Tom Haberstroh, ESPN.com: J.J. Barea. Meet the next James Posey. Good complementary player who will be vastly overpaid because he won a championship alongside some elite teammates. Correlation is not causation and all that.

James Ham, Cowbell Kingdom: Marcus Camby tops my list of players who no longer deserve a spot in the top 100. Sure, he still rebounds and blocks shots, but at age 37, Camby is an offensive liability who shot less than 40 percent from the field last season. The offseason arrest and charge of marijuana possession doesn't help, either.

Rob Mahoney, The Two Man Game: Shane Battier may be one of the defining perimeter defenders of this NBA generation, but his top-100 ranking is far too favorable. Battier's defensive rep far exceeds his value on that end at this point in his career, and his offensive game doesn't do enough to compensate for the drop off. Overall, Battier's a useful player, but a place in the top 100 is stretching it.
---
4. Which player not in the #NBArank top 100 deserves it most?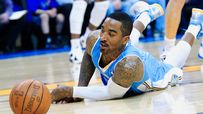 Nate Drexler, Magic Basketball: I'm going with J.R. Smith (No. 110). Athleticism, big playmaking and clutch factor. These are the things you look for in a role player (who should be a full-time starter). J.R. was unfortunate to be paired with Carmelo Anthony rather than a true championship contender for most of his career. If consistency is a gauge, then "the prodigy" is something special. Top 100 for sure.

Joe Gerrity, Hornets 24/7: Kyrie Irving (No. 140). If he's good enough to be the No. 1 pick in the NBA draft, then in my mind he deserves to be top 100 right off the bat as well.

Tom Haberstroh, ESPN.com: Nick Collison (No. 115). The superb defender does all the little things that go unnoticed (cliché alert!). But here's why that statement isn't just sportswriter fluff: The big man perennially ranks among the league's best in adjusted plus-minus. Top players over the last two seasons in that category? LeBron, Durant, Nash, Chris Paul, Dirk and … Nick Collision. He's doing something very right.

James Ham, Cowbell Kingdom: DeMar DeRozan clearly should have been ranked higher in my opinion. I expect huge numbers in 2011-12 from the high-flying third-year guard out of USC. DeRozan improved in almost every category last season except 3-point shooting, something I'm sure he's working on this offseason.

Rob Mahoney, The Two Man Game: Greg Monroe. There's always danger in projecting value based on late-season performance, but Monroe appeared to turn a legitimate corner with the introduction of the 2011 calendar year. He's a smart, skilled player with a long career ahead of him, and he should already be listed among the league's top 100 players based on his rookie-year exploits.
---
5. Which player not in the top 100 will eventually rise the highest?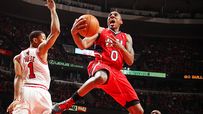 Nate Drexler, Magic Basketball: Jeff Teague (No. 187). Teague's game is explosive, and with Atlanta in need of a makeover, he will likely find a more productive niche than he is in right now.

Joe Gerrity, Hornets 24/7: Kyrie Irving, but if we take the 2011 draft class out of the picture, then I'll go with DeAndre Jordan (No. 114). He took some pretty meaningful strides last season, and has all the tools to emerge as one of the top centers in the league before too long.

Tom Haberstroh, ESPN.com: Jonas Valanciunas (No. 313). Key word: eventually. No one in the 2011 draft has a higher ceiling than this guy. As an 18-year-old in the Euroleague last season, he averaged 7.6 points and 5.4 rebounds in 14.9 minutes per game on 71 percent shooting. Translated to 40 minutes per game? 20 points and 15 rebounds. Not bad, kiddo.

James Ham, Cowbell Kingdom: I'm going to sound like a Kings homer on this one, but if Marcus Thornton (No. 136) can avoid the temptation to sign overseas, he is primed for a huge breakout season. Look for Thornton and Tyreke Evans to form one of the highest-scoring guard tandems in the league in 2011-12.

Rob Mahoney, The Two Man Game: Again, I turn to Greg Monroe. He has all the makings of a franchise center and should impact the game in numerous ways for the Pistons for the next decade-plus. Monroe -- who currently sits at No. 132 -- is a considerable talent, and though his ceiling isn't quite as high as, say, DeMarcus Cousins, he'll settle comfortably into a role as a career-long difference-maker playing the most valuable position in basketball.


ESPN.com and the TrueHoop Network
Tom Haberstroh writes for ESPN.com. Nate Drexler, Joe Gerrity, James Ham and Rob Mahoney contribute to the TrueHoop Network.