Four hundred players were left outside the top 100 in our #NBArank players rankings. But how would those lucky players who made the cut fare when isolated against a player from a pivotal moment in their past or present?

After dissecting some of the intriguing subplots of players Nos. 91-100 on Tuesday, today's team takes aim at a few of the best debates in the next batch of 10:
1. Who should be ranked higher: Chris Kaman or DeAndre Jordan?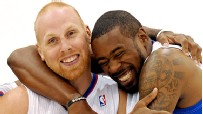 Tim Donahue, 8 Points, 9 Seconds: Jordan. I'd place Jordan ahead of Kaman right now, because Jordan gets extra credit for attendance. Kaman missed 50 games last season, and Jordan took the starting center role for the Clippers. Jordan is still raw and may or may not keep pace with a healthy Kaman, but for this season he comes out on top.

Bret LaGree, Hoopinion: DeAndre Jordan. Kaman might still be better when he's on the floor, but 90% of success is showing up.

Ian Levy, Two-Man Game: Kaman has averaged 49 games per season over the past four seasons and seen his true shooting percentage decline each of the past two. Jordan is headed in the opposite direction. He was top 10 in the league last season in offensive rebound percentage and top five in block percentage. He also dunked a higher percentage of his shots at the rim than any other player in the league. Jordan is more valuable now, and has a brighter future.

Chris Palmer, ESPN The Magazine: Kaman. Although he's missed 107 games in the past three years, Kaman is still a better player than Jordan despite the recent defensive strides the young center has made. At his best, Kaman is a poor man's Dirk when he's got that high-arching baseline jumper going. And somehow Kaman is still not yet 30.

Jeremy Schmidt, Bucksetball: Jordan. On the surface, a comparison of Jordan and Kaman appears to be one of potential versus proof, but Jordan has developed quickly as Kaman's dealt with the reality of injuries and age stunting his game's growth. Jordan's a better rebounder and defender and he refuses to miss around the hoop. Kaman has better touch, but hasn't broken 50 percent shooting in years.
---
2. Who should be ranked higher: Andre Miller or Raymond Felton?
Note: On draft day, the Blazers traded Miller, the rights to Jordan Hamilton and a future second-round pick to the Nuggets for Felton.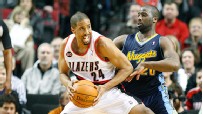 Tim Donahue, 8 Points, 9 Seconds: Felton played relatively well for the Knicks last season, but not so much after the trade to Denver. I've always liked Andre Miller, but he also has always left me vaguely disappointed. Miller was an easy choice two years ago. Felton has closed the gap considerably, but hasn't erased it, so I'm going with Andre.

Bret LaGree, Hoopinion: Whichever point guard has the lower playing weight. My money would be on Miller more closely approximating his listed weight of 200 pounds than Felton's 205.

Ian Levy, Two-Man Game: Felton. Felton and Miller were close in production last season. The difference is Miller was entrenched as the starter for the same team all season. Felton began the season on a new team, was traded midseason and went from starting to backing up Ty Lawson. In a consistent situation, Felton will show he has more to offer than Miller.

Chris Palmer, ESPN The Magazine: Miller. Dre is among the best in history to never make an All-Star Game and, alongside Jason Kidd, is one of the purest PGs of his generation. Few know how to run a team better, and that's what point guards are supposed to do. He's durable, too: In 12 years, he's never played in fewer than 80 games.

Jeremy Schmidt, Bucksetball: Miller. His terrible 3-point shooting is an easy target, but he acknowledges that on the court and limits his attempts. He plays to his above-average skills as a passer and as a court general. Felton's not a bad player, but as soon as he left Mike D'Antoni's point guard-friendly offense, he quit thriving and began playing the same average basketball he's always played.
---
3. Who should be ranked higher: Elton Brand or Thaddeus Young?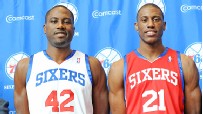 Tim Donahue, 8 Points, 9 Seconds: Soon, Thad, but not yet. Brand is still proven and productive, while Young is still evolving. It's easy to confuse Elton Brand with "Elton Brand's contract," but he's still the better player for the time being.

Bret LaGree, Hoopinion: Elton Brand on the basis of his surprising resurgence last season. Thaddeus Young is a useful player but hasn't defined his play well enough to make himself essential.

Ian Levy, Two-Man Game: This will probably change by next year, but right now it's Brand. Even at this stage he has more offensive skills than Young. He also provides much more in the rebounding and defense departments. Despite all the questions about durability and age, he also played 674 more minutes than Young. Elton Brand for now, but ask me again next summer.

Chris Palmer, ESPN The Magazine: Brand. This one's easy. While Young's skill set is a bit more diverse and perimeter oriented, Brand simply does what he does better. He's taken to living around the foul line on offense -- content to pop J's -- but he can still bang with the best. His jump hook is also still among the very best in the league. He's got every veteran trick in the book and is a respected leader who his young teammates hold in high regard, which enhances his value.

Jeremy Schmidt, Bucksetball: Young. Brand showed signs last season that his scoring may be on the way back -- he hit better than 50 percent of his shots for the first time in four seasons. But he requires entire possessions centered around him, similar to Zach Randolph. And Brand is no Randolph. Young can adapt to those around him more easily and score efficiently.
---
4. Who should be ranked higher: Jason Richardson or Marcin Gortat?
Note: In December, Phoenix traded Richardson, Earl Clark and Hedo Turkoglu to Orlando for Gortat, Vince Carter, Mickael Pietrus, a first-round pick and cash considerations.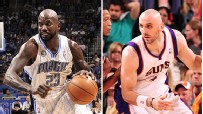 Tim Donahue, 8 Points, 9 Seconds: Richardson. I would take Gortat for my team, but I would rank J-Rich higher. But get back to me next whenever-they-finish-a-season. Gortat's résumé as a starter is too thin to put ahead of an aging, but still relatively capable Richardson.

Bret LaGree, Hoopinion: Marcin Gortat. In a tight contest, rebounding narrowly beats out 3-point shooting.

Ian Levy, Two-Man Game: Marcin Gortat. He's an above-average defender, a terrific rebounder and an efficient scorer. At this point in his career, Richardson is mostly a spot-up shooter. In assessing current quality, I usually prefer the dynamic, efficient big man to the aging jump shooter.

Chris Palmer, ESPN The Magazine: Richardson. In the right system, J-Rich can still fill it up in a big way. I expect his numbers to creep back up toward his Phoenix levels this season. When he gets on a heater from behind the arc, it completely changes the complexion of a game. Though I like Gortat's double-double possibility, Richardson's scoring wins out.

Jeremy Schmidt, Bucksetball: Gortat. When his role expanded after arriving in Phoenix, Gortat demonstrated there was a very good starter backing up Howard for the past few years. Richardson was a very good starter a few seasons ago, but as he's aged, he's gone from a slasher who can shoot and into a shooter who doesn't slash much. Now, he's just a good starter.
---
5. Who should be ranked higher: DeMarcus Cousins or Greg Monroe?
Note: Cousins was selected No. 5 overall in the 2010 draft, while Monroe was picked seventh.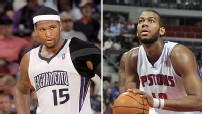 Tim Donahue, 8 Points, 9 Seconds: Cousins gets the nod here for playing a much greater role with his Kings. He's pretty inefficient, which is troubling, but he's a dazzling talent. Still, Monroe looks very promising, and could realistically end up being the better, more reliable player over the course of his career. Just not right now.

Bret LaGree, Hoopinion: Greg Monroe. Monroe will never carry a heavy offensive role like Cousins should, and Cousins might become the more valuable player because of that. Monroe had the better rookie season, though.

Ian Levy, Two-Man Game: Cousins was ranked 50 spots higher, but I'd rather have Monroe. In their rookie seasons, Monroe was a better offensive rebounder and more efficient scorer, and he turned the ball over on fewer of his possessions. Cousins is undoubtedly more skilled, but right now Monroe is getting more out of his skills. To me, that's the definition of value.

Chris Palmer, ESPN The Magazine: Cousins. Monroe has an elegant pass-first game and could eventually develop into a highly effective shooter. But Cousins' power, size and skill make him potentially unstoppable. He's an '80s-style enforcer who trades on intimidation and has a rapidly improving 17-footer. Could be the second-best center in the league in two years.

Jeremy Schmidt, Bucksetball: Cousins. Oddly enough, Cousins' personality may be his biggest advantage over Monroe. Cousins will never have a problem demanding the ball and getting up lots of shots. Monroe's passiveness makes it difficult to imagine him taking on a much larger role. It's easier to envision Cousins making more shots than it is Monroe demanding more.


ESPN.com and the TrueHoop Network
Chris Palmer writes for ESPN The Magazine. Tim Donahue, Bret LaGree, Ian Levy and Jeremy Schmidt contribute to the TrueHoop Network.