The top 50 in our #NBArank offseason player rankings is finally here, so we're putting on the breaks a bit to dissect each of the five players between 46-50.

After each player is unveiled Wednesday, check out whether our five-man team thinks he's rated too high, too low or just right:
1. Luol Deng at No. 46: Too high, too low or just right?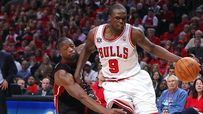 Kevin Arnovitz, ESPN.com: Just right. Deng is one of the more confounding players in the league to rate. He's a heady player, but the numbers suggest he's not an exceptionally efficient one. He isn't an iso threat who demands a double-team, yet he accomplishes virtually every task at his position proficiently or better. Looking around at the company, this slot seems about right.

Danny Chau, Hardwood Paroxysm: Just right. Deng was a cog in the Chicago Bulls' defensive machine last season, something that can't be understated. While his offensive potential has stagnated for four seasons or so, he is still a multi-dimensional scorer (just don't put him in isolations). He's one of the most reliable two-way players in the game. His rank? Absolutely justified.

Ryan DeGama, Celtics Hub: Just right. If he wasn't so well paid, Deng could be considered a poor man's Andre Igoudala, who's ahead of him on this list. Ultimately, I suspect Deng's length, rebounding, defense and limited offensive game will be more aptly placed on this list than Iggy's.

Patrick Hayes, PistonPowered: Just right. Deng is a competent offensive player as a second or third option. His rebounding and 3-point shooting slipped a tad from 2009-10 to 2010-11, but he's a great perimeter defender. But be careful -- versatile yet limited wings on good teams don't stay underrated for long. Just ask Tayshaun Prince or Josh Howard.

Breene Murphy, ClipperBlog: Too low. He's the best perimeter defender on the league's best defensive team and he had an offensive resurgence last season. Derrick Rose deservedly grabs a lot of the spotlight, but players like Deng made the Bulls as good as they were in 2010-11.
---
2. Tyreke Evans at No. 47: Too high, too low or just right?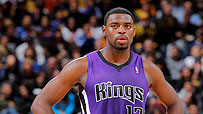 Kevin Arnovitz, ESPN.com: Too high. Evans battled plantar fasciitis all season long, a primary reason for the falloff. He couldn't get to the rim with the same kind of brute force he did in his rookie season. It's hard to rank a high-usage guard at this level who doesn't top 50 percent in true shooting. Upon recovery, he should fit snugly in the top 40 next season.

Danny Chau, Hardwood Paroxysm: Too low. I'm not very keen on Evans, but I'd be foolish to dismiss his potential, especially at the small forward position, where he can really excel with his incredible strength and grace without being the primary ball handler. But whatever happens next season, it is absolutely imperative that he improves his miserable jump shot.

Ryan DeGama, Celtics Hub: Just about right. Despite his ball domination, first-year 'Reke looked like a monster scorer in the making. Second year? Not so much (14.46 PER). My suspicion is he'll define himself 10 places higher or lower than this ranking by the end of the 2011-12 season.

Patrick Hayes, PistonPowered: Too high. Evans is not much different than many high-scoring/low-efficiency wings. His shooting percentage went down 5 percent from his rookie season and he got to the line nearly two fewer times per game. If he cuts down on the turnovers, attacks the basket more and looks for teammates often enough to become more of a PG, he could easily live up to his rank, but for now, it's too high.

Breene Murphy, ClipperBlog: Just right. Sure, he tied with Jason Kidd for the 152th-best PER (14.66), but that low ranking is a result of 'Reke's incessant ailments. Look for him to bounce back -- and then some.
---
3. Gerald Wallace at No. 48: Too high, too low or just right?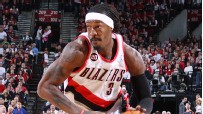 Kevin Arnovitz, ESPN.com: Just right. Let's toss out that bumpy stretch in Portland just after the trade when he was a little unsure of his footing in the offense. Then let's take into account all the assets on the defensive end. Among the five players featured here, Wallace is the most valuable. Imagine where he'd be ranked with a capable jump shot.

Danny Chau, Hardwood Paroxysm: Too low. Wallace is starting to age, but he is still the ultra-athletic defensive behemoth he's always been. He's steadily grown as a shooter, but he still isn't the best spot-up option. Yet he has diversified his offensive game, and his abilities in transition can help a Blazers team that could run a bit more next season.

Ryan DeGama, Celtics Hub: Too low. Wallace languished for years with the Bobcats (languishing being one of the major activities for an NBA player in Charlotte). With a Portland team poised for gains, he could finally get the kind of recognition he deserves as that rarest of NBA birds -- the power 3.

Patrick Hayes, PistonPowered: Just right. Until the trade that sent Crash to Portland, it looked like all those seasons of, well, crashing, were catching up with Wallace. But with the Blazers, his field goal percentage went up significantly and his defense tightened back up. While this rating fits him now, he could be either too high or too low once the season starts.

Breene Murphy, ClipperBlog: Just right. Wallace struggled at the beginning of last season on the rudderless Bobcats, but he regained his efficiency in Portland in his last 23 games, during which he shot almost 50 percent from the field. He then topped it off by becoming the second-leading scorer and rebounder for the Blazers in their short playoff run.
---
4. Jason Kidd at No. 49: Too high, too low or just right?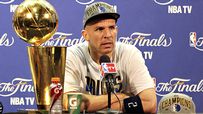 Kevin Arnovitz, ESPN.com: Too high. After the career and achievements Kidd has compiled over the past 17 seasons, it doesn't feel right to regard him as overrated. But for our purposes, he's not really a top-50 player -- though he's still a valuable one. Almost all of Kidd's offensive value resides in his ability to distribute the ball. He still performs that duty as well as anyone, but his shooting and defense are eroding.

Danny Chau, Hardwood Paroxysm: Too high. Kidd's transition into a floor spacer/versatile defender was an incredible sight last season, especially at his age. And age is precisely the concern. For a 38-year-old, Kidd is playing great ball. A niche role can help prolong his career, but time waits for no professional basketball player.

Ryan DeGama, Celtics Hub: Too high. Kidd's defensive shortcomings are overstated because they're so often framed in terms of his man-to-man coverage rather than his team D, but his offensive decline is inexorable. Chauncey Billups is No. 61 on our list. No way there should be that kind of gap between aging PGs. I'd move Kidd down and Chauncey up.

Patrick Hayes, PistonPowered: Too low. A glance at his numbers suggest that this might be too high. But maybe you just aren't looking at the right numbers. Kidd's clutch plus-minus stats per 48 minutes are among the best in the league, something that the statistically savvy Mavs likely knew was one of Kidd's biggest attributes as he was helping lead them to a title.

Breene Murphy, ClipperBlog: Too high. A lot of Dallas Mavericks have received the championship bump in their rankings, and Kidd is no different. He's still a very good distributor of the ball, but his 3-point shooting is the lowest it has been since his New Jersey days, he's scoring the fewest points of his career, he is consistently shredded on D by quick point guards and he's not getting any younger.
---
5. Carlos Boozer at No. 50: Too high, too low or just right?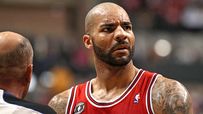 Kevin Arnovitz, ESPN.com: Just right. Few non-superstars take as much grief as Boozer, who didn't live up to expectations in Chicago -- but didn't fall wildly short of them either. Disappointing? Yes. Disastrous? No. Boozer had another solid season on the glass, and he scored reasonably well if not as accurately as years past. The issue with Boozer going forward is durability, not efficiency.

Danny Chau, Hardwood Paroxysm: Just right. Last season's playoff run aside, Boozer is one of the premier offensive talents at his position. He's excellent in the pick-and-roll, has range on his jumper and can create his own shot in post-up situations. If this was an offense-only ranking system, Boozer would be too low. If only his defense wasn't "Just Wright."

Ryan DeGama, Celtics Hub: Too low -- but only by a few places, which is why I'm now obligated to make reference to his bloated contract and suggest the Bulls have severely hampered their title hopes by committing so much -- his salary tops out at $16.8 million in 2014-15 -- to a PF whose flaws are more in evidence every year.

Patrick Hayes, PistonPowered: Just right. Boozer's poor defense and so-so play against bigger frontcourts is well known. But a limited big man who scores and rebounds reasonably well is ranked properly in this range. Look at the guys just after Boozer -- David Lee (54), Luis Scola (53), Al Jefferson (52) and Brook Lopez (51). "Limited yet generally effective big man" adequately describes all of them.

Breene Murphy, ClipperBlog: Too low. Even in a down season, Boozer still averaged 17.5 points and 9.6 rebounds. He now has a lot of help defensively, so his weakness is masked some, and while he didn't appear to jell with the Bulls, he played only 59 regular-season games. Give him a full season with the team and he should bounce back to form.


ESPN.com and the TrueHoop Network
Kevin Arnovitz writes for ESPN.com. Danny Chau, Ryan DeGama, Patrick Hayes and Breene Murphy write for the TrueHoop Network.