John Hollinger broke down each player on the Chicago Bulls' roster. Now our 5-on-5 crew weighs in on what lies ahead in Chi-Town.
1. For which Bulls player is the 2011-12 season most important?
Jovan Buha, ClipperBlog: Derrick Rose. The 2011-12 season marks a potential turning point in Rose's career, as the pressure of living up to his now-MVP standards will be a daunting task. If he doesn't replicate last season's success, his doubters will feel satisfied in dubbing his 2010-11 season a fluke.
Danny Chau, Hardwood Paroxysm: Carlos Boozer. An underwhelming presence in an otherwise outstanding season for the Bulls, Boozer hasn't (yet) justified the $15.2 million he's slated to make annually, especially after a subpar postseason. He'll have to step it up, unless he's fine with being a walking punchline for the next four seasons.
Nick Friedell, ESPN Chicago: Boozer. No player on the roster needs to prove himself more given the contract he signed last summer.
Zach Harper, Daily Dime Live: Luol Deng. I wanted to go with Boozer initially because he's probably the second-best talent on a defensive team in need of a second offensive weapon alongside Derrick Rose. However, it's more important that Deng becomes a reliable, efficient perimeter scorer. If he can develop a scoring touch going to his left, the opposing team will be left scrambling in rotations.
Eddy Rivera, Magic Basketball: Boozer. As the Bulls' primary free-agent acquisition last season, Boozer was supposed to be the underboss to Rose. But like Fredo in "The Godfather: Part II," Boozer proved to be incompetent in his role when it mattered the most (in the playoffs). Aside from staying healthy, improving on defense really is the key for Boozer to redeem himself.
---
2. Who is the most intriguing player on the Bulls roster?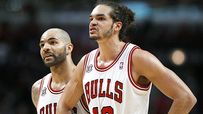 Jovan Buha, ClipperBlog: Joakim Noah. Noah has found a way to get better every season, but has he peaked? Can he improve on his 11.7 points, 10.4 rebounds and 1.5 blocks? If so, the Bulls could have the NBA's second-best point guard and center on their roster.
Danny Chau, Hardwood Paroxysm: I'm in love with Taj Gibson's game. He may not have the most upside on the team given his advanced age (26), but in his second season, Gibson was one of the best defenders on the league's best defense. Athletic and versatile defensive bigs are hard to come by -- especially those that won't hurt you too much offensively.
Nick Friedell, ESPN Chicago: Omer Asik. Is he really going to turn into the consistent double-double threat that management thinks he is? Can he really become the best defensive player in the league like some on the coaching staff think? What kind of trade value does he have? All questions Bulls fans are waiting to find out.
Zach Harper, Daily Dime Live: Kyle Korver. It's easy to fall in love with Korver's outside shooting and just have him come off of curls or spot up on the perimeter. But I can't help but think that if the Bulls created more situations with him cutting to the basket on the weakside while Rose stormed the interior, it would leave the defense more afraid of Korver as a weapon. Make him a threat from everywhere.
Eddy Rivera, Magic Basketball: To be determined. The answer to this question, in my opinion, depends solely on if the Bulls acquire a secondary shot-creator -- a glaring team need -- on the perimeter who can share the load offensively with Rose. If that happens, then he becomes the most intriguing player on the Chicago roster.
---
3. What's the most surprising take in Hollinger's Bulls profiles?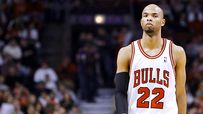 Jovan Buha, ClipperBlog: Hollinger saying that Taj Gibson would likely not improve much from this point in time. As a 26-year-old with only two seasons under his belt, there seems to be a juxtaposition. Age-wise Gibson is near his peak, while experience-wise he still has much to learn. The question is, what will give?
Danny Chau, Hardwood Paroxysm: Brian Scalabrine played 88 minutes last season?
Nick Friedell, ESPN Chicago: It gives credence to all the critics who said Boozer worked better when Joakim Noah wasn't on the floor.
Zach Harper, Daily Dime Live: Boozer is effective defensively as a center. At 6-foot-9, Boozer is short for a power forward, and he's cement-footed when he needs to rotate from one side of the key to the other. So it's sort of shocking that he was so effective playing defense as the anchor in the paint. Next thing Hollinger will be telling us is Booz has taken a vow of silence after being fouled.
Eddy Rivera, Magic Basketball: Nothing stood out to me, honestly. I think this is a classic case where the Bulls are who we thought they were.
---
4. Based on Hollinger's profiles, what do the Bulls need most?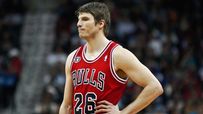 Jovan Buha, ClipperBlog: Shooting. Kyle Korver and Keith Bogans are the Bulls' only above-average 3-point shooters, yet both have astringent flaws that prevent them from earning more playing time. A good shooter -- preferably a shooting guard -- would open up the Bulls' offense and alleviate Rose's responsibility on offense.
Danny Chau, Hardwood Paroxysm: Obviously the Bulls would like a dynamic 2-guard. In a perfect world, Chicago would somehow fuse Korver and Ronnie Brewer into a perfect wing: an athletic defender who can create his own shot (and make them). But we don't live in a perfect world. We don't even live in a world with an NBA season.
Nick Friedell, ESPN Chicago: A scoring 2-guard who can defend. Bulls fans knew that before they read John's profiles and the point was driven home even more after reading this line in Keith Bogans' profile: "Still, offensively he was a burden. Bogans can't create shots at all." That's your starting 2-guard, Bulls fans.
Zach Harper, Daily Dime Live: Perimeter scoring. It's not even that the Bulls need shooters for Rose to dish to when he causes the defense to collapse like a dilapidated cabin. Chicago needs someone who can catch one of those kickout passes, and take it right back into the interior as the defense is rotating. Having another penetrator off the dribble would open everything up.
Eddy Rivera, Magic Basketball: Someone that can aid Rose's quest in overcoming the combination of LeBron James and Dwyane Wade. As great a player as Rose is, he needs help taking on the Heat's two mega-stars. This isn't to easily dismiss the Boston Celtics in the Eastern Conference race, but it's obvious that the Bulls need to find a way to match up better with the Heat.
---
5. Would a shortened season help or hurt the Bulls?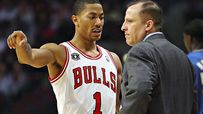 Jovan Buha, ClipperBlog: Help. Although a shorter season could lead to a few outlier teams emerging as contenders, the Bulls' frail supporting cast (c'mon, you can't trust half of this team to stay healthy) would likely benefit. Healthy players equals more wins. A lot of their success, though, will also depend on if they find a viable shooting guard.
Danny Chau, Hardwood Paroxysm: Help. The Bulls won't have any major roster overhauls, and the team is still fairly young and healthy (eight of the rotation players played in at least 80 games). The continuous flow of games with less downtime might affect their starting frontline of Boozer and Noah, who have recent histories of injury, but that isn't too big of a concern.
Nick Friedell, ESPN Chicago: Help. They know what to expect from coach Tom Thibodeau. They know how he wants to run things and they are young enough as a group to be able to handle the rigors of a short season.
Zach Harper, Daily Dime Live: Help. I don't think any length of season would really hurt this Bulls team. Their defense is asphyxiating on all nights, whether they have fresh legs or are on the fourth game in five nights. Having older or inexperienced teams try to figure out this defensive riddle when they've been overworked the past week is a huge advantage for Chicago.
Eddy Rivera, Magic Basketball: If the Bulls' roster remains as is, the chemistry and depth they have already established will surely help them against other teams that have to get used to new players. If Chicago finds that player to pair with Rose, it might hurt initially as it assimilates this individual into the collective, but it'll likely benefit the Bulls in the long run.


ESPN.com and the TrueHoop Network
Nick Friedell covers the Bulls for ESPN Chicago. Zach Harper hosts the Daily Dime Live chat on ESPN.com. Jovan Buha, Danny Chau and Eddy Rivera write for the TrueHoop Network.
• Follow ESPN's NBA coverage on Twitter | On Facebook