John Hollinger broke down each player on the Celtics' roster. Now our 5-on-5 crew weighs in on what lies ahead in Beantown in 2011-12.
1. For which Celtics player is the 2011-12 season most important?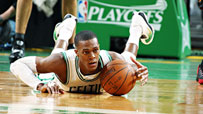 Hayes Davenport, CelticsHub: Rajon Rondo. He's lived off potential for a long time, but probably not for much longer. If he doesn't emerge as the team's best player and cultural co-leader this season, he's unlikely to be capable of carrying the Celtics beyond a low playoff seed in the post-Garnett era.
Ryan DeGama, CelticsHub: Rajon Rondo. Last season, the league's view of Rondo seemed to shift away from his proficiencies as a defender and passer and toward his failings: consistency, willingness to attack the basket and free throw shooting. That's problematic for the self-styled "best PG in the game." Is he a franchise player or not? Time to sort that out.
Chris Forsberg, ESPN Boston: Kevin Garnett. He'll turn 36 this season and there's a ton of miles on those tires (the regular-season minutes odometer stands at 43,915, 15th-most in league history). Garnett has acknowledged the finish line might be near, but he's still vital to the Celtics' championship hopes, even as his body struggles to withstand the rigors.
Brendan Jackson, CelticsHub: Rajon Rondo. The Celtics' point guard is the heir apparent and the only future of this team. If he doesn't solidify himself as a top-tier player on his own (i.e., dishing to JaJuan Johnson and Jeff Green and not Ray Allen and Kevin Garnett), then his legacy (and trade value) will plummet.
Brian Robb, CelticsHub: Rajon Rondo. With an aging Big Three that can struggle to create its own offense, the C's All-Star point guard will be instrumental in creating regular easy opportunities for his teammates. Consistency has always been the biggest issue for the up-and-down Rondo, and that problem must be overcome in order for the Celtics to remain a contender.
---
2. Who is the most intriguing player on the Celtics' roster?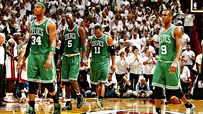 Hayes Davenport, CelticsHub: Also Rajon Rondo. His season might have been derailed by a bad conversation with the president. He keeps a tube of ChapStick in his sock. He loves rollerskating. And of the skill sets required of a point guard, Rondo might be either the best or worst at all of them. He is ... the most interesting man on the Celtics.
Ryan DeGama, CelticsHub: Rondo. Largely inscrutable in person and often as vexing on the court as he is brilliant, Rondo contradicts himself on a nightly basis. To cop from Whitman, he contains multitudes.
Chris Forsberg, ESPN Boston: Jeff Green. The Jeff Green Boston got last season was exactly the Jeff Green everyone saw in Oklahoma City. So why did everyone seem so disappointed? Because most see potential for so much more from him. It's up to the Celtics to get it out of him.
Brendan Jackson, CelticsHub: Avery Bradley. Part of having a veteran-laden team is that nearly every player is a known commodity. Bradley, on the other hand, is a giant question mark. From dominant high school player, to up-and-down freshman at Texas, to relative unknown in the NBA, I'm excited to see whether Bradley can show everyone why he was a first-rounder.
Brian Robb, CelticsHub: JaJuan Johnson. The C's offensive efficiency dropped into the bottom half of the league last season; they desperately lacked a youthful big man with a reliable offensive game. Coming out of the defensive-minded Big Ten, and averaging 20.5 points a game, Johnson could provide a major boost in this department and give Boston some of the big-man depth it needs.
---
3. What's the most surprising take in Hollinger's Celtics profiles?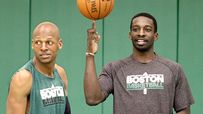 Hayes Davenport, CelticsHub: The claim that Jeff Green is a solid defender at the 3. I definitely remember Green shutting down LeBron at times in the second round, but I also remember him wandering around looking lost on a lot of rotations. Interesting to see the numbers tell a more positive story.
Ryan DeGama, CelticsHub: It was fascinating to see that a change in shot selection did little to improve Green's efficiency and that his effectiveness defending small forwards was on the upswing. One is a major worry for 2011-12, the other is a sign of hope.
Chris Forsberg, ESPN Boston: Hollinger (fairly) spotlights Rajon Rondo's inconsistent jumper (writing, "If he could shoot at all, he'd be dominant"). Alas, what was often overlooked last season was Rondo's lack of attacking the rim (attempts down more than a shot per game). Are foul-shooting woes part of his reluctance?
Brendan Jackson, CelticsHub: I was surprised to see Ray Allen has an "excellent handle." With his quickness waning, Allen had a career high in "getting his pocket picked" last season. Could he play point guard in a pinch? Sure. But his days of going hard to the hole on a defender are numbered.
Brian Robb, CelticsHub: The defensive numbers of Glen Davis. I was surprised to see how inept the numbers were for Big Baby. Davis has a good reputation on the defensive end, thanks to the countless charges he drew over the course of the season, but clearly his lack of height and rebounding were more glaring issues than I anticipated.
---
4. Based on Hollinger's profiles, what do the Celtics need most?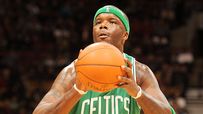 Hayes Davenport, CelticsHub: A center. According to Hollinger, Glen Davis qualifies as the starter, and he's not actually a center at all: He's a severely undersized power forward. The oft-injured Jermaine O'Neal, meanwhile, could be lost for the season if somebody turns the water pressure in his shower up a little too high. Not a lot of depth there.
Ryan DeGama, CelticsHub: The impossible, which is to say health and youth circa the last lockout-shortened season in 1998-99. Failing that, it would help if Jeff Green blossomed into something resembling the player team president Danny Ainge alleges he can be.
Chris Forsberg, ESPN Boston: Players. (Bada-bing! I'm here all week.) Ainge has his work cut out for him in order to fill out this year's roster (and be competitive) and maintain desired cap flexibility for next season. Adding some short-term, low-budget shooting and size would top Ainge's Christmas list, but beggars can't be choosers.
Brendan Jackson, CelticsHub: Anyone to play center. Jermaine O'Neal came up huge in the playoffs last season by being the biggest deterrent to the opposition driving too hard to the bucket. With his injury history, there's no telling how much he'll give the Celtics. Couple that with Nenad Krstic's lack of an out-clause in his contract with CSKA Moscow, and the Celtics are rail-thin in the middle.
Brian Robb, CelticsHub: Someone capable of creating his own shot. Paul Pierce is the only guy currently signed to the active roster that fits this bill. There are a healthy mix of shooters on the roster, but Boston is in dire need of additional firepower off the pine to help take the onus off Rondo and the Big Three.
---
5. Will a shortened season help or hurt the Celtics?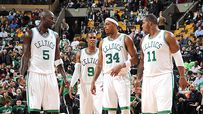 Hayes Davenport, CelticsHub: Seems like it would help, but it hurts. Yes, fewer games means less mileage overall. But the Celtics tend to be at their worst in back-to-backs, so I can't imagine they'll respond well to the compressed schedule. Playing on consecutive nights in the playoffs will put them at a huge disadvantage when the games actually mean something.
Ryan DeGama, CelticsHub: Here's the problem: The Celtics are not made for a full 82-game season or a compressed 66-game affair. Really, they're built to go directly to the playoffs. So all these back-to-backs are going to hurt. As the minutes and miles pile up, coach Doc Rivers may again decide to fold the tent up early and get ready for the playoffs.
Chris Forsberg, ESPN Boston: Definitely maybe. Recent history suggests the Celtics dominate early, then fade late. But potential for a schedule with an extra heaping of back-to-backs is a recipe for disaster given the advanced age of this team. Boston should take a page from MLB spring training and consider split-squad games in order to keep veteran legs fresh.
Brendan Jackson, CelticsHub: Both. The Celtics don't need any time to jell, but they will also be one of the teams that is massively affected by back-to-backs. If the Celtics can get away with resting their elder statesmen in these games, they should be fine. If they can't, the road to rebuilding is long and sad.
Brian Robb, CelticsHub: Help. Let's face it, the back-to-backs won't be pretty. However, given the additional rest the team's older legs got in the offseason, combined with the fact that this core has been together for four years now, you have to feel good about what this team could accomplish if it uses a smart strategy to rest the veterans.


ESPN.com and the TrueHoop Network
Chris Forsberg covers the Celtics for ESPN Boston. Hayes Davenport, Ryan DeGama, Brendan Jackson and Brian Robb contribute to the TrueHoop Network.