John Hollinger broke down each player on the Blazers roster. Now our 5-on-5 crew weighs in on what lies ahead for Portland in 2011-12.
1. For which Blazers player is the 2011-12 season most important?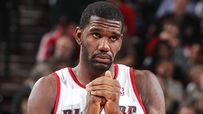 Henry Abbott, TrueHoop: Greg Oden. He's either the MVP or LVP of this team, depending strictly on whether or not he can play half a season. His career could be just starting out, or just ending. Hard to know how anyone could have more on the line than that.
Tim Donahue, Eight Points, Nine Seconds:
Greg Oden. For a player with his injury history, each season -- each game -- is a test that he must pass. A relatively healthy campaign will not erase long term doubts about his durability, but it will at least be the first step toward actually having a career -- instead of just another "coulda, woulda, shoulda" story.
Brett Koremenos, HoopSpeak: Nic Batum. Greg Oden will keep getting chances for the next couple of years because his problem is health, something every team's training staff thinks they might be able to fix. Batum missed a large chunk of the 2009-10 season, but the soon-to-be 23-year-old has never quite matched his production to his physical tools. If he doesn't start doing it this season, it may never happen.
Andrew Tonry, Portland Roundball Society: Forget Greg Oden -- we know that story. And forget Brandon Roy's eventual amnesty too. The Blazer this season means most to is team president Larry Miller, who is beginning to feel like Steve Patterson with a better résumé.
The former Jordan Brand exec is the last of Portland's brass standing since a hopeful young nucleus turned into a salary-cap conundrum. Yet, Miller has little to offer in the place of GM's With a Plan Kevin Pritchard and Rich Cho, and is an easy target to fans should things again go south.
Kyle Weidie, Truth About It: Assuming Brandon Roy is amnestied. Assuming we should stop using Greg Oden's name in these type of questions. Assuming it's not [insert name here] because he is a free agent. How about LaMarcus Aldridge? It's nice that he's played well after his contract extension, or that he was the "biggest All-Star snub" last season. We'll assume he's now the face of a popular franchise. What next, LaMarcus?
---
2. Who is the most intriguing player on the Blazers roster?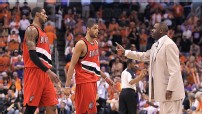 Henry Abbott, TrueHoop: Nicolas Batum produces plenty, and is clearly a special talent -- made especially clear in international play with France -- but the keenest observers still think there ought to be much more to come. He gets to be intriguing for one more season. My worry is that he might be like Rudy Fernandez: plenty good, but ill-suited to Nate McMillan's grind-it-out offense.
Tim Donahue, Eight Points, Nine Seconds: If all had gone according to plan, LaMarcus Aldridge would have been the third-brightest star in Portland's constellation. Brandon Roy would be the alpha dog, Oden the dominant defensive big man and LMA would round out their home-grown "big three." His PER jumped above 21 last season, and he made it into the top 25 in ESPN.com's #NBArank project, but can he be a guy around whom Portland builds a quality basketball team?
Brett Koremenos, HoopSpeak: Armon Johnson. Yes, I realize Greg Oden's health status is a big deal, but Johnson's projection as an elite defender at the point of attack has me hooked. If he could slash turnovers and bring one plus offensive skill (pick-and-roll, driving, spot up shooting) to the table, he could jump from backup to starter in less time than it takes Ray Felton to hammer down another cheeseburger.
Andrew Tonry, Portland Roundball Society: Again, forget Greg Oden. He is a roll of the dice -- a Blazer only when he proves he can stay one. Instead, I'm most interested in lanky swingman Nicolas Batum. It's a contract year for the young Frenchman, and everything from his lockout stint for hometown team SLUC Nancy seems to have gone smashingly. Twice this summer Batum received Euroleague MVP honors, and has supposedly taken on the shooting guard position with a newfound face-up game and aplomb. At 22 years old Batum is still young, but ready to finally test his true NBA mettle.
Kyle Weidie, Truth About It: The guy drafted 16th in the 2010 NBA draft. The guy Kevin Pritchard traded for, along with Ryan Gomes (who was waived), in exchange for Martell Webster. The guy who was ranked eighth in John Hollinger's 2010 draft rater. The guy who is supposed to be a shooter. The guy whom 66 percent of voters on OregonLive.com said should go. Are you intrigued by Luke Babbitt yet?
---
3. What's the most surprising take in Hollinger's Blazers profiles?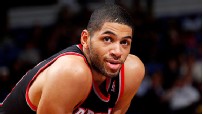 Henry Abbott, TrueHoop: There are a heck of a lot of weaknesses. Camby won't leave the paint and can't score. Matthews can't score on the move in the half court. Batum can't stop anybody. Wallace can't jump like he used to. Roy can't get to the line. Oden can't get on the court.
Tim Donahue, Eight Points, Nine Seconds: Batum's bad Defensive Synergy numbers aren't surprising to me in the strictest sense of the word. I had actually watched them last season, so the surprise happened back then. However, they remain somewhat disorienting. Even knowing those numbers coming in, I still expected Batum to be noted as a good defender because, well, because it feels like he should be.
Brett Koremenos, HoopSpeak: Batum's defensive numbers weren't downright shocking, but still surprising. Despite his physical makeup to do so, I've never thought he's brought much to Blazers on the defensive end. Hollinger's numbers affirmed that, but I had no idea it was to that degree.
Andrew Tonry, Portland Roundball Society: I'd never have known Batum's numbers on the defense end were so poor. They are indeed strange enough that Hollinger himself questions appearances. Again, another moment tailor-made for Batum to throttle. That is, if Gerald Wallace and Wesley Matthews don't draw all the more favorable defensive assignments. ... Yeah, there's a logjam at small forward.
Kyle Weidie, Truth About It: I was surprised to see such a negative outlook on Nicolas Batum. Just about any NBA GM would be intrigued enough to dole out a non-lottery first-rounder for him. If Batum gets his head back into it, he'll be talked about on national television.
---
4. Based on Hollinger's profiles, what do the Blazers need most?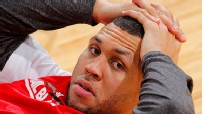 Henry Abbott, TrueHoop: Replacement knees.
Tim Donahue, Eight Points, Nine Seconds: A healthy Brandon Roy and a healthy Greg Oden. Looking at this roster top to bottom, you see one All-Star (LMA) and several quality starter/rotational role players (Felton, Matthews, Batum, Wallace, Camby). Add to that the player that Brandon Roy was, and the player Greg Oden was supposed to be, and they're contenders. Without that -- or a reasonable facsimile -- they're tapped out somewhere around the lower half of the Western Conference playoff bracket.
Brett Koremenos, HoopSpeak: Paul Allen to go away. But since that is a pipe dream, a general plan to build around Aldridge, whose offensive game is becoming nearly as productive as the Big Fundamental's was in his prime, is a start. That means a PG and wings that can really shoot it, a center that can protect him defensively and/or rebound well and a bench with a couple of defensive aces.
Andrew Tonry, Portland Roundball Society: A bench! Subtract Hollinger's assessments of Greg Oden and Brandon Roy, who may both not be in Blazer uniforms on opening night, and Portland is left with six proven NBA rotation players. The rest are rookies and phantom free agents in a weak class. The Blazers are flush with wings and that's it. No trustworthy backup point guard -- especially if Roy is cut -- and no relief down low. Really shouldn't beat your bigs like that. Especially on back-to-back-to-backs.
Kyle Weidie, Truth About It: Um, defensive center. Requisite Greg Oden old joke ... Marcus Camby old joke! The latter was born the same year as Chucky Atkins, Derek Fisher, Othella Harrington, Kerry Kittles, Travis Knight, Antonio McDyess, Jerry Stackhouse, Ben Wallace, Rasheed Wallace, Steve Nash, Bubba Wells, Gary Trent, Malik Rose, Felipe Lopez and "Walta McCarteee!!"
---
5. Will a shortened season help or hurt the Blazers?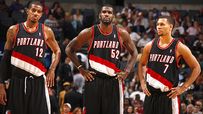 Henry Abbott, TrueHoop: A late start helps Greg Oden -- that much more recovery time. But in general, I'm not sure this banged-up crew is really ready to embrace the challenge of back-to-back-to-backs.
On the other hand, let's look at what's most likely: Oden will not be a major contributor, and Roy will be benched and hungering for a bigger role. Maybe the tight schedule is an argument for Nate McMillan to make Roy a featured scorer now and again, when the starters need to take it easy for a night or two.
Tim Donahue, Eight Points, Nine Seconds:
Well, 66 games is 16 fewer times Portland fans will have to hold their breath and hope Greg Oden, if he's brought back, doesn't come up lame, so, there's that. However, the shortened, compressed season will put everyone in the league off-kilter; it's impossible to say who it will benefit, or who it will hurt. I see nothing about Portland that indicates they will be helped or hindered any more than any other team.
Brett Koremenos, HoopSpeak: Hurt. Portland's training staff has been the inverse of the Phoenix Suns as far as keeping guys healthy and in-shape. So when the lockout forces a compressed schedule after a shortened training camp, preceded by a long offseason in which not all players diligently honed their games and bodies, training staffs have more pressure than ever to keep guys from getting banged up during the grind. Throw in Felton's weight/conditioning issues, Oden's general health status and Gerald Wallace's kamikaze style, and Portland leading the league in games missed due to injury isn't a stretch, it's a likelihood.
Andrew Tonry, Portland Roundball Society: The compressed schedule has a chance to kneecap the Blazers. The team is without a GM, bench and -- most importantly -- a plan. One wrong move across any number of categories could send the team into full-on rebuilding mode (and assuming Brandon Roy's max deal is already as good as amnestied).
Kyle Weidie, Truth About It: Don't all NBA teams aside from the Mavericks, Celtics, Spurs, Lakers and Heat need all the time they can get? I suppose Atlanta, Orlando, New York and Oklahoma City might be in some sort of rush. Otherwise, the rest of them, including Portland, need time to observe and develop. Sixty-six is fine; anything less would be uncivilized.


ESPN.com and the TrueHoop Network
Henry Abbott writes for TrueHoop. Tim Donahue, Brett Koremenos, Andrew Tonry and Kyle Weidie contribute to the TrueHoop Network.