After finishing the 2010-11 regular season even in wins and losses (41-41) -- still good enough for the No. 7 seed in the East -- which way will things turn in Philadelphia?
John Hollinger broke down each player on the 76ers' roster. Now our 5-on-5 crew weighs in on what lies ahead for Philly in 2011-12.
1. For which 76ers player is the 2011-12 season most important?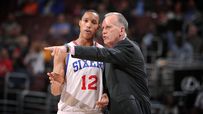 Kevin Arnovitz, ESPN.com: Andre Iguodala enters his eighth season with a hefty annual salary and one of the most unique -- and confounding -- skill sets in the league. He's one of the game's five best defenders and can run the point from the small forward spot. Is there still time to develop a reliable jumper? If so, Iguodala could have a renaissance. Remember, he's still only 27.
Patrick Hayes, PistonPowered: Evan Turner. The 76ers could use a good, young big man with upside, and they passed on three -- DeMarcus Cousins, Derrick Favors and Greg Monroe -- to take Turner. Turner has a well-rounded skill set, but unless he shows he's more than just a versatile complementary player, Philly fans will always lament drafting him.
Beckley Mason, HoopSpeak: Thaddeus Young, because he could be on the track to buying his own private island if he can show the defensive capability to play more than 30 minutes per game. The 76ers have tons of money to spend in the next two years and are desperate for scoring, a skill that comes as naturally to Young as breathing.
Danny Savitzky, Nets Are Scorching: Jrue Holiday. He's on the cusp of becoming a top point guard, and while he won't come near the top of the list in the NBA given all the competition at the position, he can become a solid building block for the organization. And the sooner that happens, the better for Philadelphia.
Noam Schiller, Hardwood Paroxysm: Evan Turner. Coming in to the season, he was hailed as a star-in-the-making; after it, he was dismissed as a semi-effective eighth man. His talents suggest that he can still be closer to the former than the latter, but unless he shows that he can actually score on an NBA level, he'll be relegated to career bench duty.
---
2. Who is the most intriguing player on the 76ers' roster?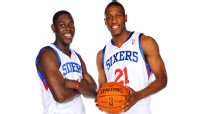 Kevin Arnovitz, ESPN.com: Left-handed savant and restricted free agent Thaddeus Young has a neat bag of tricks, most notably an incredible ability to find easy shots at the basket. Now it's time for Thad to round out his game. With a more refined jumper, better ball skills and a steadier right hand, Young can put to rest the old rap that he doesn't have a natural position.
Patrick Hayes, PistonPowered: Jrue Holiday. He's not a freakish athlete like Russell Westbrook, Derrick Rose or John Wall, but Holiday is already a talented playmaker at point guard, and he's only 21 years old. Aside from the three aforementioned players and Kyrie Irving, Holiday might be the next-best still-improving point guard prospect in the league.
Beckley Mason, HoopSpeak: Jrue Holiday. I was and still am a Jrue believer, but I wonder whether his youth (still 21!) exaggerates expectations. Clearly, Holiday will be very good for many years, probably peaking at about where Chauncey Billups did in his prime. But there's still a chance he could be really special, and I'll be watching closely for signs of greatness.
Danny Savitzky, Nets Are Scorching: Thaddeus Young, if he returns. Young, a restricted free agent, is a force around the rim but is hampered by the inability to use his off-hand and the fact that he doesn't have a true NBA position. If he can figure out a way to use his right hand and find a better outside stroke, he can be a very good player.
Noam Schiller, Hardwood Paroxysm: Lou Williams. If you compare Williams' per-40-minute stats to Monta Ellis', you'll find something pretty incredible: They're near-identical. The only difference between the two diminutive scoring masters? Ellis plays 40 minutes a night; Williams plays 23. Lou's defensive struggles are a big part of that, but given the minutes, he could be a top scorer in this league.
---
3. What's the most surprising take in Hollinger's 76ers profiles?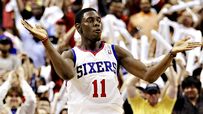 Kevin Arnovitz, ESPN.com: That there's a better chance of a coordinated moon landing before New Year's than Spencer Hawes drawing a foul.
Patrick Hayes, PistonPowered: Jodie Meeks' free throw rate. As Hollinger points out, Meeks is primarily a spot-up shooter who doesn't create his own shot all that well, so it's really surprising that he's as good at getting to the line as he is.
Beckley Mason, HoopSpeak: I was surprised by how many useful players the 76ers have who either can't create looks near the rim (like Elton Brand) or simply don't (like Iguodala). That makes Young and Holiday, two players with the game to get inside (could Evan Turner be one of these guys?), all the more important to Philadelphia's season.
Danny Savitzky, Nets Are Scorching: Turner still has a chance to be a very good player? He looked hopeless as a rookie last season.
Noam Schiller, Hardwood Paroxysm: That Holiday still has a long way to go defensively. As a big part of one of the league's best defensive squads, it's easy to assume Holiday has already made it; but at just 21 years old, he still has a lot to learn, and the numbers reflect that inexperience.
---
4. Based on Hollinger's profiles, what do the 76ers need most?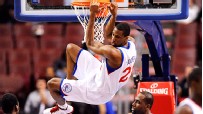 Kevin Arnovitz, ESPN.com: The willingness to attack: the paint, opposing defenders, the offensive glass. They're a relatively strong, athletic group, but for whatever reason they struggle to find shots inside, ranking 28th in free throw rate and 23rd in offensive rebounding rate.
Patrick Hayes, PistonPowered: Toughness seems to be lacking. According to Hollinger, Holiday struggles to fight over screens, Hawes shies away from contact, Marreese Speights is an "unmotivated defender," Nikola Vucevic is "a bit on the soft side." If the Sixers could find another physical big man to match their perimeter athletes, they could be exciting.
Beckley Mason, HoopSpeak: Pure scoring. The 76ers are loaded with excellent passers and good ball handlers. But outside of Young and Williams, two players with serious warts, they lack someone to create solid shot opportunities when their ball-reversal offense breaks down. They were hoping Turner could be that player. Prognosis: doubtful.
Danny Savitzky, Nets Are Scorching: Scoring -- and a lot of it. Nobody on the team is really a scorer, and the Sixers need someone they can give the ball to when they need a basket.
Noam Schiller, Hardwood Paroxysm: An interior presence on both ends. Philly's most effective scorer at the rim was combo forward Thaddeus Young. Meanwhile, the center rotation is built around the defensively inept Hawes; Vucevic, a rookie, projects to be more of the same. Unless Brand finds a time machine, that elite post scorer and defender will have to come from the outside.
---
5. Will a shortened season help or hurt the 76ers?
Kevin Arnovitz, ESPN.com: If it takes the Sixers two months to find their footing like it did in 2010-11, they're in trouble. But if they can sustain the momentum they built during their playoff run, they're in fine shape.
Patrick Hayes, PistonPowered: Any team with young, developing players like Holiday, Turner, Vucevic and Speights is bound to be hurt some without the benefit of summer league, training camp and preseason (although the time off shouldn't hurt vets like Iguodala, Williams and Brand much). If they can pick up the slack, the young players should be comfortable by midseason or so.
Beckley Mason, HoopSpeak: I don't think it matters. They return all their core players and have an experienced head coach in Doug Collins, whom the players trust. This seems like a fairly knucklehead-free club headed in the right direction. But in a shortened season, they probably can't afford to begin the season 3-13 again, though they did recover by the 66th game in 2011-12.
Danny Savitzky, Nets Are Scorching: Hurt. The Sixers want to get Holiday as much run as possible to help him develop. With fewer games on the schedule, he's not going to get as many minutes, which will likely stunt his improvement. There's no one particularly old on the team that would benefit from a short season except Brand, and he'll surely get hurt anyway.
Noam Schiller, Hardwood Paroxysm: Help. The Sixers are a young team with a virtually unchanged roster, and a condensed season will do well for those with fresh legs and pre-existing chemistry. However, if the Sixers pull the trigger on the long-awaiting Iguodala trade, the lack of adjustment time will send them into a tailspin.


ESPN.com and the TrueHoop Network
Kevin Arnovitz covers the NBA for ESPN.com. Patrick Hayes, Beckley Mason, Danny Savitzky and Noam Schiller contribute to the TrueHoop Network.
• Follow ESPN's NBA coverage on Twitter | On Facebook