After finishing under .500 for the first time in the Steve Nash A.D. (After Dallas) era, does the Suns' roster have what it takes to turn things around?
John Hollinger gave his take on each player on the club. Now our 5-on-5 crew weighs in on what lies ahead for Phoenix in 2011-12.
1. For which Suns player is the 2011-12 season most important?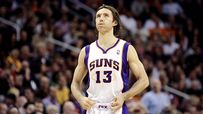 James Herbert, Hardwood Paroxysm: Steve Nash. He'll be 38 by the All-Star break and, even though he may seem impervious to aging, his window to win a title is closing rapidly. There's likely not a move to be made that would put this team back in the West's upper echelon, so the question is whether the team would consider giving Nash an opportunity to win elsewhere.
Mike Schmitz, Valley of the Suns: Robin Lopez. The 7-footer was abysmal last season. Back, leg, knee and foot injuries robbed him of his explosiveness, and his stellar 2009-10 season was undone by an embarrassing 2010-11 campaign. Entering a contract year with a clean bill of health, the 23-year-old is on the hot seat. If he can play like the 2010 Western Conference Finals Robin Lopez, there's a market for him in the NBA. If he's as bad as last season, Lopez may want to check out CareerBuilder.com.
Michael Schwartz, Valley of the Suns: Lopez. Last year at this time Suns coach Alvin Gentry thought Lopez would be the second-most important player on the Suns, but he regressed to the point that he was barely the second-best center. Lopez lacked explosiveness while returning from a back injury, and, with a contract year looming, he must prove he's more than an athletic center who lost his athleticism.
David Thorpe, Scouts Inc.: Nash is the obvious choice, but I'm going with a player who will be on the Suns team all season, Marcin Gortat. This is the year that he, if he plays to his talent level, joins the small group of men who can be considered "franchise centers." Marc Gasol is the most recent inductee, and Gortat can secure an incredibly wealthy future if things go his way in '11-12, as Gasol did in '10-11.
Eric Todd, Red94: Lopez. He's already lost his starting job to the Polish Hammer, but, if he takes any more steps backward, he could be moonwalking his way out of the league. Reason would suggest that even if the Suns don't re-sign the young center at the end of this season, some team would take a chance on him, given his age and size, but maybe not if he plays too much worse than he did last season.
---
2. Who is the most intriguing player on the Suns' roster?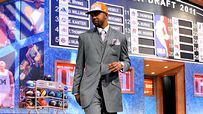 James Herbert, Hardwood Paroxysm: Markieff Morris. With Channing Frye and Hakim Warrick in front of him, he does not have guaranteed minutes at the 4 spot. He does, however, play better defense than the two of them. If he can work the pick-and-roll with Nash and score in the post at this level, he could give the Suns a different look.
Mike Schmitz, Valley of the Suns: Gortat. Amare Stoudemire left the Suns scrambling for an interior scoring threat. Although the Polish Hammer is no STAT, he's proved he can fill that void to some degree. Worst case, Gortat is a double-double machine with one of the league's best nicknames. But if he adds a few post moves, Gortat could be a borderline All-Star and the solution to Phoenix's post scoring woes.
Michael Schwartz, Valley of the Suns: Josh Childress because I'm not quite ready to believe he deserves the amnesty ax. Childress broke his finger in the preseason and was jettisoned from the rotation by the Orlando trade right when his appendage healed. I'd like to see whether a healthy Childress with rotation minutes can make that contract look more reasonable.
David Thorpe, Scouts Inc.: I'm partial to rookies, so let's discuss Markieff Morris. I spent one week with him in May, and saw him as a Channing Frye with much better rebounding and defensive skills. If he is indeed that player, Phoenix will have drafted wisely because every team values a big who does the dirty work while being able to make 35 percent-plus from distance.
Eric Todd, Red94: Grant Hill. After the lamentable ankle injuries that followed his sublime first years in Detroit, who would have thought that, beginning at age 36, he would play 30-plus meaningful minutes in 80 or more games for three straight seasons? He may not be collecting triple-doubles like he used to, but he's certainly carved a niche for himself as a valuable and consistent two-way player in Phoenix.
---
3. What's the most surprising take in Hollinger's Suns profiles?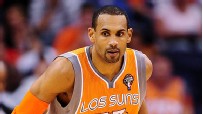 James Herbert, Hardwood Paroxysm: Hill shot 71.3 percent at the rim last season. I knew Hill was an efficient scorer, but I was too busy concentrating on his excellent defense last season to notice a perhaps more impressive area of his game: He finished near the rim like LeBron.
Mike Schmitz, Valley of the Suns: Nash's defensive numbers. Nash must be slipping Synergy stats free cases of Vitaminwater because there's no way he's the eighth-best defensive point guard in the NBA. Of course, Hollinger points out the possible reasons for the low numbers, but still, for the Suns to be a better defensive team with Nash on the floor is mind-boggling. See: Justin Bieber crossover.
Michael Schwartz, Valley of the Suns: Nash's seemingly competent defense certainly jumps out as a surprise. It begs the question of whether his smarts and knowledge of angles helped him be a valuable team defender last season even if he still leaves much to be desired as an individual defender. It's also a surprise that Childress would be rated the team's worst defender.
David Thorpe, Scouts Inc.: When he came into the NBA, who would have predicted that Warrick would be a plus on offense but a disaster on defense? Hollinger points out that fact, and it makes me wonder whether anyone has ever told Hakim of his defensive woes. Seems like, with stronger coaching, he can make strides in that area.
Eric Todd, Red94: The numbers on just how bad a defender Warrick is. I knew he wasn't exactly a defensive asset, but worst big man in the league, I did not know. I thought he was a decent signing for Phoenix, with his mobility and skill at the pick-and-roll, but, after reading that, I'm starting to wonder whether that was the case.
---
4. Based on Hollinger's profiles, what do the Suns need most?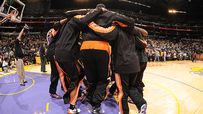 James Herbert, Hardwood Paroxysm: Like most teams in the NBA, another legitimate star. Alongside Nash, Phoenix has a host of sound role players. The problem is that most of them do not have much room for improvement. A solid two-way power forward would help, as would giving Gortat more touches. Not sure either would assure the Suns a playoff spot, though.
Mike Schmitz, Valley of the Suns: Phoenix needs a shooting guard who can create his own shot and defend. It's too much to ask of a 37-year-old Nash to make every play for 30-plus minutes a game. Phoenix needs a Robin for its Batman. Unfortunately for the Suns, they don't have the cap space to make that happen. They'll have the money in 2012, but will Nash even be in Phoenix by then? Probably not.
Michael Schwartz, Valley of the Suns: A go-to scorer. They need a player who can create his own shot and relieve some of the ball-handling pressure off Nash as well as score the big buckets in crunch time. Nash does a remarkable job of making this offense go with the personnel at hand, but, without a go-to guy, he can do only so much.
David Thorpe, Scouts Inc.: Anyone standing over 6-5 who can get his own shot and get to the line off a dribble attack or triple threat without using a ball screen. It would make things much easier on Nash and the Suns coaches if they had that option as part of the overall offensive plan.
Eric Todd, Red94: Young guys with potential. The Suns, outside of Nash and maybe Gortat, have amassed a solid collection of role players who play hard every night but who also are all essentially the players they will be. I hate to say it, but it seems as if the best possible scenario for Phoenix is to trade Nash and begin rebuilding around Gortat and whomever they can get for the former MVP.
---
5. Will a shortened season help or hurt the Suns?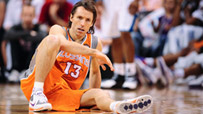 James Herbert, Hardwood Paroxysm: Help. The tightened schedule means injury prevention and rehabilitation will be more important than usual this season. This means the advantage the Suns enjoy with their legendary training staff will be more pronounced.
Mike Schmitz, Valley of the Suns: The mere sound of the words "back-to-back-to-back" infuses pain into Hill's ankles and Nash's lower back. But playing 16 fewer games after an eight-month offseason should only help Nash and Hill. The Suns are also one of the few teams to bring back the majority of their personnel, so the chemistry that's defined the Suns during the Nash era is already in place, making a short training camp less detrimental.
Michael Schwartz, Valley of the Suns: Overall, it will help because their rotation will be very similar to last season, so they should not encounter the growing pains sure to impede teams put together on the fly. However, I'm not sure how well Nash or Hill will fare when faced with a third game in three nights.
David Thorpe, Scouts Inc.: It will help in the sense that there will be less pain overall after tough nights. This is a team lacking any identity that I can see. Not a good way to start the season.
Eric Todd, Red94: It shouldn't hurt them as their roster is still largely intact, barring a Nash trade or a significant signing, and the extra rest was probably welcomed by their veteran players. I'm not sure that it exactly helps them, either, as Gortat needs reps as a starter to continue to develop his game. So, neither? Or, maybe more properly, both.


ESPN.com and the TrueHoop Network
David Thorpe covers the NBA for Scouts Inc. James Herbert, Mike Schmitz, Michael Schwartz and Eric Todd contribute to the TrueHoop Network.
• Follow ESPN's NBA coverage on Twitter | On Facebook